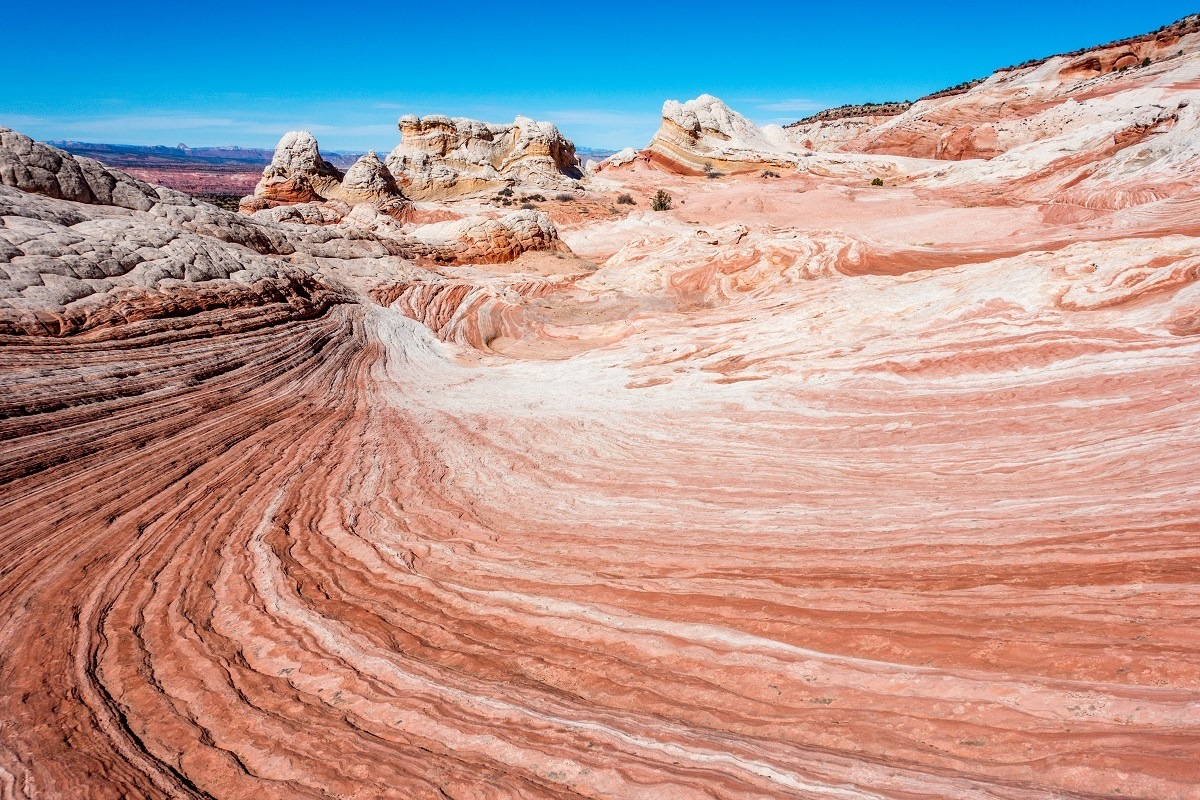 Like many people, our exposure to The Wave in Arizona and the nearby rock formations known as White Pocket came from photos. And given our love of photography, we knew we needed to go there. However, as we discovered, it wasn't as easy as we expected. This is our complete guide to visiting the Vermilion Cliffs National Monument, including the Coyote Buttes, The Wave and White Pocket.
The rise of The Wave in popular consciousness is a relatively recent development. During the 2002 Olympics in Utah, an image of The Wave was used in some advertisements (despite the fact that it is actually located just across the state line in Arizona). This ultimately led to a local TV station in Salt Lake City doing a story on the formation, which started the flow of visitors.
In 2009, Microsoft included an image of the formation in the Windows 7 release. With that act, Microsoft started a stampede of tourists to visit not only the Wave, but also the desert southwest. In fact, it is believed to be the most popular computer Wallpaper image ever.
Anyone who visits this area will find impossible not to fall in love with it. And as most visitors come to understand, The Wave is just one of many incredible formations. Nearby, White Pocket is significantly larger and in many ways, more spectacular than the Wave. This guide covers both sites.
Where is the Vermilion Cliffs National Monument? And What Is It?
The Vermilion Cliffs National Monument is located in extreme Northern Arizona right on the Utah state line. The Paria Canyon-Vermilion Cliffs Wilderness is the overall site designation for the entire area and is managed by the Grand Staircase-Escalante National Monument out of the Kanab, Utah office. Both the The Wave and White Pocket are located in the Vermilion Cliffs.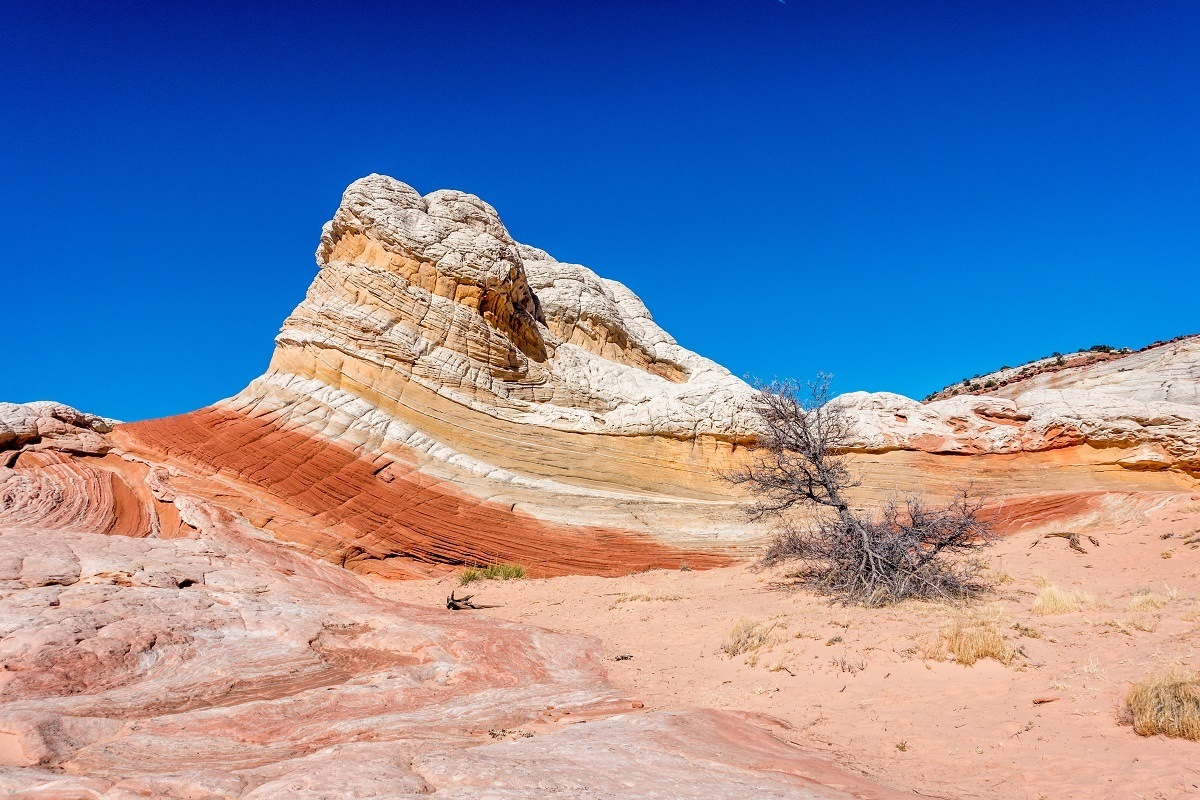 Within the overall Vermilion Cliffs area, there are two special designation sections called the Coyote Buttes North Special Management Area and Coyote Buttes South. The famous Wave formation is located in the North Coyote Buttes area and requires a special hiking permit to visit which is administered on a lottery basis (more on that below). The South Coyote Buttes also requires a special permit to visit, however, that permit is much easier to obtain.
The White Pocket formation is also located in Vermilion Cliffs, but does not require a special permit to visit.
Everything You Need to Know about the Wave Lottery for the North Coyote Buttes Wilderness Area
Being able to see The Wave means you are one of the lucky few. There is a limit of just 20 people per day who will receive permits. The Bureau of Land Management (BLM) handles the permit process for the Wave via a lottery system. The BLM allocates 10 permits a day to an Internet lottery and 10 next-day Wave permits via an in-person lottery in Kanab, Utah.
Please note: hiking The Wave without a permit can lead to federal trespassing charges and stiff fines. Rangers patrol the parking lot and also hike out to The Wave to do permit checks. Attempting to The Wave hike without a permit is unlikely to be successful.
The Wave Online Lottery
The Bureau of Land Management issues Coyote Buttes North permits via an on online lottery system. There are 10 permits allocated per day and would-be hikers can select three different days per month to try for permits. The Wave Permit online lottery opens four months in advance and you have a full month to submit applications. The drawing is held the the first day after the application month.
For example, if you want to hike The Wave in the month of May, you would apply online between January 1 and 31. The drawing would be held on February 1st and you would be notified immediately thereafter.
There is a $5 non-refundable application fee. If you don't get a permit, you're still out the $5. And if you win the lottery, you must still pay the $7 per person Coyote Buttes North permit fee.
What are the Wave permit odds? Well, officially, BLM says the Wave odds in the online lottery are April-June and September-November are about 4-5%. And January has the lowest odds at 25%. However, this data is from 2013 – long before The Wave became really popular.
As we tried for Wave permits, we computed the online lottery odds from at around 0.3% up to about 2%. As more people discover The Wave, the odds will only become more difficult.
To apply online, visit the Coyote Buttes Permit Area website and follow the instructions. You'll be required to watch a 17-minute video before you complete your application.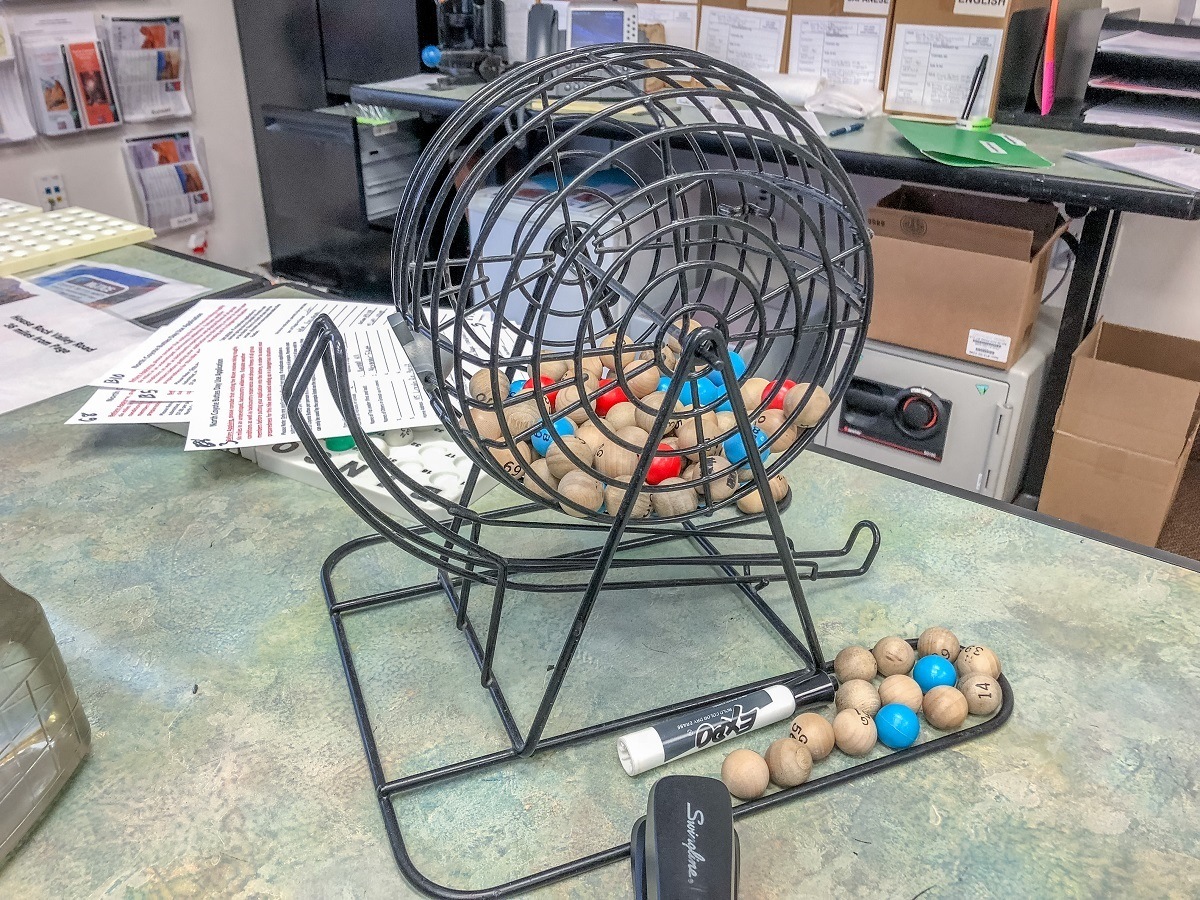 The Wave In-Person Lottery in Kanab
If you are unsuccessful in the online lottery, you can try for Wave permits in-person at the visitor center in Kanab. The odds of getting an in-person permit are a bit better than online, but it is still a slim chance.
The permits are issued at the BLM Grand Staircase Escalante National Monument (GSENM) visitor center located at 745 E. Highway 89 in Kanab. It's important to note that there are several BLM offices in Kanab, so make sure you're going to the right one!
From mid-March to mid-November, the permits are issued every day of the week for the next day. For example if you show up to the permit lottery on Tuesday and you win, your permit will actually be for Wednesday.
However, during the winter (mid-November to mid-March) permits are issued Monday-Friday. On Friday, the lottery is for Saturday, Sunday and Monday permits. So, you have a slightly better chance on Fridays. Of course, more people show up. The odds are still against you. Depending on how many show up on any given day, odds can be as low as 0.3% and as good as about 8%.
Plan to arrive at 8:30am Mountain Standard Time (that's Utah time). In Utah, they observe Daylight Savings Time (they don't in Arizona). Pay very careful attention to time zones (we got ourselves all confused and only figured it out the night before the lottery). The actual lottery is 9:00am Mountain Time. Don't plan to roll in 5 minutes before because you will have missed all the instructions. If you are coming from Page, be sure to allow extra time.
The Wave permits are $7 per person and you must have cash. Credit cards are not accepted.
Experiencing Disappointment in The Wave Permit Process
We tried for the in-person lottery at the The Wave visitor center in Kanab. Being our first time, we arrived early (around 8:15am) and there was already a large crowd. In the Kanab visitors center, the ranger made an announcement about the lottery process and you could feel the anticipation building.
At 9:00am we were herded into the conference room for the lottery. Each party fills out a single application. The ranger warns everyone against filling out multiple applications to increase your chances. He also explained that they keep the applications for 24 hours, so you don't need to fill it out again if come back the next day.
The ranger will then give a briefing about the dangers of The Wave hike, telling visitors what they need to do, and generally warning the timid about the risks. He made the statement several times, "People have died hiking The Wave." The goal is to scare away anyone who isn't absolutely serious about the hike.
He will then draw the lottery balls. Only 10 permits are available. So if a party of five wins, that means there are only five more spots. This creates a tense mood in the room. Everyone is in the same boat together, but is also in competition with each other.
With each ball drawn (and our not winning), we could feel our hearts drop a little. And before we knew it, it was over. We didn't get a permit. Thankfully, we had a plan B already in place: White Pocket.
The Wave Alternatives in Utah and Arizona
If you are like us and don't get selected to hike The Wave, there are several other things to do in Kanab, Utah. These include:
The White Pocket Formations
Commonly seen as the "lesser Wave," White Pocket is extremely impressive in its own right. It has numerous Wave-like formations throughout the site. It doesn't involve as much hiking as the Wave, but it is a much more challenging 4×4 drive to get there. (More details below)
The Peek-a-Boo Slot Canyon
Slot canyons are some of the most visually impressive features in the desert southwest. While many of the most famous slot canyons are on Najavo tribal lands (who charge expensive prices for mandatory guided tours), there are other places to visit for free. One such place is the Red Canyon (known locally as Peek-a-Boo Canyon).
You'll need a high-clearance 4-wheel drive vehicle to get here and you will have to drive through some deep sand. But you will be rewarded by visiting the Peek-a-Boo slot canyon and will probably have the site entirely to yourselves.
North Rim of the Grand Canyon National Park
The Grand Canyon North Rim is possible to visit as a day trip from Kanab (it is an hour and half drive each way) or Page, Arizona (almost three hours each way). The North Rim gets significantly fewer visitors than the South Rim. Please note that the North Rim gets lots of snow and is closed during the winter.
Grand Staircase-Escalante National Monument
This is one the largest tracts if protected lands in the United States and was the last area in the continental United States to be mapped. There are tons of places to hike in the region. If you are unsuccessful in the Wave permit lottery, you can fill days here.
Horseshoe Bend and Page, Arizona
A 75-minute drive from Kanab, Page, Arizona is the gateway to Lake Powell and the Navajo Nation Tribal Lands. However, most visitors come to town for Horseshoe Bend – an iconic bend in the Colorado River. The parking lot and trailhead are about 3 miles outside of town and you should expect the site to be completely mobbed with people. But you can't beat the views.
For travelers coming from the East or up from Arizona, Page can make a good alternative to staying in Kanab. The town of Page is larger than Kanab, there are more services here, and it's a four and half hour drive from the Phoenix Sky Harbor airport which has better connections for those traveling from the eastern United States.
The Wave vs White Pocket
Which is better: The Wave or White Pocket? To a large extent, it's a matter of personal preference. They are different, but each is very unique and both are a tremendous experience.
The Wave is famous. Some may even say infamous. And it is absolutely breathtakingly beautiful. Every would-be Instagram model dreams of coming here and taking pictures of themselves. Despite the difficult hike, the Wave is closer to Kanab than White Pocket and is more accessible. You can drive a regular car to the parking lot. But the overall Wave site is quite small and the The Wave formation is much smaller than most people realize. The one impressive photo you see everywhere is most of the site.
White Pocket is more challenging. You have to really want to go there. It's much further from Kanab and you must have a high-clearance 4-wheel drive vehicle to reach the formations. The drive is through deep sand, which is a challenge if you are not used to it. But once you get to the site, there is a vast area of unbelievable rock formations to explore – including several that are just as impressive as the Wave.
How to Get to the Wave in the North Coyote Buttes
Driving to The Wave is not exceptionally difficult. Much of the drive is on a paved road and only the last 8.15 miles is on a gravel road. The road is generally in good condition and is usually passable to 2-wheel drive passenger vehicles.
The visitor center in Kanab usually posts The Wave road conditions, so you'll know what to expect. If you are coming in a car, take it slow and expect some wash-boarding, but you will not encounter deep sand or other treacherous conditions.
The GPS Coordinates for The Wave parking area and trailhead are: 37.019210, -112.025143
Here are the turn-by-turn directions to The Wave to follow:
From Kanab, Utah, take U.S. Highway 89 to the east for 38 miles. When you encounter a long straightaway heading due south, look for a turnoff on the right side of the road. The turnoff will come immediately before a very severe curve where the turn will head back to the east. Take the turnoff, which will immediately go down a steep embankment. There is a small sign for road, which is called House Rock Valley Road.
From Page, Arizona, the U.S. Highway 89 west for 35.5 miles. Just after you come around a bend to the right, the road will head due north. The turnoff is immediately past the guardrail on the left. It will come up quickly, so be watching for it.
Regardless from which direction you come, when you get off Highway 89 onto House Rock Valley Road, pull over and immediately reset your odometer. Drive south on House Valley Rock Road for 8.15 miles. The Wave parking lot will be on your right and the washout leading to The Wave Trailhead on your left.
How to Get to White Pocket in the Vermilion Cliffs
The first thing you need is the right vehicle. It is absolutely mandatory to have a high-clearance 4×4 vehicle. A standard 4-wheel drive SUV or crossover isn't going to do it. You need something like a Jeep Wrangler or Jeep Cherokee. We rented one from an outfit in Kanab, and there also several places in Page. (For more information, see rental car details below) The Vermilion Cliffs National Monument visitor center in Kanab can give you the latest information on the White Pocket road conditions before your drive.
The GPS Coordinates for the White Pocket trailhead and parking area are: 36.955011, -111.893296
If you have satellite navigation, you may want to program this in. However, be aware that there are absolutely no cell towers anywhere in the Vermilion Cliffs. Your phone will completely worthless – either as a navigation tool or in case of emergency.
Here are the turn-by-turn White Pocket directions to follow:
Follow the directions above to The Wave. From Kanab, Utah, take U.S. Highway 89 to the east for 38 miles. Take the House Rock Valley Road turnoff on your right. (From Page, Arizona, take U.S. Highway 38 west for 35.5 miles and make the turn on your left.) Pull over and reset your odometer.
Drive south on House Valley Rock Road for 20.1 miles. At mile 8.15 you will pass the The Wave Parking Lot on your right and the washout leading to The Wave Trailhead on your left. At mile 20.1 on House Valley Rock Road, you'll see the Old Corral. Take the road on your left, which is known as BLM Road 1017/Pine Tree Road. You'll follow this east for 6.2 miles.
At 6.2 miles, you'll come to a farm house and the main road will bear to your left onto BLM Road 1087. You'll kind of drive through the farm and the road will begin to head north. You may want to stop at the farm to check your vehicle and tire pressure. Beginning at the farm and the rest of the drive to White Pocket, you should be prepared for areas of deep sand.
Also, you may encounter a series of gates across the roadway as you cut across the Plateau Ranch. You are allowed to open the gates to pass through, but you should leave all gates as you found them.
Follow BLM 1087 for approximately 3.9 miles to a fork in the road. You will follow the left fork, which is BLM 1086. Follow this road for 5.6 miles until you arrive at the White Pocket parking area and trailhead. You should be prepared to encounter deep sand on his road.
From the parking lot, the White Pocket hike is relatively easy. The hike is about 400 yards from the parking lot to the first rock formation. Once you reach the rocks, there is no trail. You just walk around the site exploring some of the best Arizona rock formations you can possibly imagine.
How to Drive in Deep Sand
If you've not done significant 4×4 driving, consider one of the White Pocket or Wave tour packages from Kanab and let them ferry you out to the site. However, if you're looking for an adventure, renting a four-wheel vehicle and driving yourself may be just the ticket.
Here are few tips to driving in sand:
Before you hit sand, stop and let some air out of your tires. This gives you more surface area to "float" on top of the sand.
Keep your speed up! Driving in sand is about keeping momentum. This doesn't mean going flat out, but it does mean keeping your speed (and forward momentum) up a bit.
If you're driving a manual transmission, stay in a lower gear and keep your RPMs up a bit.
As you are driving, you will feel yourself slide around a bit. You might almost feel like you are out of control. This is normal. The key is to keep forward momentum and gently compensate.
If your momentum wanes and you start to feel your tires spin, stop driving immediately. Continuing to throttle the gas peddle will only dig you in deeper.
If you get stuck, use gear to get you out (see below list of gear). Use your shovel to dig out sand and find firmer ground. Use the floor mats from the vehicle to give yourself a traction surface. Sticks and other debris (needles, shrubs, etc.) can also help you get traction.
After you are done driving on sand, re-inflate your tires with a portable air compressor.
Things to Take with You to Vermilion Cliffs National Monument in Arizona
The Wave and White Pocket are located in the Vermilion Cliffs Wilderness area. This means they are remote and the landscape is unforgiving. You should be prepared for a hostile environment and able to survive for a period of time if you get lost or encounter unforeseen situations.
We strongly encourage everyone traveling to the Paria Canyon-Vermilion Cliffs to have the following:
Camera. Be sure to bring your camera! These rock formations are incredibly beautiful and you'll want to capture the moment.
A high quality map of the area and a compass. You should absolutely get this map of the Paria Canyon area and you should know how to use it!
Water. In the desert, you should be drinking about a gallon of water per person. Both the Wave and White Pocket are in open areas with almost no shade. Expect it to be brutally hot in the summer. Take lots of water.
Food. We're not just talking about your lunch. You should have an extra stash of food with you to survive for at least a day if you should get lost.
Shovel. You need a portable shovel for your four-wheel drive vehicle to dig out if you get stuck in the sand.
Portable electric compressor with car adapter. You will need to let air out of your tires to drive on the sand. Having a portable compressor like this one will allow you to inflate your tires again when you get back to a hard road.
Full tank of gas. Both the Wave and White Pocket are close enough to Kanab that you won't need extra gas cans. However, you should make sure you have a full tank of gas before leaving town.
Blankets or sleeping bags. It can get cold in the desert, even in the summer. Make sure you have blanks or sleeping bags in your vehicle in case you get stuck.
Sunscreen. The sun in northern Arizona can be brutally unforgiving. Make sure you bring lots of sunscreen and reapply frequently.
Visiting Kanab, Utah
The town of Kanab, Utah makes a great base to explore the entire region. From Zion National Park to Lake Powell, Kanab should be your base. Here is our Kanab visitors guide.
Where to Stay in Kanab
Quality Inn Kanab. This is both the closest hotel to the BLM Kanab Visitor Center and also to the Vermilion Cliffs (both the Wave and White Pocket). It comes with breakfast, free wifi and a pool/spa. It's close to the highway, so rooms on the backside may be quiet. (Book a room here)
Hampton Inn Kanab. This is our hotel of choice when we've been in town. This is walkable to restaurants in town. Hampton Inn has free breakfasts, a pool/hot tub, and knowledgeable staff to help you find other things to do. (Book a room here)
Comfort Suites Kanab. This hotel is in the heart of downtown Kanab and very close to restaurants. (Book a room here)
Where to Eat in Kanab
Peekaboo Canyon Wood Fired Kitchen. This vegetarian establishment makes a mean pizza. Food is plentiful and reasonable. We have had some great pizzas here.
Rocking V Café. Right on main street, Rocking V offers a broad menu of American cuisine including salads, wraps, tacos, burgers, and steaks. The place can be packed at any hour of the day, but locals swear by it.
Sego Restaurant. This is fine dining in Kanab. You'll find craft cocktails and creative menus. If you're looking for something a bit nicer, this is your place.
Kanab Rental Cars
You're probably coming to Kanab in a rental car of your own (assuming you've flown into Las Vegas or Salt Lake City), or have come with your own vehicle on a road trip. If you need to rent a car here, there's one game in town: Xpress Rent-A-Car of Kanab).
Xpress is located just out of town near the airport. They have a limited number of Jeep 4×4 vehicles for rental (best to reserve in advance). We found the rentals be expensive, but well worth it (and significantly cheaper than the guided tour options in town).
Alternately, you may have good luck renting your 4×4 from one of the bigger agencies in Las Vegas. We recommend checking RentalCars.com because several rental agencies (such as Fox Rent A Car) have Jeep Wrangler rentals in Las Vegas. And rentals out of Las Vegas are significantly less expensive than options in Kanab. Fox seems to have more selection of 4×4 vehicles.