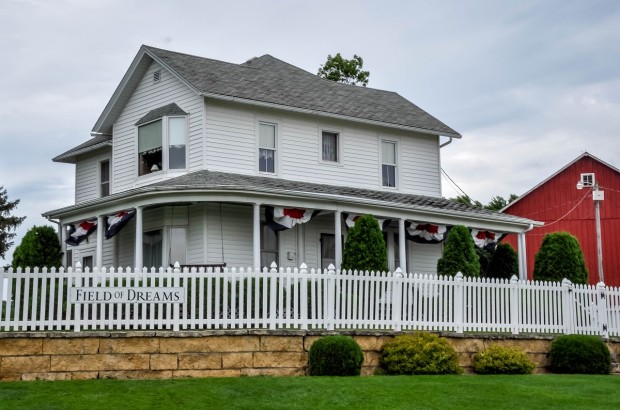 My family's clan hails from eastern Iowa originally and we decided to go for a visit for a long Independence Day weekend. My family moved away and I never lived in Iowa, but I have frequently gone out to visit family over the years. During those trips, I have always wanted to visit the Field of Dreams location in Dyersville, Iowa, and this trip gave us the opportunity. Being in the Galena-Dubuque area put us just 30 minutes from Dyersville.
"Is this heaven?" the character John Kinsella asks. "No, it's Iowa."
We were thrilled to see how authentic the Field of Dreams location in Dyersville remains to this day. There's no massive industrial complex. No paved driveway. No pushy attendants. In fact, no charge whatsoever. We were free to roam the grounds, walk on the field and disappear into the corn.
"Ray, people will come Ray. They'll come to Iowa for reasons they can't even fathom. They'll turn up your driveway not knowing for sure why they're doing it. They'll arrive at your door as innocent as children, longing for the past. Of course, we won't mind if you look around, you'll say. It's only $20 per person.
"They'll pass over the money without even thinking about it: for it is money they have and peace they lack. And they'll walk out to the bleachers; sit in shirtsleeves on a perfect afternoon. They'll find they have reserved seats somewhere along one of the baselines, where they sat when they were children and cheered their heroes. And they'll watch the game and it'll be as if they dipped themselves in magic waters.
"The memories will be so thick they'll have to brush them away from their faces. People will come Ray. The one constant through all the years, Ray, has been baseball. America has rolled by like an army of steamrollers. It has been erased like a blackboard, rebuilt and erased again. But baseball has marked the time.
"This field, this game: it's a part of our past, Ray. It reminds of us of all that once was good and it could be again. Oh… people will come Ray. People will most definitely come."
The way the Terence Mann character describes the scene in the movie – it seems almost magical. And the Field of Dreams location really is. We saw a couple of kids having a catch with their dad along the 3rd base line – the ball slapping the leather glove. The wind rustling the leaves of the tall corn stocks. We could also imagine the ghosts on the field.
I often think of my family in Iowa. They frequently tell me to come back and visit and I always do. As they say, "People will come Ray," and I'm sure I'll be back…someday. And one day we'll come back and visit the magical Field of Dreams location in Dyersville, Iowa.
Note: Some links may be affiliate links, which means Travel Addicts may earn a few pennies if you buy something – all at no additional cost to you.