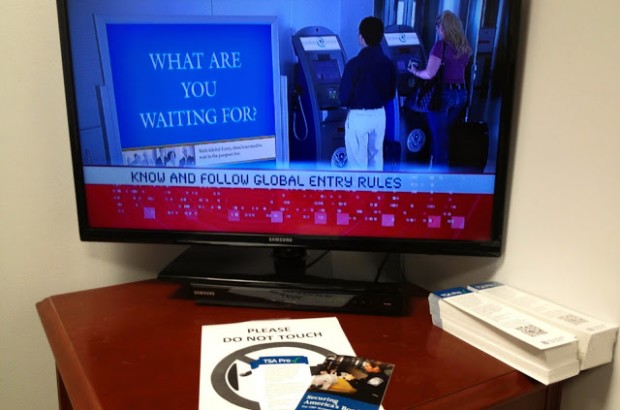 Flying sucks. No, really, it does. It's amazing to see new sights and be new places and experience new cultures. But the physical act of travel is awful. But what if we told you that it could be better – almost fun again? It's true!
The folks over at Homeland Security have launched not one, but two government programs to make the travel process almost bearable again. The first program launched by the U.S. Customs and Border Protection is Global Entry. The theory is that there are some travelers out there (known travelers or trusted travelers) who travel frequently for business who don't present much of a risk to the country. Homeland Security essentially does a comprehensive evaluation of these people and then focus security risks on unknown travelers. It's essentially a paid-enrollment into a profiling program. And it's amazing!
The program works like this – you enroll on the government website and give them a non-refundable application of $100. You then fill out a comprehensive online profile indicating everywhere you've traveled in the last five years, all your known residences, etc. The application took me about an hour (I've been to a lot of countries). Three weeks later, I received an e-mail from Global Entry indicating that I could schedule my interview.
The wait time for the interview in Philadelphia where I live was more than three months, so I scheduled my interview for the New York City office, where the wait was only about six weeks (Laura also recently completed Global Entry and her wait time was three months). When you go to the Global Entry interview, you watch a 10 minute video on how to use the system and then answer questions from a Customs and Border Protection officer for another 10 minutes. It is so easy. And the Global Entry program is valid for six years.
On recent trips back into the U.S. from Vancouver and Germany, I was able to avoid the 1-2 hour immigration lines in Philadelphia and proceed directly to baggage. This has made returning to the U.S. simple and easy.
But the best of the Global Entry benefits is that once you complete the process, you are automatically enrolled in the Transportation Security Administration's Pre Check program. With the TSA Pre Check, it's like flying before 9/11. You can leave your shoes on at screening, you no longer need to pull your 3-1-1 liquids out of your luggage, and you no longer need to remove your laptop. Frankly, it's like travel should be.
At Philadelphia International Airport, where security lines are frequently 30-60 minutes, this breezes you through security in less than five minutes. The catch is that it's not a guarantee. And TSA reserves the right to send you through the regular line to keep you guessing and ensure some randomness in the process.
If you're a frequent traveler, these two programs are for you!