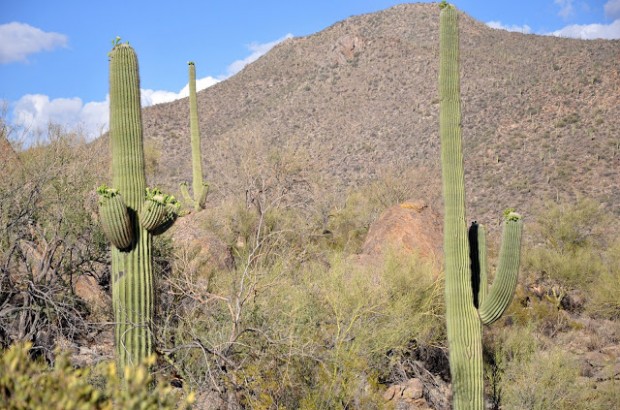 We never tire of the stark beauty of the desert southwest. A recent work trip brought us to the Ritz Carlton Dove Mountain for a week, giving us the opportunity to hike the canyons, do some geocaching and see the giant saguaro cacti. We were impressed with these giants of the desert that can grow to over 30 feet tall and live to be over 200 years old!
The Ritz Carlton Dove Mountain is a magnificent hotel and spa complex tucked neatly into the mouth of a desert canyon outside of Tucson, Arizona. New for the summer at Dove Mountain are two geocaching courses, making use of over 20 miles of hiking trails at the resort.
For those unfamiliar with the concept of geocaching, it is a sport played using GPS devices to find hidden containers called caches out in the landscape. It's kind of a scavenger hunt guided by satellite. We have geocached sporadically on our travels (Egypt, Italy, Czech Republic and in about 10 States) and thought we would try it here.
The hotel can provide GPS units, allowing guests to tackle one of two courses – a family course which is nearly flat and a more adventurous course for older children. We did the family course and thought it plenty challenging. This was a great way to get out, hike and enjoy the beautiful surroundings of the desert.
The Ritz Carlton Dove Mountain is a stunningly beautiful property and an amazing relaxing getaway. We can't wait to come back here for some relaxation in the future!
Note: Some links may be affiliate links, which means Travel Addicts may earn a few pennies if you buy something – all at no additional cost to you.