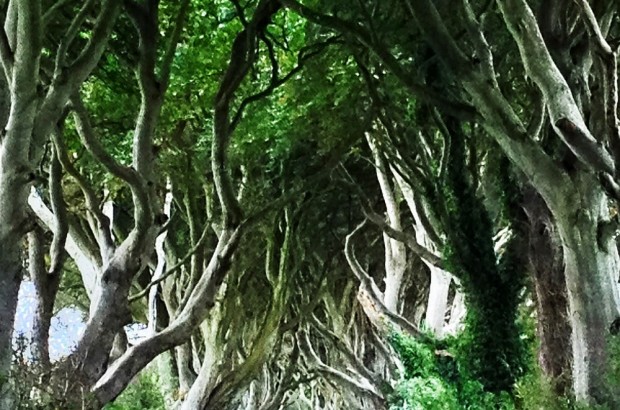 We've just gotten back from nearly two weeks in Ireland and Northern Ireland. On our last trip there in 2008, we spent a lot of time in the southern part of Ireland, so this time we focused primarily on the north — Belfast, the Antrim Coast, Derry, Donegal and Sligo.
Even though this was a really long trip for us, it felt short, as vacations tend to (especially once we go back to work). We'll be writing about our experiences over the next several weeks. But, in the meantime, here's a look at our adventures through Instagram.
Eating and Drinking
The food and drinks. Oh, the drinks! Let's be honest, eating and drinking are key parts of any good vacation. And boy did we indulge on this trip.
Guinness is practically the national drink of Ireland.  It's everywhere.  And we had the amazing fortune to attend a party at the Guinness Storehouse, so Guinness was truly everywhere — in the drinks, the amazing food, the exhibits. Everywhere.
But it doesn't stop at Guinness. Our personal favorite Irish beverage is Bulmers cider, known as Magners outside of Ireland. More than a couple of pints might have been consumed. We also had the chance to visit several breweries and distilleries around Ireland and Northern Ireland. We might be lushes.
Ireland has joined the cocktail bandwagon, too, going way beyond the basics. Places from high-end hotels to local pubs now frequently serve more inventive drinks with snazzy garnishes. This was a big but welcome change from our last visit.
The food in Ireland seems to have taken dramatic leaps forward in the last several years, too, although maybe we're just eating at better places.  Either way, we found ourselves at some great local food markets with delicious pastries and all varieties of ethnic foods.  The restaurants and dinner shows also offered more flavorful options than we experienced before, all proudly using as many local Irish ingredients as possible.
History
Ireland and Northern Ireland have more than a little history, and we explored about 6000 years' worth on our drive.
In County Sligo, we stopped at Carrowmore, the site of over 60 megalithic passage tombs, some 5500-6500 years old.  There were a lot of rocks.
We also visited considerably newer sites like the 18th century St. Columba's Church in Drumcliff where the poet W.B. Yeats is buried.  The one-time English major in me was quite impressed. 
We also made sure to visit a few sites that didn't directly include dead people, like Dublin Castle — older than St. Columba's but newer than Carrowmore, with parts dating back to the 1200s.
Street Art
Ireland has a thriving street art scene, much of it intended to be social commentary in some way.
Artists like Conor Harrington and Solus decorate walls and alleyways all over Dublin.  If you don't look up as you walk through the downtown streets, you just might miss it.
In cities like Belfast and Derry in Northern Ireland, street art takes on a serious tone.  These cities, in particular, were sites of serious conflict during The Troubles — the period that lasted from the late 1960s until 1998 when regular clashes occurred between the (generally) Protestant unionists and Catholic republicans.  The issues revolved around relations between the two groups and about the constitutional status of Northern Ireland.  Murals in Belfast and Derry show the different sides of the conflict, memorializing those who fought or were victims in the fighting, or serving as monuments to the tenuous peace between the communities.
The stories we learned while visiting the murals were more than a little surprising.
Music
Other than fish and chips, the best accompaniment to a pint in a pub is great Irish traditional music — fiddle, Irish flute, bodhran (drum) and guitar, or any combination of those. Since we visited six cities and towns on our trip through the north, we had plenty of time to seek out local trad.
One music show, The Irish House Party, also included some bonus step dancing. Doesn't get better than that.
Nature
The landscapes of Ireland and Northern Ireland are unlike most places we've seen in the world.  The land can be green, yellow, brown and red practically all at once, and shadows play on the land and the water during the moments when the sun breaks through the clouds.
What's your favorite thing about Ireland?
You can find us on Instagram at Travel Addicts.
Note: Some links may be affiliate links, which means Travel Addicts may earn a few pennies if you buy something – all at no additional cost to you.