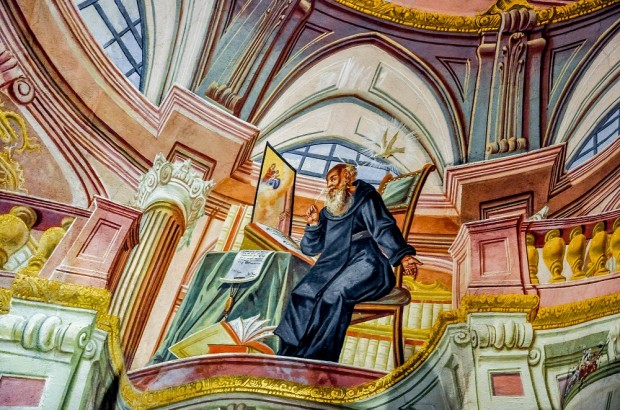 Prague has long been an important city for music in Europe. Prague adopted Wolfgang Amadeus Mozart when Vienna did not, and Mozart held the world premiere of Don Giovanni here. When I first visited Prague in the summer of 1995, I wanted to go to a classical concert. Unfortunately, bad weather (and the Rolling Stones in town) precluded me from doing it. However, on this trip, I made sure we were able to listen to music.
In Prague, there are literally dozens of options nearly every day for a concert. The quality of the music and the venues vary greatly. We selected a concert at St. Michael's Monastery that was playing Vivaldi – a favorite of ours and reminded us of our wedding. The "monastery" at St. Michael's is a bit historical and we were expecting a religious building. Instead, it was more of a mixed-use office building and the music library shared the building with a consulting firm. However, the room itself had a gorgeous painted ceiling and good acoustics. The venue only held about 60 people, but there were only about 25 in attendance.
The concert was a pleasant pre-dinner experience, but at only one hour, it was not a major time investment. We really didn't know what to expect. They played Vivaldi's The Four Seasons, Bach's Fuge in G Major, Mozart's Figaro's Marriage, Dvorak's Largo "From the New World", Smetana's "My Country", Tchaikovsky's The Swan's Lake and Bizet's Carmen. It was a nice selection of pieces. The harpist, singer, violinist, and organist rotated to give a picture of the various compositions of the songs.
Over the next few days, we learned that not all Prague concerts and concert venues are the same, so there is a need to choose wisely. A concert in the St. George Church in the Castle would be amazing given the very intimate space and concerts are held here occasionally. However, some of the other "Castle" concert locations seemed kind of cheesy. In the center of town, The Church of St. Nicholas has concerts in a beautiful baroque space and these seem relatively reasonable in terms of price, although the room is much larger and lacks the intimacy of other venues.
Hearing a concert in Prague was something I always wanted to do and I was glad to finally have the opportunity. However, if we had done more research ahead of time, we might have selected something different.