Some posts on this site contain affiliate links, meaning if you book or buy something through one of these links, we may earn a small commission (at no extra cost to you).
We had breakfast at the Centerhotel Klopp and headed out into the city. Thankfully, for our final day in Iceland, the weather cleared and we had clear skies!
We headed straight up to Hallgrímskirkja (Hallgríms Church) – the iconic landmark atop the hill that can be seen from everywhere in Reykjavik. It's free to go into the church, which resembles some kind of ice cave inside. The organ is the only thing inside the church that isn't a shade of light gray. To go up the observation tower costs a few bucks and is definitely worth it. You can take the elevator up, but then you need to climb three flights of stairs onto a viewing platform. The platform offers archways looking out into the four directions. The view isn't as stunning as you might imagine, but I'm glad we did it. Downtown Reykjavik is very colorful when viewed from above.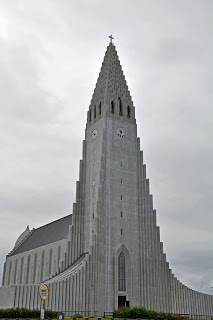 Laura was enthralled by the statue of Leif Ericson out in front of the church. It was gift from the people of the United States in 1930 recognizing that Leif Ericson was the discoverer of America – not the Christopher Columbus idiot. There's something refreshing about the honesty of recognizing the real discoverer of the new world.
As this was our last day "in country," we headed down to the tourist office to get our VAT refund. After, we wandered the town and soaking up the atmosphere of Reykjavik. We ended up at the Kaffi Solon for lunch with the business lunch crowd. I opted for a burger (with paprika sauce) and my wife had the quiche. The food was great!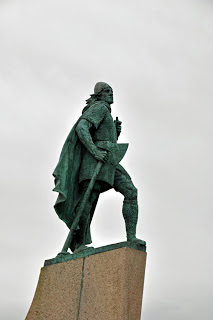 Sadly, our time in Iceland and Reykjavik was at an end. For the second time, we took the Reykjavik FlyBus back to the airport. Thankfully, our trip to the airport was better than our previous FlyBus experience – the Reykjavik FlyBus Fiasco.
So, with that, our time in Iceland came to close… I've been fascinated and captivated by Iceland since I saw the film Cold Fever in 1996. Cold Fever is Friðrik Þór Friðriksson's epic journey of a Japanese businessman into the heart of Iceland. (See the film trailer.) Our trip to Iceland was less eventful than the Japanese businessman's. We didn't have a car breakdown. We didn't see any of the fairy people. But we did explore and eat hotdogs. I don't know what I expected with Iceland, but it was different. And I'll miss it… Goodbye Iceland!