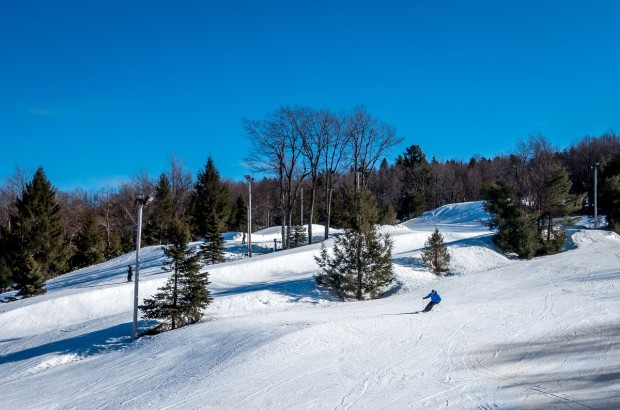 "Have you ever skied before?"
It's a common enough question when renting ski equipment, and the guy asking it was setting my bindings for a day out on the slopes at Jack Frost Big Boulder in the Pocono Mountains. "I'm from Colorado," I said simply. It seemed like enough of an explanation. "Well," he said, "you'll find skiing in Pennsylvania is a little different."
To be fair, comparing skiing in the eastern states like Pennsylvania to the plush powder of Colorado really isn't fair. I set aside my preconceived notions and focused on the task at hand–carving turns. And what Laura and I experienced at Jack Frost Big Boulder (JFBB) surprised us.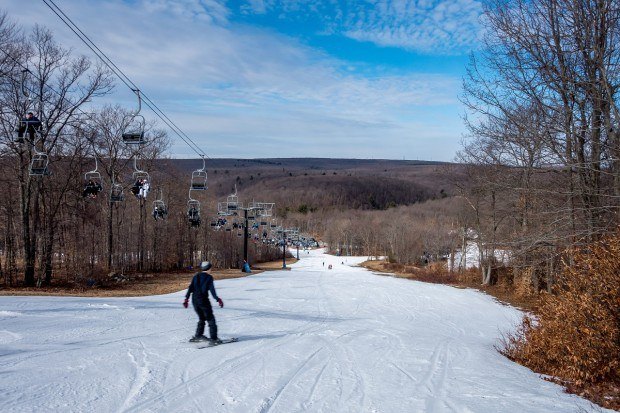 The JFBB ski area is actually two ski mountains about 10 miles apart–Jack Frost Ski Resort and Big Boulder Ski Resort. There's a common lift ticket for the two mountains. At Jack Frost Big Boulder it's like getting two different ski experiences in one!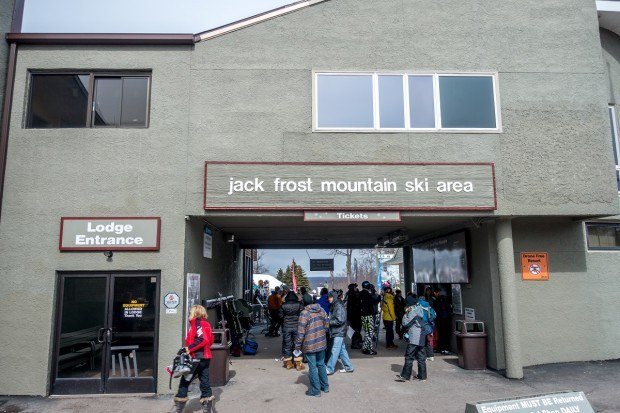 Despite my growing up skiing and Laura and I taking our first vacation together as a ski trip, we hadn't been skiing in a very long time until we ventured out to New Mexico and hit the slopes at Ski Santa Fe at Christmas. Having worked the rust out, we were ready to tackle skiing in Pennsylvania. Skiing in PA has the reputation of being ice skating–sliding over icy sheets and grinding to a halt at the bottom of the mountain. But we found that to be inaccurate.
We started our ski morning at the Jack Frost Ski Resort. Unlike nearly every other ski resort we've been to, at Jack Frost, the parking lot and lodge are at the top of the mountain. From the lodge, you ski down into the Lehigh River Valley and take a lift back up. We got our lift tickets and headed over to the ski rental shed, picking up our gear. Compared to other resorts, this process is incredibly efficient, which is great when you're itching to hit the slopes.
Once geared up, we pointed the skis down the nearest run and got a feel for it. The snow is tough to describe. Yes, there is a solid base of ice under the snow. It feels very different when you fall. The surface is kind of a shaved snow-cone like texture. It's not fluffy snow. But it's definitely not solid ice either.
The Jack Frost Mountain has the longer runs of the two mountains. I was prepared for the runs to feel very short and not have much of a vertical drop, but Jack Frost surprised me. The runs felt good. There was enough vertical rise and enough length that it was real skiing. Any concerns I had about skiing out east were erased.
Our only real challenge was the lifts. There are no chutes to organize the skiers. There's no "front row" concept or staff organizing the process or calling out instructions. Everyone just kind of inches forward and tries to take turns. It works reasonably well until that one person shows up and needs to shove her way to the front.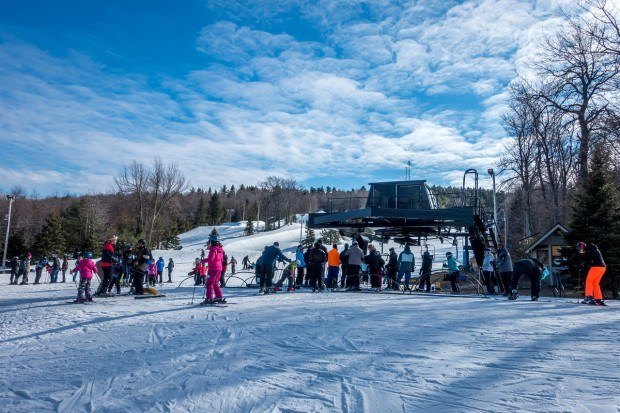 The lodge at Jack Frost offers a number of concession-type food options for lunch. They have standard grill fare, a pizza place, and a burrito stand. Naturally, we opted for burritos, which packed flavor…and nutrients. But the chili bowls looked absolutely delicious!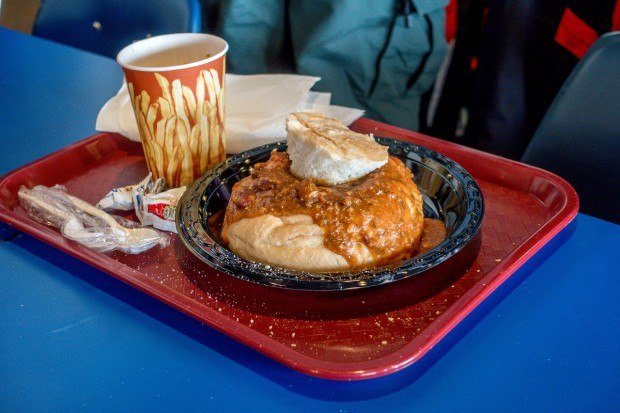 In the late afternoon, we headed down Moseywood Road to the Big Boulder Ski Resort. Big Boulder is the almost exact opposite of Jack Frost–the lodge is at the bottom, the runs are shorter and have more vertical rise, it's a smaller resort, the snow felt more like real snow, and it offers night skiing.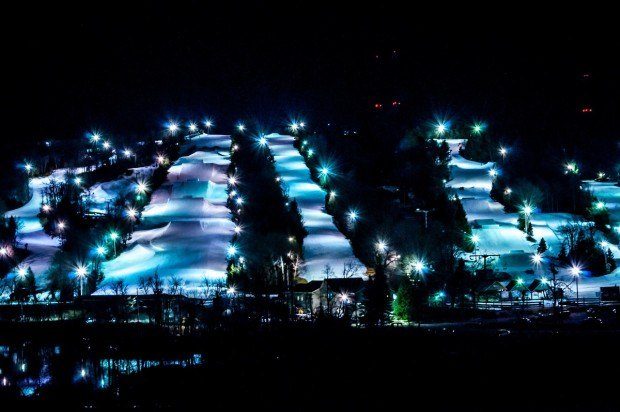 On the day we visited, a local company (Yuengling Brewery) was having its employee appreciation day. The entire resort was decked out in Yuengling gear. But it also meant that the lodge was closed for their private party. But they brought in a live band and everyone could enjoy the music.
We got to Big Boulder ski mountain late in the day as the sun was casting those famously deceptive long shadows. Skiers know it well – at the end of the day, the shadows play tricks and you lose your depth perception. I took a number of falls misjudging distances. Maybe I hadn't worked out all the kinks skiing this season!
After a day on the slopes, we headed back to the Split Rock Resort (read our review of Split Rock) where we were staying for some après-ski wine and a dip into the hot tub to relax our muscles.
We sat in the hot tub and reflected on the day. Based on the reputation of Poconos skiing, we weren't expecting much from the Jack Frost Big Boulder ski mountains, however we were pleasantly surprised. The snow was much better than we anticipated (especially given how warm it has been this winter and how little snow we've received). But, most importantly, we had a lot more fun at Jack Frost Big Boulder than we ever thought possible.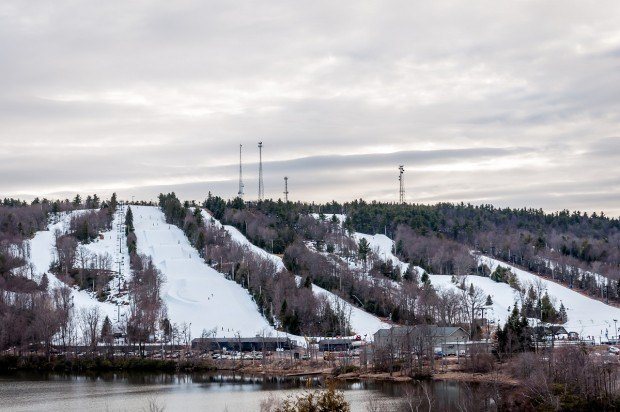 Visiting Information for Jack Frost Big Boulder Ski Resorts
Jack Frost Ski Resort Key Stats:
21 trails (4 Green, 6 Blue, 8 Black, plus 2 terrain/obstacle parks)
12 lifts
600 feet vertical rise
Jack Frost Hours of Operation:
Weekdays: 9am-4pm; weekends 8am-4pm
Tubing on Friday, Saturday and Sunday from 10am-4pm
Big Boulder Ski Resort
15 trails (4 Green, 3 Blue, 3 Black, plus 5 terrain/obstacle parks)
9 lifts
475 feet vertical rise
Big Boulder Hours of Operation:
Weekdays: 3pm-9pm; Saturdays from 8am-10pm and Sunday from 8am-8pm
Tubing: Weekdays: 3pm-9pm; Saturdays from 8am-10pm and Sunday from 8am-8pm
Lift tickets for both mountains at Jack Frost Big Boulder:
Adults are $48 midweek; $55 weekend; and $57 holiday
Youths (5-18) are $35 midweek; $43 weekend; and $45 holiday
Seniors (62-69) are $35 midweek; $43 weekend; and $45 holiday
Big Boulder night tickets are $30 midweek; $33 weekend; and $34 holiday
Both Jack Frost Big Boulder mountains are part of the seven mountain Peak Pass.
Equipment Rentals for both mountains at Jack Frost Big Boulder:
Adults from 9am-4pm is $35 and from 4pm-close is $27
Youths (ages 5-18) is $35 and from 4pm-close is $27
Website: https://www.jfbb.com/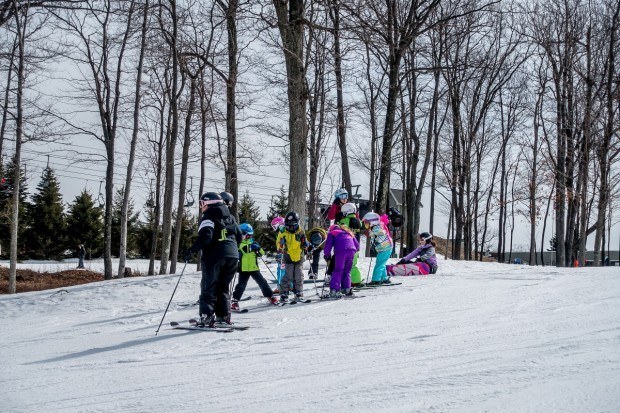 Thanks to Pocono Mountains Visitors Bureau, we were the guests of Jack Frost Big Boulder and Split Rock Resort. As always, all opinions of the cold and athletic are our own. Note: Some links may be affiliate links, which means Travel Addicts may earn a few pennies if you buy something, which helps offset our costs of web hosting – all at no additional cost to you.