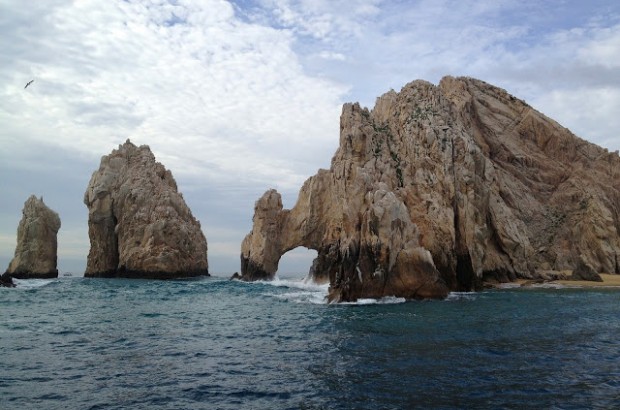 "Stay in the shallow water and watch out for sharks on the far side of the reef," the boat captain warned us. Yet, the twinkle in his eye told us that he was just playing us. There were no sharks here. Yet, as it turns out, there was danger in the water.
We'd come to the seaside resort of Cabo San Lucas, Mexico at the southern end of the Baja peninsula on cruise. Our first goal for the day was to do some snorkeling at Playa Chileno. While a boat is unnecessary (you can easily reach the beach by cab from Cabo), it was incredibly helpful to avoid the hidden danger in the water. You see, close to shore in the rougher surf, the little stingers from jellyfish or coral catch unsuspecting snorkelers. Many in our party got stung, including Laura's sister.  It wasn't too bad, but could put a damper on things if you were allergic. A wetsuit would be really helpful here, especially since the water can be pretty cool.
There is plentiful marine life to see while snorkeling at Chileno Beach. Both Laura and I are experienced scuba divers, so we sometimes feel like snorkeling is a poor substitute; however, we both enjoyed it immensely.
On the way back into Cabo on the snorkel boat, we spent about hour watching the amazing whales breaching in the bay and a small pod of dolphins in front of our small boat. The excitement of watching the whales was significantly amplified by margaritas and beer, making the whole experience something close to a religious experience. It was awesome!
For us, Cabo was nothing more than a chance to let loose and have a great time with the extended family (who we don't get a chance to see nearly enough of). Cabo was fantastic! And we're sure to come back – even though we didn't get to see the sharks at Chileno Beach!