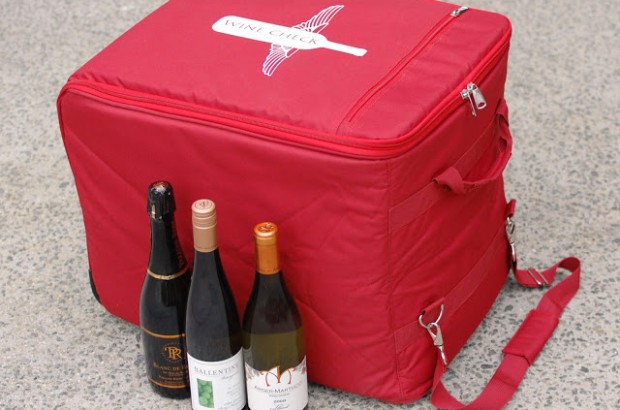 I am not a big souvenir guy. I don't need a t-shirt from every place I've been, and tchotchkes take up too much room. But Laura is a souvenir person, and over the years, I've come around to the idea that certain ones can really be worth it. Months after coming back from vacation when we've returned to the grind of work, whose turn it is to take out the trash and picking up the dry cleaning, it can be great fun to pop open a bottle of wine from our last adventure and reminisce about how much fun we had.
Considering the challenges of flying with liquids, the bulk of bottles, customs restrictions, and the possibility of arriving at our destination with Cabernet-stained luggage, we have never bought more than a bottle or two on our travels. That wasn't really an option for Tuscany.  When we travel, we love to bring back souvenirs. Typically, we like to bring back wine or liquor that we've enjoyed on our trip. But, like many, I always assumed I was limited to 1 liter (it's on the back of the customs form). But that's not the whole story.
According to U.S. Custom's and Border Patrol, you can bring one liter back duty free. You can bring an undermined amount back "for personal consumption," which amounts to about one case per person. Now, you have to pay the duty on the amount over one liter (duty rate is 3%, which is exactly half the 6% sales tax in our state).
For our trip to Tuscany, I went in search of a container that would allow me to bring back more wine – safely.  And that's where the brilliance of The Wine Check comes in. And it is brilliant!
The positives: the container is roughly the size of a standard suitcase, but much deeper, so it's easy to manage. The strap handle and wheels make it easy to pull along. Each bottle is individually cradled in the carrier, which protects them during transport. The carrier is supported and padded, which means the case can take a beating and the wine is still protected. I'm not a small guy and it fully supported my weight. At $70 (for the Wine Check tote plus Styrofoam insert), it is a relative bargain and one of the best travel purchases we've ever made.
The drawbacks: its bright red color draws lots of attention. This can be a little challenging when you're trying to not stand out as a tourist and also not draw significant interest from Customs officials. I wish they offered other colors like blue and black.
When we returned to the US, we declared the quantity and the value of the wine we purchased, and were waived right through customs without paying the 3% duty. We're going to enjoy drinking our wines from Italy for a long time!
The Wine Check did not compensate us for writing this.  We just love the product that much.
Photos used with permission from The Wine Check