When people think of Colorado, they think mountains. And when people think about Colorado in the winter, they often envision the incredible ski slopes throughout the state. Grand County is truly Colorado's winter and snow playground! Check out favorite things to do in Winter Park, Granby, and Grand County in the winter.
Many Coloradans and visitors know Grand County because of Winter Park Resort – one of the best ski areas in Colorado. And certainly, skiing tops the list of Winter Park activities, but there's so much more to do here!
To get to Grand County, you either drive or take the ski train. Like most people, we drove. After heading west on I-70 and climbing Berthoud Pass (one of the most beautiful drives in Colorado!), you descend into a long valley that stretches from Winter Park ski resort all the way up to the town of Granby. Lots of ranchers graze their herds on this fertile land.
And this stretch of heaven gets plenty of snow in the winter. Heaps and heaps of snow. It is everything you could ever ask for in a winter paradise!
The Best Things to Do in Winter Park and Granby
Here are our favorite things to do in Grand County, CO near Winter Park, Fraser, Granby, and Grand Lake:
Snowmobiling
While most visitors immediately head for the slopes, there is another kind of adventure awaiting: snowmobiling in Winter Park! Those who own snowmobiles often head to the wild areas west of Kremmling, including the Medicine Bow-Routt National Forests and Rabbit Ears Pass.
For those who don't own their own machines, there is another option for snowmobile rentals–Grand Adventures. Located immediately across the road from the Winter Park Resort, the company offers both independent rentals and guided trips.
Leaving several times a day from base camp, you head up into the Corona Bowl nearly to the Continental Divide. From the bowl, there are incredible views of the Winter Park and Mary Jane ski resorts, as well as the whole Grand Valley.
To be honest, we were a little reluctant to go snowmobiling because we had just had our terrible scooter accident, however, the machines are completely safe and the guides do an excellent job ensuring you know how to operate them safely.
Snow Tubing
Almost as popular as skiing in the high country, one of the best things to do in Fraser and Grand County is sliding at the Fraser Tubing Hill. There are several companies operating sledding activities in the area.
Essentially, the Colorado Adventure Park and the Fraser Tubing Hill are on the same hill right next to each other. The Winter Park Tubing Hill at Colorado Adventure Park (the official name, which is a mouthful) offers a shorter walk to the "magic carpet" lift and lively music playing over speakers. The Fraser Tubing Hill offers more runs, higher vertical drops, and more speed. We chose the Fraser Tubing Hill for our adventure.
At first glance, the hill does not look like much. However, as we quickly discovered, you can get some real speed on this hill. During our visit, we spent about two hours in the cold sledding. We mixed it up and tried going down a tandem, sometimes we raced, and sometimes tried to spin really fast. It was great to see young and old all out enjoying the same thrills.
Finally, there is a third tubing option in the valley: the Coca Cola Tube Park at Winter Park Resort. This offers both straight and curved, banked tracks, although it has a lower vertical drop and is not as steep (and at higher price point) than either of the other two options. However, this could be a good bet if you are without a car in the area and wanted to go snow tubing in Winter Park.
Downhill Skiing
Based on the number of tourists who make their way to Grand County every winter, we're going to bet nearly all of them come skiing. And as the one of the first ski resorts in Colorado and the closest big resort to Denver, the Winter Park Resort is a popular choice.
My grandfather actually helped build the resort in the 1930s cutting trees and carving trails while working with the forest service. For many years, the resort was owned by the city of the Denver and that made it the "people's resort." These days, it's known as the #1 ski resort in America.
And Winter Park resort is massive. You could spend a fully week skiing or riding and never hit the same trails twice. And, as home of the National Sports Center for the Disabled, they take great care in ensuring equal access to the slopes for everyone. Yes, going skiing here is one of the most popular things to do in Winter Park, but there is actually another great option.
We opted to do things a little different on this trip. Being quite familiar with Winter Park and Mary Jane, we headed up the valley and went skiing at the more intimate Granby Ranch Ski Resort (originally called the Silver Creek Ski Area and then renamed Sol Vista Ski Area before taking on the current name).
This resort focuses on a more personalized experience and is very family friendly. Growing up in Colorado, it was also noted for having an excellent ski school. This is where I brought friends when they wanted to learn how to ski.
Coming from sea level and since it had been several years since we'd been skiing, we opted for the more manageable Granby Ranch experience. And we're glad we did! The skiing was exceptional, there was tons of fresh snow, and no lift lines. Skiing here is hands down one of the best things to do in Granby.
Cross Country Skiing
Cross country skiing (or Nordic skiing) is an extremely common winter sport in Grand Valley. You'll see people out skiing in the pastures or even on the trails along the roads.
If you're looking for a cross country skiing adventure, head out of town to Devil's Thumb Ranch or the Snow Mountain Ranch of the YMCA of the Rockies. Both facilities offer miles of groomed and natural trails along with equipment rentals and even lessons.
For the truly adventurous, head to Grand Lake and Rocky Mountain National Park. Inside the park's west entrance, head up Trail Ridge Road on your skis as you make for Milner Pass and the incredible summit views.
As much as we love downhill skiing and other winter sports, this is one winter activity we've never been able to get into.
Sleigh Ride
When you tire of the speed of downhill skiing or tubing, you can put your vacation in slow speed. Several places in Grand County offer old-fashioned sleigh rides.
We opted for a horse drawn sleigh ride at Snow Mountain Ranch. The large sleigh is pulled by two horses and took us out into the forest on a narrow trail for beautiful views of mountains. The sleigh ride takes you through the YMCA of the Rockies property, with a break at the Just Ranch and Rowley Homestead for a campfire with hot chocolate and marshmallows.
Once owned by Della Just and her son Alfred, the Rowley Homestead is one of the oldest ranches in the valley. Della Just lived here until the 1950s (when she was well into her 90s!) without running water or indoor plumbing.
Soaking in a Hot Springs
After the snow activities, take some time in the afternoon or early evening to warm up. One of the best things to do near Winter Park is a to take a dip in the warm, relaxing waters of the Hot Sulphur Springs!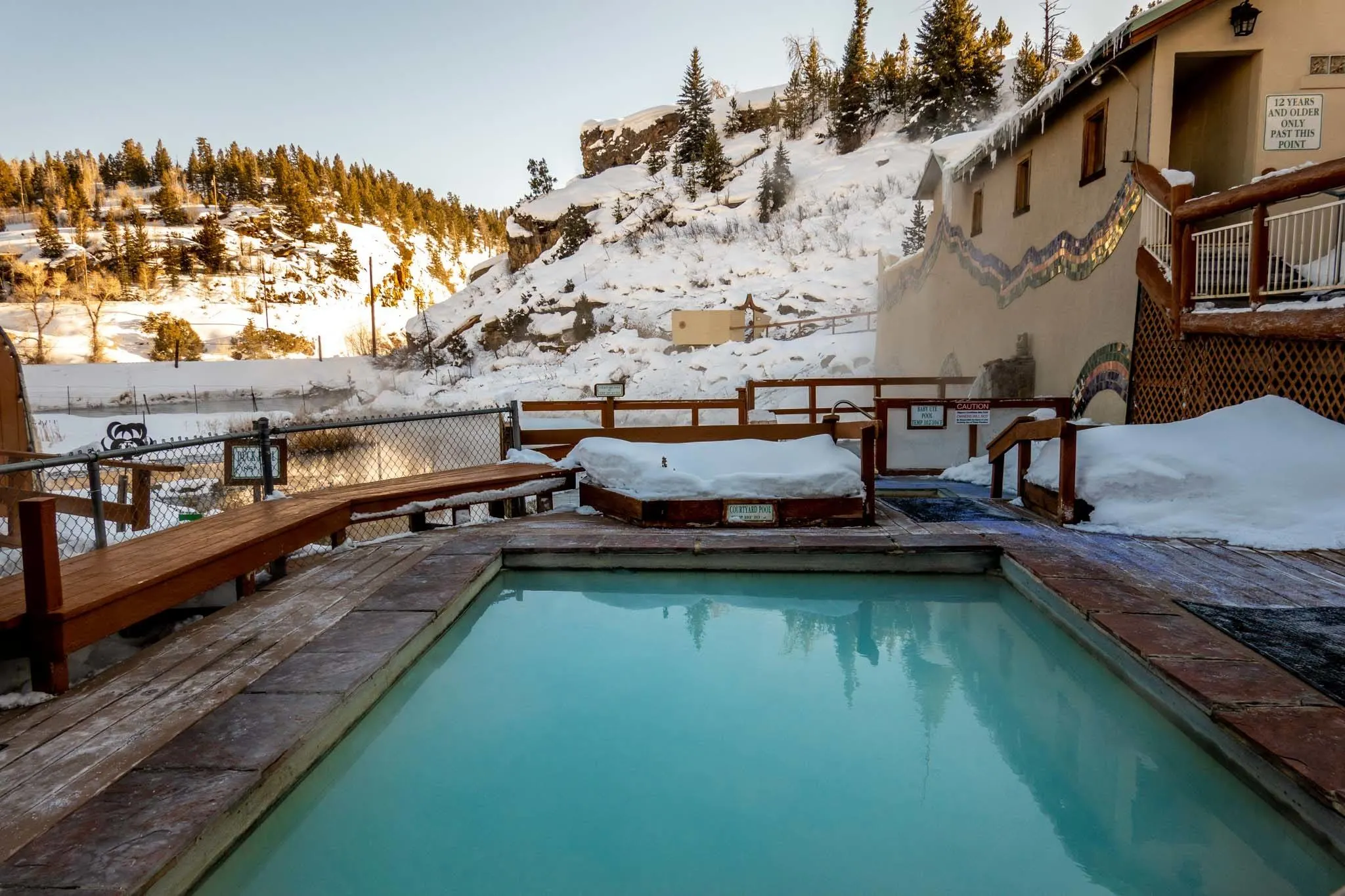 The Hot Sulphur Springs Resort & Spa has dozens of hot pots and pools for your soaking (and relaxing pleasure). The various pools range in temperature from 94 to 111 degrees and it is the perfect way to end a long day skiing. The Hot Sulphur Springs Resort is the oldest hot springs resorts in Colorado and is one of our favorites.
Breweries and Distilleries
If you have got some extra time and are wondering what to do in Winter Park, might we suggest visiting a brewery or a distillery? There are several great brewery and distilleries in Winter Park, Fraser, and Granby.
Idlewild Spirits Brewpub and Restaurant in downtown Winter Park has a funky western vibe and serves great craft cocktails and some good small plates. The have a great apres ski vibe going on. It is also a great happy hour or post dinner cocktail experience.
The Fraser Valley Distilling down the valley has a large industrial space and turns out craft cocktails in a lively environment. Live music is common, and they serve a mix of pub fare and sandwiches. This is one of the better places in the valley for brunch (assuming you're not up on the ski slopes!).
Colorado is the craft beer capital of the world. There are a number of great breweries in Winter Park, Fraser, and even Granby. Among the masses Fraser River Beer Co. is a standout, both for the quality and range of beers they produce.
Street Art
And while you're in the area, don't forget to check out the street art murals in Granby and Fraser. These murals were created by Colorado artists for a local festival. Some locals love them, some locals hate them, but they have become part of the fabric of the community.
Where to Eat in Grand County
The number of gastronomic offers in the area has exploded in recent years. What was once only pub fare has expanded to include nearly every kind of cuisine under the sun.
The Dean Public House
The Dean Public House is a modern restaurant concept in an old, historic building. The Dean serves small plates and "mountain tapas" while patrons sit at communal tables. While this sounds kind of unusual, it is exceptional. The description does not do it justice. Just trust us when we say, the Dean is a must visit!
Maverick's Grill
The Maverick's pub in Granby is completely unpretentious. This restaurant on the main street in Granby serves up pub fare with a friendly ambiance. The burgers and hot sandwiches, particularly the hot ham and cheese, are excellent.
Pepe Osaka Fishtaco Tequila Bar & Grill
Pepe Osaka's is an unusual establishment featuring a Japanese-Mexican fusion cuisine. While the strip mall location in downtown Winter Park doesn't inspire confidence, the food is incredible, and this place is a must visit on any trip to the high country. However, be prepared for an extremely long wait for a table (well over 2 hours during our visit). Idelwild distillery (see above) is around the corner and is a good place to wait it out and have a cocktail.
Java Lava Cafe
Located on main street in Granby, Java Lava is where the locals go for their morning coffee and breakfast. While everything is good, the breakfast burritos are legendary.
Mid Town Cafe
The Mid Town Cafe in Granby (sometimes called the Granby Cafe) is another good breakfast and lunch spot. This combination restaurant and bookstore offers fresh food cooked to order in a casual, almost homey atmosphere. The south westerns and the scrambles are particularly popular for breakfast, but we enjoyed breakfast sandwiches.
Where to Stay
There is no shortage of places to stay in the area. From hotels to condos, you can find a place that meets your needs.
For many travelers, Granby may be the best bet in terms of access to activities and affordability. There are a handful of hotel options in Granby. We stayed at the River Run RV Resort in Granby on the west end of town. We never would have considered staying at an RV resort, however, the cute cabins were perfect for our needs. It was great to have a place get away and a kitchen to cook in.
Travelers looking for a more lively experience might want to check out the Winter Park hotel options, where you can be closer to the bars and nightlife.
We were the guests of Visit Grand County. All the fun opinions are our own.
Lance Longwell is a travel writer and photographer who has published Travel Addicts since 2008, making it one of the oldest travel blogs. He is a life-long traveler, having visited all 50 of the United States by the time he graduated high school. Lance has continued his adventures by visiting 70 countries on 5 continents – all in search of the world's perfect sausage. He's a passionate foodie and enjoys hot springs and cultural oddities. When he's not traveling (or writing about travel), you'll find him photographing his hometown of Philadelphia.