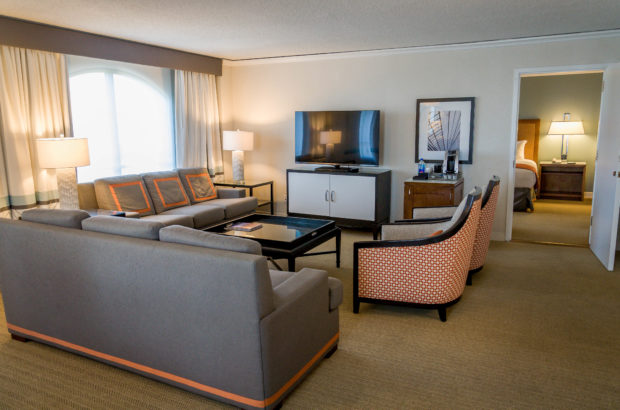 Travel isn't what it used to be. Flights are overbooked and frequently delayed. Many hotel amenities and comforts have been eliminated. And that's not to say anything about long days of business meetings and being away from your family. For frequent business travelers, the one thing that will put the smile on your face is scoring an airline or hotel upgrade.
Getting an airline or hotel update is not like the lottery. It's not random. There are things you can do to increase your chances of scoring the elusive perk or travel upgrade. Here are our top picks:
Loyalty
The key to scoring an upgrade is to demonstrate loyalty to your preferred airline and hotel companies. They aren't going to upgrade just anyone. Upgrades are a thank you for your past business, but also an enticement to give them future business. The more you consolidate, the higher your status, and the better your chances for an upgrade. However, if you're trying to play a points game, you may want to spread your business around. Consolidate, but don't consolidate too much.
Time
The time of day is a significant factor in upgrades. It's easier to get flight upgrades on early morning flights. Frequent business travelers either love or loathe the early flight, but one thing is for certain, there are fewer travelers with status, which increases your odds of landing in the prime seats. Conversely, you don't want to be early if you're trying to score a hotel upgrade. Hotels need to try and save the choice rooms in case a paying customer makes a last minute booking. If you're looking to upgrade your hotel room, the later you check in, the better your chances.
Know How the Upgrade Game Works
Every airline and hotel company has rules for upgrades. And rules are made to be broken – or at least bent. However, playing the game can help you. For airlines, the earlier you check in for your flight, the higher your relative placement on the upgrade list compared to other travelers of the same status.
Pay for It
Obviously, the easiest way to score an airline or hotel upgrade is to pay for it. Yes, you can just buy an upgrade outright, but that's not really an upgrade, is it? However, the amount you pay has a huge impact on whether you get an upgrade. Buying discount flights is unlikely to get you bumped up to first class. Booking the cheapest room class probably won't get you a hotel upgrade (at least book a premium room if you want to be upgraded to a suite). Buying your airline ticket or hotel directly from the company's website (instead of through a third-party like Expedia.com, Travelocity, Priceline, or Booking.com) will also increase your chances.
For Everything, There is a Season
You can generally forget an upgrade during peak season. Upgrades are subject to the laws of supply and demand. There's a limited supply and it is tough to get upgraded during peak times of the year. You'll have more chances during shoulder season or off-peak times. For rooms, you'll have a better chance at an upgrade if you stay at a business hotel on the weekends.
Be Friendly
Airline and hotel workers deal with a lot of jerks. Being nice can increase your changes of a travel upgrade. And while you're being nice, just ask for the upgrade. The worst they can say is no.
What are your tips for scoring an upgrade? How do you move up to first class and the suite life?
Note: Some links may be affiliate links, which means Travel Addicts may earn a few pennies if you buy something – all at no additional cost to you.