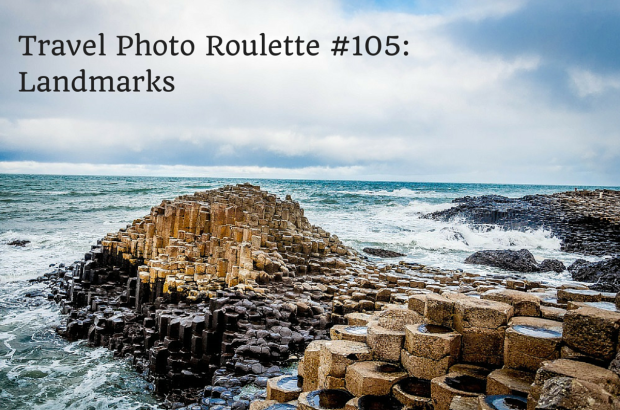 What is Travel Photo Roulette?
For the readers who are not bloggers, the Travel Photo Roulette is a photography contest where the winner of the previous round gets to pick a theme, host the contest and decide on the winner. It is a way to share memories, beautiful photography and discover some new blogs!
The last one was hosted by Vagabond Way with the theme of FESTIVAL. The quantity and quality of amazing travel photography as impressive and we were honored to have been selected as the winner for our shot of the Nuremberg Christkind Festival (German Christmas Market). This is our second time hosting travel photo roulette, as we previously hosted Round 89 – Heritage.
Travel Photo Roulette #105: Landmarks
Inevitably, when we travel, we're drawn to beautiful and iconic landmarks. Some landmarks can be iconic buildings, historic sites or even natural wonders. Landmarks can also be points of navigation or even people who are a reference of time. So, tell us what the theme of LANDMARKS means to you!
To participate this week, tell us what LANDMARKS mean to you. Here are a couple of our photographs to give you some inspiration:
And, the image at the top of this post is the Giant's Causeway on the Causeway Coastal Route in Northern Ireland.
Travel Photo Roulette Contest Overview
The contest rotates through travel/photography blogs, so the winner of the previous round of Travel Photo Roulette hosts the subsequent round on their own blog. The new host then chooses the next theme (a generic keyword or phrase) and people submit their interpretations of the theme over the course of the week of the contest.
At the end of the week, the hosting blogger chooses their favorite photo from the submissions and displays it as the week's winning entry. They then include direction to the new host for the next round. Readers can attempt to sway the author into picking a certain photo via comments, but the author can ignore comments as they see fit. The game is repeated with the winner hosting the following week's game and choosing a phrase for new photo submissions.
Feel free to share this post on Facebook, Twitter, Google+, Trover and StumbleUpon so more people can join the contest – make sure to use the hashtag #PhotoRoulette
Travel Photo Roulette Guidelines
One submission per blog, so sites that have 2+ authors only get one entry.
Post processing is permitted, but photo altering (i.e., using Photoshop to remove elements) is not.
Abstract submissions welcomed as long as it fits within the interpretation of the chosen phrase. Remember, the hosting blogger chooses the winner, so if they cannot understand the submission, you might not win!
Please try and keep your images medium-sized and web-optimized.
If you win, keep these in mind when choosing a new theme: Keep phrases general so that all bloggers can participate. Specific items like "Eiffel Tower" should be avoided but rather made open-ended like "monuments." For variety, it is okay to say focused things such as "monuments at night" which most of us have pictures of. Phrases can be generic 'signs', or abstract 'religion'
Abstract thoughts are appreciated, but keep it within the realm that all readers will understand. No "Kafka-esque," or "Overlooking Creation." Use something that is able to be interpreted by all
After 1 year, phrases can be reused, however new photos must be submitted.
No obscene pictures or phrases allowed. Suggestive phrases and photography can be accepted, but please keep it within reason.
Keep the ideas and photos fresh!
Pictures from your entire portfolio are fair to submit. You do not have to take the photo within the week of the contest period to submit it.
Most importantly, all photographs must be your own.
One last rule, since this is a competition for travel and photography bloggers, you must have a travel/photography blog to enter. Sorry!
How to Enter Travel Photo Roulette #105: Landmarks
To enter in the Photo Roulette competition simply leave a comment below with a link to the image (whether Flickr, Picasa or your own site) and we will upload it to this post. Don't forget to provide a brief description or caption for the photo so the viewers can get a little background as to what's happening.
Check back here through the week to see all the entries as they come in – feel free to comment on them. The contest runs for 7 days, from June 13th until Saturday, June 20th when the submission period ends. We will announce the winner within a couple of days of June 20th, and they will host the next round.
…And the Winner Is: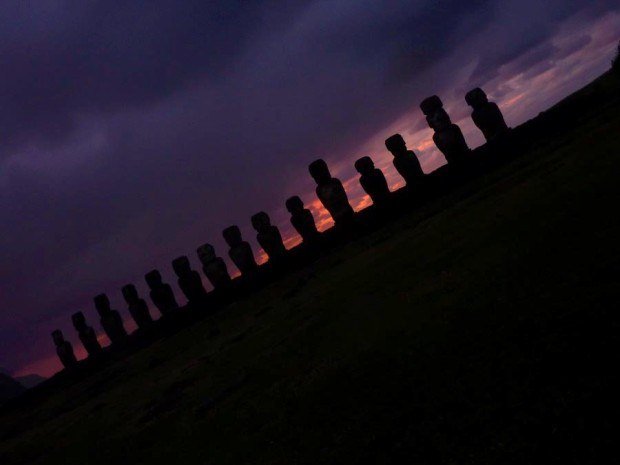 When we decided on the theme of LANDMARKS, we had no idea what we would receive in terms of submissions, but we certainly didn't expect the quality we received. However, one really stood out. Dyanne Kruger's image of the moai statues on Easter Island immediately caught our eye. We don't see a lot of sunrises (we like to sleep in), but this view would absolutely be worth it. Easter Island is high on our bucket list and we hope to be able to visit soon. This is an amazing image and we'd like to congratulate Dyanne!
Entries – Here are the submissions:
1. Dyanne Kruger from TravelnLass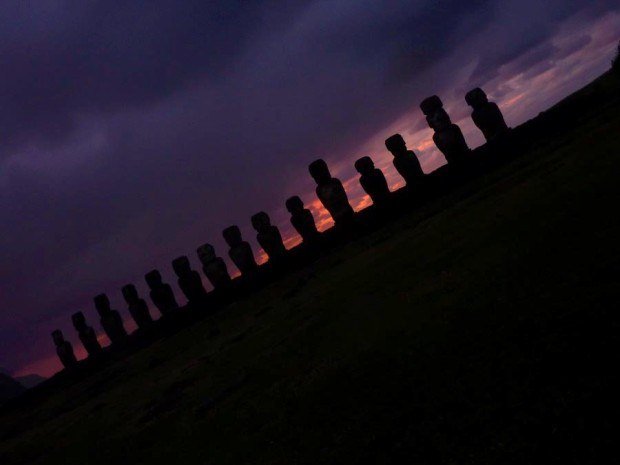 I've been blessed to see many of the globe's most amazing landmark icons, but I never dreamed that I would one day personally gaze open-jawed at sunrise gawking at those legendary moai on Rapa Nui (Easter Island). Given that I now live in Ecuador, last month a mere $654 rt. airfare changed all that.
2. Amber Hoffman from With Husband In Tow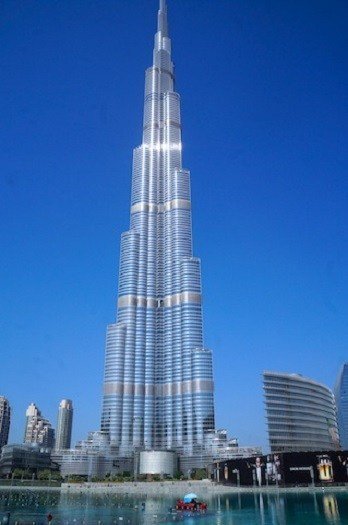 This is the Burj Khalifa, #nofilter. I love this photo because it is exactly what we saw, the blue skies with the crystal tower in the center of the desert. I used no filter and did no color editing. It is all natural Burj, as much as anything in Dubai can be all natural.
3. Bethany from Flashpacker Family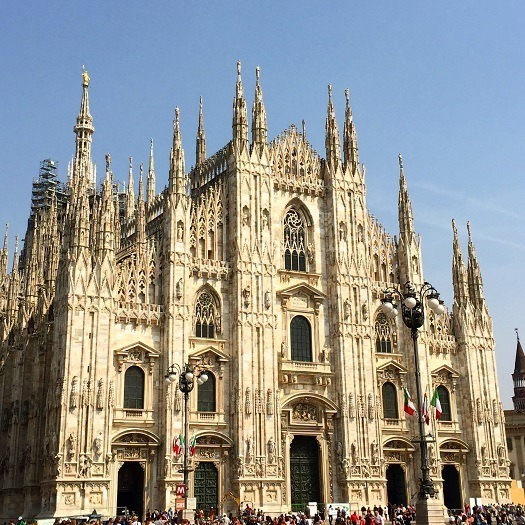 This is the Duomo in Milan, Italy. A spectacular gothic cathedral with hundreds and hundreds of spires topped with statues of saints. Not only is it amazing to look at from the outside and in, you can also take an elevator to the top and walk along the roof!
4. Brent from Brent's Favorite Photos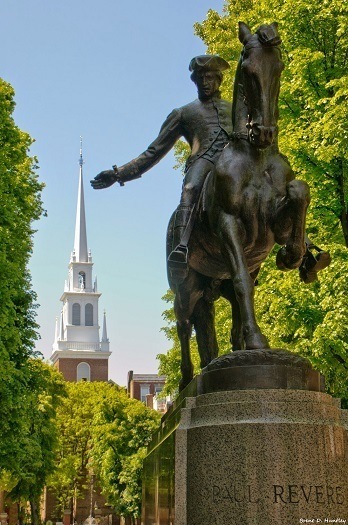 The Old North Church and Paul Revere statue in Boston.
5. Suzanne Fluhr from Boomeresque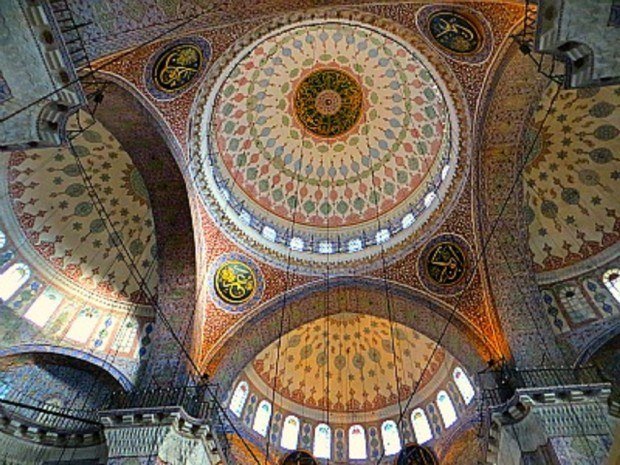 I was going to share a photo of the outside of the Blue Mosque in Istanbul, Turkey. It's a view of this majestic landmark that often makes it onto postcards and guide book covers. However, after standing in line to go inside, it was the ceiling that kept me riveted. It took awhile for the crick in my neck from looking up to ease, but it was worth it.
6. Sarah Ebner from Family Travel Times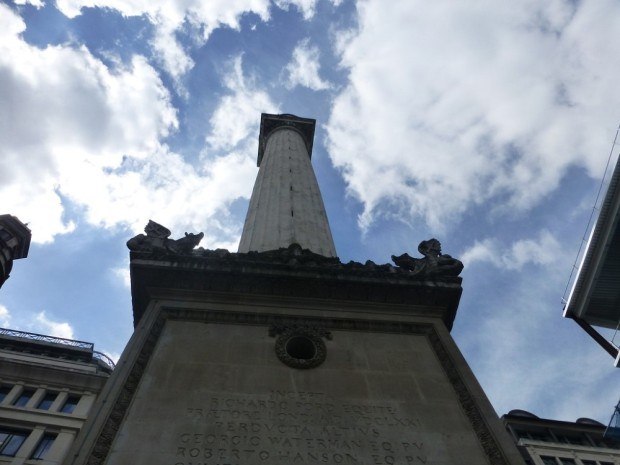 This is a photograph of The Monument to the Fire of London, which is situated in the City of London. It contains 311 steps, is 202 feet tall and there are great views at the top!
7. Lee Laurino from Home to Italy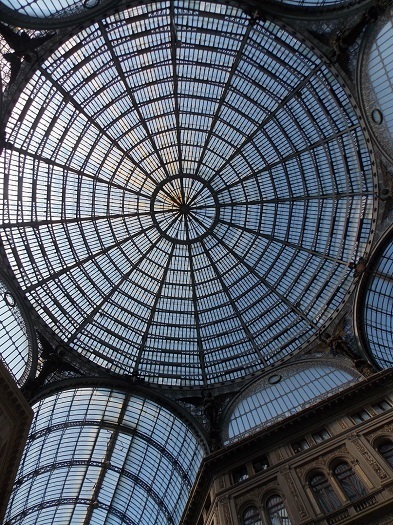 Landmarks the galleria in Naples Italy
An historic shopping mall that has been struggling to return to a former glory. A few cafes and stores are now open and the abandoned dogs are not in residence.
Amazing glass ceiling
8. Elaine Schoch from Carpe Travel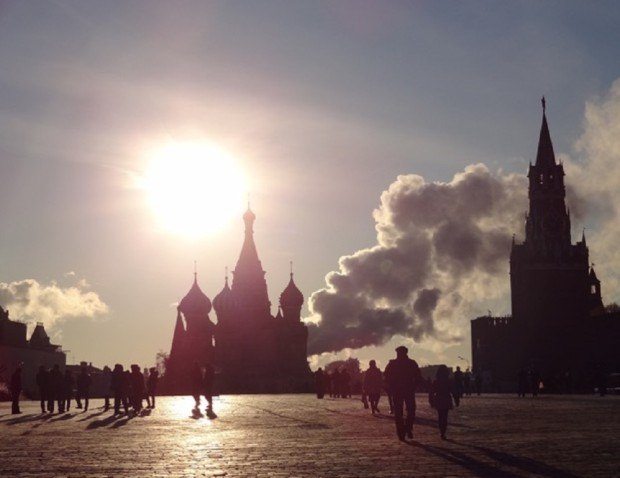 I love this shot of St. Basil's Cathedral in Red Square, Moscow. The building is shaped as a flame of a bonfire rising into the sky, a design that has no analogues in Russian architecture. With the sun rising behind it that bonfire takes shape. The Cathedral was commissioned by Ivan the Terrible in the 16th century to commemorate a military victory. Legend has it that after it was completed, Ivan had the architect blinded in order to prevent him from building a more magnificent building for anyone else.
I took this shot of St. Basil's Cathedral in Red Square in November, when the sun doesn't rise until nearly 10am in Moscow. Walking through Red Square at this time of day is calming, peaceful and beyond beautiful. Many people loose sight of the beauty of Russia given the news and politics we're but when you set those things aside and truly see the country and its people verses the politics it's something to savor and soak in.
9. Carole Terwilliger Meyers from Berkeley and Beyond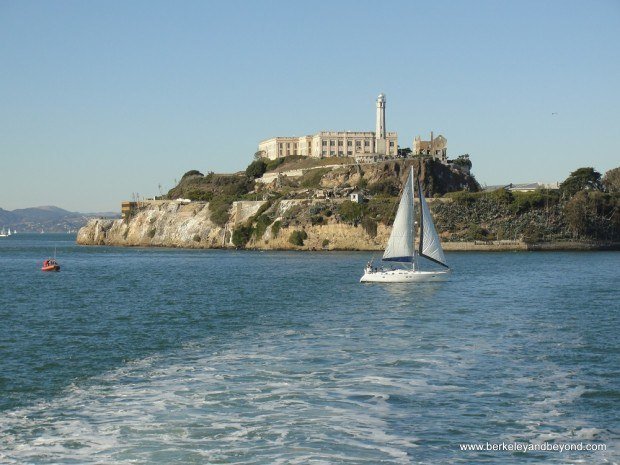 This image of Alcatraz Island was taken from the tour-boat shuttle on a rare perfect-weather day in San Francisco.
10. Tom Bartel from Travel Past 50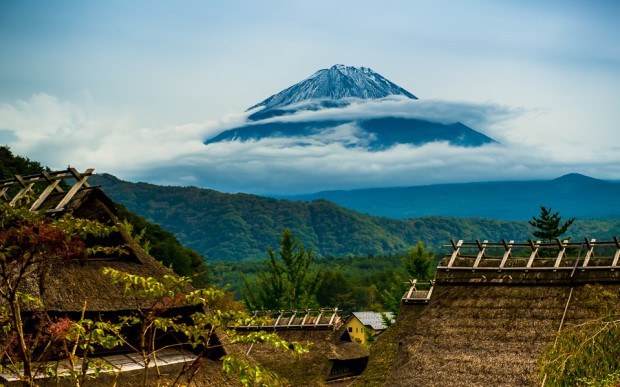 I've got about a million landmark shots, but I don't think there is any one that is more iconic than Mt. Fuji in Japan. (Well, maybe the Eiffel Tower.) Anyway, shooting Fuji was hard. We were there for three days and the mountain only showed himself for a total of about four hours during that time. About 10 minutes after I made this shot, the mountain was completely obscured by clouds again. Anyway, I like this shot over the village roof tops.
11. Alouise from Take Me To The World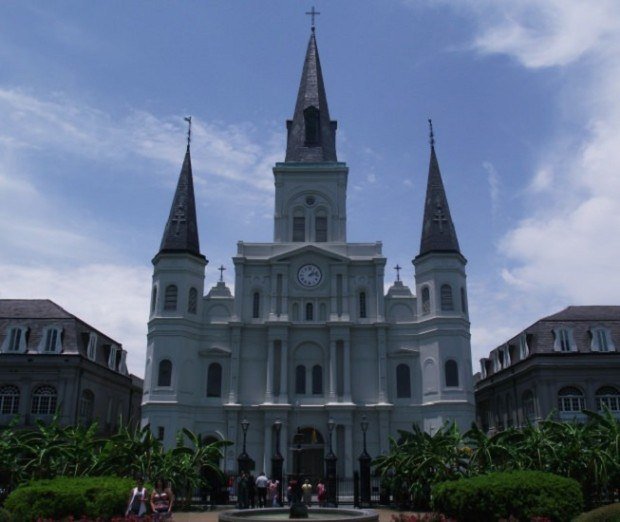 My pick for this week's Travel Photo Roulette is St. Louis Cathedral in New Orleans.
12. Josie from House Sitting Travel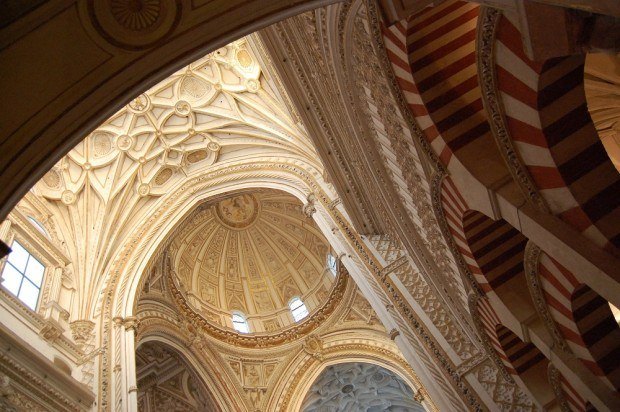 Entering the enchanting Mezquita in Cordoba, Spain is to enter the conjoined religious past of this fascinating city. In this photo, I wanted to show the dome of the Catholic cathedral that was build right in the center of the Moorish castle — the striped arches. Skewing the whole thing felt like the right thing to do!
13. Daniel Cronk from Globe-Trekking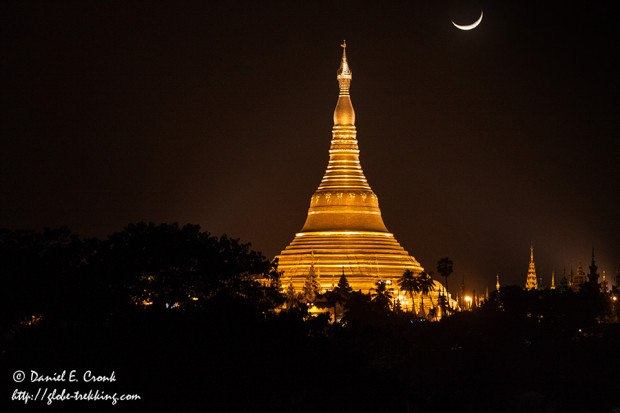 I chose the Shwedagon Pagoda in Yangon, Burma.
Previous Winners
This is a list of all the previous winners and themes. Click the host's link to go directly to that entry to see some fab photographs.
Nov 2010 Living the Dream Animals
Nov 2010 Skinny Backpacker, Road Signs (page deleted)
Nov 2010 Dream a Little Dream, Street Art (page deleted)
Dec 2010 Flashpacker HQ Festival
Dec 2010 Over Yonderlust Landmarks
Dec 2010 Don't Ever Look Back, Beaches (page deleted)
Jan 2011 ThePlanetD Portraits
Jan 2011 Travel with a Mate Motion
Jan 2011 Johnny Vagabond Water
Feb 2011 Ken Kaminesky, Urban (page deleted)
Feb 2011 Travels of Adam Friday Night
Mar 2011 Itchy Feet Chronicles The Journey
Mar 2011 Brendan's Adventures Changing Seasons
Apr 2011 Shutterfeet, Storytelling (page deleted)
Apr 2011 10 Times One Piousness
Apr 2011 Beached Eskimo, Learning (page deleted)
May 2011 Travel Junkies Architecture
Jun 2011 Destination World Transportation
Jun 2011 Living the Dream Paradise
Jun 2011; Vagabond Quest; Clothes (page deleted)
Jul 2011 The Unframed World, Symmetry (page deleted)
Jul 2011 Beached Eskimo, Home (page deleted)
Jul 2011 BackPackerBanter Inspiration
Aug 2011 WanderingTrader Darkness
Aug 2011 Finding the Universe Tranquillity
Sep 2011 Fearful Adventurer Food
Sep 2011 Adventures of a GoodMan City
Oct 2011 Globe-Trekking.com Reflection
Oct 2011 Scene With A Hart, Framing (page deleted)
Nov 2011; Vagabond Quest; Silhouettes (page deleted)
Nov 2011 Hecktic Travels Music
Dec 2011 Globetrotter Girls, Love (page deleted)
Dec 2011 Man on the lam Humor
Jan 2012 My Walkabout Winter
Jan 2012 The Art of Slow Travel, Blue (page deleted)
Feb 2012 Ten times One Depth of the Field
?
Mar 2012 Nomadbiba Sunshine
Mar 2012 Travel With Kat, Local Character (page deleted)
Apr 2012 The Travel Bunny Street Scene
Apr 2012 Adventure Crow Spirit of the Country (page deleted)
May 2012 Food Travel Bliss Evening
May 2012 Matt Gibson Adventure
May 2012 Flashpacker HQ Once In A Lifetime
Jul 2012 Skinny Backpacker, Surreal (page deleted)
Aug 2012 2away, Smile (page deleted)
Aug 2012 Bridges and Balloons Excellent Splendour of the Universe
Sep 2012 The GypsyNester What the ?!
Oct 2012 Runaway Juno Sweet
Nov 2012 GQ Trippin Play
Nov 2012 Life's Little Victories, Friendship (page deleted)
Dec 2012 Breakaway Backpacker Face
Jan 2013 Fly, Icarus, Fly Serendipity
Feb 2013 Travel Transmissions Lost in Thought
Feb 2013 Wanderlusters, The Natural World (page deleted)
Mar 2013 Travel Junkies Patterns
Apr 2013 Living the Dream Your First Time
May 2013; Getting Stamped; The Sun Goes Down (page deleted)
Jun 2013 The GypsyNester Cheesy Tourist Diversions
Jun 2013 Boomeresque Revolution
Jul 2013 Breakaway Backpacker Colorful
Aug 2013; Around This World; Mountains (page deleted)
Aug 2013 Passports and Pamplemousse Hands at Work
Sep 2013 TurtlesTravel Dance
Sep 2013 Keep calm and travel The Sea
Sep 2013 Travel Photo Discovery The Market
Oct 2013 Am I Nearly There Yet? Travel Fails
Oct 2013 The GypsyNester Weird Regional Foods
Nov 2013 Sophie's World Trees
Nov 2013 SHOuTography Party
Dec 2013 Adventures of a Goodman Ruin
Dec 2013 Have Blog Will Travel; Light (page deleted)
Jan 2014 This World Rocks Crowds
Jan 2014 Travel Past 50; Competition (page deleted)
Feb 2014 The Working Traveller Working
Mar 2014 Travels with Carole, Umbrellas (page deleted)
Apr 2014 Independent Travel Help Quirky
Apr 2014 Quit Job Travel World Statues
May 2014 Nomad is Beautiful People Sleeping
May 2014 Backpack Me Mouthwatering
Jun 2014 20 Years Hence, The Face of A Nation (no longer available)
Jul 2014 Two for the Road Into the Wild
Jul 2014 TurtlesTravel Summer!
Aug 2014 Adventures Around Asia Candid
Aug 2014 Travel with Kevin and Ruth Hiking
Sept 2014 Till The Money Runs Out Transport
Sept 2014 The Crowded Planet, Wild World (page deleted)
Sept 2014 ZigZag On Earth The 4 Elements
Oct 2014 Travel Addicts Heritage
Oct 2014 Living the Dream Your Grand Adventure
Oct 2014 Getting Stamped Inspire
Nov 2014 Flashpacker HQ Viewpoint
Jan 2015 Adventures of a GoodMan WOW!
Jan 2015 ZigZag On Earth Roads and Tracks
Feb 2015 Where's The Gos?, Street Art (page deleted)
Mar 2015 Ice Cream and Perma Frost Frozen
Mar 2015 Journey Jottings Detail
April 2015 House Sitting Travel What's your Angle?
April 2015 JetWayz Spiritual Beauty
April 2015 The Trading Travelers Celebrate
May 2015 Street Food World Tour, Epic (deleted)
May 2015 Next Stop Who Knows Landscape
May 2015 We Travel Together Wildlife
May 2015 Vagabond Way Festival
June 2015 Travel Addicts Landmarks