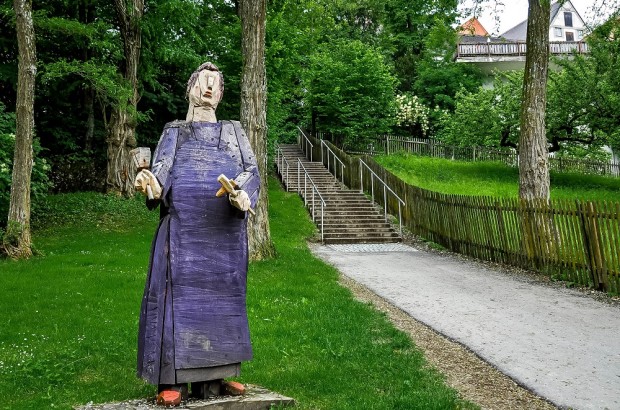 The sound of Benedictine monks singing could be heard high on the Andechs hill above the German countryside: "Veritas mea, et misericordia mea, cum ipso: et in nomine meo, exaltabitur, exultabitur, cornu ejus, cornu ejus." Pilgrims have been visiting the Benedictine monks at the Andechs Abbey here for centuries, however the pilgrims today come for a rather atypical reason – they come for the beer. On a summer's day, the sound of clanking glasses can be heard loudly over the Benedictine chants.
The Andechs monastery has been on the pilgrimage map since the 11th Century when pilgrims began visiting this German abbey to see relics from the Third Crusade instead of trekking all the way to the Vatican in Italy. The benevolent monks built a brewery in 1455 to help pilgrims quench their thirst after the rather challenging climb up to the abbey. To this day, the Andechser brewery is still monastic owned and run, and you'll see monks on the hillside and in the courtyards in their robes.
I first made my own pilgrimage to Andechs monastery in the summer of 1999. It was a lengthy pilgrimage out from about an hour), but was well worth the effort. I recently repeated the pilgrimage to the Andechs brewery while driving back to Munich from Liechtenstein. It was the perfect spot to stop for lunch and I enjoyed the beer and a delicious pork loin.
After lunch, I visited the grounds of the Abbey. The highlight is the ornate, gilded Baroque church built in 1712. It was a bit over the top for my tastes, but seems inspiring to many.
It is also the final resting place of composer Carl Orff and you can see his final resting place just off the main church.
Whether your interest in Andechs is religious, musical or culinary, there is something for everyone high on his little mountain outside of Munich. I can think of no better way to spend a day in the German countryside.