Iceland is a land of incredible scenery. The country is packed with breathtakingly beautiful wonders: waterfalls, glaciers, black sand beaches, cliffs, mountains, and fjords. That doesn't even include the charming villages that dot the countryside. You could spend months exploring here, but since most people's time is limited, we have strung together many of the highlights on this 10 day Iceland Ring Road itinerary.
Made for road tripping, the entire island is accessible via the national road: Iceland Route 1 or, as it is more commonly known, the Ring Road. Many incredible sites can be seen right from the road, including Skogafoss waterfall, Jokulsarlon lagoon, and Lake Myvatn, just to name a few. This self-drive itinerary includes those amazing attractions as well as some detours to see other places that make Iceland majestic.
Iceland is fantastic year-round. We have visited in spring, summer, and winter and have written about the best time to visit. The stops outlined here are best done from mid-spring through early fall when the days are longer and you are less likely to encounter challenges with road conditions.
A rental car is necessary for this trip, but the entire 10-day Iceland itinerary can be done with a standard vehicle. Renting a 4 x 4 is not required. Based on past rentals, we generally do our price comparison and booking via Auto Europe. If you intend to follow these suggestions as written (Day 9, in particular), you will want to ensure that you rental car can be returned late in the evening.
Day 1: Exploring the Southern Coast
Flights to Iceland arrive at Keflavik International Airport, which is located on the Reykjanes peninsula about 45 minutes from Reykjavik. Pick up your car at the airport and head out for the first day's adventures—exploration of Iceland's south coast.
The first stop is Seljalandsfoss waterfall. One of the most photographed waterfalls in Iceland, Seljalandsfoss is visible from far away and is easily accessible right off the Ring Road. After just a short uphill walk, it's easy to see what makes the falls so popular–you can walk behind the cascade.
The walk behind the falls is absolutely worth it, but be aware that the path is often very wet and can be slippery.
This stop is a good opportunity to use the restroom, as there is not one at the next stop.
Next up is one of the things Iceland is most famous for—its pools and hot springs. At 100 years old, Seljavallalaug pool is one of the oldest pools in Iceland and has welcomed many travelers and locals over the decades.
Seljavallalaug is popular because of its setting, but visiting here comes with a few drawbacks that are worth considering before you go.
The pool is about a 20-minute walk from the main road (1.1 miles roundtrip). The path does not have any signage but is well-traveled along the dry riverbed toward the mountains, so it's not hard to find which way to go.
Unfortunately, there are only basic changing rooms at the pool and no toilets. Not all travelers are courteous in leaving the place as nice as they found it, which means it can get dirty. On our visit, there was also lots of algae in the pool, which can be slippery. Having water shoes is very helpful here.
After the pool is the first of many, many waterfalls to come—Skogafoss. It is impossible to miss right off the road, and it is very impressive. As the water cascades over the cliff, it appears to practically disappear into the black rock below. Often, it throws up a tremendous mist which can lead to some outstanding rainbows on a sunny day. In the summer, there is a vast lupine field nearby.
Less than 2 miles from the falls, you'll find the Skogar Museum, which is recognizable by its turf-covered buildings. The folk museum has a collection of buildings and artifacts from the late 1800s that show what life was like in Iceland 150 years ago. There is also a café on-site that could make for a good lunch or snack stop.
The next stop is the dramatic Solheimajokull glacier. It's easily accessible and interesting to see. You can spend some time admiring the ice, or get closer and hike on it if you book a tour in advance. (Don't attempt to climb without the expertise of a guide.)
For more spectacular scenery, visit the Dyrholaey nature reserve a little further east on Route 1. The top of the high promontory provides ocean views. If you're there in the right season, it might even be possible to spot some of Iceland's famous puffins.
Nearby is the last stop of the day—the black sand beach of Reynisfjara. The cliffs are punctuated with tall basalt columns, and, right offshore, you'll see the Reynisdrangar rock formations, which legend says are actually trolls who were frozen in the sunlight.
Spend the night in Vik.
Where to Stay in Vik
There are a number of good accommodation options in Vik. We recommend booking a nice hotel for your first night since you'll be tired.
Hótel Kría: The new and ultra modern Hótel Kría offers spectacular views and modern comforts. As a bonus, it is just a four minute walk to the beach. (Read reviews and book a room)
Icelandair Hotel Vík: The always dependable Icelandair Hotel Vík is a complete full-service hotel close to town and the beach. (Read reviews and book a room)
Day 2: Southeast Iceland
Day 2 of this Iceland road trip continues on the south coast and features a long list of stops. They include a cave, a lava field, a notable canyon, numerous waterfalls, and glacier lagoons. Feel free to pick and choose those attractions that are of greatest interest to you.
The day begins at Gígjagjá Cave, an interesting cave that you can easily drive up to. It's just 15 minutes east of Vik. From there, the route takes you through Laufskálavarða lava field. It can be seen easily from the car, and there are several places to pull over and take photos.
Fjaðrárgljúfur canyon is one of the most remarkable stops of the day. Right off the Ring Road, it's easy to get to even though you do have to go down a well-maintained gravel road to reach it.
Over millennia, the Fjaðrá river has carved the incredible canyon, which stretches for over a mile and makes for an easy hike while you watch the landscape change. In just a 10-minute walk, you can see a good portion of the canyon. We walked a bit further, but since the view doesn't necessarily get better, you don't have to walk the entire length if you'd rather keep going on the day's drive.
This spot gained notoriety (and crowds) when Justin Bieber filmed a music video here several years ago. There are now some roped off areas and a designated walking trail along part of the canyon to help protect the structure and the vegetation, so take care to stay in the allowed areas.
This area is home to several different rock formations that may be of interest. Systrastapi Rock is a short hike that provides amazing views of glaciers and the surrounding landscape. Nearby, Kirkjugólf is a stone slab of hexagonal formations that look like man-made tiles but are actually eroded basalt columns.
The Dverghamrar rock formations are small cliffs made of basalt columns that form a canyon. Walking here feels a lot like Middle Earth or a setting from Game of Thrones. Foss a Sidu, a small waterfall, is located right across the highway.
If you're intrigued by Iceland's turf buildings, make a stop at Núpsstaður. Right by the side of the road, there is a small church (no longer open for visiting) that dates from the 17th century and has the mountain as a backdrop. Several other turf outbuildings nearby were built in the 1700s and 1800s. They're intriguing to see and make for a great photo stop.
If you're in the mood for some hiking and another waterfall, don't miss Svartifoss. The falls here plunge 65 feet against the backdrop of black basalt columns. It's a striking view, but be aware that the hike to reach it doesn't have much to see, and a lot of it is uphill.
The last stops of the day are some of our favorites and make it on our Iceland itinerary nearly every time we visit the country—the famous glacier lagoon Jökulsárlón and Diamond Beach. (Fjallsárlón is a smaller lagoon that is similar to Jökulsárlón but much less crowded, if that is more appealing to you).
At Jökulsárlón, large chunks break off of the nearby glacier and pass through the lagoon on their way to the sea. The ancient ice pieces with their intense color striations bob along making a stunning scene. Boat tours here are very popular, and it is absolutely worth a photo stop, even if you're short on time.
Immediately across from Jökulsárlón, Diamond Beach is a spectacular site. The clear, polished glacier chunks speed through the water and come to rest on the black sand just like diamonds. Watching the ice move through the water and the waves lap along the black sand and ice is mesmerizing. It's one of the most unique attractions in a country packed with unbelievable scenery.
Spend the night in Hofn.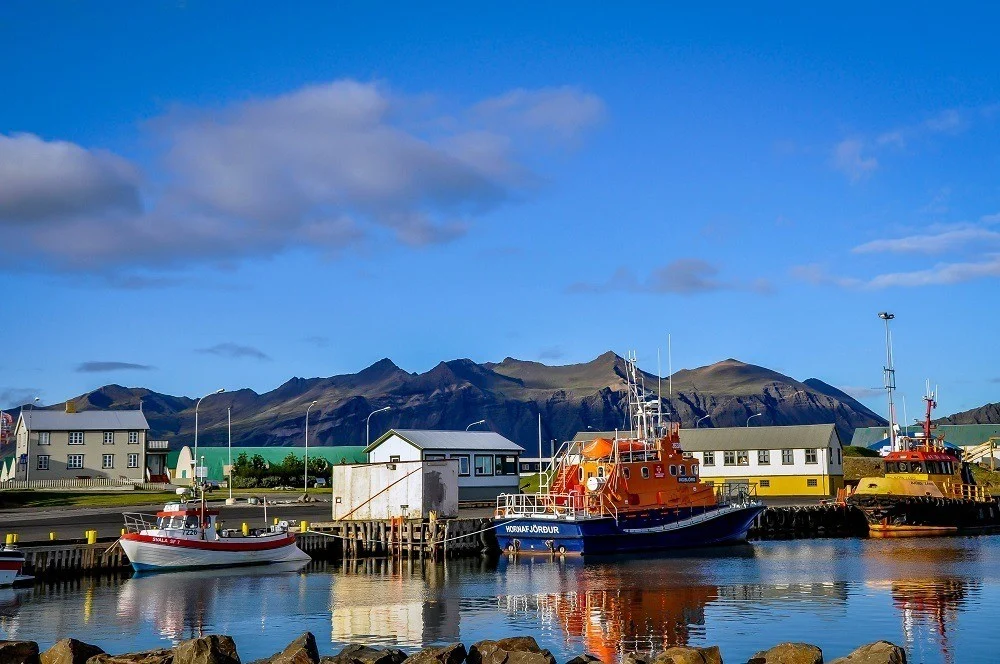 Where to Stay in Hofn
Spend the second night in Hofn or on a farm in the surrounding countryside. Top options in the area are:
Seljavellir Guesthouse: This pre-fab guesthouse offers starkly minimalist decor and big glass windows to look out on the countryside. (Read reviews and book a room)
The Milk Factory: An old dairy farm milk factory has been turned into a high-end hotel. The Milk Factory has terrific views of the nearby mountains. (Read reviews and book a room)
If you stay in Hofn, we strongly recommend stopping for a delicious langoustine dinner. It's the local delicacy. There are several options, but Kaffi Hornid is our top choice.
Day 3: Eastern Iceland
The first stop as you head into eastern Iceland is an incredible one, especially if you enjoy black sand beaches. The Stokksnes Headland is private land, so there is a fee to enter, but it's worth it for the scenery.
The headland has gorgeous mountains, rolling black sand dunes, and a black sand beach that covers an enormous expanse of land. The location can be quite windy, which makes the waves and formations in the sand that much more interesting.
A short walk will take you to a "Viking village" that was built as a movie set for a production that ran out of money before filming began. It's a curiosity but isn't worth much time. The headland also has a lighthouse where seals are sometimes seen.
The next 30 miles brings two possible stops—a waterfall and a lighthouse.
Skútafoss is a lovely double waterfall which is easy to reach by car. If you want to see both falls up-close, the trail is a simple 1.8-mile round trip. A little further down the road, Hvalnes lighthouse is an orange lighthouse situated on the rocky Hvalnes headland. There are good views of the ocean and mountains.
Consider stopping for lunch in Djupivogur. The small fishing village isn't much to look at, but there are a couple of cafes, and you can watch the fishing boats in the harbor. There is also an unusual sculpture called Eggin í Gleðivík, which consists of larger-than-life versions of the eggs of birds that nest in the area.
At this point, we always take the Oxi Pass shortcut (Route 939), which departs from the Ring Road and shaves about 38 miles off the trip. This route will take you past several unmarked and apparently unnamed waterfalls, as well as one named one—Folaldafoss—which you'll see on the left side. Some people find driving the pass difficult, so if you'd prefer the more scenic route, stick to the Ring Road.
The last stop of the day is one of our favorite geothermal pools in Iceland, Vök Baths in Egilsstaðir. Its pools appear to blend seamlessly with Lake Urriðavatn, and two of the pools are actually floating in the lake. It's common for people to jump from the hot pools into the cold lake, but we haven't been brave enough to try the cold plunge (yet).
Spend the night in Egilsstaðir.
Where to stay in Egilsstaidr
Staying in Egilsstaidr will make it easy to get started the next morning. We recommend visitors rent a vacation cottage or glamping hut in the area. Our top picks in the area are:
Kaldá Lyngholt Holiday Homes: These beautifully rustic holiday homes are first class all the way. It has a fantastic location, plus a sauna and a hot tub. (Read reviews and book a room)
Skarðás Country Cabins: These cabins are super cozy and feel very remote. You'll love the views from your front porch. (Read reviews and book a room)
Day 4: Myvatn
After several days packed with sites and driving, Day 4 of your 10 days in Iceland is a more leisurely day, but the attractions are just as remarkable.
Begin at Krafla. This volcano, which sits at 2600 feet, has erupted at least 29 times in its long history. The most recent eruption in 1984 left a broad lava field. Krafla's caldera is about 7 miles wide and is easy to reach by car. You can stop for photos at the main viewpoint or take the time to walk around the impressive scene.
Just across from the caldera, you'll find Leirhnjukur lava field. This area is covered in volcanic rock, vegetation, and lots of unusual features thanks to the many eruptions over the centuries. Although there are no active eruptions now, there is still lots of volcanic activity here, so it's important to stick to the walkway.
Throughout the lava field, the ground changes from orange to brown to white and other colors depending on how hot it is. There are rock formations, boiling mud pits, and milky white pools.
On the opposite side of Route 1 just a few minutes away, visiting Hverir feels like walking around Mars. This other-worldly area is punctuated with even more boiling mud pits than the lava field, and you can generally get closer to them and, in some instances, walk above them.
Some of the most unusual features are the steam vents where the air rushes through with such a force that the earth almost seems to whistle. There are also sulfuric fumaroles where egg-scented gas comes out of the ground through piles of rock along the multi-colored path. It's truly unbelievable to see.
Nearby, Grjótagjá cave is another geothermal site that is interesting to visit. Filled with a natural hot spring, it was once possible to swim in Grjótagjá, but the water is now dangerously hot thanks to volcanic activity. If you're a Game of Thrones fan, you might notice the cave and its bright blue water as the place where Jon Snow and Ygritte get to know each other, shall we say. (If you want to swim, use the nearby Stóragjá Cave.)
Later in the day, visit the Myvatn Nature Baths. The man-made pools and steam baths make great places to relax.
Where to Stay in Myvatn
There are a number of places to stay in the Lake Myvatn area, but we recommend staying close to the town of Reykjahlíð, which puts you near restaurants and the Myvatn Nature Baths. Our top picks in the Lake Myvatn area are:
Vogafjós Farm Resort: With rustic charm and locally-sourced ingredients, this inn is a keeper. Be sure to enjoy both breakfast and dinner here. (Read reviews and book a room)
Dimmuborgir Guesthouse: This B&B meets cottage is tops for one key reason: it sits right on the shore of Lake Myvatn and offers spectacular views (in addition to the cozy charm). (Read reviews and book a room)
Day 5: Husavik
Day 5 is spent in the same general area as the previous day to allow some time for whale watching from Husavik. The harbor of this small town is a great place to join one of the many tours that go out in search of humpbacks, minkes, and other whales that are here much of the year.
If you start with a whale watching tour first thing in the morning, there is plenty of time left to explore the region further.
Take a little time to wander around town, which was a primary filming location of the Will Farrell comedy Eurovision Song Contest: The Story of Fire Saga. There are plenty of shops, a charming church, and cafes.
Husavik is also the location of our favorite hot spring complex—Geosea. With incredible sea views, warm water, and a coastal location, spending time here couldn't be more relaxing.
If you don't want to go a day without seeing a waterfall, take a short road trip out of town. The east side of Dettifoss, the most powerful waterfall in Europe, is 75 minutes south east of town and the smaller Selfoss is just up the river from there. Godafoss, one of the country's most spectacular waterfalls, is 40 minutes west of town.
Spend the night in Husavik.
Day 6: Akureyri and Tröllaskagi peninsula
In the morning, make the drive to Akureyri, Iceland's second largest city. Have breakfast or coffee in one of the many cute cafes before checking out the iconic church or browsing in the shops. If the weather is good, make a stop at the botanical gardens before getting back on the road.
Much of today is an exploration of the Tröllaskagi peninsula with some suggested stops along the way. This departure from the Ring Road takes you through one of the most mountainous areas of the country, with snow covered peaks, beautiful valleys, and lots of stunning vistas and viewpoints.
For something a little unusual, consider a stop at Bjórböðin as you make your way north. This distinctive spa offers beer baths—yes, a soak in beer, hops, and yeast—with a beer for you to drink while you soak. Their outdoor hot tubs and sauna are fun, too, and there's a restaurant on site.
At the northernmost part of the peninsula, Siglufjörður is one of the prettiest towns in Iceland. Surrounded by mountains, there are plenty of hiking trails here plus museums honoring Icelandic folk music and telling the story of the area's once thriving herring industry. Take a walk around town to appreciate the coastal scenery.
If riding the famous Icelandic horses is on your bucket list, don't miss Langhus Farm about a half-hour southwest of Siglufjörður. They offer rides in different settings, including on a black sand beach. Otherwise, continue to Hofsós Sundlaug, a hillside pool and hot tub offering dramatic views of the fjord and Drangey island.
Back near Route 1, Glaumbær Farm & Museum has some of the finest examples of turf buildings in the country. A farm has been on this site for over 1000 years, and the current buildings date from the 18th and 19th century. There are 13 buildings in all ranging from a blacksmith's workshop to guest rooms, all demonstrating how people lived in Iceland centuries ago.
Spend the night in Blönduós.
Day 7: Snæfellsnes peninsula
Today starts with a long drive across northwest Iceland from Blönduós to Kirkjufell, but it's worth it to reach the gorgeous Snaefellsnes peninsula.
We recommend heading straight to Kirkjufell, but if you're looking for a stop along the way, consider the village of Hvammstangi, the seal capital of Iceland. You can stop at the Seal Center to get information and directions to some of the local seal watching spots to see how many of the animals you can find.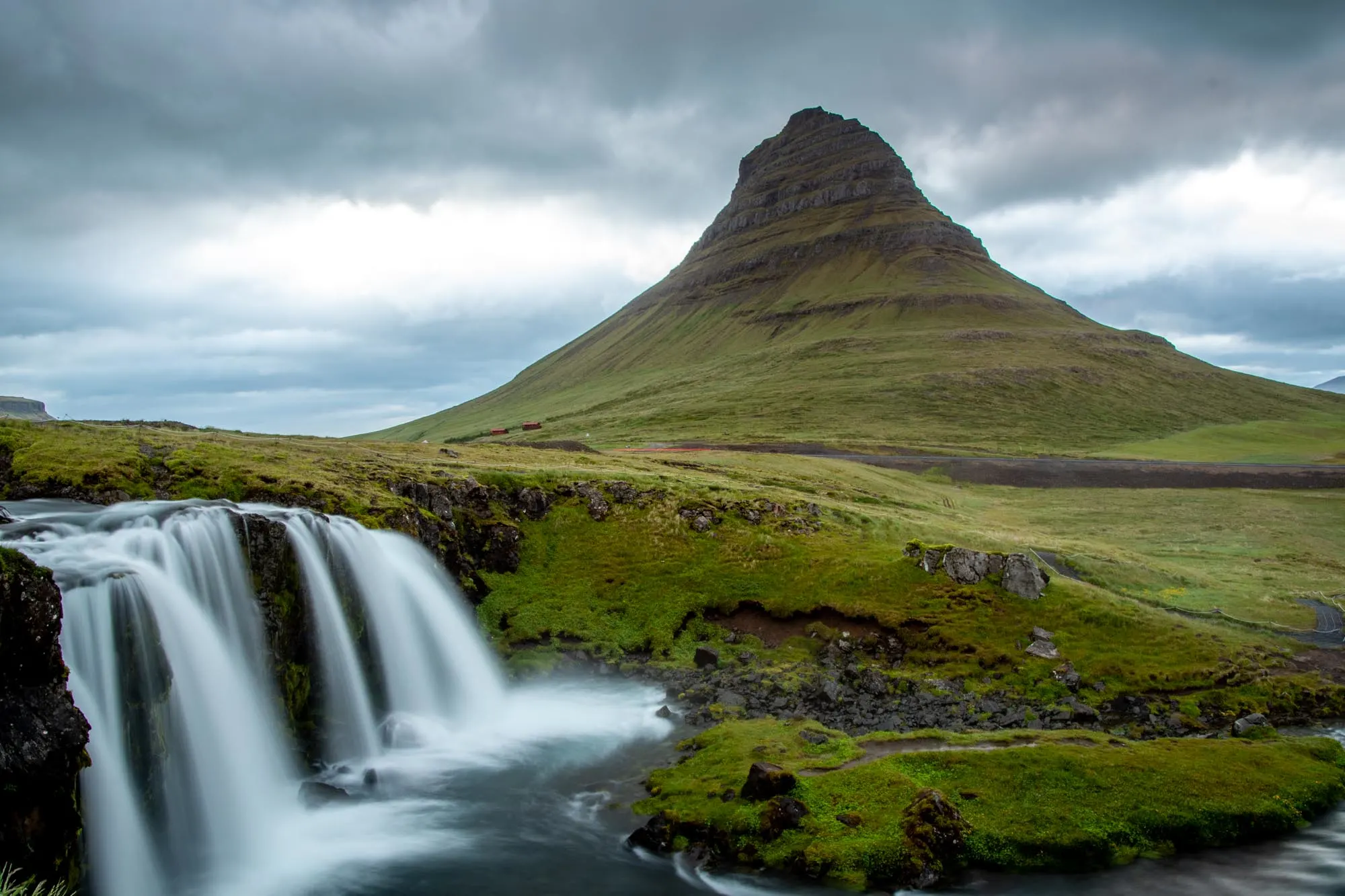 The first stop on Snaefellsnes is the majestic Kirkjufell mountain and its accompanying waterfalls. The distinctive location gained notoriety after its appearances in Game of Thrones for good reason—it's one of the most picturesque places in the country.
Transitioning (momentarily) from natural beauty to man-made beauty, the next stop is Hellissandur. This tiny town is the self-proclaimed street art capital of Iceland. With 30 unique murals, it's worth a quick walk around if you enjoy street art.
The heart of the day is exploring all the unique features of Snæfellsjökull National Park. Route 574 takes you on a trip past lots of noteworthy sites. They include:
Skarðsvík Beach – a golden sandy beach with turquoise water
Svörtuloft Lighthouse – bright orange lighthouse overlooking volcanic black sea cliffs
Londrangar – distinctive, cliffside basalt rock formation
Bárðar Saga Snæfellsáss Statue & Gatklettur – giant stone troll statue near a distinctive stone arch formation in the ocean
Ytri Tunga –harbor seal colony on the beach
Spend the night on the south coast of the Snaefellsnes peninsula or backtrack a bit to Stykkisholmur for more options.
Day 8: Western Iceland
This morning, we start to head southeast. Drive from your accommodations to cave Vidgelmir, Iceland's largest lava cave. Full of icicles, rock formations, and unexpected colors, the cave was formed by a volcanic eruption over 1000 years ago. The family-friendly tour should be booked in advance and takes about 90 minutes.
A 20-minute drive brings a return to above-ground beauty at Hraunfossar and Barnafossar. These twin waterfalls stream through a lava field and flow from the Hvita River, respectively, resulting in lots of small cascades.
The next stop is the calming waters of Krauma. This geothermal pool complex uses hot water from Deildartunguhver, Europe's most powerful hot spring, which you can see bubbling away near the entrance.
Krauma has six pools and a spa that offer views of the serene countryside. The restaurant is an ideal lunch stop with a menu ranging from soups and salads to baked cod and lamb fillet.
Not far away is Snorralaug, a hot springs pool that dates to the 12th century. The pool is believed to be the first hot springs on the island used by people. It's available to see 24 hours a day and is located on the grounds of Fosshotel Reykholt, which is the recommended hotel for the night.
Day 9: The Golden Circle
The last day of road tripping is a full day of activity and is best done from spring through early fall when the days are the longest. It includes the sites of the Golden Circle, some of the most popular sites and landmarks in Iceland.
Get an early start on the day with the drive to Þingvellir (Thingvellir) National Park. This UNESCO World Heritage Site is set in the rift valley in the divide between the North American and Eurasian tectonic plates, which makes for a remarkable landscape.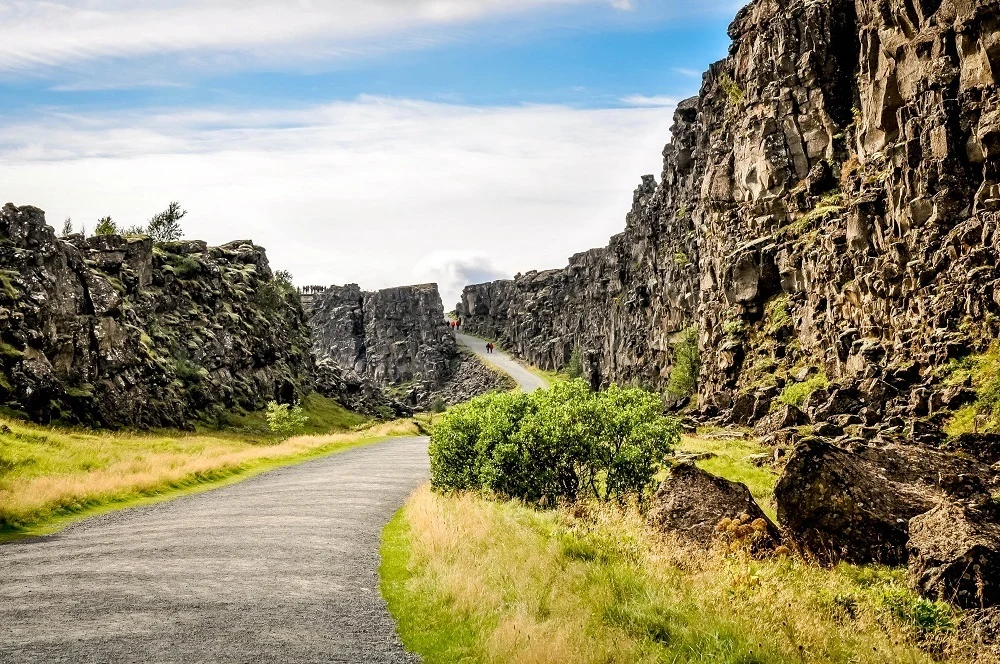 Take some time to walk through the Almannagjá gorge, which marks the edge of the North American plate. Along the way, don't miss Law Rock (Lögberg), the assembly point for the world's first parliament, which was formed here in 930 AD.
Next up, make the half-hour drive east to Laugarvatn Fontana. The geothermal complex has a several lovely pools, which you can dip in, if time allows. The main reason for stopping here, however, is their geothermal bakery demonstration.
Depending on the season, 2-3 times per day, guests get to experience baking bread in the black sand beach using sand that is heated by the natural hot springs. It's a unique opportunity to see the power of geothermal energy at work, and the bread with Icelandic butter is a treat.
Just 20 minutes from Laugarvatn Fontana, Friðheimar is the perfect lunch stop. An Icelandic restaurant dedicated entirely to tomatoes, it doubles as a greenhouse where you can see the ingredients for your meal growing right in front of you spurred along by geothermal heating.
From tomato beer to bottomless tomato soup to cheesecake topped with green tomato jam, the theme at Friðheimar is clear and delicious. Plus, eating in a tomato greenhouse is kind of cool.
Geysir Geothermal Park is the next stop on the Golden Circle. Home to the first geyser described in a printed source, hot springs have erupted here for centuries. The Strokkur geyser still erupts every 5 to 10 minutes and is an incredible sight.
Just 10 minutes away, Gullfoss rounds out the list of Iceland's classic attractions. One of the largest waterfalls in Europe by volume, the waters of Gullfoss drop over 100 feet and create a tremendous mist. During the summer, there is almost always a rainbow, and, in winter, it can be possible to see the northern lights here.
From here, it's time to head to Reykjavik, which means returning to the airport to drop off your car first. If time allows and you haven't had your fill of hot springs yet, this is the perfect time to visit the famous Blue Lagoon, which isn't far from the airport. Before you make this choice, however, make sure that your car rental location offers an after-hours drop box for your keys.
The Blue Lagoon is undoubtedly one of the most famous places in Iceland. Its warm icy blue pools are ideal for relaxing, and the spa offers a huge list of treatments and therapies to indulge in. There are several restaurants and a café that could be good options for dinner since you'll be arriving in Reykjavik late.
After you finish at the Blue Lagoon, return your car at the airport and catch a cab or the Flybus into the city.
Spend the night in Reykjavik.
Where to Stay in Reykjavik
Two-thirds of the population lives in Reykjavik. Despite the density of people, it actually feels like a small town and is one of the least populated capital cities in the world. Here are some of our favorite places to say in Reykjavik:
101 Hotel: One of the most central hotels with a sleek, modern design and on-site parking. (Read reviews and book a room)
Baldursbrá Apartments: Right in the heart of the capital and with private parking, Baldursbra has everything you'll need for an enjoyable visit. (Read reviews and book a room)
Day 10: Reykjavik
The capital of Iceland and its biggest city, there are lots of fun things to do in Reykjavik. Spend the last day of your 10 days in Iceland doing whatever interests you most. Some of our favorites include:
Hallgrimskirkja is the city's iconic church. While the interior is simple, the view from the top is the real star. For kr 1200, you can get a ticket to head to the top of the tower from which you have a striking view of the whole city.
Make your own street art tour. Walls all around the capital are covered in murals, so take a walk and see how many unique pieces of Reykjavik street art you can find.
See the Sun Voyager. This unique sculpture along the water is one of the city's top landmarks.
Have a hot dog at Bæjarins Beztu Pylsur. A hot dog seems like an usual food to seek out, but nothing is more famous in Reyjkavik than this stand tucked away near the Radisson Blu. Lines can be long, so try for an off-peak time, if you can.
While we're talking about quirky or unexpected foods, check out Lebowski Bar. This bowling- and Big Lebowski-themed bar and restaurant has good burgers and a list of White Russians in tribute to the movie.
Visit a museum. Check out the Reykjavik Maritime Museum to learn about Iceland's seafaring heritage and the importance of the ocean to the island nation. Visit the Icelandic Punk Museum to learn about Bjork, Sigur Ros, and other artists that have shaped the music of Iceland. Head underground at The Settlement Exhibition to view the archaeological dig that is the earliest evidence of humans living in the city over 1000 years ago.
For even more geothermal pools, visit the Sky Lagoon where you can try their multi-step water therapy circuit or just look out over the ocean. It's a great way to end your trip to Iceland.