Of all the founding fathers, I've always been drawn to Thomas Jefferson. He was the author of Declaration of Independence, yet he was the youngest member of Congress. He was a complex man, yet he was consumed by the basic elements of life – growing vegetables, fermenting wine and brewing beer. He was a Francophile, yet he was an American patriot. I have looked forward to a Monticello tour to understand this founding father for a long time.
"I like the dreams of the future better than the history of the past."

Thomas Jefferson
Thomas Jefferson's Monticello is arguably the most famous of former President's homes. While Washington's Mt. Vernon gets more visitors (its proximity to Washington DC ensures a steady stream of visitors on school trips), Thomas Jefferson's Monticello is the only Presidential home recognized as a UNESCO World Heritage Site. In fact, Monticello is just one of nine cultural UNESCO World Heritage Sites in the U.S.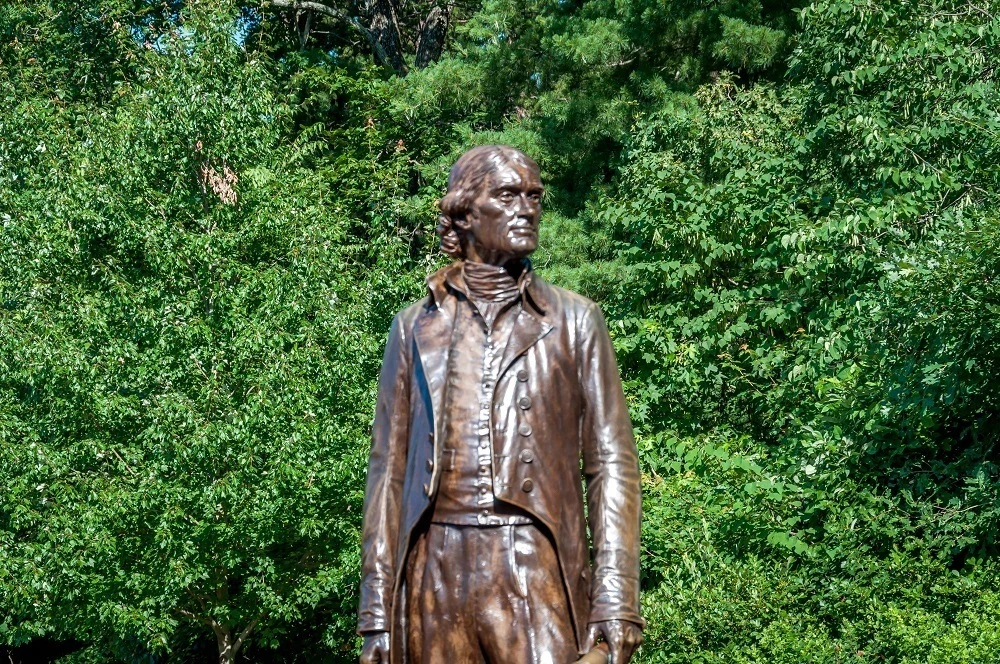 The Monticello Thomas Jefferson Foundation, which operates the facility without any public funding (Jefferson would be proud of that), provides two different tour options. The House Tour is 30 minutes and covers the eight rooms on the ground floor. The second choice is the Behind the Scenes Tour (90 minutes), which visits the nine rooms on the ground floor, plus the second and third floors. We chose the Behind the Scenes Monticello tour and were delighted by the experience!
"Wine from long habit has become an indispensable for my health…"
As a man, Thomas Jefferson was a renaissance man. He was an educator (founding the University of Virginia). He was a farmer. He was a librarian. He was a vintner. He was an inventor. His home reflects all of these pursuits. It leads to design decisions that could only be called quirky.
For example, he invented a clock that hung over his front door that would be wound once a week and would tell the days of the week in addition to the time. He also designed a series of dumbwaiters to bring bottles of wine from his cellar directly up to his dining room. And he built his bed into the alcove between his bedroom and his study – so he was never far from his work.
Jefferson built most of the rooms of his house in an octagonal shape–the lack of sharp corners meant more light could get into the rooms. The Dome Room (the only room in the house where you can take photos) is a perfect example of Jefferson's neoclassical architecture. But, more controversially for his family, he set all the beds in the house into alcoves to maximize floor space. His family hated the alcove beds.
As a man, Thomas Jefferson is not without controversy today. Many people cannot fathom how the man who wrote "all men are created equal" could also own slaves. The Thomas Jefferson Foundation does not skirt the issue of slavery on the Monticello tour. Slavery is tackled head-on – from Mulberry Row and the slaves quarters, to Jefferson's alleged relationship with Sally Hemmings – and nothing is whitewashed.
After the Behind the Scenes tour concluded, we wanted to learn more about slavery at Monticello. There is a special Slavery at Monticello Tour that is offered several times a day and we started that tour.
Unfortunately, Monticello is currently undergoing something called The Mountaintop Project, which is "a multi-year effort to restore Monticello as Jefferson knew it, and to tell the stories of the people – enslaved and free –who lived and worked at Monticello." The construction noise from the Mountaintop Project was deafening and it was impossible to hear our soft-spoken docent over the revitalization effort.
We, unfortunately, skipped the Slavery at Monticello Tour and headed into the gardens, walking past the extensive archeological excavations taking place of the slave buildings on Mulberry Row.
"Tho an old man, I am but a young gardener."
Some call Thomas Jefferson "America's First Foodie." He was nearly vegetarian and was a proponent of eating a plant-based diet. He was an advocate for sustainable agriculture (when that didn't mean anything) and he experimented extensively on plants and plant-hybrids. His vegetable garden had over 330 varieties and takes up acres! Laura loves her vegetable garden, but Jefferson's is on a scale that is unimaginable.
During the summer, the lawns and paths around Monticello swell with visitors, but it seems few of them walk down the mountain. The brief 15 minute walk takes you past the small cemetery run by the Jefferson family (not owned or maintained by the Foundation). We had the walk down all to ourselves, but it gave us a chance to ponder Thomas Jefferson and his legacy.
Politics in recent years have left many of Jefferson's ideas out of favor and his personal life is the subject of much criticism. As Americans, we can't help view the man Thomas Jefferson through our contemporary lens, even if we don't hold other historical figures to that same standard. Perhaps CNN said it best, "Jefferson tends to be held to a higher standard."
Taking a Monticello tour, it's impossible to deny to the beauty of the mountaintop views and the architectural magnificence of the home. Like historian Jon Meacham said, visiting Monticello, "…is as close as you can get to having a conversation with Thomas Jefferson." I feel like I know Jefferson in a new way.
Visitor Tip #1 – At all costs, get a tour as early in the day as possible (first tour if you can) and then take the first shuttle bus up to the house. If you quickly hustle around the backside, you'll have the classic Monticello view and gardens all to yourself to take pictures. Later in the day, this will be packed.
Visitor Tip #2 – There's no water up at the House, so consider bringing a bottle with you in a backpack. You can't drink it inside, but you'll be able to hydrate while viewing the gardens. It gets hot in the summer up at the house.
We were guests of the Thomas Jefferson Foundation. As always, all opinions and are our own.
Lance Longwell is a travel writer and photographer who has published Travel Addicts since 2008, making it one of the oldest travel blogs. He is a life-long traveler, having visited all 50 of the United States by the time he graduated high school. Lance has continued his adventures by visiting 70 countries on 5 continents – all in search of the world's perfect sausage. He's a passionate foodie and enjoys hot springs and cultural oddities. When he's not traveling (or writing about travel), you'll find him photographing his hometown of Philadelphia.