The Cotes du Rhone wine road winds through the South of France from Avignon through valleys and along hills covered by terraced vineyards and punctuated by old stone villages. The fruits that are grown on the côtes, or hillsides, of the Rhone River Valley, are turned into the approachable and affordable Cotes du Rhone wines (and maybe a bit of Beaumes de Venise in the higher elevations). Mainly reds, they are full of berry and cherry notes, spice, and the pepper of the terroir.
A day exploring this area offers so much. You'll find charming villages, fabulous Cotes du Rhone wineries, ancient ruins, and views that will make you want to stay awhile.
Cotes du Rhone Wineries and Villages to Visit
On this route, I followed a clockwise path from the town of Seguret, setting out early in order to make two winery visits before the customary afternoon closing time (often 12:00-2:00).
Domaine de Mourchon
The first stop was Domaine de Mourchon. I had read that wine tasting in the Cotes du Rhone was somewhat formal and that you need to know what you're looking for. I had memorized the French words for "earthy," "fruity," and "not too much oak," but I was still a little intimidated. So I was put very much at ease when my "Parlez-vous anglais?" was returned with a hearty, "Of course I speak English" in clear British tones. It turned out that my wine tasting guide was owner Walter McKinlay who moved from England to start the family vineyard here between Seguret and Mont Ventoux in 1998.
I tried their very light La Source (a blend of Viognier, Grenache Blanc, and other grapes), the rose, and their range of reds. My favorite was the Grand Reserve, a blend of Grenache and Syrah from vines that are over 60 years old. Aged in oak and concrete, it's fruity and spicy at the same time. Kind of perfect.
Le Col de la Chaine Mountain Pass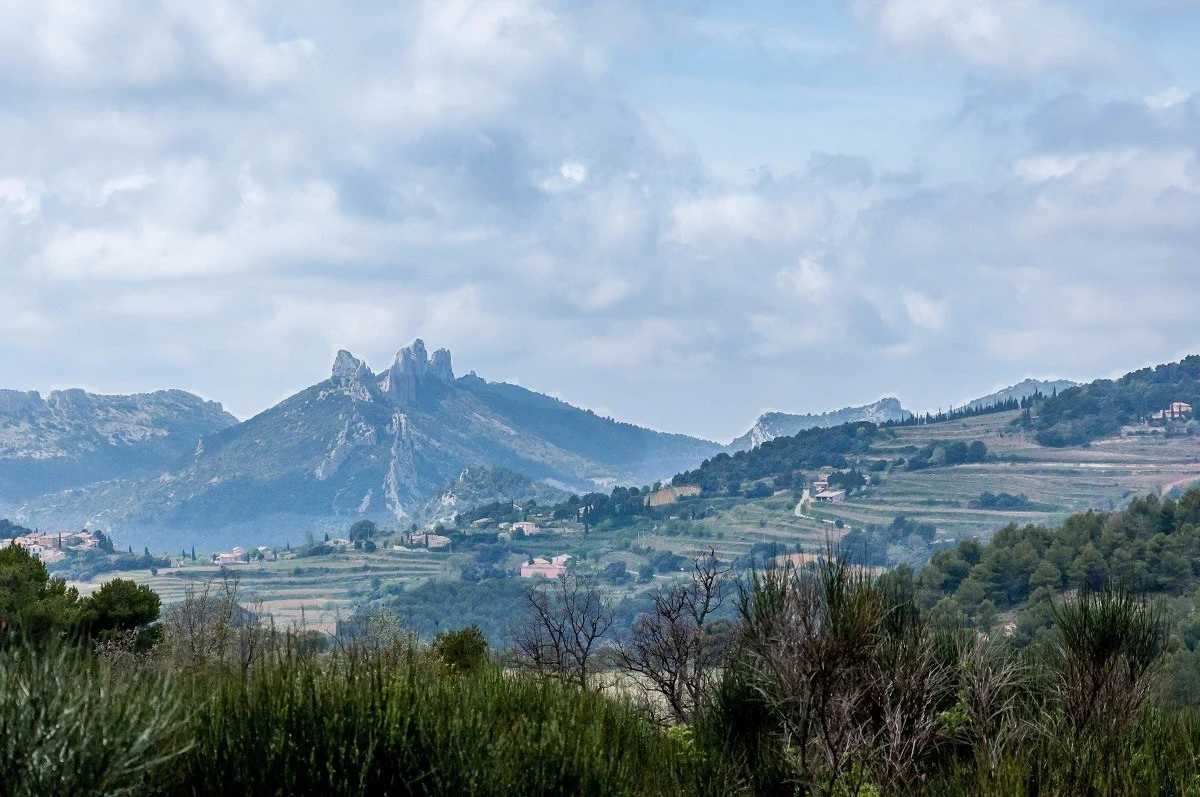 Leaving Domaine de Mourchon, the drive (following signs for Carpentras/Malaucene and ultimately getting to D-938 and following D-90 toward Suzette) winds past vineyards, by country farm houses, and down tiny, rocky paths that barely pass as roads. It's hilly and beautiful, and I spent most of the time thinking I was definitely going the wrong way. Thankfully, by time I reached Le Col de la Chaine (Chaine Pass) and a main road, I became a little more trusting of my GPS and a lot more astonished by the views.
In the distance, the striking Dentelles de Montmirail rise up from the countryside looking the plates on the back of a stegosaurus. Vineyards are everywhere, and cream-colored houses with burnt orange roofs dot the hillsides.
Domaine Saint Amant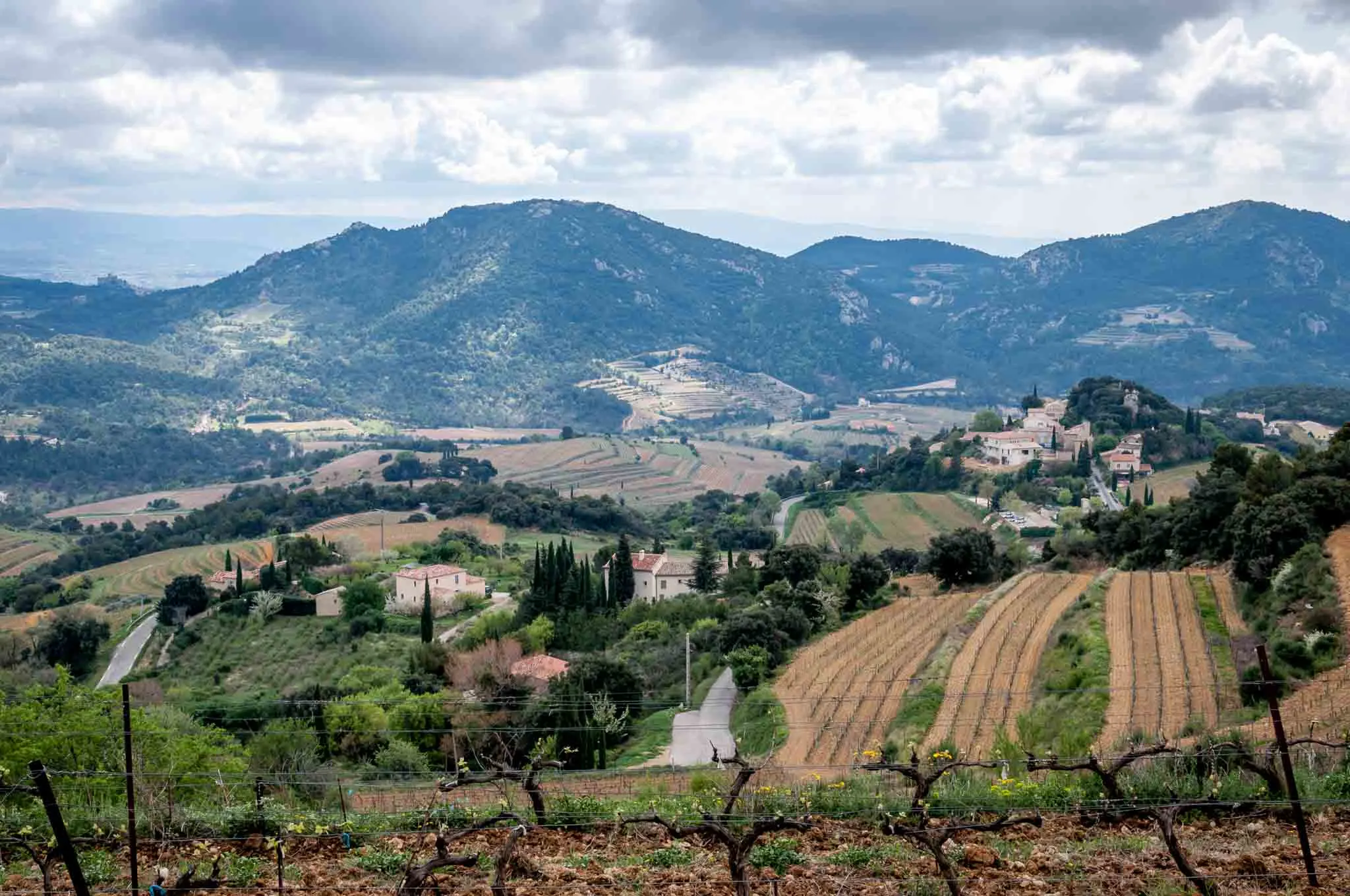 My stop at Domaine Saint Amant was prompted almost entirely by its signs boasting of beautiful views. A quick right turn just before reaching Suzette had me climbing steadily upward along the vineyard-lined hills to the tasting room at the top.
Although signs indicated it was open, no one seemed to be around until an employee spotted me. He quickly understood that I didn't really speak French, and he certainly didn't speak English. He called the owner (who spoke perfect English) and did his best to explain the products until she arrived. (I think this kind of experience in shoulder season at smaller tasting rooms is probably quite common, but it worked out well.)
The owner, Camille Nosworthy, explained that the hills in this area are in the Beaumes de Venise AOC while the wineries at lower elevations are in the Cotes du Rhone AOC, though both could be present within the same vineyard depending on the land. Among my favorites here were the light, fruity La Borry (95% Viognier) and the Les Clapas, a Cotes du Rhone blend of Grenache and Syrah.
Suzette
Suzette is not much more than a wide spot in the road. Still, it is worthy of a stop to look around quickly and to gaze from the hilltop at the brilliant views. You can't miss the 12th-century chapel that looks like it was placed there just for a photo op.
You can also stop at the cute Les Coquelicots café for a quick bite of drink – it's impossible to miss because it's the only one in town! If you're lucky, Chateau Redortir, the tasting room across the street from the parking lot may be open. I hear it is worth a visit, but it was unfortunately closed during my swing through town.
Domaine de Coyeux
The short drive from Suzette to Domaine de Coyeux brings a drop in elevation and a twisting road with great views of the mountains. Each time I thought I'd found the perfect view, an even better one appeared three minutes later. Actually arriving at Domaine de Coyeux brings what are probably the best views as the Dentelles jut up from just behind these extensive vineyards.
Inside the little tasting room, you are likely to be asked whether you prefer wines that are ready-to-drink or those that need a bit of aging. An answer of "both" will let you taste the full range the winery has to offer. I walked away with a bottle of the Beaumes de Venise Cru des Cotes du Rhone, a brilliant blend of Grenache, Syrah, and Mourvedre. A bottle of their Muscat Recolte was consumed before we even made it home.
Domaine de Durban
A 10-minute drive in the direction of Beaumes de Venise brings you to Domaine de Durban. The wines here are good and particularly inexpensive. It's almost impossible to beat a €5 bottle of Viognier (especially since Viognier is one of my favorites). The Viognier-Chardonnay is also a winner. Less ideal is the distracted and somewhat disinterested staff, which makes a visit to Domaine de Coyeux a better choice if your time is limited.
Gigondas
A 20-minute drive northwest (D-90 to D-7 to D-80) leads to the charming, red-wine-producing town of Gigondas. The main square offers several good tasting opportunities. Le Caveau de Gigondas is the best, offering bottles filled directly from the barrel. Even near the end of the day, it was a bustling place filled with plenty of people asking about the different blends and the earthy character of the local wines.
It would be easy to spend the night in Gigondas or to drive the 15 minutes back to Seguret where the drive started. Larger Vaison la Romaine a bit further north provides more options and the benefits of a bigger town.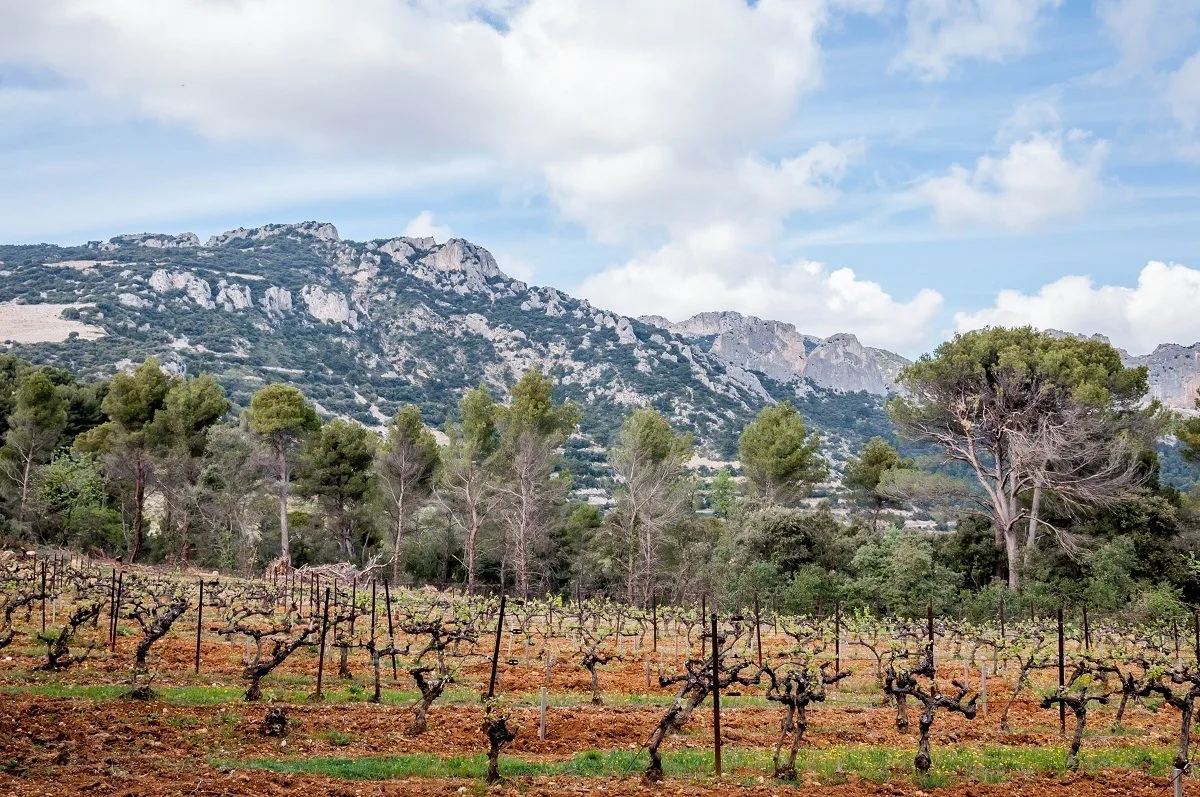 Have you visited the Cotes du Rhone? I would love to hear about your experience.
Laura Longwell is an award-winning travel blogger and photographer. Since founding Travel Addicts in 2008, she has written hundreds of articles that help over 3 million people a year get the most out of their travel. In that time, she has visited nearly 60 countries on 5 continents, often returning to favorite destinations over and over again. She has a deep love of history, uncovering unexpected attractions, and trying all the good food a place has to offer.
In addition to Travel Addicts, Laura runs a site about her hometown of Philadelphia—Guide to Philly—which chronicles unique things to do and places to see around southeastern Pennsylvania. Her travel tips and advice appear across the web.