"Left hand forward!" my instructor Junior barked into the headset. I'd inadvertently hit the right-hand control by accident. Quickly recovering, I executed the required maneuver and broke into a broad, toothy smile. The simple truth is that I had more fun than I ever imagined possible at the Dig This Las Vegas construction playground.
I first heard about this magical place a number of years ago. The CEO of my company came out to play in the giant sandbox of this heavy equipment construction playground. I couldn't imagine driving heavy construction myself, but he seemed to enjoy it.
Several years later, I found myself in Las Vegas for the weekend and this construction playground popped into my mind. I don't know what made me think of it, but I'm sure glad I did!
When it comes to heavy machinery, playing in the dirt and being thrilled by the roar of a diesel engine is not really my scene. I'm more comfortable in the kitchen. Growing up, I was more likely to be found playing tea and house with the girls than hanging out in the sandbox with the boys.
So, I'd be lying if I didn't say that I was apprehensive about the experience. These machines looked positively menacing. Would I even be able to operate the machine? Would I have the strength?
As it turns out, modern hydraulics make operating these big machines more of a finesse game than a brute force one. Fine movements executed with precision were necessary to operate the machines and it was something I excelled at. Years spent playing video games in my youth had now payed dividends. I'd be sure to tell my mother, who wasn't a fan of my video game playing.
On arriving at this big dig site in Las Vegas, we were given a breathylzer exam. I hadn't really thought about it, but large quantities of alcohol and heavy machinery are a bad combination. And Las Vegas kind of lends itself to over-indulging. Everyone passed and we were led into a small room for a safety briefing video and demonstration.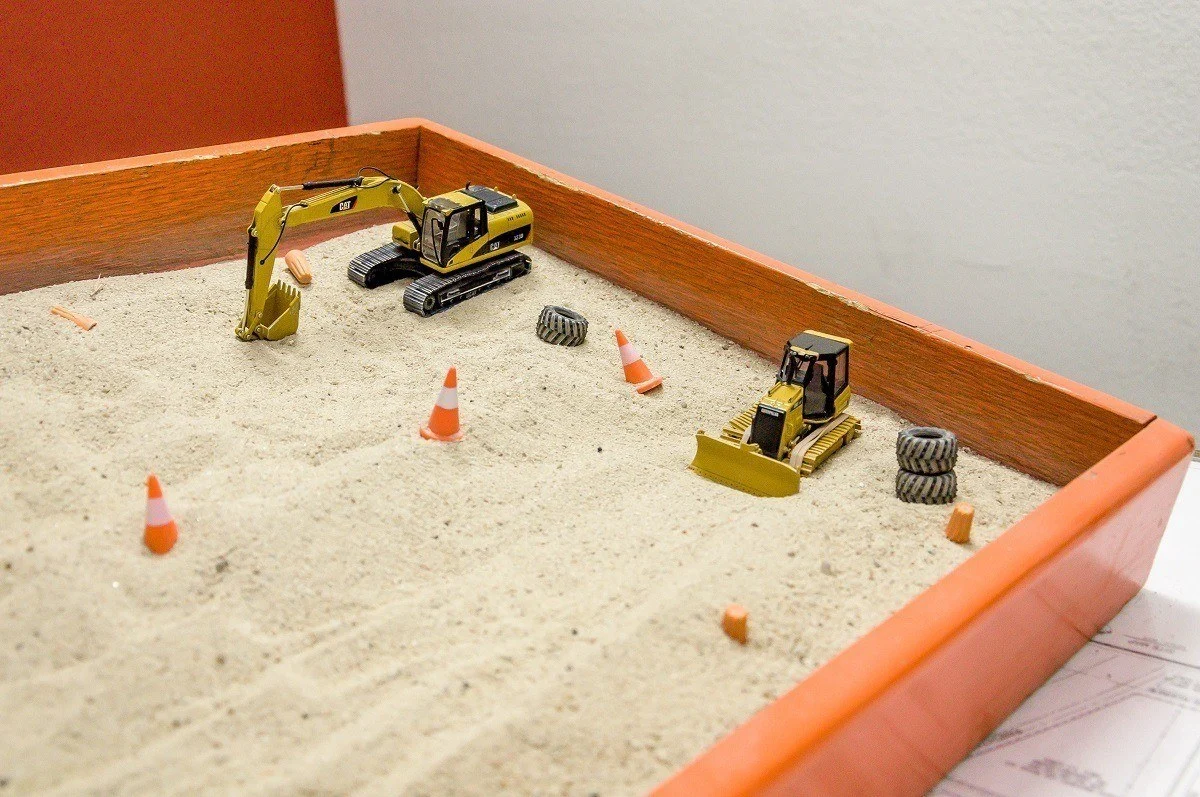 After we were led outside, we crawled up into the cabs of our big machines and got to feel the low, throaty roar of the diesel engine. I don't care who you are, it's a rush!
We were led through a series of exercises. First we put the arm to the ground and did a push up until the cab was pointing at the sky. I thought for sure the excavator was going to topple over. We then dug a massive trench in the ground. Mine was about four feet wide, about 10 feet long and about 12 feet deep. The bucket at the end of my arm pierced the ground effortlessly and ripped the sandy soil apart with ease.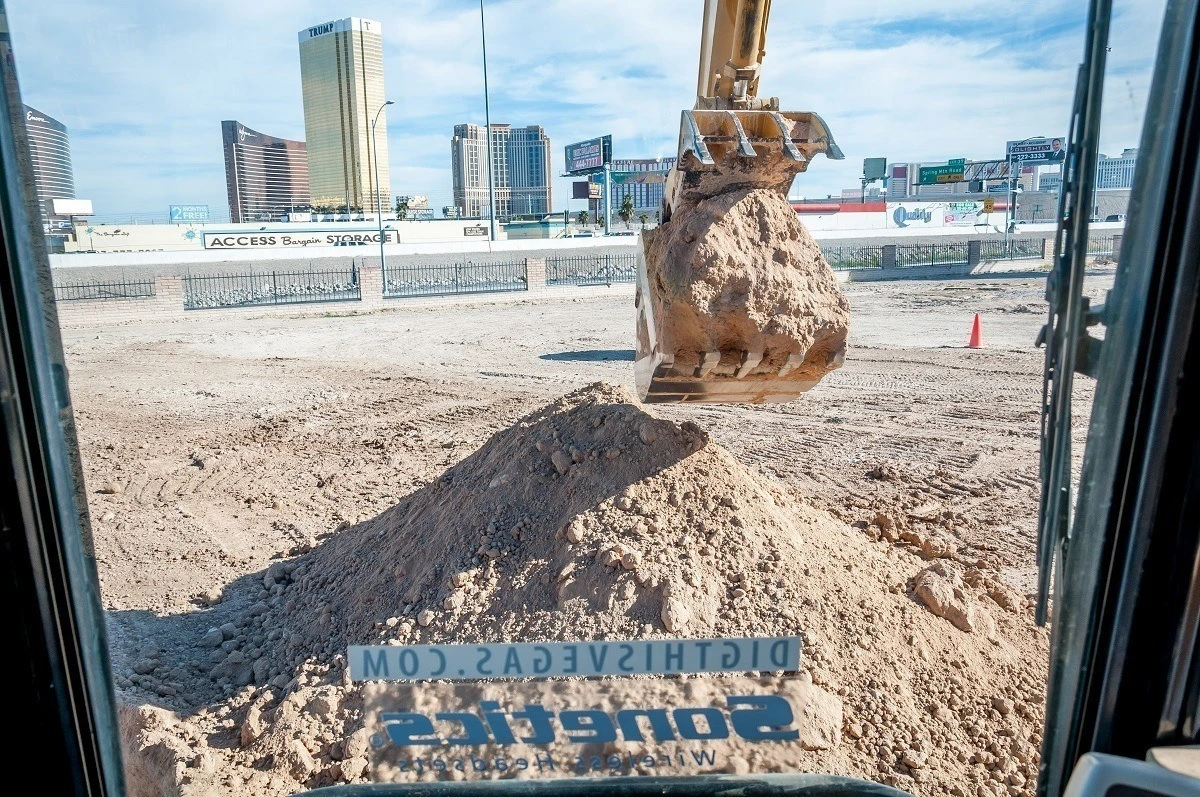 The third challenge was to pick up three giant, rubber truck tires and move them about 100 feet away. It was a challenge to pick them up and hold onto them. But it the exercise gave us a lot of confidence for the grand finale.
The final task was to drive our rigs to the top of a dirt ramp. We then needed to use all of the skill we had practices to pick up a basketball which was precariously perched atop a construction cone. We then had to maneuver the arm and dunk the basketball in a truck tire. And then repeat the exercise two more times. Not only was I able to do it, I was the first one done. As it turns out, I have some skill in the cab of an excavator.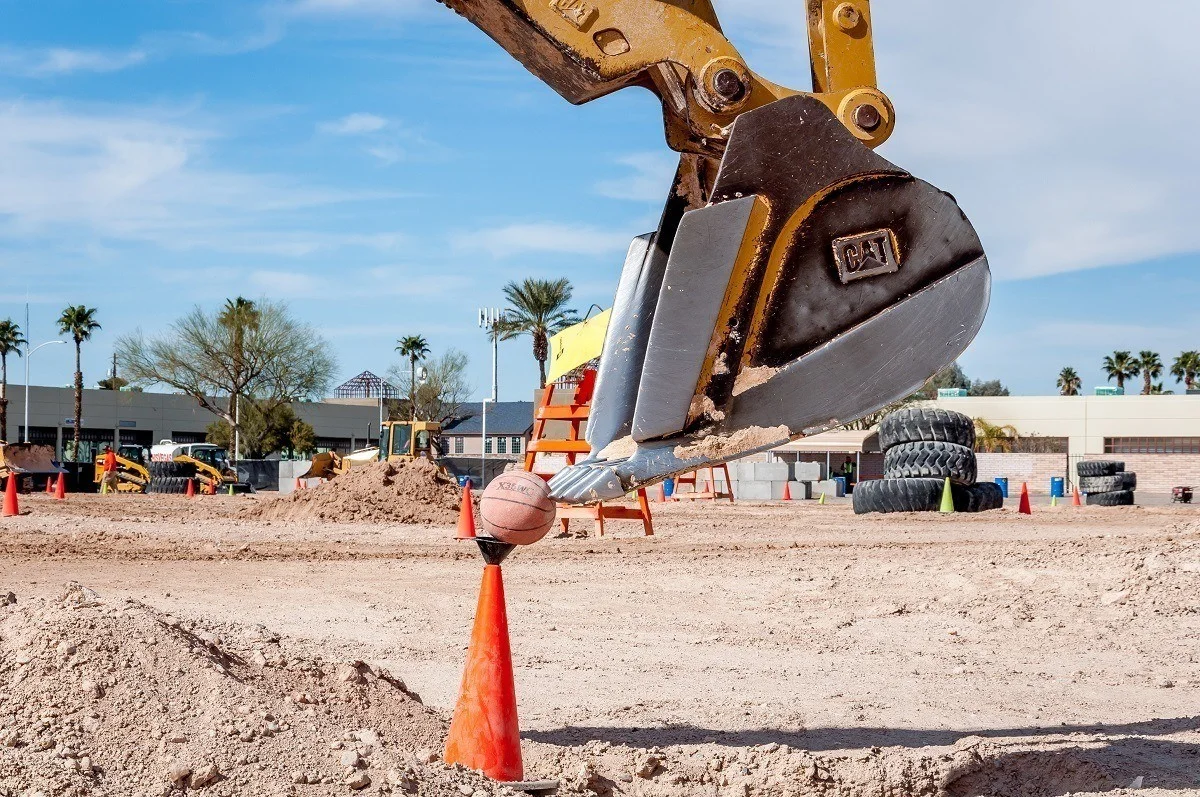 Dig This offers several different experiences. You can drive the excavator or a bulldozer. They have recently launched Mini Experiences, where guests as young as eight years old can operate skid steer track loaders or small excavators.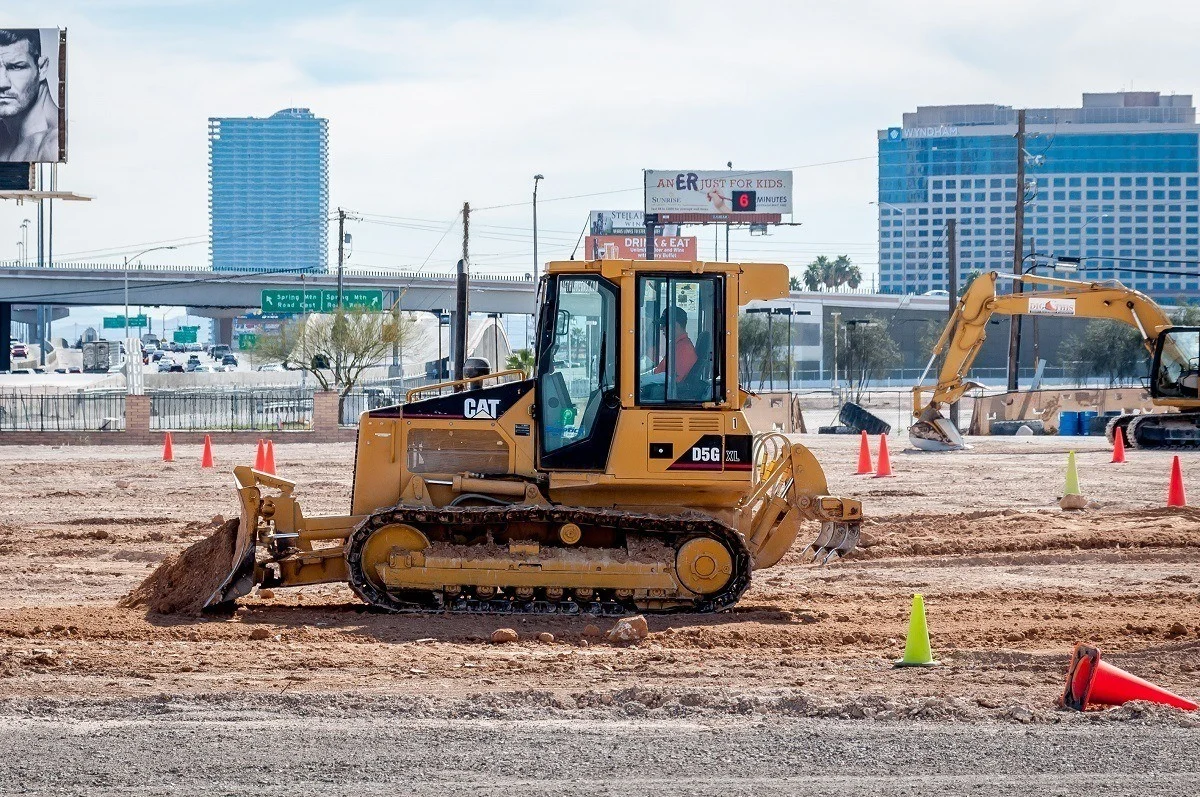 Reflecting back on the experience, this was something completely outside of my comfort zone and totally unlike me. As it turned out, playing around at the Dig This Las Vegas construction playground was completely enriching and a ton of fun! It's safe to say, I dug it.
Visiting Information for Dig This
Hours of Operation
Sessions are 90 minutes (30 minute safety and 60 minutes of playtime). Dig This operates 7 days a week from 8:30am-4:30pm.
Dig This Cost
The Big Dig package (90 minutes) is $285. If you want to do both the bulldozer and excavator, you can book the Mega Dig package for $485. Mini Experiences for children are also available.
Heavy Equipment Playground Location
800 W. Roban Ave. Las Vegas, NV 89044
Originally located in downtown in Las Vegas with views of the casino hotels, they moved outside of town in February 2019, but still offer the same fantastic experiences.
Phone
1-702-222-4344
Where to Stay in Las Vegas
Las Vegas has a ton of hotels, and there can be some incredible mid-week deals, but weekends can also be pretty expensive as people come for the weekends. Check the latest Las Vegas hotel prices here.
We were the guests of Dig This! All adrenaline-fueled opinions of the thrilling and adventurous are our own.