It's only 10:45 on Monday morning, and already the parking lot is more than halfway full. Workers in stained coveralls are taking up their usual places at the counter while a family from out of town settles in to a booth in the back. A group of coworkers orders their sweet tea before they even sit down. They've clearly been coming here for a while. Whether they call it Honeymonk's, The Monk, Lexington No. 1, or Lexington Barbecue (the actual name on the sign out front), after more than 50 years as a Lexington staple, this place feels just like home. But they're here for the meat. And so am I.
Barbecue in Lexington, North Carolina, is something special. And Lexington Barbecue – and the dozen or so other restaurants in town who serve the good stuff – take it seriously. After all, it's a 100-year-old tradition in these parts.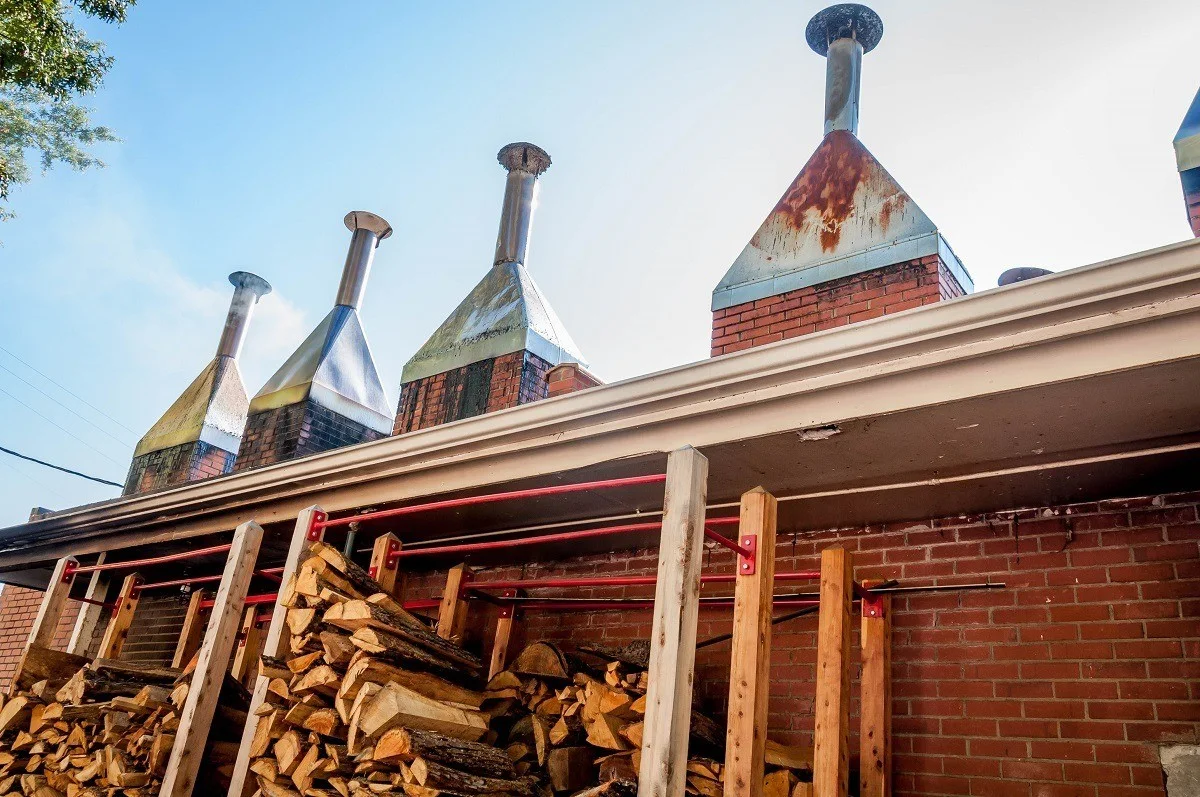 The Tradition of Lexington Barbecue
In the early 1900s, proceedings at the Lexington County Courthouse drew crowds when the circuit court judge came to town. Standing around doing justice-related things all day made people hungry. So in 1919, an enterprising farmer named Sid Weaver built a pit, put up a tent in the alley behind the courthouse, and began selling his smoked pork. Within a couple of years, barbecue had become an industry in Lexington.
As Weaver started the tradition nearly a century ago, pit-cooked is still the main method of cooking barbecue in Lexington. And you can smell the result from just about any place you go in the city.
Before the lunch rush has every employee here moving at full speed, I have a chance to see the pits. The heat from the fires is overwhelming as the coals are being turned. The smoky goodness of the shoulders being flipped on the rack is already starting to be apparent before I've even tasted a bite.
The barbecue in Lexington is very different from the basted meat with thick sauce that I grew up eating in Texas. Here, there is no rub or basting, just a simple seasoning with salt. Pork shoulders are smoked to a deep, crispy brown over a combination of hickory and oak coals for 10-12 hours to obtain just the right amount of flavor.
The craft and attention to detail are evident. At Lexington Barbecue, pit masters train for a year before they're allowed to handle the delicate task on their own. "It's just something you have to get the feel for—the temperature, the color of the wood. It all has to be just right," said Keith Wright (aka Bub), the owner's son-in-law.
How to Order Barbecue
Ordering barbecue in Lexington is a special process, too. I quickly learn that the pork is served finely chopped, coarsely chopped, or sliced – but never "pulled." It can be ordered with or without "bark" or "brown," which is the outside caramelized crust. The thin sauce, which is known as "dip," is vinegar-based with ketchup, sugar, salt, pepper, and a few spices that vary from recipe to recipe.
The barbecue is also served with a red slaw, which uses the barbecue sauce in place of the more typical mayonnaise. Throw in a few pickles and a giant basket of hush puppies (I don't think they're available any other way), and it's pretty much heavenly.
Lexington-style vs Eastern-style
Of course, as with anything good, there's always a controversy about what kind of barbecue is best. Eastern North Carolina has a distinctive style, too, involving the whole hog. Eastern-style sauce is vinegar- and pepper-based and doesn't include any tomato or ketchup at all. And don't expect to find the red slaw in the eastern part of the state either. There, it's mayonnaise all the way.
But in the Piedmont area of North Carolina, Lexington-style barbecue is the way to go. Lexington Barbecue itself serves over 6500 pounds of pork and 3000 pounds of cabbage in a typical week. Those numbers balloon during the holidays and during the city's annual barbecue festival. And it's easy to tell why when you see the attention that goes into every step of this revered tradition. All those people in the line stretching out the door can't be wrong.

We were the guests of Visit North Carolina and the Lexington Tourism Authority. All opinions of the smoky and spicy are our own.
---
What's your favorite kind of barbecue? Have you ever tried Lexington-style?
Laura Longwell is an award-winning travel blogger and photographer. Since founding Travel Addicts in 2008, she has written hundreds of articles that help over 3 million people a year get the most out of their travel. In that time, she has visited nearly 60 countries on 5 continents, often returning to favorite destinations over and over again. She has a deep love of history, uncovering unexpected attractions, and trying all the good food a place has to offer.
In addition to Travel Addicts, Laura runs a site about her hometown of Philadelphia—Guide to Philly—which chronicles unique things to do and places to see around southeastern Pennsylvania. Her travel tips and advice appear across the web.