Some posts on this site contain affiliate links, meaning if you book or buy something through one of these links, we may earn a small commission (at no extra cost to you).
There's a place in this world where capitalism is king. There is a country where nearly all commerce is conducted inside shopping malls. In this place, the gods of Armani and Louis Vitton are worshipped as divine. Where is this place? Dubai in the United Arab Emirates. But as we quickly learned, the malls in Dubai are far more than just mere shopping experiences; they are cultural centers and the focus of daily life.
First, a history lesson: As we learned at the local museum, there wasn't much here even 200 years ago. Dubai was a small fishing village throughout much of the 1800s. The nation of the United Arab Emirates wasn't even founded until 1971. Yet, there has always been a strong cultural heritage based on trade and commerce in the local Dubai souks. And what's the modern day variation of commerce? Yup, the shopping mall.
And in a city that does everything in a big way, it makes sense that the malls in Dubai are also big. These malls are filled with shops selling all manner of goods. However, there's a whole Dubai mall culture that has developed. It's too hot to go outside and walk, so people walk indoors in the malls. There aren't standalone businesses on Dubai's city streets, so most of the city's great restaurants are in hotels…or the malls. And many of the city's great attractions are also located in the malls.
As any visitor to Dubai can attest, it's impossible to spend any length of time in the emirate and not visit at least one mall for any length of time. During our time in Dubai, I think we ended up at a mall at least once a day: for lunch, dinner or some kind activity.
Perhaps the most interest place to us were the food courts. Here, local establishments sit next to iconic global brands. They're all here: McDonald's, Taco Bell, Chili's, etc. It's interesting to see the logos with Arabic text.
If you're visiting, here are some of the top experiences at the malls in Dubai:
The Aquarium at the Dubai Mall
The Dubai Mall is the one of the newest malls in Dubai, but it is also claims to be the largest mall in the world. And it may well be. This massive complex sits beneath the Burj Khalifa tower – the tallest building in the world. But our interest here was the massive aquarium, which has the largest single viewing pane in the world (over 150 feet long and over three stories high). This wall of glass is massive! It holds over 2.6 million gallons of water, over 300 sharks and rays.
Ski Dubai at the Mall of the Emirates
Ski Dubai is an experience like no other. Here, visitors can spend hours skiing or snowboarding on real snow. Whatever your desired level of activity, from the world's first indoor black diamond to a toboggan run, Ski Dubai has you covered.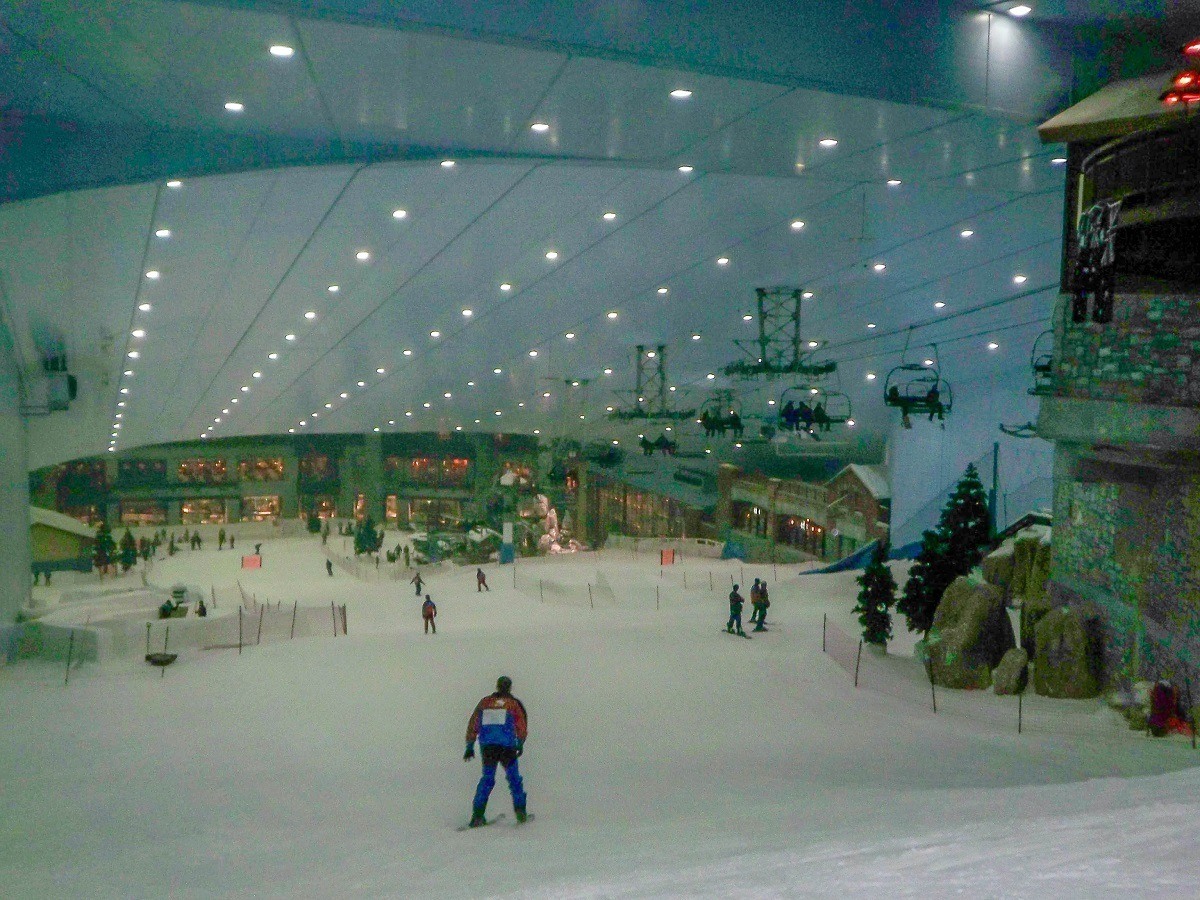 Experiencing Local Luxury at the Mercato Mall
The smaller Mercato Mall features the kind of daily stores that locals and expats frequent, including a massive grocery story. Mercato lacks many of the flashy up-market shops, instead focus on convenience in a Venice Carnival inspired environment.
The Canals of the Souk Madinat Jumierah
Like everything else in Dubai, the Souk Madinat Jumierah is an artificial creation. Its part canals of Venice and part traditional Arab souk market. From some of the walkways, there are stunning views of the Burj al Arab hotel tower.
Fine Dining at Wafi Mall
The Wafi mall is for a more refined palate. This mall caters to what it calls "affordable luxury." It lacks some of the lower-end stores, but makes up for it with many themed restaurants catering to high-end visitors.
Visitor Information for the Malls in Dubai
Dubai Mall
Hours are Sunday-Wednesday from 10:00am-11:00pm and Thursday-Saturday from 10:00am-12:00am midnight. The Dubai Fountain Shows are every 30 minutes from 6:00pm-11:00pm. Located just off the Sheikh Zayed Road (1st interchange) at the base of the Burj Khalifa. Accessible via Dubai Metro at the Burj Khalifa Station. GPS Coordinates: 25°11.922, 55°16.805. Website: https://www.thedubaimall.com/
Mall of the Emirates
Hours are Sunday-Wednesday from 10:00am-10:00pm and Thursday-Saturday from 10:00am-12:00am midnight (Ski Dubai has the same hours). Located off the Sheikh Zayed Road (4th interchange) in the area called "New Dubai." Also accessible via the Dubai Metro. GPS Coordinates: 25.118107, 55.200608. Website: https://www.malloftheemirates.com/
Mercato Mall
Hours are 10:00am-10:00pm daily (some stores open a little later on Fridays). Located on the Jumeirah Beach Road. Website: https://mercatoshoppingmall.com/
Souk Madinat Jumierah
Hours are 10:00am-11:00pm daily. Located inside the Arabian Resort of Dubai at the base of the Burj al Arab. Website: https://www.jumeirah.com/en/article/experiences/dubai/souk-madinat-jumeirah
Wafi Mall
Hours are 10:00am-12:00am midnight daily. Located on the Oud Metha Road between the Dubai International Airport and the attractions along Sheikh Zayed Road. Wafi is close to the Dubai Creek. The Wafi Mall is easily reached by private car or taxi. Website: https://www.wafi.com/