There's a place in northern Germany where a kid can be a kid. And in this same place, the inner child of every adult screams to be set free. This is one of Europe's most visited attractions. This is Miniature Wonderland (or Miniatur Wunderland in German). But you'd be mistaken if you assumed that this was only a kid's thing.
Going back to the summer of 1984, I spent dozens of hours holed up in the basement of my parent's house with my friend Petey. Together, Petey and I were building the world's biggest and more impressive train set. And it was amazing to our young eyes.
It had two sets of track, two mountains, a gravel airport, a river, a small pond, a stream, a waterfall, tunnels, a town, roads, trees and everything that would turn the make-believe world believable. In retrospect, we were ahead of our time. We were doing on a small scale what Miniature Wonderland would ultimately perfect.
Now, 32 years later, someone else has reached the apex of our childhood ambitions. This is quite simply the most amazing thing you will ever see. This is the world's largest model train set. And it's still years away from final completion.
The current model railway is massive and occupies several floors of a warehouse in the historic Speicherstadt district. There are over 65,000 feet of track, which is divided up into sections. These include several Germany sections (central Germany, Hamburg city, the fictitious city of Knuffingen and its airport), Austria, the United States, Scandinavia, Switzerland, and Italy.
There are still several sections left in development before the project is completely finished around 2025: Monaco, England/Scotland, France, Ireland, and Benelux.
While the scale of the railway is massive. The most impressive elements can be found in the miniature: a group of sunbathers at a lake splashing each other in the water, a parade in a German village with everyone in lederhosen, or Superman responding to an accident where a car went through a guardrail and nearly toppled over a cliff.
There is something to see everywhere. And everything moves. Sure, you'd expect the trains to run on a model railway, and they do. But the cars drive down the street. Cable cars whisk skiers to the tops of mountains to ski. And the skiers can go down the hill. And some people move. And the rollercoaster goes on thrilling rides. And ships sail across water. And the airplanes at the airport take off…and land.
Every 15 minutes, the day becomes night and the whole exhibition can be experienced in a whole new way. All of the trains, cars and buildings have lights, which come on. And the streetlights actually light up. And the car headlights turn on.
The attention to detail is something I never would have dreamed possible. When I spent the summer of 1984 working away in the basement on my model railway, this is exactly what I thought I was creating. Somewhere along the way, I gave up on model trains.
But I'm thrilled somebody didn't give up on train sets. This place is what happens when you follow your dreams. And it's absolutely awesome to visit!
Miniature Wonderland Details
To understand the scale of Miniature Wonderland, you just need to take in the scale of the operation:
Size: 24,000+ square feet of space
Figurines: 400,000 different people
Trains: Over 1,300 different trains
Track: 65,000+ feet of track
Lights: 500,000 lights
Cars: 10,000 moving vehicles
Computers: 64 different computers control all the action
Visiting Information for Miniature Wonderland
Hours of Operation
The facility is open 365 days a year. General hours of operation are from 9:30-18:00. Hours are slightly longer on Tuesdays, Saturdays, Sundays and public holidays. Lines can be quite long on weekends and school holidays, so pre-booking your timeslot online can be quite smart.
Miniature Wonderland Ticket Prices
Tickets are Adult €13.00 for adults and €6.50 for children. Other ticket options and packages are available.
Location and Address
It is conveniently located within the Speicherstadt district.
Miniatur Wunderland Hamburg
Kehrwieder 2-4,
Block D 20457 Hamburg – Speicherstadt
Getting There
There are several parking garages nearby if arriving by private car. However, public transit is also convenient. The nearest metro station (called the U-Bahn in Hamburg) is Baumwall, located on the U3 (yellow line).
For More Information
http://www.miniatur-wunderland.com
Nearby Accommodations
There are number of accommodation options nearby. Check out prices at nearby hotels. We stayed at the nearby AMERON Hotel Speicherstadt.
We visited explored Hamburg as the guests of German National Tourist Board. All opinions of the small and fantastic are our own.
And because you can never have too many pictures: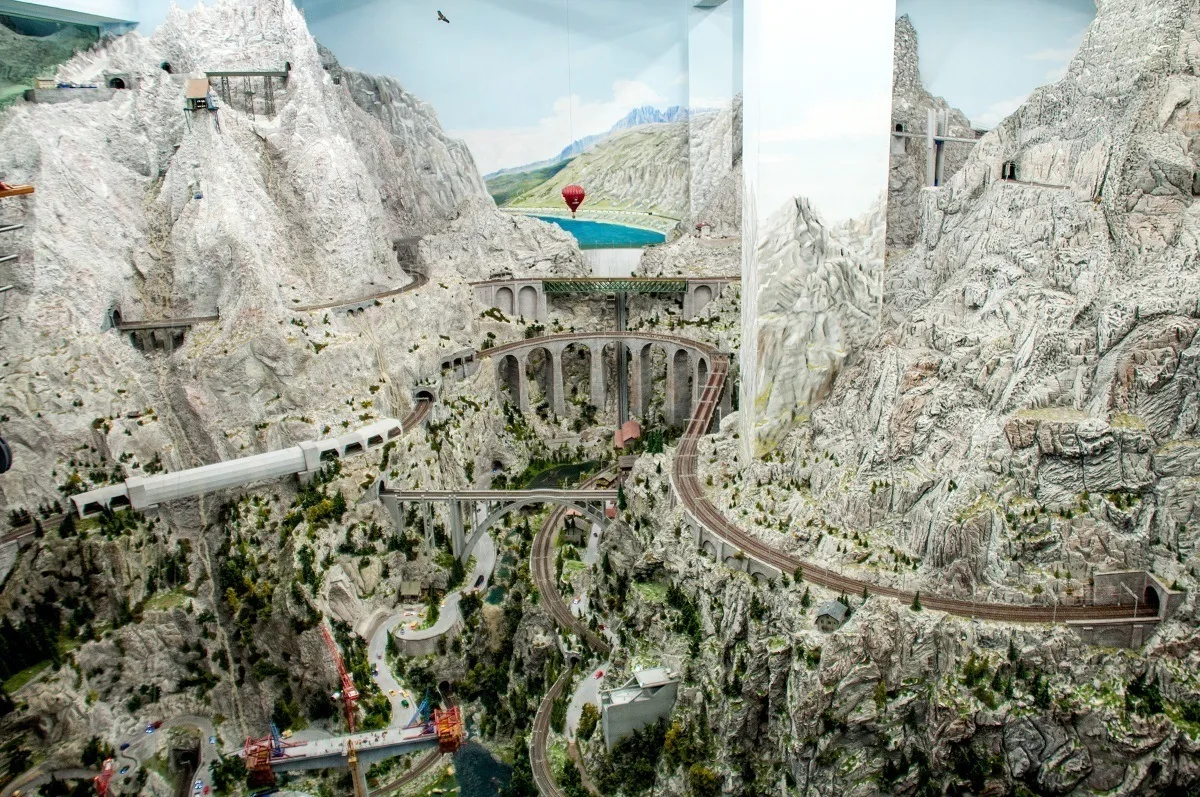 Lance Longwell is a travel writer and photographer who has published Travel Addicts since 2008, making it one of the oldest travel blogs. He is a life-long traveler, having visited all 50 of the United States by the time he graduated high school. Lance has continued his adventures by visiting 70 countries on 5 continents – all in search of the world's perfect sausage. He's a passionate foodie and enjoys hot springs and cultural oddities. When he's not traveling (or writing about travel), you'll find him photographing his hometown of Philadelphia.