"You Are Now Entering Free Derry" – these are the six most powerful words in understanding the period known as The Troubles in Northern Ireland. Since the occupation and eventual partition of the island of Ireland in 1921, the Derry murals have been art, propaganda, and an emotional outlet for the residents of this city.
As with our experience in Belfast, we entered Free Derry in search of beautiful murals but also wanted to understand this painful chapter in Irish history. We left with more than pretty pictures.
Check current hotel prices in Derry/Londonderry
As we entered the Bogside neighborhood, a light rain began to fall, setting a somber mood for our experience. Truck engines revved as they moved down Rossville Street, and an occasional clap of thunder pierced the air.
You could almost imagine the chaotic scene here on January 30, 1972. On that day, tanks and guns were unleashed on a civil rights march organized to protest a policy of indefinite detention and interrogation by the British military.
The peaceful event, modeled after the struggle by African-Americans in the United States, was shattered by young British soldiers who shot 26 people and killed more than half. The events became known as Bloody Sunday and became one of the most significant events ever to happen on the island.
The events have permeated public consciousness the world over through films and music, such as U2's anti-war anthem "Sunday, Bloody Sunday."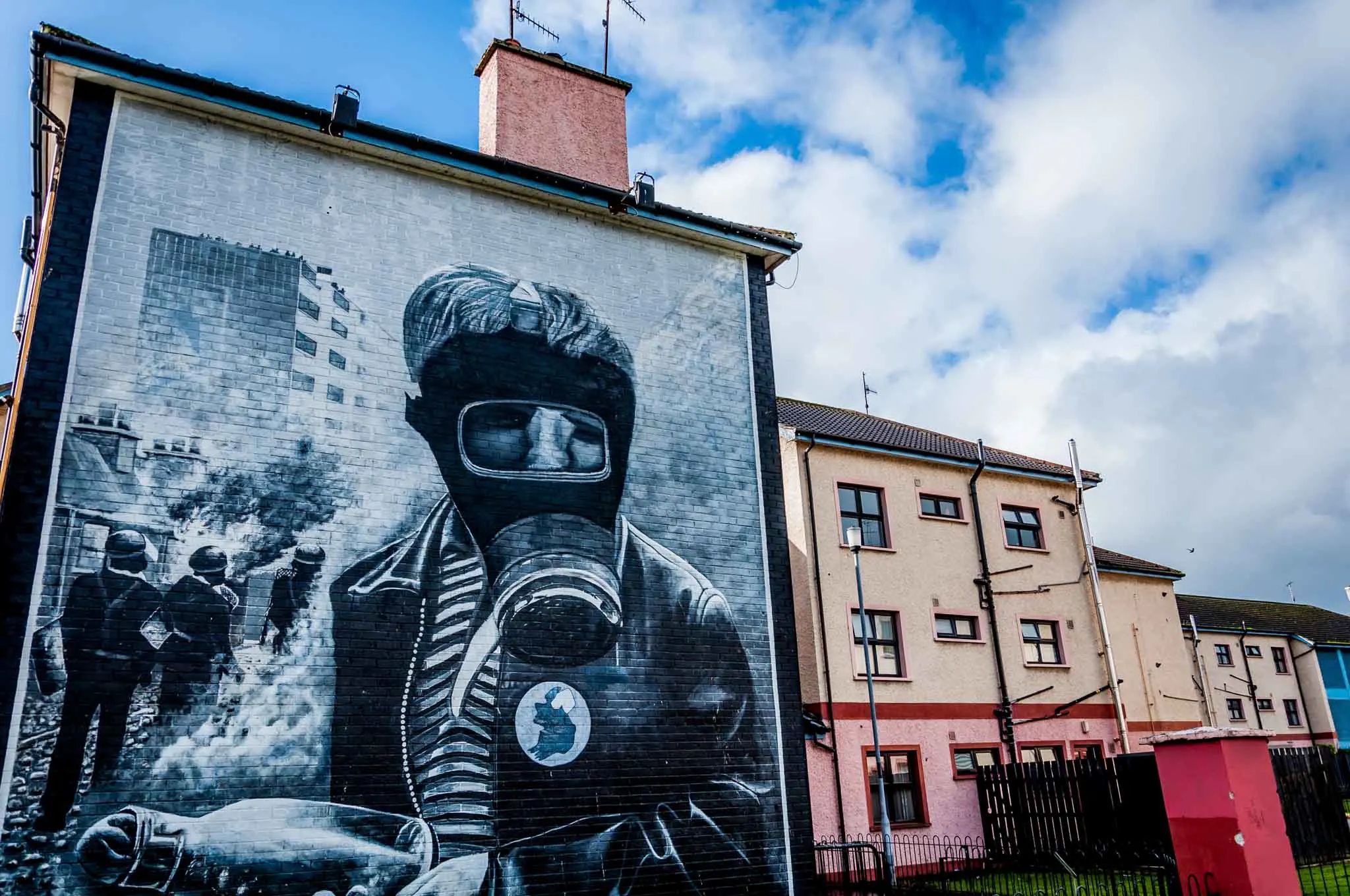 Unlike murals in other cities, these 12 Bogside murals are more than just art. We've enjoyed murals in cities like Vancouver and Toronto, but they are purely artistic. The 12 Derry murals were done by local artists Tom Kelly, William Kelly and Kevin Hasson, and are really political statements.
The murals protest policies by the British against Catholics (in which Protestants were exempt), as well as poor social conditions and the lack of economic opportunity open to them.
Highlights of the Bogside Derry murals include:
The Hunger Strikers – focusing on the plight of hunger strikers in the H-block Maze Prison in Belfast. When we visited, the mural had been recently vandalized.
John Hume – showing the Nationalist leader alongside Martin Luther King Jr., Mother Teresa and Nelson Mandela. No subtlety on this one.
The Death of Innocence – depicting Annette McGavigan, a 14-year old schoolgirl gunned down in 1971, but representing the 3,000 lives lost during The Troubles.
Bloody Sunday Commemoration – featuring the faces of the 14 victims.
As we left the Bogside neighborhood, we headed to The Fountain neighborhood where we saw several loyalist murals. These works relied on the red, white and blue colors of the United Kingdom and the Union Jack. They presented a different perspective to the Republican civil rights murals in the Bogside.
We left Derry with more than beautiful pictures of the murals, we left with a better understanding of the complex period of history known as The Troubles.
Check current hotel prices in Derry/Londonderry.