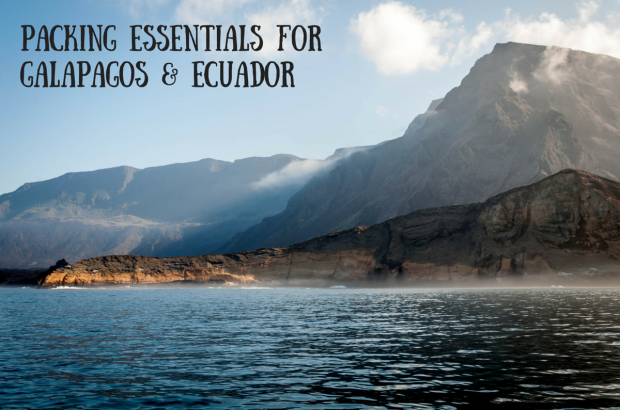 For many travelers, Ecuador and the Galapagos is a trip of a lifetime! But it also poses a lot of challenges when trying to figure out what to pack. In many ways, visiting Ecuador is not one climate, it is three very different ones. Regardless of how you get there, one of your biggest decisions will be what to pack for Ecuador and the Galapagos.
Both mainland Ecuador and the Galapagos Islands straddle the Equator. That means 12 full hours of daylight year round. Theoretically, it also means enjoying the warm Galapagos Islands weather. However, Ecuador is not uniform in its geography and there is a lot of variation. The Galapagos Islands tend to be warm, but with a cooling ocean breeze. The Avenue of the Volcanoes can be downright cold depending on the time of year you go. And Quito, the highest capital city in the world, is surrounded by rugged mountains and has unpredictable weather systems. This makes packing for Ecuador a challenge.
We went to Ecuador in March and were in the country for a full two weeks. To minimize packing unnecessary clothes, we had laundry done at our hotel in Quito at the half-way point in the trip.
Here is our definitive packing list for Ecuador for both women and men – everything you need to know to make your trip a success. We share what we packed, what we wish we'd packed but didn't, and what we probably should have left at home.
The Best Suitcase Type for Galapagos and Ecuador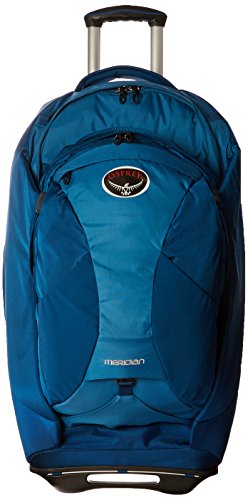 One thing we learned on our trip, big, bulky luggage really won't do for Ecuador and the Galapagos. One of our top traveling to Ecuador tips is to invest in a really good travel bag, if you don't already have one.
The ideal bag will be narrower than a traditional bulky suitcase, have large wheels for rolling over uneven surfaces, as well as convertible straps to turn it into a backpack. Several years ago, we discovered the Osprey Meridian and it has proven to be the perfect back every since. It is also the best suitcase type for the Galapagos.
The Best Item We Brought
| | |
| --- | --- |
| Women's | Men's |
Without question, the best item we brought on our trip to Ecuador and the Galapagos Islands were our Keen Sandals (women's | men's). On mainland Ecuador, they were ideal for exploring both cities and places with uneven terrain because they were cool, breathable, and had great support for all the walking, unlike a flip-flop or lighter sandal.
Our Keen's were absolutely essential for the Galapagos because we needed to disembark in both water and on dry land, and the terrain of the islands can be very tricky. They were perfect for water, dried quickly, and were easy to walk in whether we were on sand, a lava field, or anything in between.
What to Pack for Ecuador for Women
Tops: Five t-shirts and 2 sweaters for layering
Jeans: Two pair for the cooler days and nights and horseback riding
Capris: In the humid rainy season in the Galapagos, I expected to be sweating a lot, so I bought 3 pairs of capris that wouldn't show it too much. Bonus that they have SPF. I probably could have gotten by with two.
Outerwear: Cardigan and a fleece for the wind and cold. I had a cheap raincoat that didn't quite do the job, so I'll be investing in one of these jackets before the next trip.
Essentials: 7 pairs of socks, 7 pairs of underwear, 2 bras, 1 sports bra
Bathing suits: Two – one to wear while the other one dries from all those snorkeling escapades
Baseball hat: I don't love hats, but I don't love sunburned noses either
Tennis shoes: I was prepared for my shoes to be ruined so didn't get anything new for this adventure
Sandals: I am not the most coordinated person on earth. I tend to sprain my ankle and stub my toes on uneven ground (sounds great, right?), so getting sturdy sandals with toe protection was important.
What to Pack for Ecuador for Men
7 Pair Socks: I personally like the mini-crew socks, but pack whatever makes you comfortable.
7 T-shirts: Pack your favorites or just a simple plain T-shirt.
1 Pair Jeans: Ecuador is a pretty casual place. I saved my jeans for our nicer dinners.
2 Pair of Hiking Pants: I'm a big fan of convertible hiking pants. Yes, they scream tourist, but they are extremely comfortable, resist stains, dry very quickly and you can zip off the legs and have a pair of shorts. It's 2-in-1. My current favorites are the Columbia Silver Ridge Convertible Hiking Pants.
2 Swim Suits: The Galapagos in Ecuador is not the Med. Leave the speedos at home. Since you'll be in the water with curious wild animals, resist the temptation to wear flashy colors. Solid blues and blacks work very well. Stay away from very light colors (white, silver, etc.) that could resemble fish or yellow.
1 Polo Shirt: I brought one nice polo shirt, which constituted my finest for dinners. Our boat in the Galapagos tended to dress up a little bit, so I wished I'd brought a second one.
Sweater: I know – including a sweater in your Ecuador clothes? But, it was really cold in the Avenue of the Volcanos. I bought a very thin merino wool sweater for the two days we were up among the volcanoes. It was a good idea.
Fleece: The single best travel item I own. My North Face fleece has been on every trip I've taken since 1997. I used it all the time in Ecuador.
Lightweight Jacket: We'd brought lightweight cheap jackets we'd picked up somewhere along the way. They were too flimsy and we should have invested in a serious rain jacket. I've got my eye on the Marmot Precip Jacket.
Poncho: So, we brought heavy-duty ponchos. These were actually left over from our Victoria Falls experience in Africa last year. They were pointless in Africa, and they were just as pointless in Ecuador. On the two days when we had serious rains, they just didn't help with the winds.
Hat: I'm not a hat person. However, a broad sun hat is critical in the Galapagos. Make sure the hat is lightweight and of breathable fabric to keep you cool.
Gloves: You'll only need them briefly while in the Avenue of the Volcanoes, but a lightweight pair of cotton gloves can be just the ticket to keeping your fingers warm.
Hiking Boots: A good pair of heavy duty hiking boots with ankle support is imperative for hiking and horseback riding on the mainland, and some of the more strenuous walks in the Galapagos. I love my Keen Targhee II Hiking Boots.
Sandals/Water Shoes: Some of the shore visits in the Galapagos are "wet landings." You will get wet. And you will get tons of sand in your shoes to naturally exfoliate your feet. I used my Keen Arroyo II Hiking Sandal for such a purpose. When I wondered what shoes to wear in the Galapagos, I ended up spending most of my time in these because they truly were the best shoes for a cruise.
Camera Gear and Bags for Ecuador and the Galapagos
Camera: The entire country of Ecuador is a photographers dream. However you don't need to overpack. In the Galapagos, the animals will be close…very close. Too much lens and you won't have the ability to properly capture the critters. We took our Nikon D90 DSLR with an 18-105mm lens. If you're in the market, the D90s are still available, or there is the replacement Nikon D7100 with an 18-140 lens. We also took our Sony RX 100 III Cyber-Shot.
Go Pro: For underwater photography in the Galapagos, we took a GoPro (plus a protective case). I've had the GoPro for about two years and had done some limited underwater photography in Grenada and Chankanaab. While the GoPro was great on video, I've been disappointed in the still photos. One of the other people on our boat had a Nikon Coolpix and it took some great underwater photos.
Camera Rain Cover: We got a lot of rain two days on the trip. I really wish I would have had a rain cover for the camera – particularly on our early morning birding adventure.
Waterproof Gear Dry Bag: A small waterproof dry bag for our cameras and other gear turned out to be totally unnecessary; however, it gave us a lot of comfort splashing into the water on wet landings that our $1,000+ in photo gear was protected.
Canvas Bags: This is another travel pro tip. Bring with you one or two small, lightweight cotton canvas bags (similar to a shopping bag). These are multi-purpose tools. You can pack dirty clothes and keep them separate, use them for shopping or even to help organize.
Snorkel Gear to Pack for the Galapagos
Mask and Snorkel: All the ships in the Galapagos come equipped with snorkel gear. However, if you need prescription snorkel masks (like me) or you don't love the thought of sticking your mouth on a snorkel after hundreds of other people (like both of us), bring your own. We love the Cressi Big Eyes Snorkel Kit because of the extra big lenses that give you more visibility looking down. We've also written a guide to other great snorkel gear which may be helpful. Bringing our own snorkel gear was the number one item on our Galapagos packing list.
Fins: You really don't need to bring your own fins for snorkeling as all boats have them. However, a word of caution – if you have particularly large or small feet, if you have particularly wide or narrow feet, or if you have a high arch, you may find that your boat hasn't a pair to fit you. I ended up needing to wear fins that were too small and cut the tops of my feet badly (requiring me to wear socks and bandages). If you think you might have this problem, invest in a pair of lightweight travel fins for the trip.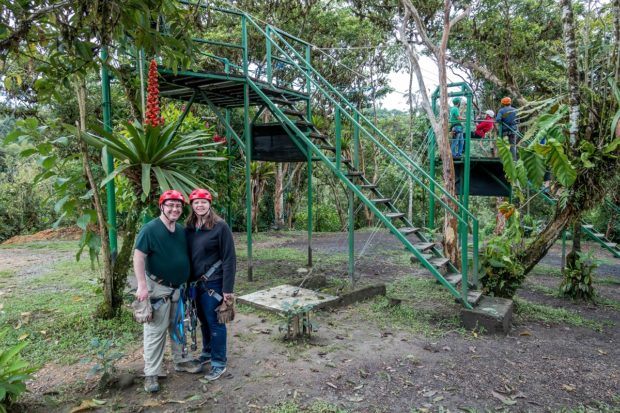 Toiletries and Other Essentials
Sunscreen: You're at the Equator. You get 12 hours of sunshine. Lather up! We brought a bunch of Neutrogena sunscreen with us. Fair warning: sunscreen is crazy expensive in the Galapagos and even in other parts of Ecuador.
Insect Repellent: We brought some Ultrathon insect repellent and Laura used it once or twice, but we didn't really face bugs. We've heard some horror stories of bugs and the infamous Galapagos mosquitoes in Ecuador, but it was not a problem for us.
Sunglasses: Mandatory gear. Did I mention the 12 hours of sunshine? At the Equator? Bring sunglasses.
Earplugs: If you're a light sleeper (and even if you're not), bring earplugs. We had some noise outside of our hotel in Quito one night. Also, on the boats in the Galapagos, there will be engine noise. We just find you sleep a little better with a pair of earplugs.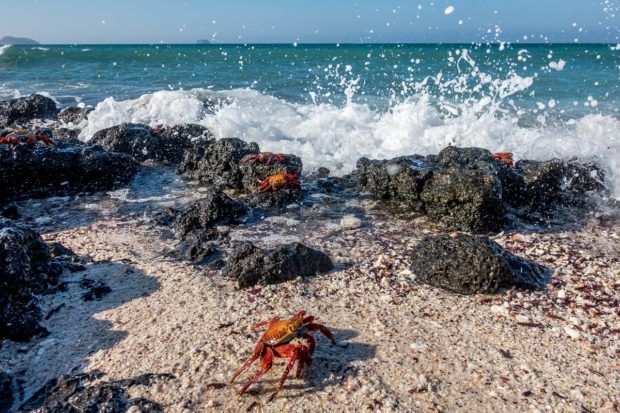 Finally, regardless of what you bring, be sure to check our packing tips for stress-free travel.
Have you been on a similar trip? What was essential for you on your Ecuador and Galapagos packing list?
Note: Some links may be affiliate links, which means Travel Addicts may earn a few pennies if you buy something.