Washington, D.C., needs no introduction. For obvious reasons, the monuments and museums of the capital city are top attractions for visitors wanting to experience US history. Just a few miles outside the city, the attractions continue in northern Virginia. From Arlington National Cemetery to George Washington's Mount Vernon estate and numerous other sites, the entire area is full of history. And what do you need after lots of sightseeing? World-class food, wine, beer, and more. Northern Virginia is full of some of the best wineries in the state along with great craft breweries and excellent restaurants. On a recent weekend, we sampled our way through the region. Here's a look at some of our favorite spots.
Winery at Bull Run
Set on 21 lush acres in Fairfax County, it's hard to imagine that The Winery at Bull Run is less than a half-hour from Washington, D.C. Walking around the grounds, we felt like the rolling hills and vines stretched for miles in every direction. In reality, The Winery at Bull Run is the closest winery to DC and perched on the edge of the Manassas National Battlefield Park, which gives it a unique historical angle.
In addition to sampling their best-selling Delaney (a fruity white) and the crisp Stainless Steel Chardonnay at their outdoor tasting room, we saw historical buildings and Civil War artifacts from around the northern Virginia vineyard property. Civil War history buffs can dig even deeper into the area's significance at the nearby battlefield—the location of the War's first major battle.
Trummer's Coffee and Wine Bar
Trummer's Coffee and Wine Bar is the kind of place we would want to hang out if we lived in northern Virginia. With a cool bar, excellent cocktails and coffee drinks, light bites, and amazing pastries, Trummer's fits the bill for pretty much any time from breakfast to late night. Plus, it's all done with a European flair drawing on the owner's roots in Austria, so the menu features unique items that made us reminisce about our trip to Vienna.
We loved the tiramisu, the Napoleon, and the chocolate-dipped schaumrolle (an Austrian pastry). Trummer's signature cocktail is also a winner—the Titanic is a delicious combination of Ciroc vodka, muddled grapes, prosecco, and sorbet.
Tin Cannon Brewing Company
At first blush, Tin Cannon Brewing Company in Gainesville looked much like other craft breweries in northern Virginia. We stopped in its inviting taproom with numerous options on draft and saw the back porch where regulars hang out and enjoy cigars along with the newest brew.
It wasn't until we got to the brewing area that we understood why they call themselves a nano-brewery—until very recently, they've run the whole operation on a two-barrel system that produces four kegs (64 gallons) at a time. Luckily, they've expanded production off-site to help them meet the growing demand for their expertly-crafted beers. Our favorites were the Punk'Tin Ale, a seasonal ale brewed with five pounds of pumpkins per barrel, and the Virginia Blonde, a subtle blonde ale.
Blue Ridge Seafood
We've always associated seafood with Maryland but not with Virginia, and that was a huge mistake considering that it has over 7000 miles of coastline. Luckily, we're quick learners when it comes to food, and all it took was five minutes at Blue Ridge Seafood to learn what we'd been missing.
For nearly 40 years, this family-run restaurant has served up seafood specialties. House favorites include their homemade crab cakes, hush puppies, and seasonal blue crabs which are as much a great meal as they are an experience. The outdoor tiki bar is a fun addition.
Hiddencroft Vineyards
Situated on a Lovettsville, Virginia, farmstead that dates from the early 1800s, Hiddencroft Vineyards makes the most of its picturesque historical setting. The tasting room is an 1830s farmhouse, and their special events space is a beautiful 1930s bank-barn. But it doesn't end there—we participated in a new tour at the winery, a historical progressive wine tasting.
The tour started in the restored springhouse with wine chilled in the spring and moved on to another 1830s log structure, the summer kitchen, before finishing in the smokehouse. Along the way, we sampled a selection of Hiddencroft's 22 wines made mostly from estate-grown grapes along with food pairings characteristic of 19th century. Of all the wineries we've visited around the US and the world, this tour was the most innovative and hands-on experience we've had—truly a unique way to experience one of the historic wineries in northern Virginia.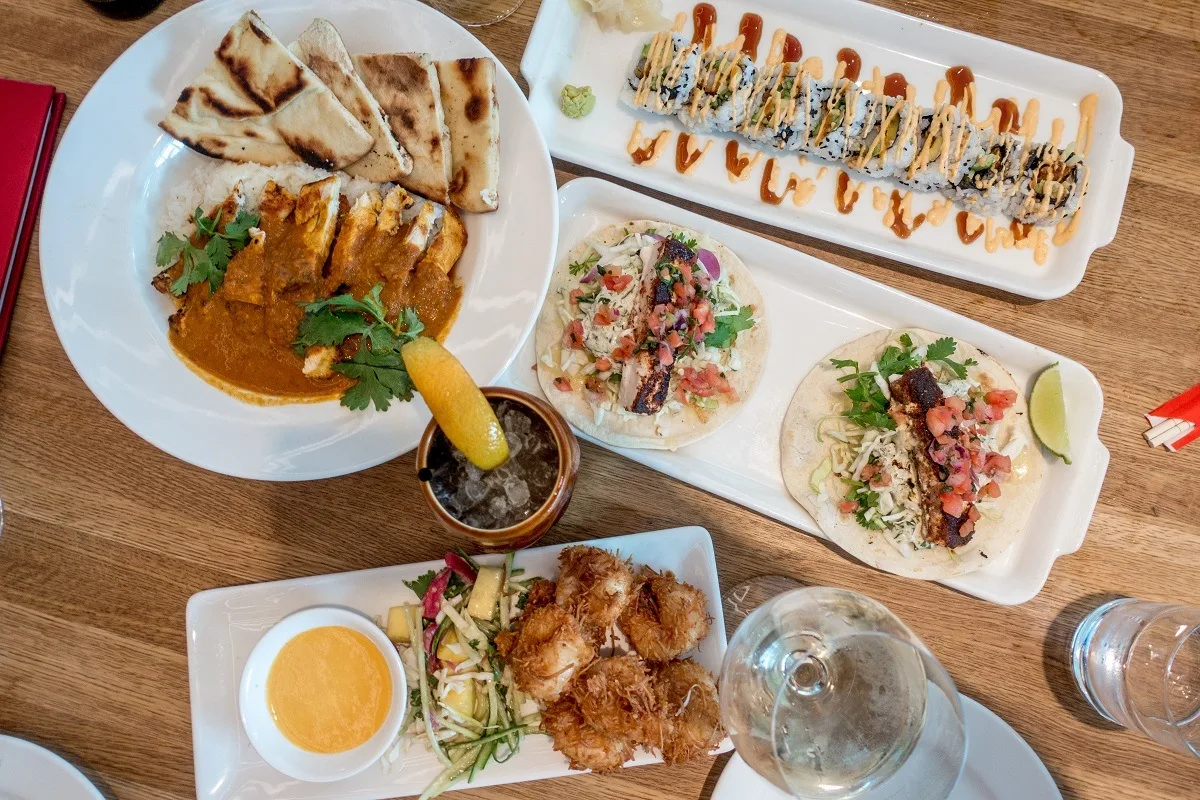 Earls Kitchen + Bar
Tysons Corner Center is more than a mall. Since our first visit here 10 years ago, it's practically transformed into a city with more than 300 stores, over 50 cafes and restaurants, plenty of space to hang out, and new towers with offices and apartments. We've always loved it here and make it a point to stop in for dinner every time we're headed to one of our favorite music venues nearby, Wolf Trap.
On this visit, we stopped at Earls Kitchen + Bar, one of the newer Tysons Corner Center restaurants. The Earls menu is enormous and features flavors from all over the world. With a little guidance from our server, we tried everything from sushi to tacos. It's possible that I still have dreams about the coconut shrimp and jeera chicken curry.
Doukenie Winery
Just 45 miles from Washington, D.C., at the foot of the Short Hill Mountains, Doukenie Winery has been producing award-winning wines for over 20 years, making it one of the older wineries in Loudoun County. Named for the owner's grandmother Doukenie, who left Greece for America as a young girl, Doukenie Winery is about family.
During our visit to Doukenie, we talked with family matriarch Hope whose baklava is a fixture in the tasting room and whose namesake dessert wine, Hope's Legacy, is one of the standout wines produced at Doukenie. In total, Doukenie makes more than a dozen wines using almost all estate-grown grapes. Our favorites were Mandolin—a crisp blend of Traminette and Vidal Blanc—and the Cabernet Sauvignon.
Crooked Run Brewery and Senor Ramon Taqueria
In Sterling, Virginia, two businesses have come together in one of the all-time best pairings—beer and tacos. Crooked Run Brewery and Senor Ramon Taqueria share a space in a rather unassuming office park, and it's magic. Crooked Run's first location opened in 2013 after a successful Kickstarter campaign, making its owners the youngest brewery owners in the country at the time. In the last four years, they've experimented and expanded making both traditional and innovative brews using local ingredients.
During our visit, there were nine beers on tap including the fabulous Flapjack porter with maple and the popular sour IPA, Raspberry Empress. There's no better pairing for one of the beers than the outstanding tacos at Senor Ramon's—the shrimp taco and the carnitas were amazing, and we wished we'd had time to try them all.
Lansdowne Resort and Spa
After all this eating and drinking, why not stay at a place where you're guaranteed more fabulous eating and drinking? We did, and we loved it. The Lansdowne Resort and Spa in Leesburg is at the gateway to northern Virginia's wine country.
The massive grounds of Lansdowne span 476 acres along the banks of the Potomac River, providing plenty of opportunity to explore the great outdoors or just enjoy the view, depending on your preference. We loved the breakfast buffet, the spa, and the newest addition Coton & Rye, which focuses on local ingredients.
We were the guests of Visit Fairfax, Visit Loudoun, and Discover Prince William County & Manassas. All opinions of the delicious and savory are our own.
Laura Longwell is an award-winning travel blogger and photographer. Since founding Travel Addicts in 2008, she has written hundreds of articles that help over 3 million people a year get the most out of their travel. In that time, she has visited nearly 60 countries on 5 continents, often returning to favorite destinations over and over again. She has a deep love of history, uncovering unexpected attractions, and trying all the good food a place has to offer.
In addition to Travel Addicts, Laura runs a site about her hometown of Philadelphia—Guide to Philly—which chronicles unique things to do and places to see around southeastern Pennsylvania. Her travel tips and advice appear across the web.