A quick drive west of Colorado Springs and you will end up in the Rocky Mountains at the Florissant Fossil Beds National Monument. The main attraction at this national monument is seeing the remains of the vast Colorado petrified forest.
You can see the stumps of petrified giant sequoia trees and numerous other fossils to be seen in the preserve. There are a couple of hiking trails here that will take you around the major highlights of the Florissant National Monument.
This is a smaller national park site in Colorado but it is a perfect stop for anyone who loves ecological history, or just wants to see some really cool things!
Fossil Beds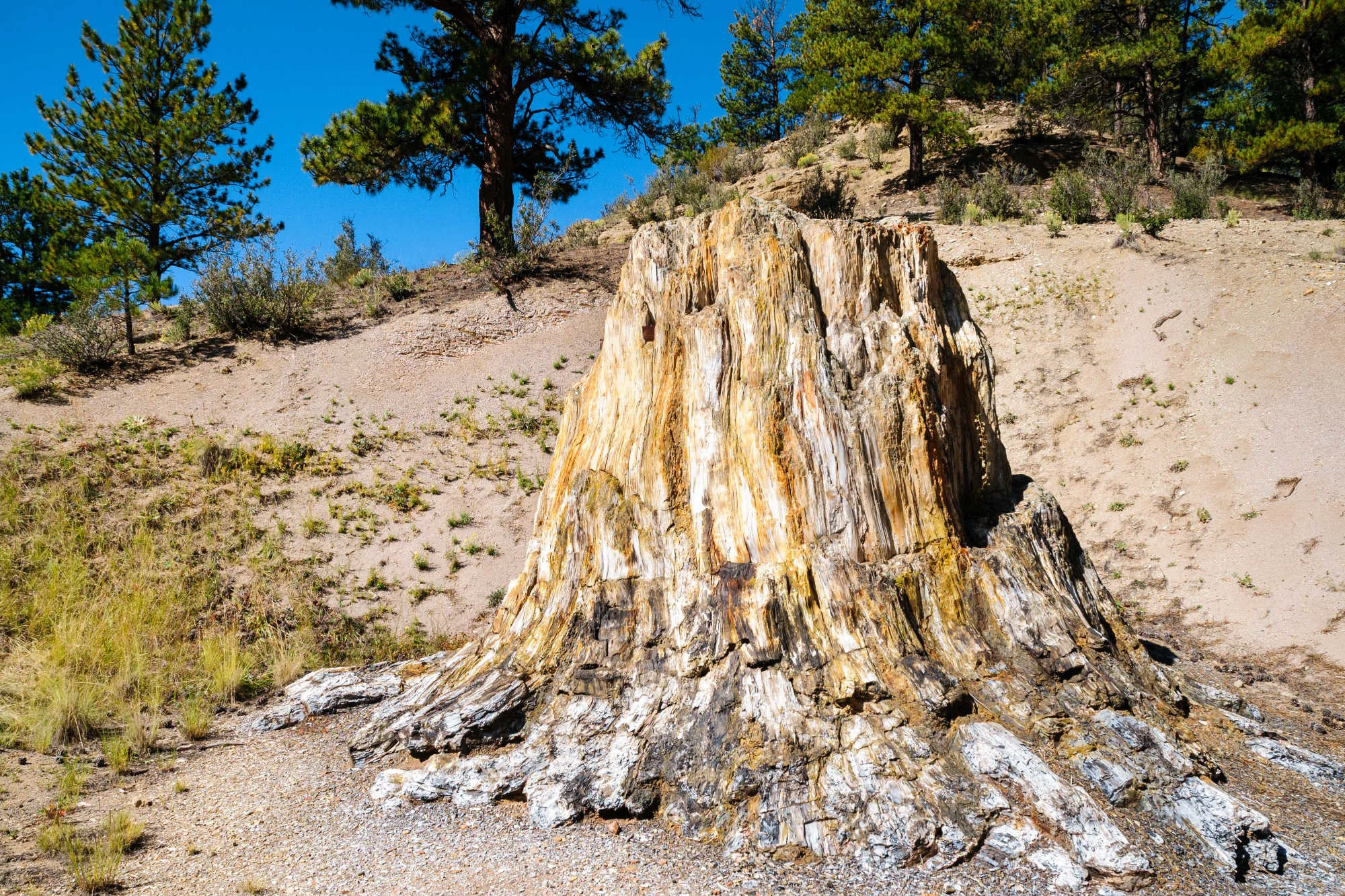 As the name of this national monument implies, the Fossil Beds National Monument has one of the most diverse fossil deposits in the world. It's easy to walk in and see the fossilized redwoods for yourself. These stumps are impressively large, going up to 14 feet across.
In this area, there have also been found fossils of plants and insects that go back to the late Eocene period, 33.7 to 54.8 million years ago. You can see a lot of the fossils inside the Visitor Center.
The Visitor Center is where you should begin your trip at Florissant National Monument. Inside, you can watch an 18-minute film entitled "Shadows of the Past" and learn about this part of Colorado.
After, you can walk through the exhibits and see some of the fossils and stumps that have been excavated from the park. This is the only spot in the park where you can see the very fragile fossils of leaves and insects.
In the summer, there is a yurt outside in the picnic area where park rangers set up a lab and show guests how they find these smaller fossils in the park. There are stations that are hands-on so you can practice how to find your own fossils as you walk through the hiking trails. And you can check out the gift shop before you head out to get small trinkets and books on the area.
Hornbek Homestead
In order to get to the Florissant Fossil Beds National Monument, you will drive through Florissant, a very tiny town that is mostly shops, two restaurants, and a couple of houses. On the side of the road, you will pass the Hornbek Homestead.
The old Hornbek Homestead is is a cluster of old wooden structures in the middle of a grassy valley. A beautiful but certainly lonely location, this homestead was owned by Adeline Hornbek starting in 1877. She moved out west from Massachusetts and ended up raising her four children here. She owned 160 acres of what was unsettled and very fertile lands near Florissant.
The main building was built in 1877 and built other buildings on the land as more was needed to support her crops and ranch. She lived here until her death in 1905.
Besides the main building that was her house, the other buildings were brought to this location from other historic sites in this part of Colorado. Inside her home, you can see pictures, a bed, and a table that were all from her life. However, most of the time you cannot go inside the homestead – only on special days when it is opened by National Park Service.
Hiking
This national monument is not an overly crowded park and many people do not spend a significant amount of time here. Which makes it a great spot if you want to go hiking without bumping into too many people.
There are 14 miles of easy to moderate hiking trails that are perfect for you to have young kids with you. The park is also far enough away from the nearest city, Colorado Springs, to not have light pollution when the stars come out. Meaning, that you have front-row seats to the galaxy when you're out there. In fact, it is recognized as an International Dark Sky Park.
There are a couple of trails that we recommend people take. The first is the Ponderosa Loop Trail. This is a paved trail that is only a quarter mile long and winds you past many of the smaller petrified stumps that are in the park. You can even see a tree growing out of one of the petrified stumps! It's accessible for people with mobility challenges or families with strollers.
The more impressive stumps can be seen on the Petrified Forest Loop. Here, you will be able to see five stumps that are well preserved. You can get close to the stumps, which are located inside a split-rail fence. This is a mile-long trail and most of it is through open meadows near the highway. You will also be able to walk past the Scudder Pit, which is where the original fossils were excavated.
During our trip, we did both the Ponderosa Loop and the Petrified Forest Loop, plus a little of the Hornbek Trail. It's a great chance to stretch your legs and the hiking is not challenging, so suitable for children.
There are a total of 9 trails covering a total of 14 miles throughout the park. Some trails can be closed due to water/mud, so check local trail conditions before arriving or at the Visitor Center.
A great spot to visit for a couple of hours, Florissant Fossil Beds National Monument is fun for kids and adults who want to learn about the very deep history of this part of Colorado. Anyone can enjoy the hiking trails that take you past the ancient and petrified sequoia stumps after you walk through the Visitor Center and learn about the fossils that are found in this area.
Visiting Information
The Florissant Fossil Beds NM is located almost exactly at the geographic center of the state, about 45 minutes west of Colorado Springs and 35 minutes west of Manitou Springs off US Highway 24. When you reach the town of Florissant, turn south on Teller County Road 1 for two minutes.
You'll pass the Hornbek Homestead on the right. The Visitor Center and the main parking lot is ¼ mile past that, also on the right.
If you are making a day-trip in the mountains, there are picnic tables at the Visitor Center for lunch. Florissant is also located halfway between the hot springs in the Arkansas River Valley and Colorado Springs, so it makes a nice pit stop. Several of Colorado's roadside attractions and oddities are also located along U.S. 24, which make for interesting diversions on your drive.