One of our very favorite places on the East Coast, the beautiful city of Annapolis often gets overlooked in favor of its larger neighbors like Baltimore or Washington, DC. But there are so many fun things to do in Annapolis, Maryland.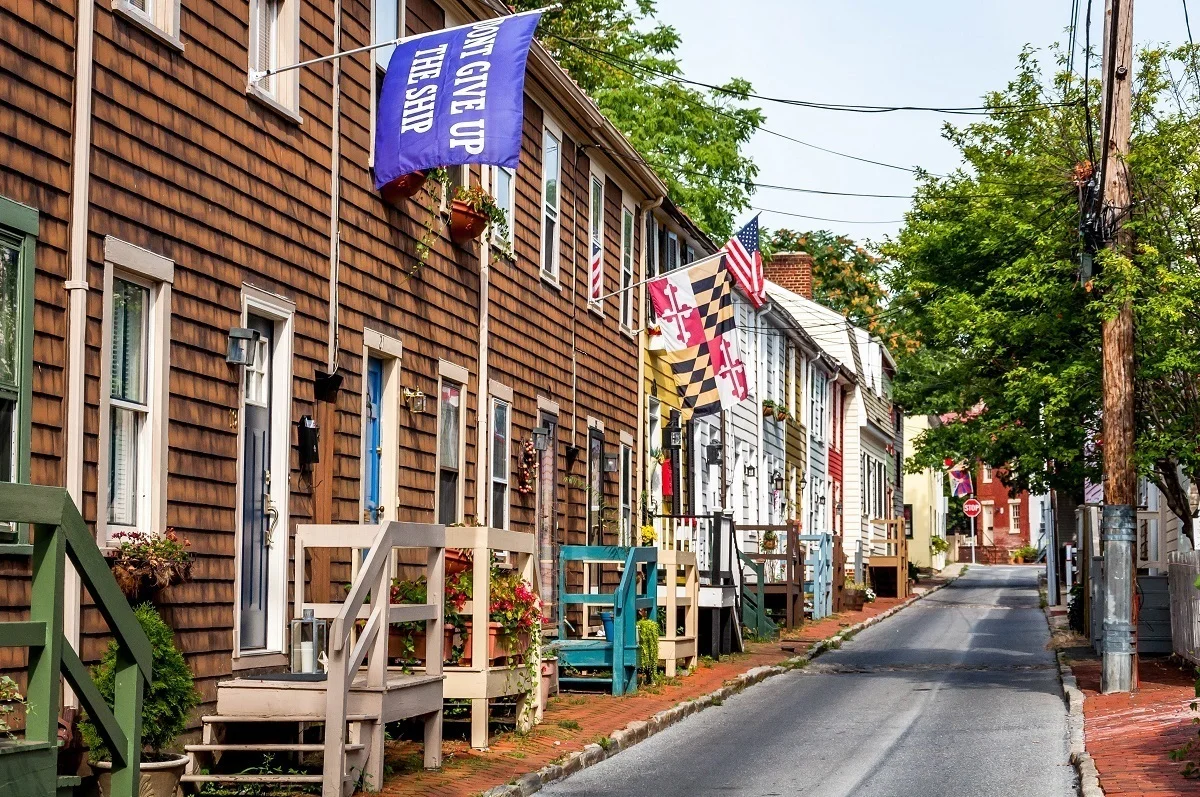 Annapolis a waterfront retreat, a vibrant town, and a picture-perfect capital city. It has everything to do from visiting historic sites to wine tasting to sailing the Chesapeake Bay, and a lot in between, too. Here's a look at some of our favorite ways to spend time in the city.
Take a trolley tour
Although a stroll down Main Street gives you a great taste of Annapolis, the capital city is so much more than that. To gain a greater appreciation for all this cute place has to offer, hop on a trolley tour.
In just an hour, the guide will give you a quick walk through 350 years of history while driving by some of the prettiest buildings around. You'll see lots of top Annapolis attractions, including Victorian houses, colonial mansions, views of the Severn River, and the Naval Academy. A trolley tour is one of the best things to do in Annapolis because you see a lot quickly, and it's easy on your feet, which we always value.
Visit William Paca House
William Paca was one of Maryland's four signers of the Declaration of Independence and served as the state's governor in the 1780s. His 1760s estate now stands as one of the greatest historical places to go in Annapolis.
The Paca House has been painstakingly restored based on historic artwork and evidence found in excavations of the grounds. The mansion, summer house, and sprawling two acres of formal gardens are certainly worth a tour and a stroll, especially on a nice day. Visitors will get an understanding of how the elite lived during the years surrounding the American Revolution, and we loved climbing to the top of the summer house for a view of the beautiful property.
Tour the Maryland State House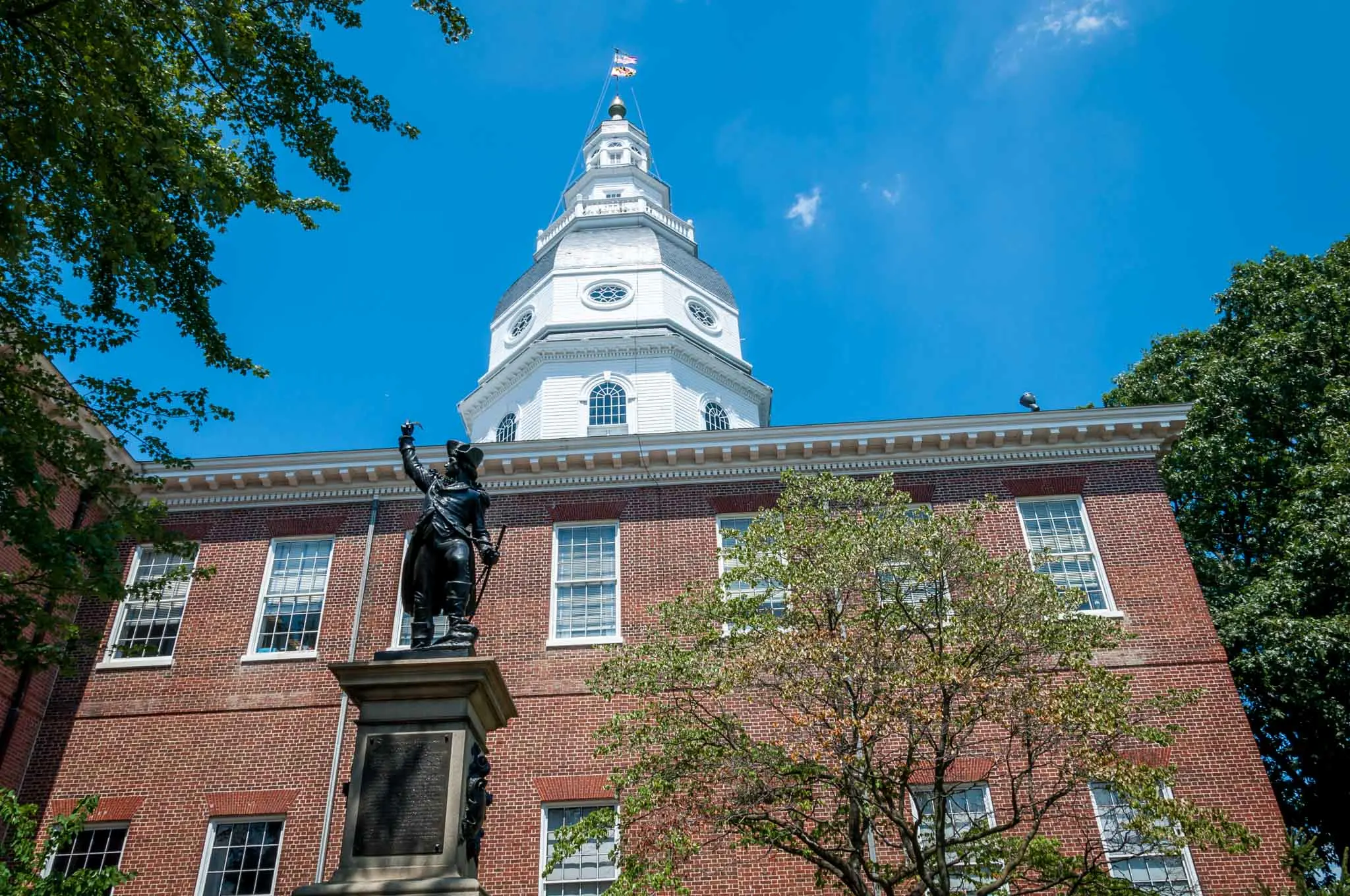 In the heart of Annapolis is the oldest state house in the country that's still in legislative use. It is historic not only because it was America's capital for nearly a year in 1783-1784 but because several nationally important events happened there.
The Maryland State House is the place where George Washington resigned as commander in chief of the Continental Army (intending to retire from public life, which didn't work out so well) and where the Treaty of Paris was ratified. Today, you can visit the Old Senate Chamber and see old George dressed in his finest and letting his intentions be known. Washington's original address is also on display. A stop at the State House is a quick visit and a must for anyone interested in history. (Note: the State House is still undergoing restoration as of January 2023 but is open for visiting.)
Book a tasting at Great Frogs Winery
If you're wondering what to do in Annapolis outside downtown, Great Frogs Winery is a fun place to spend an afternoon. Established in 1999 on an old tobacco farm, the winery takes advantage of the area's naturally sandy soil to grow French Bordeaux varietals. The grapes are expertly crafted into more than a dozen wines showcasing white, rose, and red varietals and blends.
Book a weekend tasting of their wines or a full wine, cheese, and charcuterie sampling experience to see the best of what Great Frogs Winery has to offer. Our favorites were the earthy Chardonnay and the spicy Meritage along with some fantastic local brie. When you're done, have a picnic outside the tobacco barn and wander among the vines.
Visit Banneker-Douglass Museum
Set in an historic church building, the Banneker-Douglass Museum is Maryland's official museum of African American history. It is named after Benjamin Banneker, a notable scientist and writer, and Frederick Douglass who escaped slavery to become one of the most prominent leaders of the anti-slavery movement.
Exhibits focus on the lives and accomplishments of famous Black Maryland residents ranging from Underground Railroad conductor Harriet Tubman to Supreme Court Justice Thurgood Marshall. Visitors can learn about Black life, art, music, and history in the state. The small but educational museum is truly a hidden gem.
Stay at the waterfront hotel
Although it's hard to believe in a place as attractive as Annapolis, the city only has one waterfront hotel—the appropriately-named Annapolis Waterfront Hotel. It has a serene location right along the harbor where visitors can watch the dance of the sailboats and yachts coming in and out.
Upstairs, the rooms are inspired by the setting on the water and have views of downtown or Spa Creek. Downstairs is Pusser's Caribbean Grille, an outpost of the popular restaurant and bar that made its name far south of here in the British Virgin Islands. Grab a painkiller cocktail and settle in for a lively evening.
Cross the bridge to Eastport
Just on the other side of the Spa Creek Bridge is the community of Eastport. Technically—the proud residents will have you know—it's the "Maritime Republic of Eastport." Founded in 1998 when the drawbridge connecting Eastport and downtown Annapolis was temporarily closed, the "Republic" has its own flag, its own yacht club, and its own sense of community.
Every year, that camaraderie comes out when groups on each side of the water participate in the infamous "Slaughter Across the Water" tug-of-war. In the summer, head to Eastport's Boatyard Bar & Grill to celebrate with the winners of the Wednesday Night boat races on the Chesapeake, or check out the great waterfront dining any time of the year. As a bonus, there's no better view of downtown or the Naval Academy than on this side of the water.
Try a flight at Forward Brewing
The city's first nanobrewery, Forward Brewing is a must-visit spot in Eastport for beer lovers. With indoor and outdoor seating, the brewery has a lineup of frequently changing small batch craft beers plus a menu that includes soups, salads, sandwiches, and tacos.
Stroll at City Dock
The City Dock is a fun place for people-watching on a nice afternoon. Also known as Ego Alley, it's the spot for captains to show off their boats and their boating skills as they navigate the narrow area (and the other vessels that are also showing off). Crowds tend to gather by the water to watch the boats come in and dream about buying their own one day.
See inside Hammond-Harwood House
Halfway between the State House and the Naval Academy, the Hammond-Harwood House was built on prime real estate. The elegant colonial home was constructed in 1774, less than a decade before Annapolis became the temporary capital of the United States.
Visitors can tour the home, which is now a National Historic Landmark. It is said to have the most beautiful doorway in Colonial America and features a collection of furniture by John Shaw and numerous paintings by Charles Willson Peale, one of the most famous portrait artists of the time.
Have breakfast at Chick and Ruth's Delly
There is more than one reason why Chick and Ruth's Delly is the place to be for breakfast. First is the amazing food, including our favorite "world famous" seasoned crab and cheese omelet. Second is the morning ritual.
Every weekday at 8:30am and weekend at 9:30am, the staff of Chick and Ruth's assembles for the daily Pledge of Allegiance. Everything and everyone stops for a few brief seconds to salute the flag. It's so unusual, you almost have to see it to believe it. And, depending on the time of year, you may just find yourself standing next to a state legislator or the governor himself. He has his own booth, after all.
Shop on Main Street
Main Street is a haven for shoppers. And lovers of good food. And art aficionados. And people who like to relax.
This charming area offers a variety of unique boutiques, shops, and galleries you can browse to your heart's content. When you're ready for a break, stop at one of the many restaurants, bars, and cafes lining the street. There's so much to choose from in these delightful blocks, you're sure to find something that fits the bill.
Seek out street art
There are dozens of street art murals to see around town. Primarily clustered around West Street and Main Street, many of the artworks show imagery related to the city's history or famous Annapolitans. Additionally, a local non-profit called Future History Now works with youth in underserved communities to add meaningful murals every year.
Indulge at Annapolis Ice Cream Company
Annapolis Ice Cream Company is one of our very favorite stops in the city. Made fresh at the shop almost every day, the ice cream here is some of the best you'll find anywhere.
The Ice Cream Company has 36 rotating flavors made of super-premium ingredients. You know it's good stuff when it takes forever to melt, even in the heat of the summer. Our favorites are the mint Oreo and pretty much anything with peanut butter, but it's impossible to go wrong no matter what you try.
Visit the Museum of Historic Annapolis
Right on Main Street in a building that dates from the late 1700s, the Museum of Historic Annapolis gives visitors an education on the city's long history. Over three floors, Annapolis: An American Story tells the stories of revolutionaries, activists, and change-makers who have shaped over 450 years of history. There are artifacts, a film, and lots of displays to bring the tales to life.
Cruise the Chesapeake Bay
One of the most enjoyable Annapolis activities is to appreciate the beautiful Severn River and Chesapeake Bay on a cruise.
Two of the most popular ways to get out on the water are on the Harbor Queen or the Schooner Woodwind. A 40-minute cruise on the Harbor Queen gives you a glimpse into the city's history as you cruise around the harbor, past the Naval Academy, and within view of the Chesapeake Bay Bridge.
On the Schooner Woodwind—a 74-foot wooden schooner—you can participate in their regular 2-hour sails, cruise in search of local lighthouses, or cheer on your boat's captain in the Wednesday night sailboat races during the summer. If you're willing, there may even be a chance to pitch in as part of the Woodwind's crew. Either way, your time on the bay will be fun. We've cruised with them at least five times and have loved each one.
Rent your own electric boat
If cruising the bay with someone else at the helm doesn't do it for you (or, alternatively, it's made you completely addicted to the water), be your own captain. Annapolis Electric Boat Rentals offers a unique chance to take one of their boats out on your own. Gather some friends, your favorite snacks, and some beverages, and head out. Cruise Spa Creek, see the waterside mansions of Back Creek, or even take your turn showing off in Ego Alley.
The electric boats can hold up to 11 people—captain included—for a few hours or a whole day on the water. Believe it or not, no previous boating experience is required, and you'll get a crash course on the spot. What better way to experience the water?
See the Kunta Kinte-Alex Haley Memorial
The Kunta Kinte-Alex Haley Memorial stands in a prominent spot beside City Dock. It marks the location where Kinte—an enslaved African and Haley's ancestor who is the subject of his novel Roots—was brought to the US. It is the only memorial of its kind in the country.
The Memorial consists of three parts—a sculpture that depicts Haley reading to children of different ethnicities, a series of 10 bronze plaques on the nearby seawall, and a 14-foot-wide granite and bronze compass rose. Together, the pieces are meant to convey Haley's vision of racial reconciliation and healing. Right in the heart of downtown, the memorial is free to visit and always open.
Have tea at the historic Reynolds Tavern
The history of the Reynolds Tavern stretches back to the colonial era. Since 1747, it has operated as a tavern, rooming house, and meeting spot, among other purposes.
You can still feel the history here when you stop in for a meal. The building functions much as it did 275 years ago, welcoming visitors to its 1747 pub, tearoom, and several upstairs suites and rooms. The décor is reminiscent of colonial times, and they even offer traditional English afternoon tea daily. For a little more space, head to the outdoor beer garden where the stables once stood.
Eat all the seafood
Annapolis is known for its seafood. From Maryland blue crabs to Chesapeake Bay oysters and rockfish, there are so many local types of seafood to choose from. We've eaten our way across the city several times and have loved every minute. If you've ever wanted to try a crab or crack open an oyster, this is the place to do it.
Tour the US Naval Academy
One of the most popular things to see in Annapolis is the US Naval Academy. On a 90-minute tour, guides take you to some of the main sites on the campus of this National Historic Site.
On a Naval Academy tour, you can visit the gym to learn about the Academy's athletic program and see its Athletic Hall of Fame that includes famous graduates like Roger Staubach and David Robinson. You'll see Bancroft Hall, the mammoth dorm that houses all 4400 midshipmen, and the statue of Native American warrior Tecumseh. Tours also visit the famous crypt of John Paul Jones, and, most days, there is a stop in the beautiful Naval Academy Chapel.
Along the way, you'll learn about the history of the US Naval Academy and the lives of the students who work so hard to be there. We've taken the tour three times over the years and always seem to learn something new.
Play around at GameOn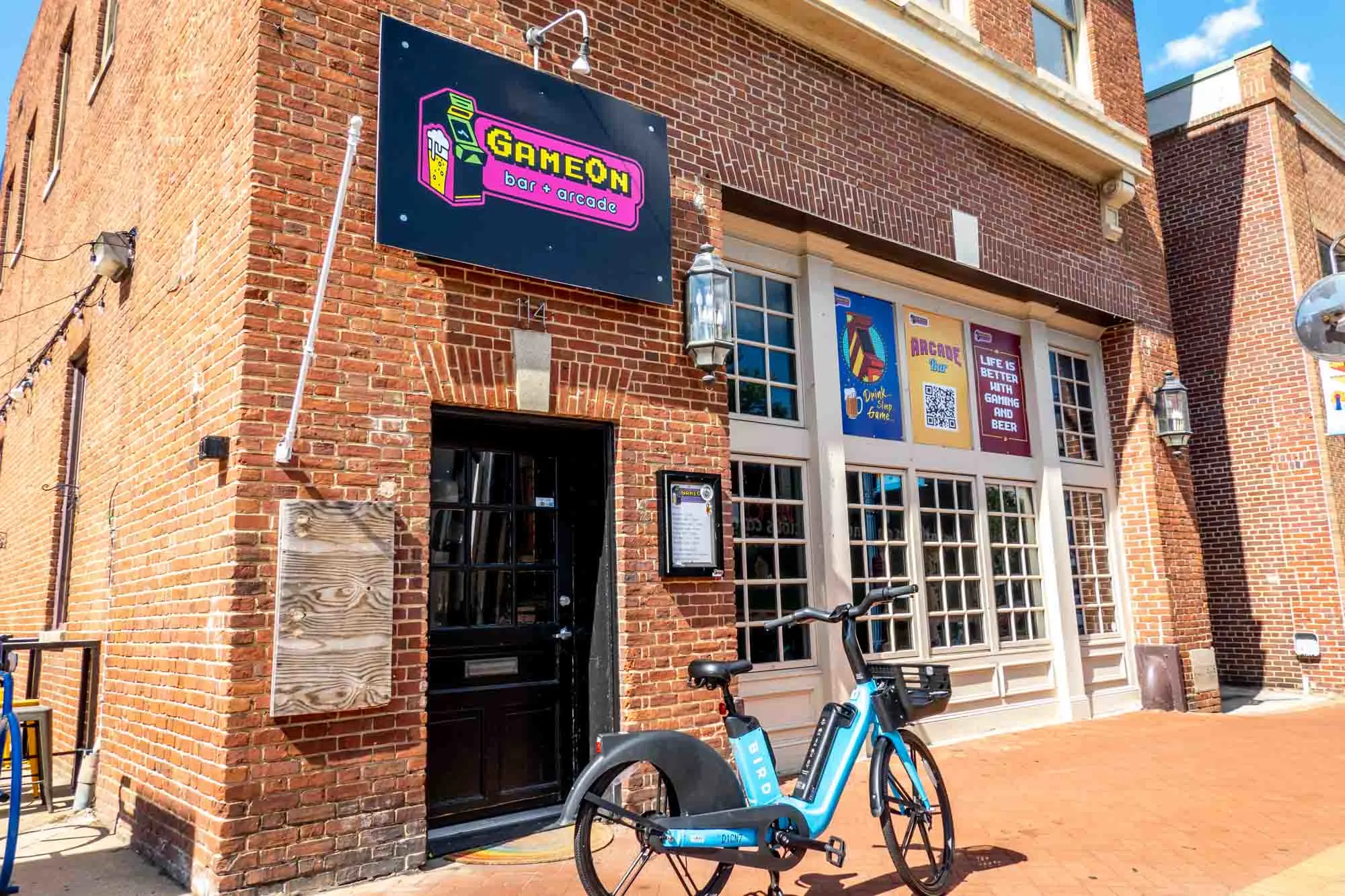 Classic video games and a fun 90s vibe are even better when you add cocktails. That's just what you'll find at GameOn, one of the newer additions to the city.
This combination bar and video game café has arcade games, skeeball, and much more in its location right next to the Graduate Hotel. Try the adult slushies or some "cold ass beer" while you play some Pac Man, Galaga, or classic Connect 4.
See a show at Rams Head Tavern
For over 25 years, the Rams Head On Stage has been a mainstay of downtown. Drawing famous comedians, nationally-recognized bands, and other acts with super star power, this venue is a perfect place to see your favorite performer or to discover someone you didn't know you would love.
Have a meal in the pub before the show or head straight into the club for dinner and drinks during the performance.
Get crafty at Mission Escape Room
Mission Escape Room is a great place to get your adrenaline flowing. This fun venue has four themed rooms that each operates with a bit of time pressure—you only have 50 minutes to escape. The levels of difficulty range from beginner to advanced and you can experience everything from dealing with a serial killer dentist to investigating fairytale crimes.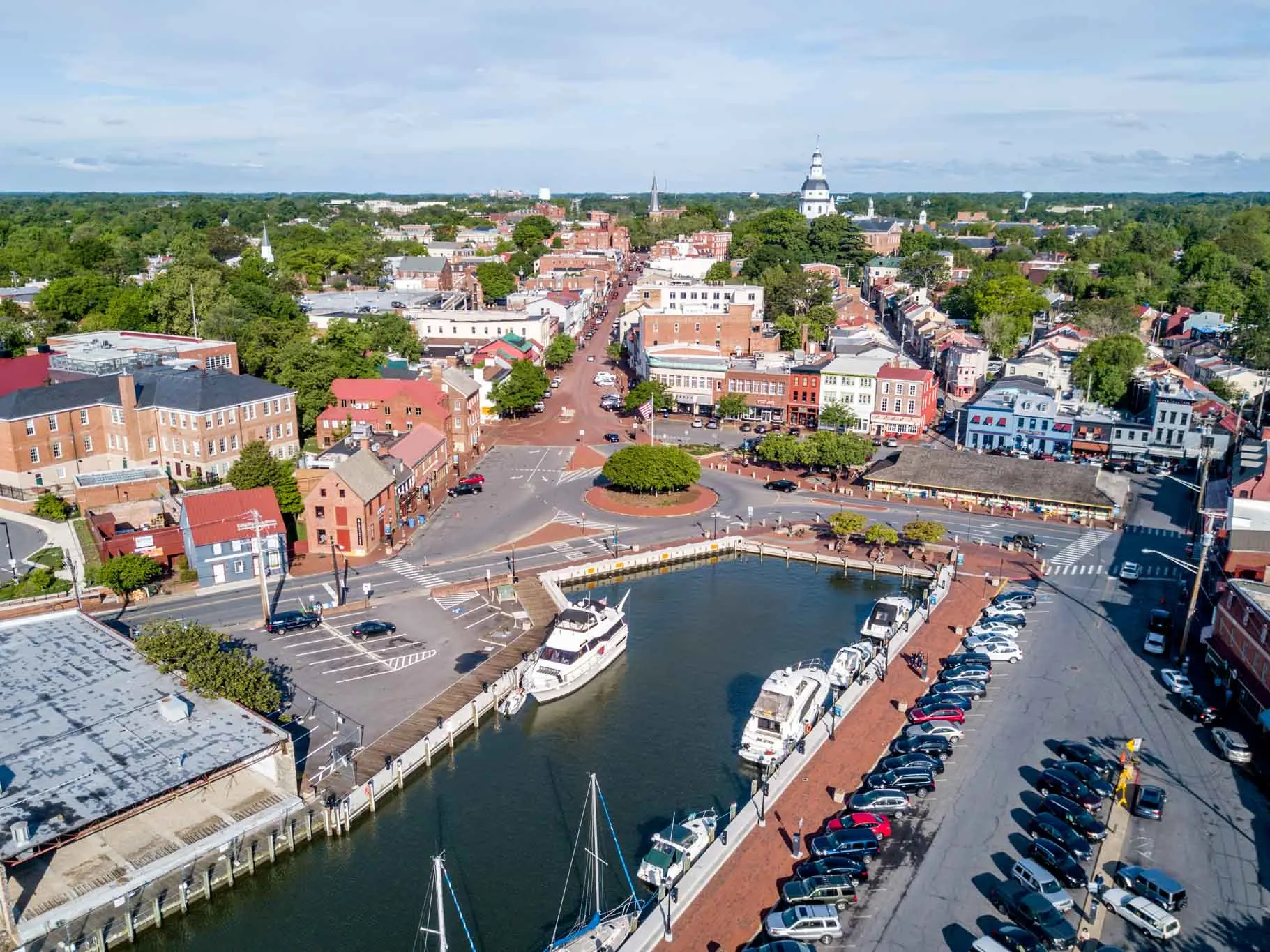 Where to Eat
For a town with a compact center, Annapolis is absolutely full of amazing restaurants. Here are some of our favorites.

Iron Rooster: The spot for breakfast or brunch, with homemade pop tarts and eggs Benedict
Carrol's Creek: Variety of seafood options with gorgeous waterfront views
Miss Shirley's: Serving breakfast, lunch, and brunch with a hefty dose of Southern hospitality

Where to Stay
Annapolis Waterfront Hotel: Sophisticated design in a comfortable environment with a harbor view
Westin Annapolis: Heavenly beds and the amenities you expect from Marriott plus an indoor pool.
Crowne Plaza Annapolis: Comfortable rooms at a great value

One of our early visits was sponsored by Visit Annapolis. All opinions of the charming and fun are our own.