Looking for the perfect present for the traveler in your life? Something they might actually use? It's not always easy. We've had the chance to road test a lot of unique travel gifts and gadgets in different situations around the world to find the things we recommend most–things that will actually be awesome, helpful gifts for people who travel.
This list of travel gift ideas is designed to be interesting and fun and to help make travel easier. But since most people haven't been able to travel like they want to this year, we've also included things in this travel gift guide that will help you remember your trips and be inspired even when you're not globetrotting. There's a wide price range if you're looking for stocking stuffers or a splurge gift, but most things on this list are less than $50, so hopefully you can find some cool travel gifts for your friends and family (and yourself, too!).
This list of great gifts for travelers includes:
Top Gifts for Travelers in 2022
Best Travel Presents Under $30
Insanely Useful Gifts
Gifts for Foodie Travelers
Must-Have Luggage
Top Gifts for Travelers in 2022
I have been on a quest to find the perfect size travel purse–one with enough room to carry a camera, phone, and other essentials without weighing me down and one that will keep everything inside it safe. This Pacsafe handbag is the winner.
Pacsafe makes the best safety-related travel products. This bag has slashguard embedded in the fabric and an RFID blocking pocket so all your belongings and your information stay safe. The Citysafe bag also has hooks to keep the zippers closed, which is a great protection against potential pickpockets.
Check prices for Pacsafe Citysafe Handbag
When it comes to good gifts for travelers, we always look for something that will make the experience easier or more enjoyable. These headphones are one of those things.
With the touch of a button, these headphones allow you to decide what you want to hear–you can block out the world and let your music stand out or activate "full transparency mode" quickly to hear what's happening around you. Plus, they have a long-life battery.
Check Bose Noise Cancelling Headphones prices
Having access to airport lounges has tremendously improved our long days on the road. A nice cushy seat, a place to put our luggage, great wifi, and free snacks and beverages makes the transit process much more enjoyable, especially if we encounter a problem like a delayed flight. The Priority Pass
allows you to give that gift to yourself or a loved one without needing to earn airline VIP status first.
There are over 1200 Priority Pass lounges worldwide that you can use to make your travel days easier. The program offers three levels of membership depending on how frequently you plan to use it, and Travel Addicts readers can get a 10% introductory discount.
Save 10% on Priority Pass Lounge Access
A white noise machine is an ideal gift for someone who is a light sleeper or who has trouble falling asleep. There are three settings to customize what kind of noise works best for inducing sleep. At just 3.5 inches wide and less than 4 ounces this white noise machine is super portable and easy to throw in your carry-on. It comes with a 101-night trial to make sure it's the right fit.
Check prices for the White Noise Machine
Make streaming entertainment easy when you travel with the Roku Streaming Stick+. This wildly useful device puts all your entertainment in one place from Netflix and Prime Video to cable and AppleTV. Just log on to the internet and all your favorite channels will be at your fingertips.
Check prices for Roku Streaming Stick
A huge part of traveling is taking pictures, but so often, we leave them on our smartphones. The Pix-Star frame is a wifi digital picture frame that can display photos from your phone or camera easily–just email them straight to the frame or transfer from the app.
The Pix-Star frame is easy to set up and holds about 30,000 photos and videos. You can showcase your own photos or buy a frame for a loved one and send them photos from your trips or simply everyday activities.
The Pix-Star frame has lots of features, including displaying weather, playing music, and connecting with social media so you can easily display photos shared on Facebook or Instagram. All the bells and whistles make it great for families and one of the best gifts for people who travel a lot.
Check prices for the Pix-Star Wifi Digital Picture Frame
Reminisce about past trips and look forward to new ones while working on these National Parks-themed puzzles. Put together the grizzlies, waterfalls, and landmarks in a selection of 1000-piece puzzles or simpler 100-piece options.
Check puzzle prices
A Fitbit Versa 2 is awesome whether you're traveling or not.
When we're on vacation, we tend to walk. A LOT. I love the feeling of accomplishment when I can see how many steps I've taken, and I love that it makes me feel OK about indulging in a few of the local treats. At home, my Fitbit prompts me to get up and move more–an occupational hazard of being tied to a computer most of the day.
The Fitbit Versa 2 tracks your steps and calories burned and how well and how long you sleep. It also tells time and notifies you of texts and calls to your smartphone.
Check prices for the Fitbit Versa 2
For everyone longing to do something adventurous and socially distanced. 100 Hikes of a Lifetime: The World's Ultimate Scenic Trails includes short day hikes to multi-week treks, all with beautiful scenery.
Check prices for 100 Hikes of a Lifetime
If you're traveling somewhere for awhile, moving to a new state, or embarking on the adventure of being an expat, it's nice to have things that remind you of home like these Homesick Candles. Made of soy wax with a 60-80 hour burn time, you can enjoy the scent you miss whenever you want.
There are so many options to choose from, including states, regions, specific cities, and many more.
Check prices for Homesick Candles
There's no time like the present to learn how to order wine in France or ask for directions in the streets of Rome. This package gives you or the language lover in your life the gift of lifetime access to all the 24 languages Rosetta Stone teaches.
Check prices for Rosetta Stone
Best Travel Presents Under $30
There are a million things to organize when you're traveling. Some people are very good at that (Lance), but others aren't so much (me). That's why I use a multi-purpose travel wallet. Especially when I'm traveling on my own, it helps me know that I have all my important things in one place.
My travel wallet helps me keep all my essentials together. That way, I never have to frantically search from my passport, boarding pass, credit cards, tickets, and other things that seem to go missing along the way. There's even a spot for a SIM card. This passport wallet is available in 35 colors and includes RFID technology to safeguard your privacy. It's the perfect gift for the (slightly disorganized) traveler.
Check prices for multi-purpose travel wallet
Full-size tripods are big and can be clunky, but tripods are an important part of taking photos. Low-light settings, selfies, odd angles, and other scenarios make a tripod truly indispensable. To solve the problem, we use GorillaPod tripods whenever possible.
A GorillaPod is one of the best gifts for people who love to travel and and take photos. GorillaPod tripods are small, lightweight, and flexible so you can carry them easily and twist and bend them however you need. They take up very little room and are super useful.
Are you always asking yourself where your phone is or where you put your keys? That was me until I got Tile Mate.
Tile Mate is a Bluetooth tracker that you attach to things you don't want to lose. When you can't find them, you can locate them using an app on your smartphone, Alexa, or Google Assistant. It's the only way I get out the door on time.
We admit to being those people. You know the ones–the people who count and keep a list of all the places they've been to in the world. And that's exactly why we love this scratch-off map!
Scratch off the spots on these high-quality maps to reveal where you've been and get inspiration for where to go next. You'll find all the countries of the world plus 210 national flags. In the US, Canada, and Australia, individual states are outlined, too. It's a great gift for international travelers.
Check prices for the scratch-off map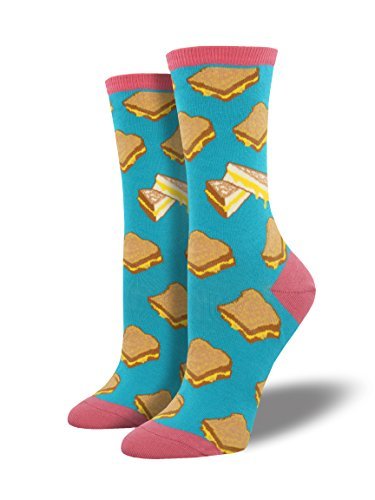 Fun socks are the best. They're a great way to show a little personality, and if you're wearing them, you can't help but smile. I tend to collect them–especially ones with quirky sayings and designs–so I love these.
You can take your pick of grilled cheese, tasty tacos, happy corgis, mac n' cheese, and more.
Check prices for the grilled cheese crew socks
You don't have to travel around the world to have a great adventure. There are plenty of amazing things to see without breaking out your passport, and 50 States, 5000 Ideas: Where to Go, When to Go, What to See, What to Do will help feed your US-based wanderlust.
From main attractions to things to do off the beaten path, this book will help you discover them all. It's a cheap travel gift for people looking to discover somewhere new.
Check prices for 50 States, 5000 Ideas
This is not your typical travel pillow. You can bend and contour this unique travel gift into almost any shape you need to support your neck, back, head, or shoulders. It's great on the road but works at home and at the office, too, if you need additional support while reading in bed, sitting at a desk, etc.
I love the Twist pillow most because I always found traditional travel pillows a little too bulky. But I can shape this one just perfectly for me. It's also great because the memory foam inside is firm, but it's covered in breathable cotton. The cover is machine washable, which is ideal because–let's be honest–traveling can be dirty sometimes.
Check prices for Twist Memory Foam Travel Pillow
We love being around water. Beach, waterfalls, hot springs, ocean — you name it, and it's probably on our list. We even travel with our own snorkel gear. That means we also spend a lot of time wet on our trips, which isn't very convenient when you're renting a car or otherwise traveling around.
This microfiber towel makes it a lot easier to continue with our adventures without having to worry about air-drying or soaking our clothes or car seats. The towel is compact and dries quickly, which is perfect when you're moving around. It's also great as a bath towel if you're renting an apartment or staying in a hostel.
Check prices for microfiber towel
Traveling means often finding yourself in places where you need or want to sleep but where sleeping may not be that easy. (I'm looking at you, uncomfortable airplane seat and too-bright hotel room).
An eye mask and ear plug set is the best combination we've found yet to help with sleep in these challenging situations. The contoured, lightweight eye mask feels natural, doesn't put pressure on your eyes, and blocks every speck of light. And the earplugs are a must.
Check prices for the sleep mask set
Bringing wine home from vacation is one of our favorite ways to make a trip last in our minds. From Alsace to North Carolina, we've found ourselves needing a safe way to transport wine while protecting our clothes. Sometimes, if stores know we're traveling, they'll give us a wine bag as an incentive to take something home. But they're always one-use bags, which feels wasteful. That's why we love these bags–they're reusable.
Check prices on the wine protector sleeves
Electonic devices are great, but sometimes you just want to go old school with pen and paper. Refillable leather journals are ideal gifts for someone traveling who wants to have a tangible memory of their thoughts and impressions along the way. Write, sketch, doodle, or plan in this convenient journal.
Check prices for the refillable leather journal
Insanely Useful Gifts
I'm a klutz by nature, and I'm often taking photos at weird angles. Plus, I live on my phone. All of that adds up to the fact that I drop my phone. A lot. And thanks to the Otterbox Defender, I've never had a single worry about damaging my phone or cracking my screen.
The Otterbox Defender is one heavy-duty phone case, so it's one of the best gifts for people who like to travel or those who just can't hang on to things. It has several layers that spread out the force of any drops or dings, and it's practically indestructible. I would never use my phone without it.
Check prices on OtterBox Defender
There are many reasons to be cautious when you travel. If you have extra cash, jewelry, or other small items that you don't want out in the open, a diversion safe like this hair brush with a hollow core can be the perfect solution. It's a great gift idea for people who stay in hostels, who prefer not to use a hotel safe, or those who just want to be discrete.
Check Diversion Safe Hair Brush prices
Easily take your favorite beverage with you in this insulated mug. It keeps hot beverages hot for at least 3 hours and cold beverages cold for 9 hours or more. It's stainless steel, has a BPA-free lid, and won't burn surfaces or leave condensation rings.
Check prices for Insulated Coffee Mug
We often find ourselves in hotel rooms or apartment rentals with only a couple of outlets and numerous devices to charge. This multi-purpose charger comes in very handy in those situations.
The charger allows us to charge several phones, cameras, and tablets using only one USB port. Not only is it efficient, but it means we don't have different devices strewn all over the room, so we're less likely to accidentally leave a charger (or a device!) behind.
This charger isn't the sexiest gift for travelers, but it's one of the most useful things we've come across.
Check prices on the multi-purpose charger
We're taking steps to be more eco-friendly this year. This set of bamboo travel utensils is part of that effort.
These utensils go a long way to eliminating single-use plastic when you're away from home. There's no more need for plastic knives and forks for takeout, at food markets, or otherwise eating on the go.
Check prices on bamboo travel utensils
If you do a lot of water-related activities, having a dry bag can be critical. If you're snorkeling, rafting, fishing, or just hanging out at the beach for the day, a dry bag lets you keep important things away from splashes.
It's great to keep items—like your phone, camera, or wallet—dry and safe. But it's equally convenient to have a completely dry change of clothes or towel when you're done enjoying your day on the water.
Check prices on the Sea to Summit Dry Bag
I once packed for a month in Europe using only a carry-on. Let me tell you: that requires a little bit of creativity. These facial cleansing towelettes are perfect when you have to limit your carry-on liquids and want to still take care of your skin quickly and easily. Plus, who doesn't love Burt's Bees?
Check prices on Burt's Bees towelettes
Whether you're using a tablet for in-flight entertainment, posting on social media, or using your phone for a GPS, there are lot of opportunities to run down your batteries when you're traveling and often fewer chances to get a full charge. Having a back-up power bank means you don't have to worry if you're not near an electrical outlet.
This power bank can charge your phone or tablet multiple times without having to be re-charged itself. That means you'll never miss the end a movie or get stuck without a map or a camera while you're on the road.
Check prices for the power bank
It's always a little bit of a challenge for me to separate my dirty clothes from my clean clothes in my suitcase, even when I feel like I've planned ahead. This laundry bag has helped immensely. It folds down small and expands when I need it either for doing laundry on a trip or taking it straight to the washing machine when I get home. Highly recommended for trips longer than a quick weekend getaway.
Check prices for Laundry Bag
When you're traveling, it's best to back up your photos in two separate places–online and on an external hard drive–so nothing ever gets lost. And because slow Internet speeds are often a problem on the road, a high-quality external hard drive is even more important.
This hard drive has fast transfer speeds, and with 4TB of storage, you can photograph an around-the-world trip and never run out of room.
Check external hard drive prices
There are never quite enough outlets. With this power strip, you'll have all the regular power outlets you need. Plus, it has a USB port for easy phone charging. Pair it with the multi-purpose charger and you'll have all the room in the world to charge things.
Check prices for the Belkin power strip and surge protector
Packing cubes are the easiest way to stay organized whether you're going on a weekend getaway or a month-long journey. They also help keep your clothes from wrinkling so you don't have to deal with the hassle of ironing.
Check prices on the packing cube set
If you visit different countries, it's easy to end up with a large collection of electrical adapters. This all-in-one worldwide travel adapter makes all the other ones unnecessary.
In one small package, you have an adapter that works in the US, UK, EU, Australia, and more. In total, it works in over 150 countries. The adapter also has 2 USB ports for added convenience. Doesn't get much simpler than that.
Check prices for the worldwide adapter
We got this fan as a gift, which is how I know it's the PERFECT thing for travelers going to very hot places. Yes, when we went to Egypt in the summer, it came in quite handy. But conditions don't have to be that extreme to enjoy a handheld fan. A little breeze makes everything better. It's the number one gift you never knew you needed.
Check prices for the 3-speed folding fan
Gifts for Foodie Travelers
Traveling in Europe, it's easy to fall in love with world-class cheese. From trying sirene in Albania and a cheese smorgasbord in Athens to early-morning wake up calls to watch Parmigiano-Reggiano come to life in Parma, we've had our fair share of cheese experiences.
That's why we love this kit. In a few simple steps, you can re-create some of those tasty cheese experiences and try other varieties for the first time—or give it to your favorite traveler to enjoy making mozzarella, burrata, ricotta, mascarpone, and more in their own kitchen.
Check prices for the Standing Stone Farms Cheese Making Kit
We have a thing for distilleries. Thus, we also have a thing for cocktail glasses. This whiskey glass is one of the best gifts for people who travel to help remember their favorite place (or pay homage to home) while imbibing. From Los Angeles to New York, there are about 15 US cities available.
Check prices for the Map Rocks Glass
Trying new foods is one of the best parts of travel. Just like 1000 Places to See Before You Die inspired people to visit new places, 1000 Foods to Eat Before You Die encourages readers to push their culinary boundaries worldwide. This book is a road map to try the best things to eat–both exotic and a bit more tame–no matter where you go.
Check prices for 1000 Foods to Eat Before You Die
We became obsessed with traditional Dutch foods on our first trip to the Netherlands, and it's always fun to recreate those experiences at home. This pizzelle press will help do just that, making the perfect crunchy stroopwafel in your own kitchen.
Check prices for Stroopwafel Iron
Since you can't always be on the road, it's great to have a reminder of past trips and a way to look forward to new ones at the same time…or just a way to experience some really great coffee from around the world without leaving your couch. The Bean Box features 16 gourmet coffees from 16 regions on 4 continents. Try coffee from Kenya to Guatemala and lot of places in between.
Check prices for Bean Box World Coffee Tour
You might be sensing a theme that we love (and sometimes survive) on coffee. If there's a coffee lover in your life who's always on the go, check out the portable Staresso espresso maker.
This travel coffee maker lets you make real espresso anywhere using your favorite Nespresso pods or coffee grounds. It's ideal for outdoor use while camping or picnicking. It's the definition of decadence but one of the best gifts for travelers who already seem to have everything.
Check prices for the Staresso espresso maker
I'm sure that this cute–and inventive–scarf is meant for easily, conveniently transporting water where you need it like to a concert or other event. But it doesn't take much work to figure out that other substances could also be used with the hidden flask.
The scarf is available in a variety of solid color an chevron prints. The folds hide an 8-ounce flask to carry your beverage of choice.
Check prices for the FlaskScarf
Cabernet or Merlot? Chardonnay or Viognier? We bought Wine Folly last year after we watched a documentary about people studying to become sommeliers and decided we wanted to be smarter because…well, we drink a lot of wine. The nice thing about this book is that there's no snobbery or unnecessarily complicated terms–just a nice primer in good wine.
Wine Folly clearly and simply provides an excellent introduction to wine and wine tasting and is a great gift for any wannabe oenophile. You can learn about different varietals, their characteristics and flavors, where they grow, and other information in a clear and approachable way.
Check the price for Wine Folly
The perfect remedy for a long flight, the Carry On Cocktail Kit has everything you need to make your favorite cocktail in flight. Twice. Just add booze.
There are kits for a selection of classic cocktails, including Bloody Mary, Hot Toddy, Moscow Mule, Old Fashioned, and others. Depending on your selection, the kit includes items like a muddler, aromatic bitters, cane sugar, and even a linen coaster. It's a great gift idea for travelers who want something a little special on their next flight, and it makes a unique stocking stuffer.
Check prices for the Carry on Cocktail Kit
Our favorite souvenirs are related to cooking because they let us relive the tastes from our trips at home. We've collected salt from France to Trapani, Sicily, and more. This kit includes salt from both of those unique locations and 14 others that you can experiment with.
The Gourmet Sea Salt Sampler kit has 16 individually labeled salts from around the world with information about their origins and suggested uses. You can try Cyprus Onyx salt from Cyprus, Mayan Sun from El Salvador, and Tibetan Rose from the Himalayas, among others. Have fun experimenting with the global flavors.
Check prices for the Gourmet Sea Salt Sampler
Must-have Luggage Gifts
While we do like to pack in only carry-ons when we can, that's not always possible. When we need more room, the Osprey Sojourn is our go-to bag. We love it so much that both of us have one.
The Osprey Sojourn has large, heavy-duty wheels for rolling over uneven surfaces and is made of ballistic nylon mesh, so it lasts. The most important feature of the Osprey Sojourn is that it has convertible straps to turn it into a backpack. This is particularly useful for managing your luggage in hotels without elevators, when walking over rough surfaces like cobblestones, and a variety of other scenarios. We've traveled with ours for four years so far and would never give them up.
Check prices on the Osprey Sojourn
We pack carry-on only whenever possible, which means we want to fit in as many items as we can without having our suitcases feel like we're carrying rocks. Having a lightweight, easy-to-manage bag is an important part of that equation. That's why we love this hardside suitcase.
This bag is light and compact enough to use as a carry-on on international flights, but it also expands to add 15% more room when you need it. It's the ideal carry-on.
Check prices on the hardside carry-on
Light, durable, and waterproof, this Zomake day pack is great from carrying your most needed items around the city, on a hike, home from a local market, or anywhere else you need a day pack. As a bonus: it's waterproof, so your things stay dry even is you get splashed or rained on.
The ZOMAKE day pack folds up small and comes in 11 colors.