For many travelers, the remote Galapagos Islands represent a pinnacle on their bucket lists. It's a destination so remote that travelers dream for years to visit. At least it was that way for us. After years of hoping and planning, our own adventure was at hand. While the Galapagos islands themselves are individually beautiful, it is really the Galapagos animals that we wanted to see – the wildlife that first inspired Charles Darwin.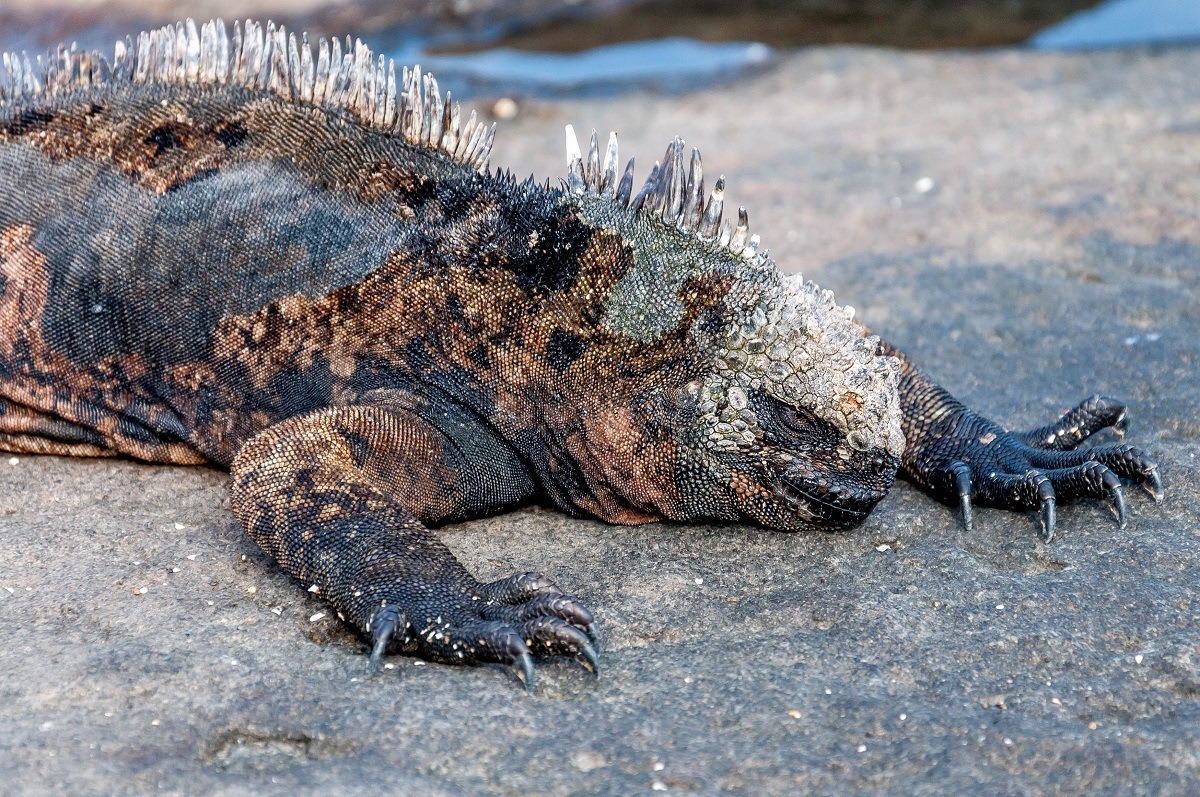 "I am very anxious for the Galapagos Islands. I think both the geology and the zoology cannot fail to be very interesting." – Charles Darwin
It was on this remote archipelago that Charles Darwin first observed differences between various bird species (notably finches). He noted how the Galapagos wildlife, particularly the birds, were so similar, yet so different to other species he was accustomed to. This led to theories on transmutation of animals and eventually the theory of evolution. And the rest, as they say, is history. And it was all due to the very unique animals of the Galapagos Islands!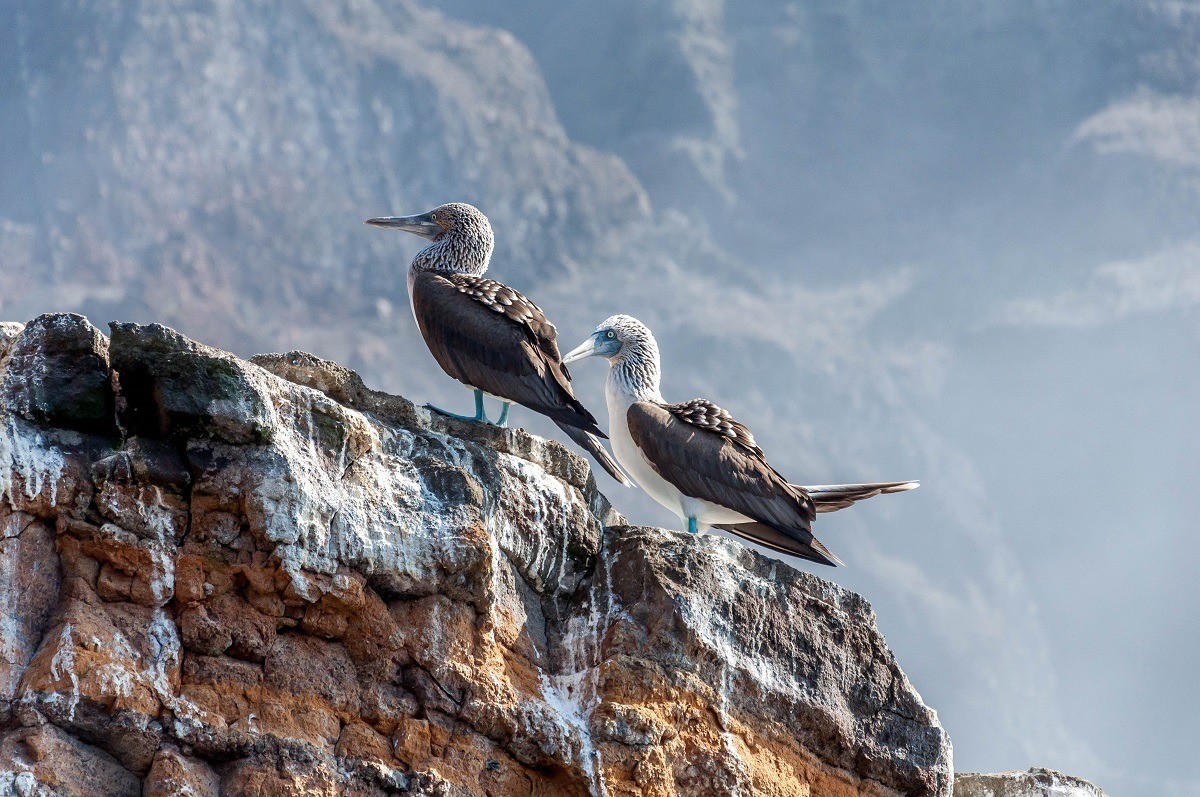 "The natural history of this archipelago is very remarkable: it seems to be a little world within itself." – Charles Darwin
Like Darwin, we arrived in the Galapagos on the Beagle (our M/S Beagle to his HMS Beagle). Having recently been on safari in South Africa, we thought we knew what to expect in terms of proximity to the animals in the Galapagos Islands. We were wrong. Because of the tremendous isolation of the islands, the Galapagos animals are unafraid of people. They can be as curious about you as you are about them. There were times when we had to literally step over animals to get where we were going.
In 1835, Charles Darwin visited the islands of San Cristobal and Santiago and noted the differences in the Galapagos tortoise population on each island. These key differences helped him refine his theory of evolution (mutability). He ultimately left the Galapagos with over two dozen tortoises, but used them for eating, partially contributing to their declining numbers.
Through efforts at Charles Darwin Research Station and the Giant Tortoise Breeding Center on Isabela Island, the tortoises are back. While all visitors can see the tortoises at the breeding centers, we were fortunate to see several giant Galapagos tortoises on Isabela Island in their natural habitats. They were as curious about us as we were about them.
We learned that the Galapagos green turtles are endemic to the islands are actually a slightly different species than green sea turtles found elsewhere in the world. They were listed as endangered in the 1980s and only about 1400 breeding females still live in the Galapagos Islands.
These iguanas make their home high on the slopes of Mt Wolf, the tallest mountain in the Galapagos Islands. It is prohibited for tourists to visit the area as Mt Wolf is still an active volcano and a protected part of the Galapagos Islands National Park.
The pink iguanas were first seen by park rangers in 1986 and were later classified as entirely separate species in 2009. It shows the evolutionary forces identified by Charles Darwin are still shaping the animals in the Galapagos Islands.
Once returning to the surface, they need to sun themselves on the lava to raise their body temperatures. They are also known for their hissing and spitting. The salt from the seawater and algae accumulates in their glands and needs to be expelled through an act that is most closely related to spitting or sneezing.
We encountered the marine iguana in the ocean and they were kind of spooky. The swim surprisingly fast and one swam straight at Laura, startling her. On land, the marine iguanas are so plentiful that we literally had to step over them to get where we were going.
There are strict rules about approaching and interacting with wildlife in the Galapagos Islands. However, nobody told that to the sea lions. They routinely would approach us while snorkeling, rub up against us, and even grab onto the zipper cords from our wetsuits.
Despite the population of 20,000-50,000 Galapagos sea lions (Zalophus wollebaeki), they are considered a protected species. Natural predators like killer whales and sharks keep the population in check, but population has also taken a hit because of pesticides and fishing in the Galapagos Islands.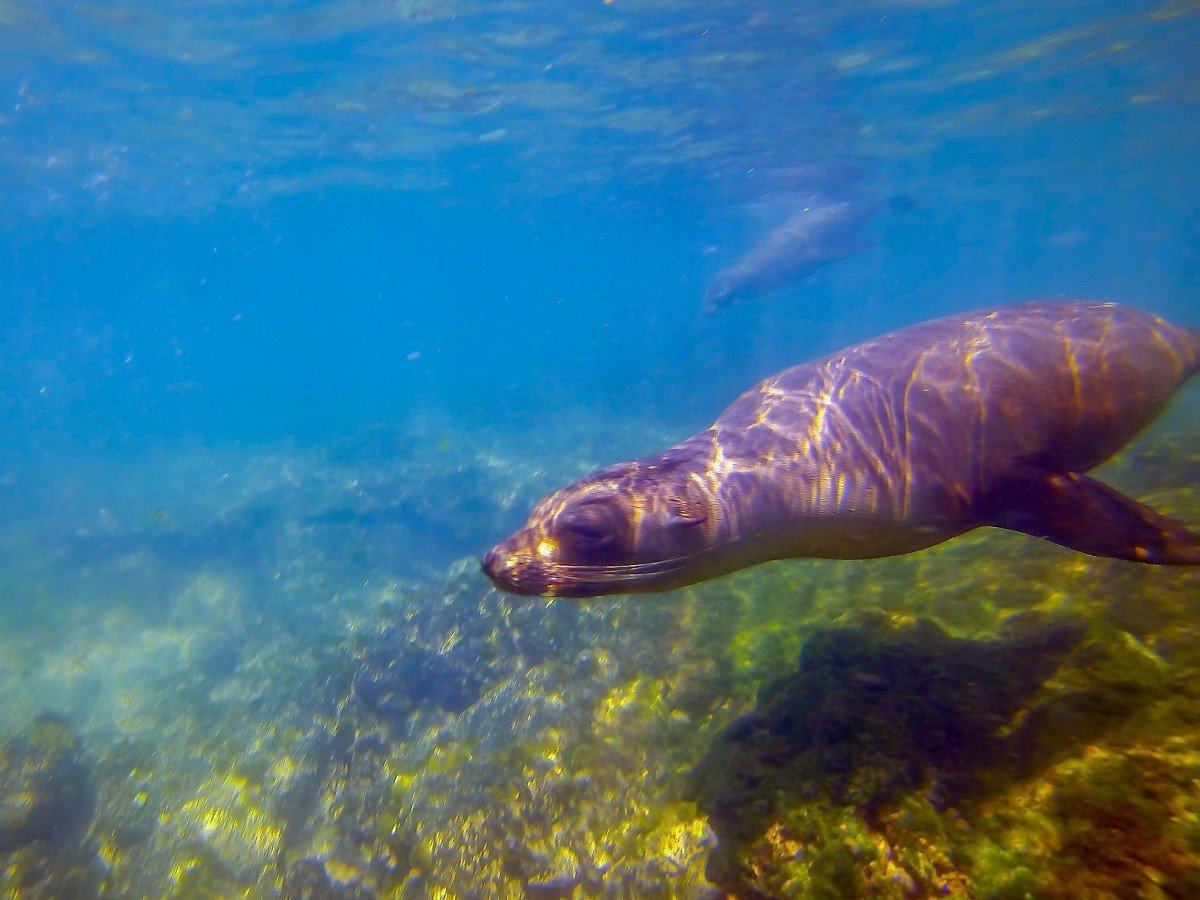 There was a large bottlenose dolphin pod swimming around the volcano caldera on Genovesa Island (or Tower Island). We jumped out of the zodiaks into the water and able to swim for a few minutes with these majestic creatures in the wild. They didn't come extremely close, but it was still close enough to make an amazing memory and was one of the highlights of the trip.
While the stingers can be dangerous if they feel threatened, they are completely safe for people to be around. We saw them in shallow sandy bays as well as while we were snorkeling around the islands.
We found large populations at Punta Vicente Roca while snorkeling. We were so focused at looking at the large green sea turtles that we almost missed the tiny little seahorses right in front of our snorkel masks.
Even though they don't fly, the Galapagos cormorants still curiously spreads its stubby wings to dry them in the sun (just like other cormorants) when it comes on land. Once considered an endangered species, we saw lots of them on Fernandina Island and were extremely impressed with how quickly these birds could dive under the water.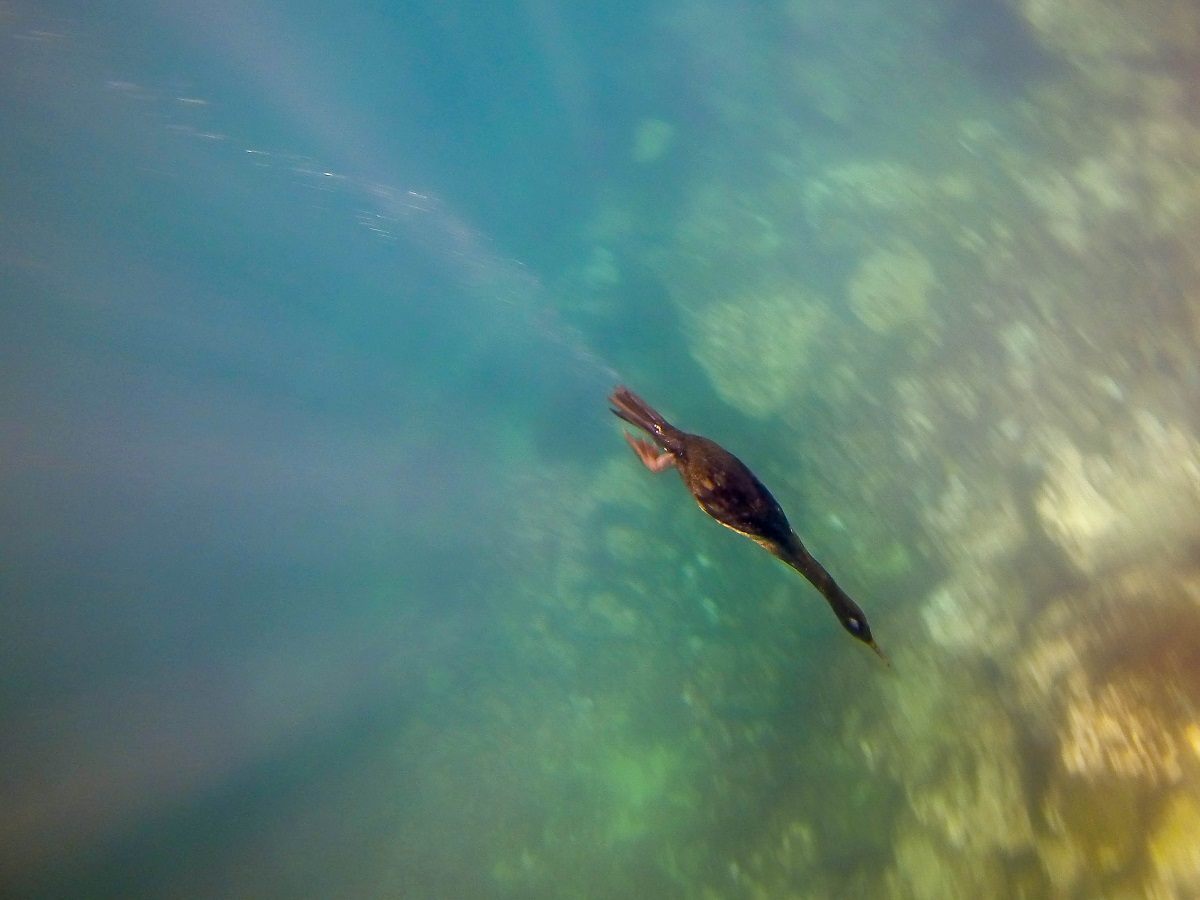 We were fortunate to visit the Galapagos during mating season, so we got to see the mating ritual that frigatebirds are most known for. The males perch themselves on bushes and tree branches, inflate their bright red gular sac and make a loud warbling sound designed to attract the females that are flying overhead. It is one of the most impressive mating displays in the natural world. We saw the frigatebirds on a number of islands, but the most impressive displays were on Genovesa Island.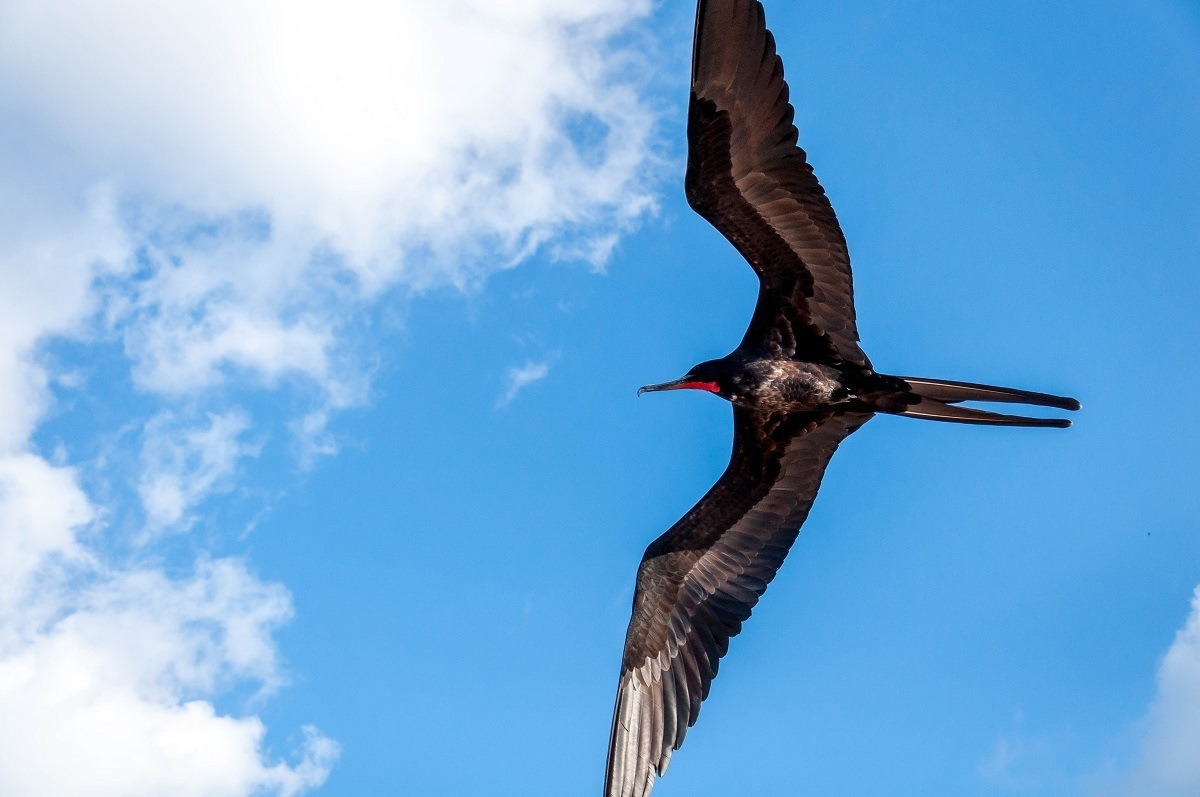 We had luck seeing this one on Genovesa Island (or Tower Island) as it waited by a crevice in the lava to catch a storm petrel that had burrowed in there. We were a long way away and this photo was actually taken through a small telescope.
While we were at the fur seal colony on Santiago Island, we watched this lava heron spend over 10 minutes stalking a very specific fish before launching into the water.
"I never dreamed that islands about 50 or 60 miles apart, and most of them in sight of each other, formed of precisely the same rocks, placed under a quite similar climate, rising to a nearly equal height, would have been differently tenanted; but we shall soon see that this is the case. It is the fate of most voyagers, no sooner to discover what is most interesting in any locality, than they are hurried from it; but I ought, perhaps, to be thankful that I obtained sufficient materials to establish this most remarkable fact in the distribution of organic beings." – Charles Darwin