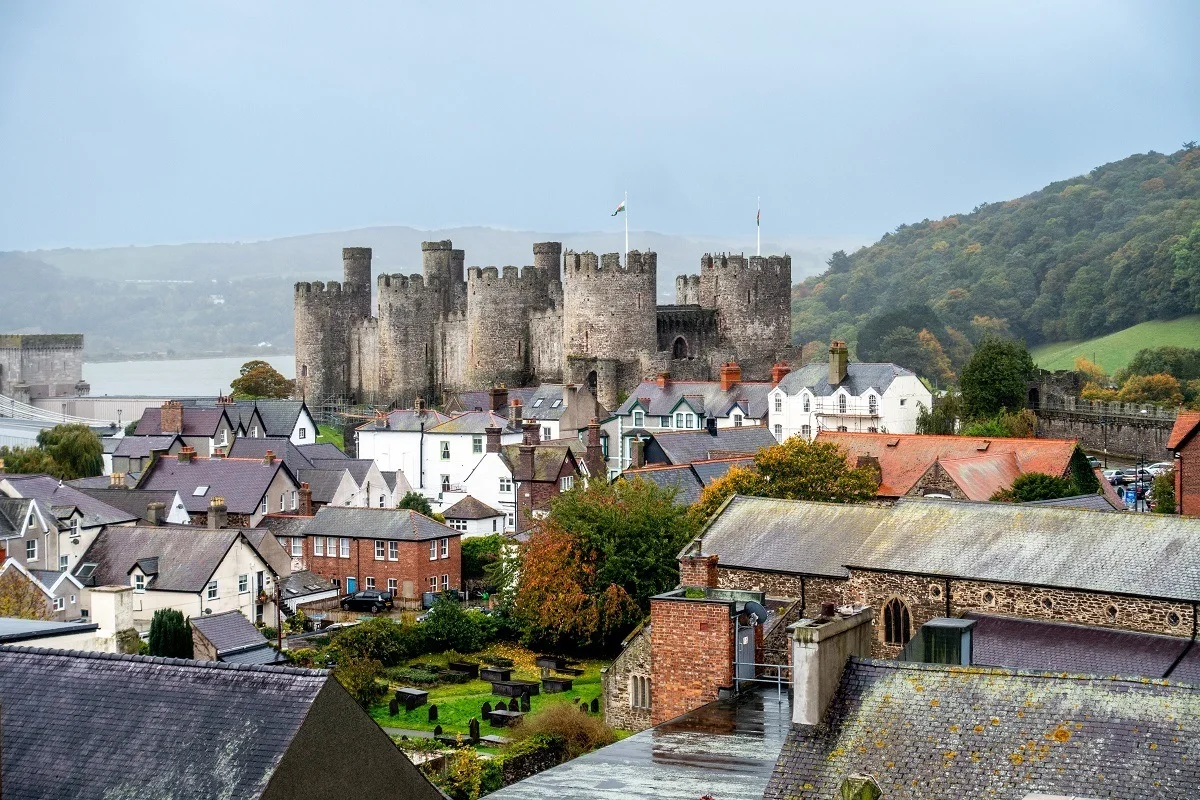 With grand stone castles, colorful villages, and rivers and hills that thrive in the bounty of Welsh rain, there are so many beautiful places to visit in Wales. A trip here is packed with man-made and natural beauty.
A country roughly the size of New Jersey, Wales is easy to get around, and you can visit lots of destinations in a relatively short period of time. But a visit here isn't about rushing. There are so many places to see that it's worth taking the time to wander the countryside, have a cup of tea in a relaxed cafe, and gaze out on medieval ruins. You won't regret it.
Hay-on-Wye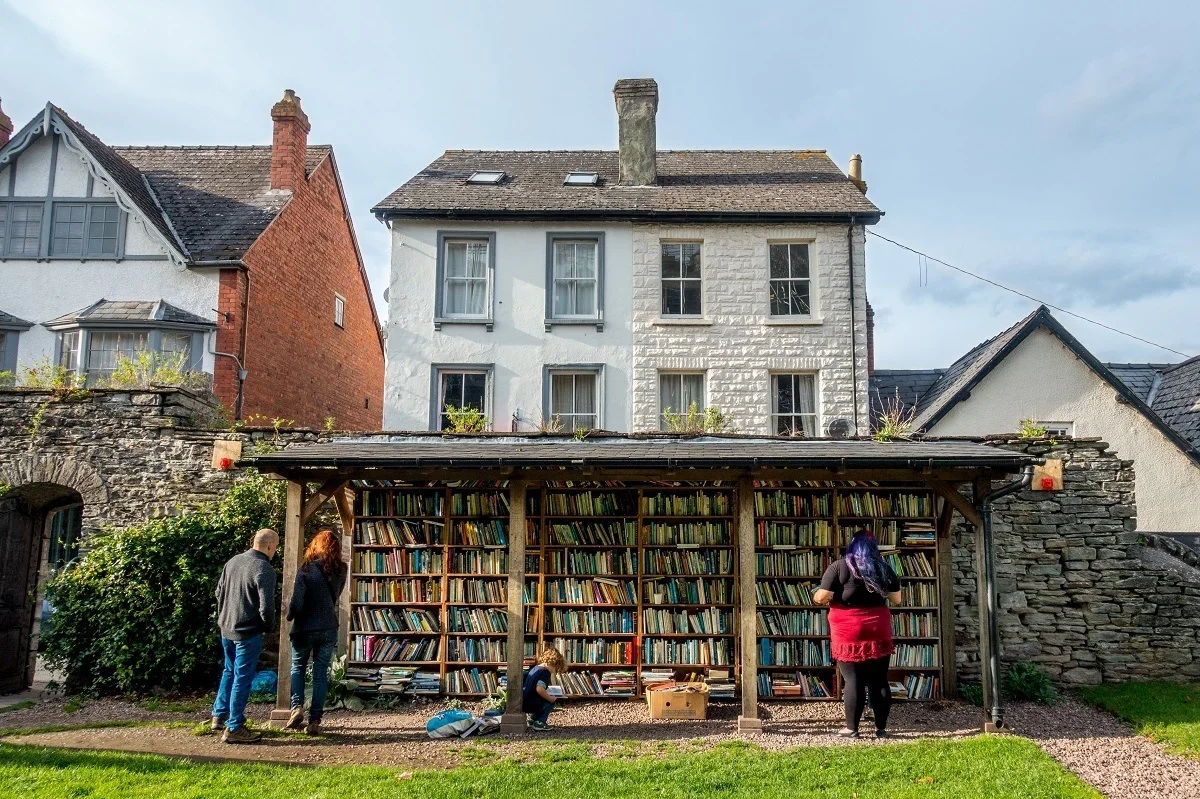 Hay-on-Wye is the place for book lovers. With about 20 bookstores, you can't go more than a few steps in Hay without seeing something that celebrates the love of the written word.
This tiny village on the Welsh/English border is both the National Book Town of Wales and the site of the annual Hay Festival, which attracts writers, artists, and language lovers of all kinds. You'll find classic bookstores, free libraries, and honesty book shops where you make your selection and leave your money in the box nearby.
You can walk the whole town of Hay-on-Wye in less than a half-hour. Along the way, you'll see antique shops, boutiques, clothing stores, and cafes where you can try a cup of tea and local cake.
While the whole setting is about as charming as a town can get, we found a sign of the times, too. In the window of a recently closed bookstore, the owner posted a note about the irony of loving the bookstores in Hay and then going home to order your selection from Amazon. So, if you stop into Hay, consider leaving with a great book for the flight home.
Conwy Castle
Conwy Castle was the most magnificent castle we visited on our Wales vacation. As we arrived, it was clear that a fast-moving storm would be upon us very soon, so we ran to see the outdoor portions of the castle before the rain came.
Conwy Castle is impressive for its size and its age, which is why a visit here is one of the top things to do in Wales. At over 700 years old, this medieval fortress still towers over the town of Conwy that surrounds it. We've seen castles and palaces around Europe, but this one takes the cake. Ask anyone to describe their image of what an ancient castle would look like, and they would likely describe something very much like Conwy.
With restored spiral staircases and eight towers, you can walk a complete circuit around the battlements of the castle. From the top, there are stunning views of North Wales, including the mountains of Snowdonia and the harbor of Conwy.
The scenery and architecture of Conwy Castle is truly spectacular. It seems miraculous that the whole thing was built in just four years from 1283 to 1287. King Edward I wanted to solidify power in Wales and create points of defense, and he amassed an army of workers from all over England to make it happen.
Over the centuries, the castle has been the home of kings, seen battles, been stripped down, and built up again. Thanks to restorations and repairs in the 19th and 20th centuries, it now seems as grand as ever. Along with Caernarfon, Beaumaris, and Harlech castles, Conwy Castle is designated as a UNESCO World Heritage Site.
Welsh Tea Room Tu Hwnt I'r Bont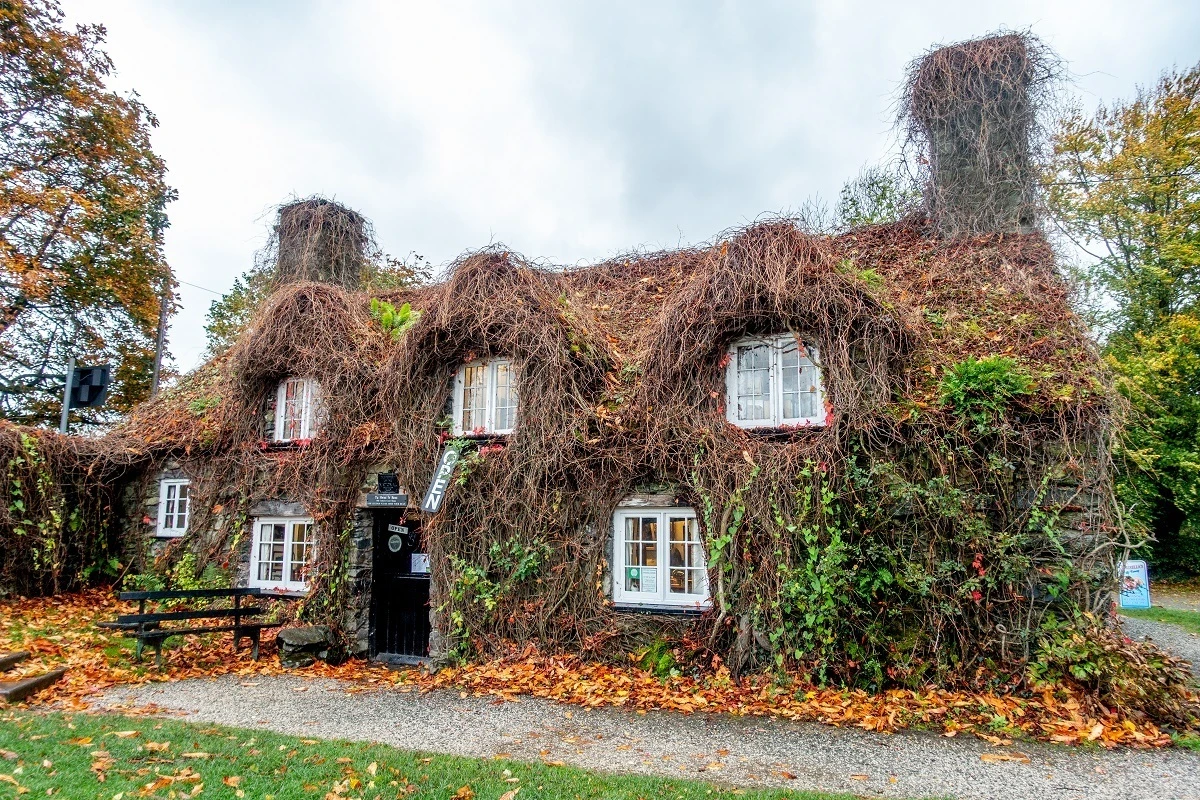 A tiny cottage on the banks of the River Conwy, Tu Hwnt I'r Bont (Beyond the Bridge) looks like it belongs in a fairy tale. The ivy-covered building that burns with bright red leaves in the fall (we missed it by just a few days) welcomes visitors for bara brith, homemade cakes, and other Welsh tea specialties every day of the week.
Inside, Tu Hwnt i'r Bont feels very much like the 15th-century building it is. The small space with creaky wood and thick stone walls is a unique kind of cozy. It is the perfect place to be on days when it's raining, which is often in this part of Wales.
We didn't hold back on our visit and jumped straight in for the full afternoon tea. It was enough food to hold us for a couple of meals and we enjoyed every bite.
Caernarfon Castle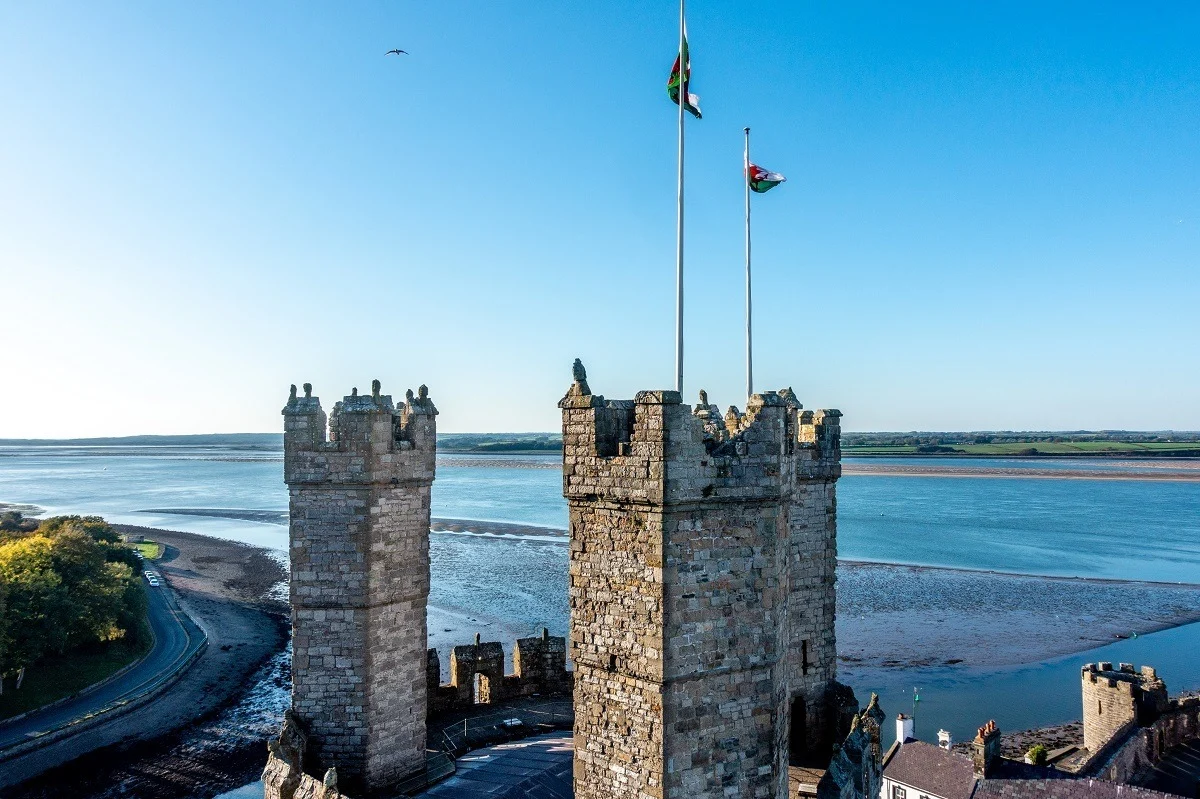 Since 1283, Caernarfon Castle has looked out over the River Seiont. This massive structure was built by Edward I to fortify the rebellious area of north Wales and—essentially—to show the Welsh who's the boss.
If you're a fan of The Crown, Caernarfon Castle will be familiar as the site of the investiture of Prince Charles as the Prince of Wales, as the scenes were filmed here. In one of the castle's rooms, you can see the footage of the actual investiture in 1969 along with information about the role. In short: Edward II, who was born in Caernarfon in 1284, was made the first Prince of Wales in 1301, so it is tradition for the monarch's oldest son to assume the title.
Caernarfon Castle is huge, and its polygonal towers and colored stones set it apart from other castles of the era, making it one of the interesting places to go in Wales for architecture lovers. Though it was never completed, the castle served as the administrative center of North Wales and played an important role in rebellions and wars over the centuries. A walk through its corridors today is a step back in time.
Tenby
We spent our first several days in Wales based in Pembrokeshire, which gave us ample opportunities to explore nearby towns like Tenby.
A walled medieval town, Tenby has been a popular getaway destination for 200 years with people from all over England and Wales coming to enjoy its beaches. The main attractions are South Beach and North Beach, which combine for 2.5 miles of sandy coastline. You can also walk the Pembrokeshire Coast Path, visit the 15th-century St. Mary's Church, or take in views of the two coastal islands—Caldey Island and St. Catherine's Island.
Among the narrow cobblestoned streets of Tenby, there are lots of cafes, pubs, and little shops to enjoy. Within our first hour in town, four locals had already stopped us to offer assistance and recommendations, so you won't lack for kind advice on what's fun to do in Tenby.
Snowdonia National Park
One of the main Wales attractions, Snowdonia National Park is a place to choose your own adventure. At a sprawling 827 square miles, the park offers a tremendous number of choices for things to do and see whatever your interests and activity level may be.
For a lot of visitors to North Wales, summiting Mount Snowdon—the mountain after which the park is named—is a Wales bucket list activity. At nearly 3600 feet, the mountain is the highest point in Wales and England, and views from the top can stretch all the way to Ireland on a clear day. There are six routes to the top, including the Snowdon Mountain Railway, so the choice for getting there is yours.
In addition to the mountain climbing and endless chances for walking, hiking, and biking, a visit to Snowdonia National Park can be high octane. You can zip line over Penrhyn Quarry at speeds of up to 100 miles per hour (which sounds terrifying to me, but to each their own), take an epic white water rafting adventure, or go caving.
We took a decidedly lower key approach in the park. We took several different beautiful driving routes through the mountains, past small towns, and beside rushing waterfalls. It was hard to resist the desire to stop literally everywhere. The ivy-covered buildings, winding lanes, and mountain scenery is irresistible. In addition, some of the other sites on this list of places to see in Wales are in and near Snowdonia, including the UNESCO World Heritage castles like Conwy and Beaumaris.
Pontcysyllte Aqueduct
At first, the idea of visiting an aqueduct not built by an ancient civilization didn't seem overly impressive. A little bit dull, even. But we went anyway. And we discovered we were very wrong, as often happens about this kind of thing. It turns out that Pontcysyllte Aqueduct is one of the most unique places to visit in North Wales.
The Pontcysyllte Aqueduct, which opened in 1805, is a remarkable feat of 19th-century engineering and metal architecture. At 126 feet high, it carries a canal above a river that lies in the valley below. With 18 giant arches, the aqueduct stretches for over 1000 feet—a work the Romans would have been proud of.
The aqueduct–a UNESCO World Heritage Site–is remarkable from far away, but walking on the small path beside the water is even more interesting. We watched boats cross along the bridge and were only a few feet from the passengers, in awe as they went by.
The most interesting bit came when the kayakers arrived. Soaring above the valley, they loudly questioned the wisdom of their decision as they paddled. It was, of course, a little too late for second guessing.
Quay House
The Quay House is the smallest house in Great Britain, according to the Guinness Book of World Records. With a few steps inside, it's easy to see how that could be true—we could hardly turn around without hitting the walls.
The house was built in the 16th century and was occupied until 1900. Its last resident—a man over 6 feet tall—had to move out then when the house was declared unfit for living. For a small fee, you can see the interior of the space. You can't miss it in Conwy because the outside is painted bright red.
Tintern Abbey
Like many people, the first time I heard of Tintern Abbey was in my high school English class. Thanks to Wordsworth and his "Lines Composed a Few Miles Above Tintern Abbey," I knew exactly nothing of the Abbey, but it occupied a mythical place in my mind. When we decided to visit Wales, I knew we had to go.
The reality of Tintern Abbey is just as haunting and mist-shrouded as we had imagined. There's just something about medieval ruins that has a magical quality, whatever they are. It's undoubtedly one of the prettiest places to see in Wales.
Tintern Abbey was originally founded by Cistercian monks in 1131. It was almost entirely rebuilt and enlarged in the 13th century and lasted only another 300 years before being dissolved in 1537.
Although not all the church is preserved, spending a little time walking through the Gothic structure feels like you've discovered something special from another time. During our fall visit, we were almost alone as we watched the arches and glass-less windows cast shadows on the grass and across the valley. If you're in South Wales, don't miss visiting here.
Welsh Wineries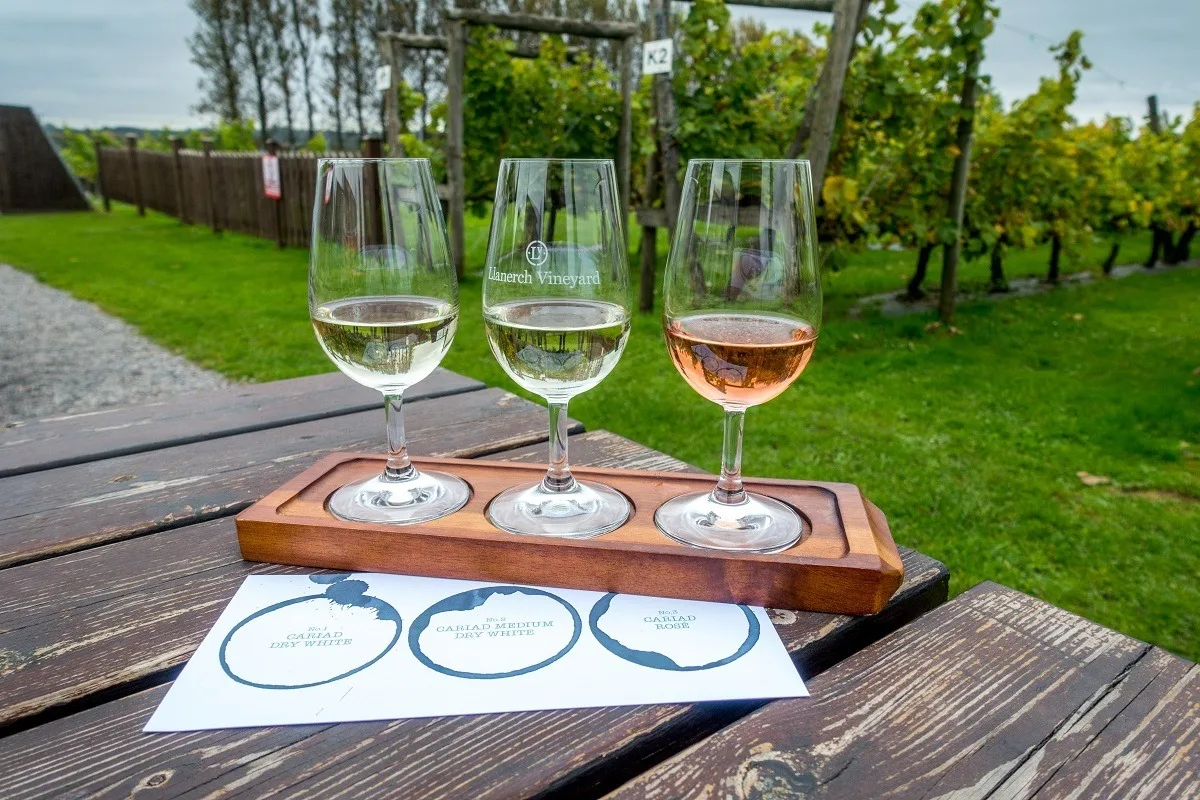 A somewhat rainy, somewhat cool part of the UK, Wales was not a place we expected to encounter local wines. But it turns out that there are more than a dozen commercial wineries across the country from near Tintern Abbey up to Anglesey.
The Romans introduced wine to Wales over 2000 years ago and French monks helped the cultivation along, so there is a rich history here. Modern wineries in Wales grow 20 kinds of grapes, including familiar varieties like Pinot Noir and Chardonnay and less common ones like Kernling and Reichensteiner.
We stopped at Llanerch Vineyard not far from Cardiff for a tour and wine tasting. In addition to the winery, they offer a restaurant, hotel, and cooking school, so a visit here can be a nice getaway when you're looking for things to do in South Wales.
Pentre Ifan burial chamber
We hadn't planned to go to Pentre Ifan, but multiple signs along the road encouraged us to make the stop. After a brief detour down a road that made us wonder if we were going in the right direction, we arrived at the Neolithic burial chamber.
This striking dolmen, which was built around 3500 BC, is composed of three side stones supporting a capstone that's estimated to weigh 16 tons. Two more upright stones form an entrance, while a sixth blocks that entrance.
Though no evidence of burial has been found at Pentre Ifan, it's likely that the tomb was used for communal burial for a long time. At some point, the bones were probably moved to another site.
Looking at it now—this stunning rock formation in the middle of a field—it's easy to see why Pentre Ifan has been the subject of intrigue for centuries. For more than 400 years, it has been sketched, studied, and written and speculated about. One of the most complete stone dolmens anywhere, it's certainly worth a detour.
St. Davids Cathedral
St. Davids Cathedral is simply stunning. Typically, important grand cathedrals are located in the middle of major cities, but St. Davids Cathedral is made even more remarkable for its setting in Pembrokeshire Coast National Park in a city with fewer than 2,000 residents. Part of its magnificence is that it's a complete surprise and one of the best places to visit in Wales.
OK, maybe it's not that surprising if you're Welsh and know the story of St. David. But, as visitors, we weren't expecting it.
St. David, the patron saint of Wales, first founded a monastic community here in the 6th century. His bones and those of St. Justinian are kept as the cathedral's relics behind the High Altar. As a result, this has been an important pilgrimage site for centuries. Amazingly, the current cathedral dates from 1181, though it has been restored many times.
If you have the opportunity to visit St. David's, walk the few steps to the ruins of the medieval Bishops Palace. Dating from the 14th century, the ruins give a glimpse into how important this site was to pilgrims even 700 years ago. From the ancient walls, there are great views of the whole St. Davids complex.
Llanfairpwll
Very few people can properly pronounce the name of this little village in North Wales, and we are not among them. So, we just have to call Llanfairpwllgwyngyllgogerychwyrndrobwllllantysiliogogogoch "the place with the really long name."
Llanfairpwll (for short), on the island of Anglesey, has the longest name in Europe and the second-longest one-word place name in the world. Literally translated, it means, "The church of St. Mary of the pool of the white hazels near the rapid whirlpool and the church of St. Tysilio of the red cave.
There's not too much happening in this village of 3100 residents but stopping by the train station for a photo is fun when you're driving through North Wales. There's a huge souvenir store, too, where you can get your fix for anything Welsh. (Hear a proper pronunciation here).
Caerphilly Castle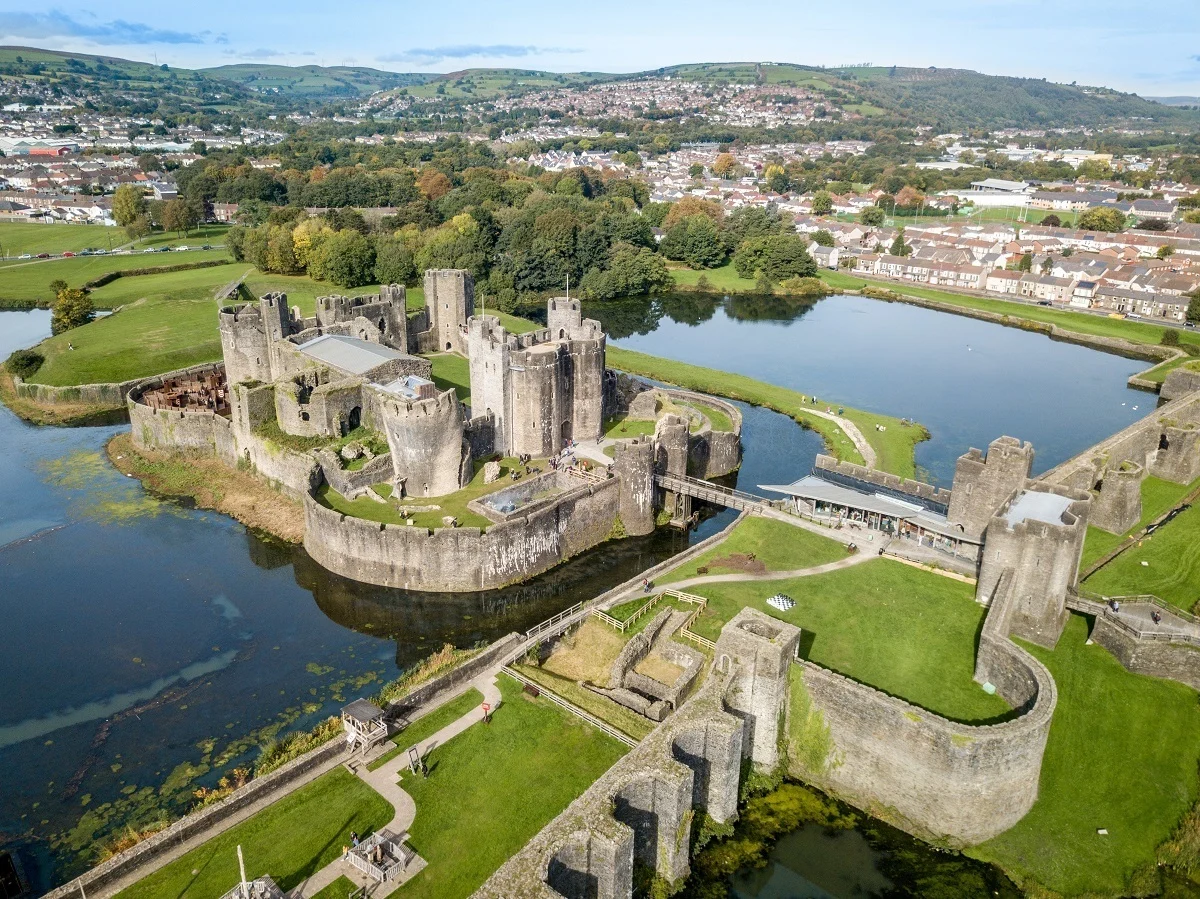 Not far from Cardiff, Caerphilly Castle is one of the grandest castles in the South of Wales and the second largest fortress in Britain, only behind Windsor Castle. When it was built beginning in 1268, it impressed in every way from its unique architecture to its water defenses. Its ability to inspire awe has transcended the centuries.
Caerphilly Castle was built by Gilbert de Clare, Lord of Glamorgan, to defend against the attacks of Llywelyn ap Gruffydd, the last Prince of a united Wales before the conquest of Edward I. It served its purpose, but the castle's usefulness waned over the years until it was abandoned in the 15th century.
In the 18th century the Marquesses of Bute set about repairing and restoring the massive structure stone by stone. They saw that its drawbridges were repaired and its surrounding lake defenses reflooded. They restored the towers and the gatehouses with each piece breathing life back into the dilapidated structure.
Today, everything comes together at Caerphilly Castle. You can cross the drawbridge and be dwarfed by the tower overhead. You can walk the dam platform where knights jousted. You can even play a game of giant chess on the lawn and get married in the restored great hall, if the medieval spirit moves you.
It's worth mentioning that Caerphilly Castle makes a big effort to have things that will engage younger visitors. With displays that cater to kids, games, and even a storytelling dragon to explain why one of the main towers is split, they make history relevant for the whole family.