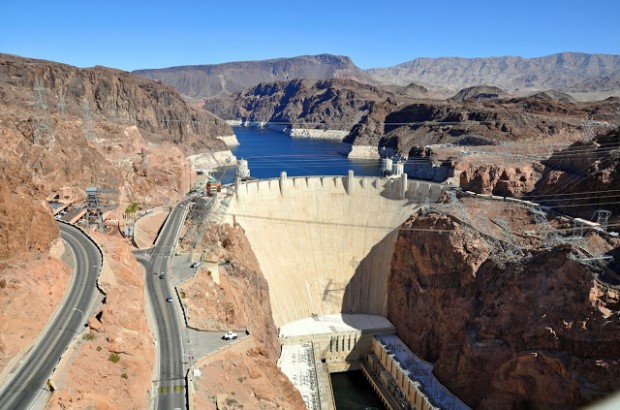 Outside of Las Vegas is one of the largest single-site construction projects in the world – Hoover Dam. Completed in 1936, Hoover Dam provides power and water to Las Vegas and all of southern California. During our recent trip to Las Vegas, we stopped here on our way to the Grand Canyon.
As a child, my parents brought me here several times to see this masterpiece of engineering. On my childhood trips, I remember a long backlog of cars waiting to cross the Dam. On this trip, the new Hoover Dam Bypass for U.S. 93 is now open (called the Pat Tillman Memorial Bridge) and carries the cars directly over the Black Canyon, offering stunning views of the dam a thousand feet below.
Driving across the top of the dam, I noticed the low water levels on Lake Mead, in contrast to the high-water levels when I came in 1982 with my family. There was plenty of parking on the Arizona side and we walked back across the dam taking in its incredible heights (this might be a good time to mention I don't do well with heights!).
After leaving the dam, we headed back out of the canyon and stopped at the Pat Tillman Memorial Bridge, where we were able to walk out half way and take incredible pictures of the Dam below. Pictures just don't do justice to the size of this structure!