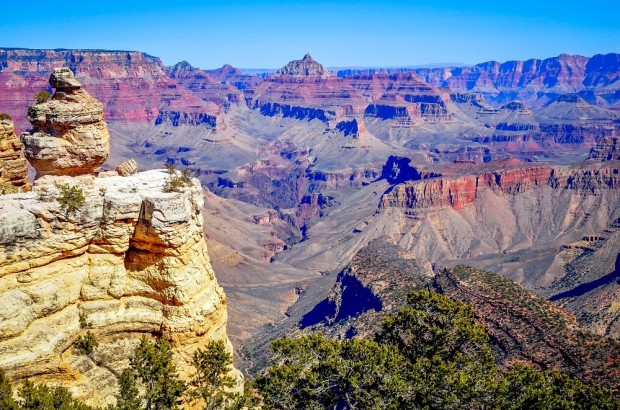 The south rim of the Grand Canyon is one of the great wonders of the nature and a top tourist destination.  The canyon, carved by the Colorado River, is over 275 miles long, 18 miles wide at its widest point, and over a mile deep.  To say the Grand Canyon is big is an understatement.
About five million people visit the Grand Canyon every year and we recently headed to see the site for ourselves.  My parents brought me here a couple of times when I was a child, but Laura had never been.  As it happened, a work trip to Las Vegas left us with a free weekend. Since we didn't have enough time to get up to Kanab, Utah and the Vermilion Cliffs National Monument, the Grand Canyon turned out to be both an easy and the perfect weekend getaway for us.
Since we didn't have much time at the Grand Canyon, we wanted to stay right in the park, instead of at one of the cheaper places outside the main entrance.  We selected the El Tovar Lodge because of its location in the park and its touch of rustic luxury and we could not have been happier with the decision.  Located right on the rim, El Tovar has amazing views. 
Even better, we took in those views while enjoying the best hot chocolate we've ever had, created right in their bar. We never would have thought of combining Bailey's with Buttershots in hot chocolate, but it's pretty fantastic.
Predictably, most of our time at the Grand Canyon was spent gawking at the view.  I don't know how to put the indescribable into words, so we'll let our photos speak for us.
We tried to plan our trip to pick up the light at the right times in the Canyon. That meant going to the east on the Desert View Drive first. Hermit Road had the best views.  Then, later in the day as the sun moved west, we took the Hermit Road all the way out to the end. 
There are numerous turnouts on the road to stop and take pictures. We found the best photos to be from the Powell Memorial area, but the Mather Point area is particularly good for sunsets. It's worth noting that we were here in the off-season when Hermit Road is open to private vehicles. During the peak season, the road is closed and everyone needs to pack into buses.
The Grand Canyon was a perfect romantic getaway for us, and we were thankful we could easily add it on to a work trip.
Some people come to the Grand Canyon and are inspired.  Others come here and leave feeling a bit underwhelmed – feeling like it didn't live up to the hype.  If you've been to the Grand Canyon, which was it for you?