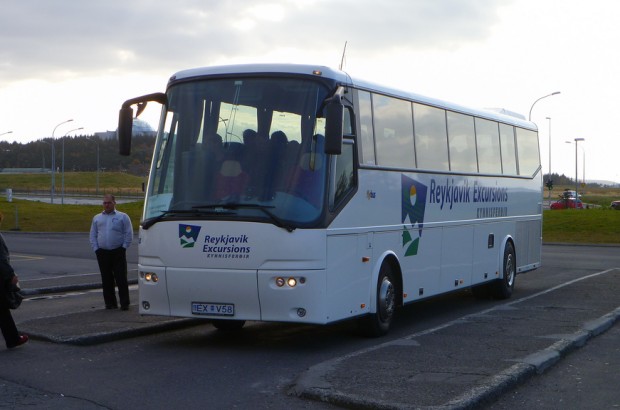 Reykjavik, Iceland is not like most European cities. First, it is only about 300,000 people. Second, its airport isn't even in Reykjavik – its in Keflavik, Iceland about 1 hour (52 kilometers) away. There are really only two ways to get there – a ridiculously expensive taxi ride or the Reykjavik FlyBus operated by Reykjavik Excursions. The FlyBus is a fiasco.
Taking the FlyBus into Reykjavik from the Keflavik airport takes a load of faith. There's no set schedule. And there's a good reason why: the company organizes the bus to maximize profits. And this can leave you waiting for a very long time.
The company, Reykjavik Excursions, claims that the Flybus leaves Keflavik airport after every arriving flight, approximately 35-40 minutes after an arriving flight. In our experience, there weren't many people who signed up for the FlyBus, so they just kept holding the bus…and holding the bus…and holding the bus. So, we didn't leave Keflavik until 2 hours and 10 minutes after the flight landed. They kept telling us (the five of us waiting on the big bus) that it would leave shortly.
Now, if the company kept to their process (and what is published on their slickly produced website and marketing materials), there should have been 3-4 buses in the time where none actually went. In our experience, when the giant bus finally did go, there were only 5 really upset people on the bus.
Put simply, Reykjavik Excursions held the bus for over 2 hours hoping to get more paying passengers before finally letting the bus leave the airport. Reykjavik Excursions didn't make much money on that trip, and they were all tourists. I can only assume that locals know better than to take the Reykjavik Excursions Flybus.
Now, truth in disclosure, the FlyBus from the hotel to the airport was better. It was absolutely packed – 100% of the seats filled…and the bus went on time.
As a country, Iceland is working hard to boost tourism. They have a new slick "Inspired by Iceland" advertising campaign, and we thoroughly enjoyed our 10 days in Iceland. However, travelers generally expect a certain level of infrastructure. And this is especially true in Europe. Having reliable and timely transportation from the city center to the airport is one of those things.
If Iceland wants to boost tourism it would benefit them to have reliable and economical airport service. And the Reykjavik Excursions Flybus in Iceland is not it.
Travelers to Iceland have few options to get from the airport into Reykjavik. But they should be warned that there's a good chance of them being stranded at the airport for an extended period of time. Travelers should allow plenty of extra time and not assume the FlyBus will run as promised. We would strongly encourage travelers to investigate other options.
Note: As of 2016, it doesn't seem that the Reykjavik Excursions Flybus experience has improved. We found this article on The Pickup Pickle and the Dramas of Drop Off with the Flybus. And in 2018, there is a lengthy thread in a popular travel forum site discussing the nearly identical problem we faced.
Options For The Flybus Iceland
There are two options:
Reykjavík Flybus
The Flybus takes you from the Keflavik airport to the Reykjavík BSÍ Bus terminal. Once the bus actually leaves the airport, the trip should take around 45 minutes. Cost is 2950 Icelandic Króna (~$28) one way and 5500 Iceland Krona (~$53) round trip.
Reykjavík Flybus+
The Flybus+ takes you from the Keflavik airport to the Reykjavík BSÍ Bus terminal, where you will switch from the big bus onto small mini-buses to be taken directly to your hotel. Once the bus actually leaves the airport, the trip should take around 45 minutes.
The mini-buses also don't operate on a set schedule and the whole system is a bit disorganized. The layover at the bus terminal is around 10 minutes. On the mini-bus, you should allow 10-30 minutes to reach your specific hotel (depending on when you will get dropped off). Cost is 3950 Icelandic Króna (~$38) one way.
If you insist on traveling on the Flybus, we would strongly encourage you to purchase your tickets through a third-party consolidator, where you have some recourse when things go wrong. Large companies like Viator that re-sell Flybus tickets have more buying power than you do individually and Viator has a generous policy when things go wrong. You can buy Flybus tickets on Viator here.
Note: If you want to be assured of reliable transportation in Iceland and you will be exploring the region around the capital (such as the Golden Circle), we strongly recommend renting a car and driving yourself.
If you enjoyed this article, you may want to sign up for our monthly newsletter, THE FIX. We share exclusive content, amazing travel deals, give you sneak peeks of our future trips, and other special surprises.
Creative Commons photo credits: Top two images from A. Currell (both per CC 2.0) and final image from Smcgee (CC 2.0).
Note: Some links may be affiliate links, which means Travel Addicts may earn a few pennies if you buy something.