Some posts on this site contain affiliate links, meaning if you book or buy something through one of these links, we may earn a small commission (at no extra cost to you).
The beautiful skies we had in Reykjavik over the last two days gave way to a light drizzle that made the day kind of dreary.  We decided to spend much of our time inside, visiting a couple of area museums, restaurant hopping and relaxing.
Our first stop was Settlement Museum 871 +/- 2. This was an unusual museum, partly because of the name that highlights the settlement of Reykjavik as occurring some time between 868 and 872 and partly because it's in the basement of an ultramodern hotel. The exhibits are detailed and allow you to see foundations of the earliest houses in Reykjavik up close. The museum probably would have been more compelling if we hadn't been to the Eiriksstadir – the original home of Erik the Red, father of Leifur Eiriksson – but it was interesting nevertheless.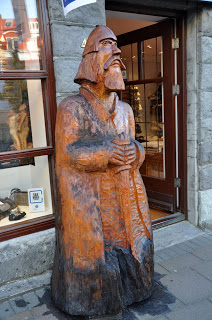 Our second museum stop was the National Museum of Iceland, which was more traditional than the Settlement Museum. This is a great museum that brings both important historical objects as well as iconic pieces from the more recent period (World War II artifacts to Bjork's first album from 1977). It gives a good overall view of the unique history and culture of Iceland, which is really unlike any place we've visited so far.
In keeping with our desire to stay primarily indoors and out of the rain, we also explored a few area restaurants.  We had read good things about Icelandic Fish & Chips and tried to go there for lunch, but they were closed on Sunday. A pity. So instead we went to the nearby Geysir Bar & Bistro for good, quick fish and chips, which were also a good value in light of Iceland's high food prices.
After walking around the city, the Tjornin lake, and the downtown district a little bit during a break in the rain, we stopped for coffee at Café Paris. Unfortunately a lot of other people had the same idea, as it was packed with mommies and screaming kids in strollers. It was not exactly the kind of relaxing experience we were looking for, so we headed on to Kaffi Solon, a trendy modern establishment on the main drag. Thankfully, it was a great place to relax and spend some time.
Ultimately, we headed to dinner at the Fish Market Restaurant in downtown Reykjavik. We both had the lobster soup with coconut milk for our starters – the soup was extremely hot and tasty. They had a miso halibut special, which is what I wanted, only to discover they were out. Sadly, I ended up with a white fish which was a little dry. For dessert, we had an excellent apple tort.  Fish Market Restaurant was definitely expensive, but the food was high quality and flavorful, and there was more variety than we found at many restaurants in Iceland.