Aix-en-Provence, France, is a stunning city dotted with plane trees and fountains and overflowing with joie de vivre. It has a compact, walkable center that makes wandering its beautiful streets to discover markets, squares, and historic buildings a joy. We've had the good fortune to visit several times and love finding new things to do in Aix-en-Provence each time.
The city is packed with art, culture, and all the beauty you would hope for in one of the most popular destinations in the South of France. From museums to colorful architecture and welcoming cafes, there are lots of places to enjoy here. Read on for our recommendations about what to do in Aix.
Explore the art at Fondation Vassarely
The façade of the Fondation Vasarely lets you know you're in for an uncommon experience. With bold, graphic black and white shapes, the outside of the modern art museum stands out in its location just a few minutes from the city center.
The drama continues inside where visitors are immersed in the huge artworks of Victor Vasarely, a Hungarian-French artist known for his optical illusion artworks. Over 40 pieces are displayed in hexagonal interlocking spaces. The geometric designs pull you into a web of tapestry, glass, ceramics, and metal that all leave your head spinning in a fascinatingly artistic way.
See the city's fountains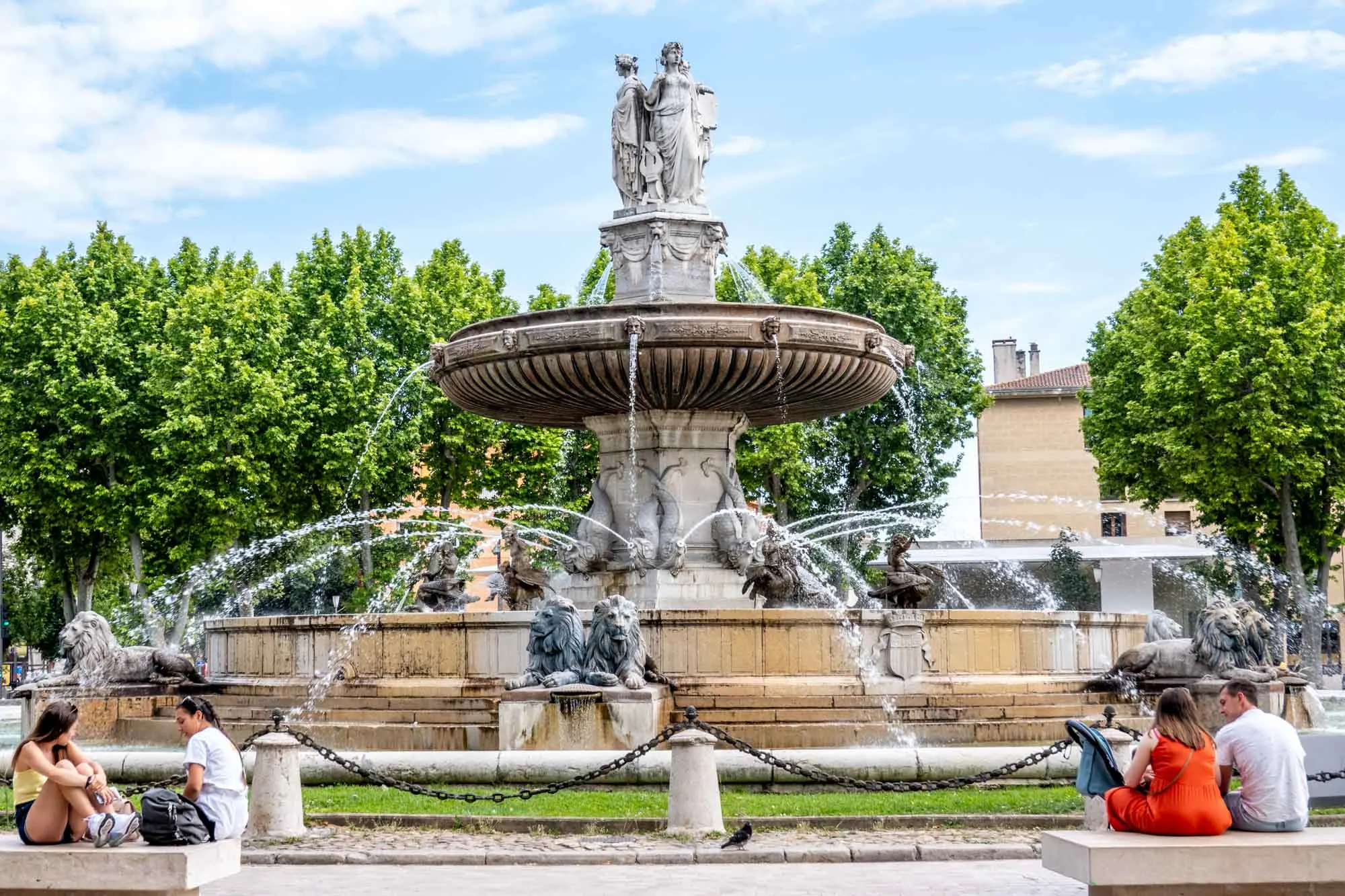 Aix is known as the City of a Thousand Fountains. While that's somewhat of an exaggeration, there are lots of fountains all over the city in various shapes and sizes.
The first fountain most people visiting Aix-en-Provence will see is the most famous–La Rotonde. Constructed in 1860, it is topped with three statues representing justice, agriculture, and fine arts. Other famous fountains include the 17th-century Fountain of the Four Dolphins (Fontaine des Quatre Dauphins) and the fountain of moss (moussue), which is drawn from a natural spring whose water is occasionally warm.
Step inside Aix Cathedral
A 14th-century bell tower, dozens of elaborate statues, and a carved Gothic gate dating from the 1500s combine to make Aix Cathedral a national monument of France and a top point of interest in Provence. The building whose construction began in the 1100s features three naves of different architectural styles all sitting on the site of a 1st-century Roman forum. It's possible that nothing else in town better reflects the long and varied history of the city.
Visitors to Aix Cathedral (also known as Saint Sauveur Cathedral) can appreciate the intricate façade, carved pulpit, stained glass, and other details up close. It's free to visit.
Visit Atelier Cezanne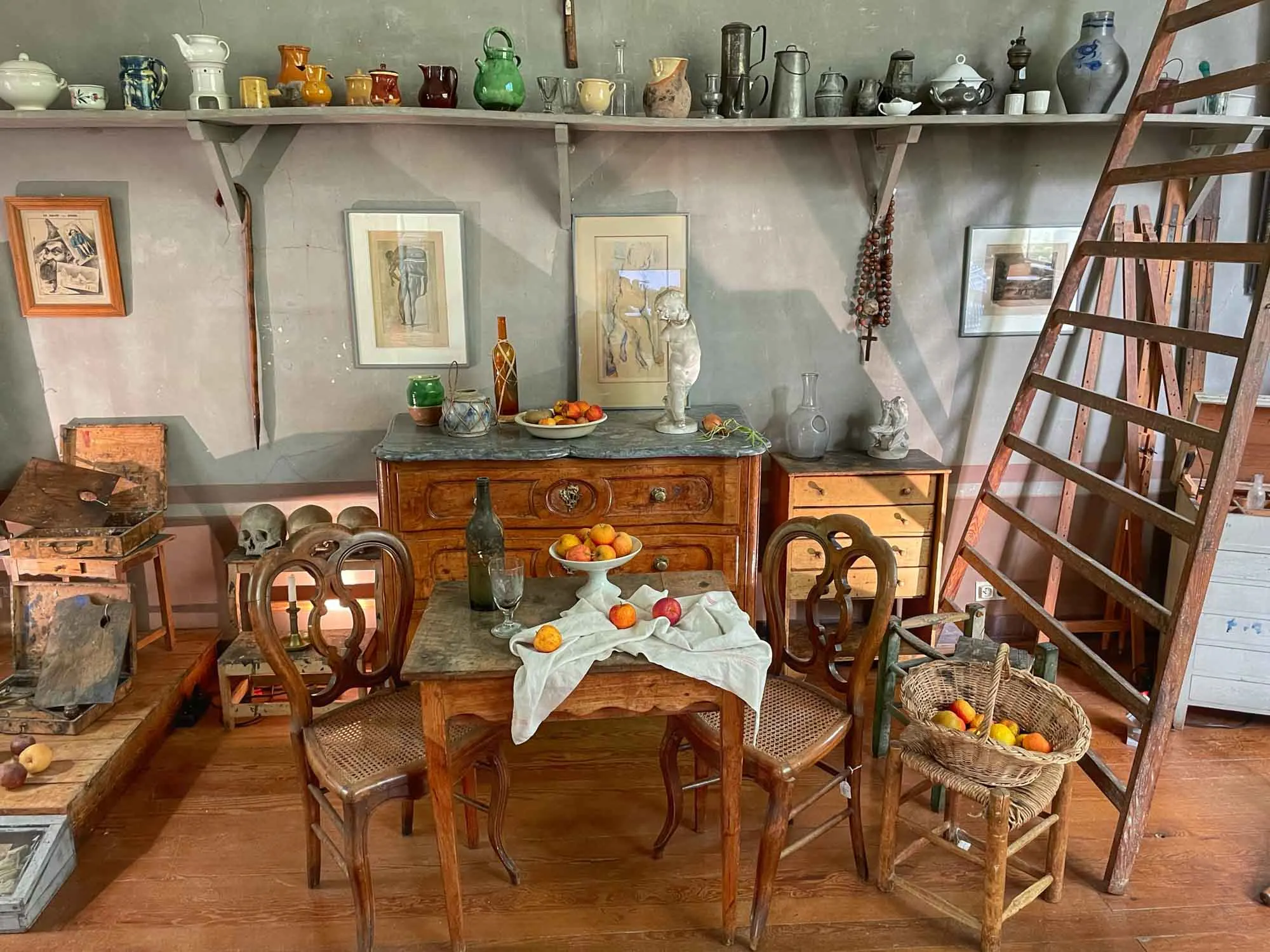 One of the most interesting things to see in Aix-en-Provence, the Atelier Cezanne was the studio of renowned Post-Impressionist painter Paul Cezanne. From 1902 until his death in 1906, the artist spent long hours here creating some of his most famous paintings, including The Bathers.
The studio looks just as it did when Cezanne died. His supplies are organized near the window, his smock hangs on the wall, and some of his favorite props are still positioned as if he is getting ready to work on his next still life. Even if you're not a huge art fan, it's a fascinating space to see and one of the most culturally significant attractions in Aix.
Take in the view at Terrain des Peintres
A 10-minute walk from the Atelier, the Terrain des Peintres is another significant location related to Cezanne. The hilltop park was one of the artist's favorite vantage points for painting the Montagne Sainte Victoire, one of his frequent subjects.
The park is a bit like an open-air museum. There is a display showing Cezanne's paintings of the mountain whose imposing and inspirational peak is visible in the distance. Visitors can appreciate the images of the paintings while enjoying the park. It's a great spot for a picnic and is easily accessible via public transportation (bus 5 or 12), but we found parking here to be nearly impossible.
Shop at the weekly markets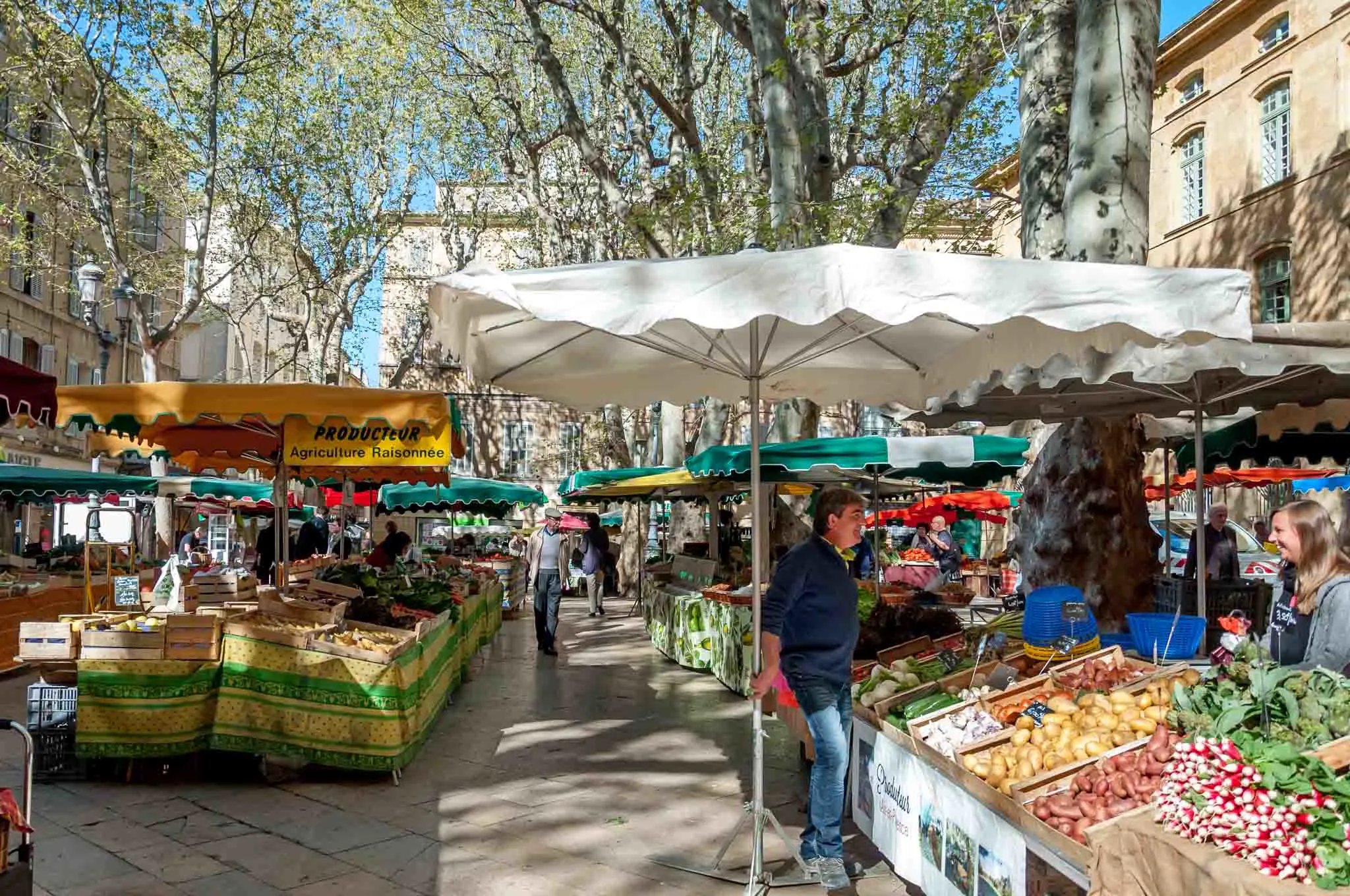 Three days a week are market days in Aix. On Tuesdays, Thursdays, and Saturdays, you can have your pick from anything in the farmer's market, the flower market, the antiques market, the fruit and vegetable market, or the textiles market. It's an embarrassment of riches and undoubtedly one of the best places to visit in the South of France for market lovers.
All the markets in easy walking distance of one another, and, in general, items are high quality. Whether you're in the market for local olive oil, dishes, or a beautiful tablecloth, you'll probably find it here. Plus, there are plenty of samples to be had.
Take a break at Book in Bar
When you need a pause from the sightseeing, stop by Book in Bar. This cute international bookstore has a broad selection of genres from classics to children's books and travel guides with lots of options in English.
The cafe inside means you can have a slice of carrot cake or a cookie and lemonade while browsing among the new releases. The store also hosts regular author readings and book signings, writing workshops, and other special events.
Visit Hotel de Caumont
One of the most unique places to go in Aix, the Hotel de Caumont is a grand mansion dating from the early 1700s. Few such mansions are open to the public, so getting to visit one is uncommon.
The building serves multiple purposes. Its charming café overlooks the restored 18th-century garden and is free to visit. Upstairs, the music room and a bedroom are richly decorated with period furnishings to show how the home would have appeared in the original owners' day. Much of the rest of Hotel de Caumont is an art gallery showcasing temporary exhibits that span a range of genres from the treasures of Venice to photographs of Marilyn Monroe.
The cafe and gardens are free to visit, but a ticket is required upstairs.
Indulge at La Fromagerie du Passage
Nothing says France like a restaurant devoted almost entirely to cheese. La Fromagerie du Passage is a charming hybrid of a wine and cheese shop and a restaurant where visitors can try all kinds of decadent specialties. Over 100 cheeses and 200 wines ensure a broad range of choices from different regions and countries made with different kinds of milks. Grab a spot on the rooftop terrace and prepare to enjoy.
Visit Musee Granet
One of the finest museums in Aix, the Musee Granet has a broad collection of artworks spanning 400 years. It is well-known for its Cezanne collection, which includes watercolors and other paintings such as the Portrait of Zola. It also features an outstanding modern art collection, including works by Picasso, Mondrian, Klee, and Leger.
Stroll along Cours Mirabeau
The city's grand boulevard is Cours Mirabeau. An excellent place to see some of the best Aix has to offer, the street is an artifact of the 17th-century, built originally as a place for the wealthy to promenade.
Lined with grand plane trees, the Cours Mirabeau has shops, cafés, and 300-year-old homes that have been repurposed as businesses. From fountains to magnificent mansions, there is a lot to see as you walk along the street. Look out for the 17th-century fountain Fontaine des Neuf Canons (Fountain of the Nine Cannons), which was once a spring for migrating sheep, and the grand statue of King René, which tops a fountain built in his honor.
There are also lots of luxurious private mansions, or hôtels particuliers, including Hôtel Maurel de Pontevès, which dates from the mid-1600s and is the oldest private home on the boulevard. With a grand staircase and sculptures, it once belonged to a textile merchant and is older than Cours Mirabeau itself.
Take the tourist train
It's easy to explore on foot, but if you have trouble getting around or your feet are sore from pounding the pavement during your southern France trip, consider the tourist train. For a modest charge (10€ for adults and 5€ for children ages 4-12), you can hop on the cute train for an express visit through the city.
The 45-minute ride will take you by major sites all while listening to an audio tour recounting the history and heritage of Aix-en-Provence. The narration is available in eight languages. The tour runs most of the year from February 7 through December 31.
Experience the history of the Church of Saint John of Malta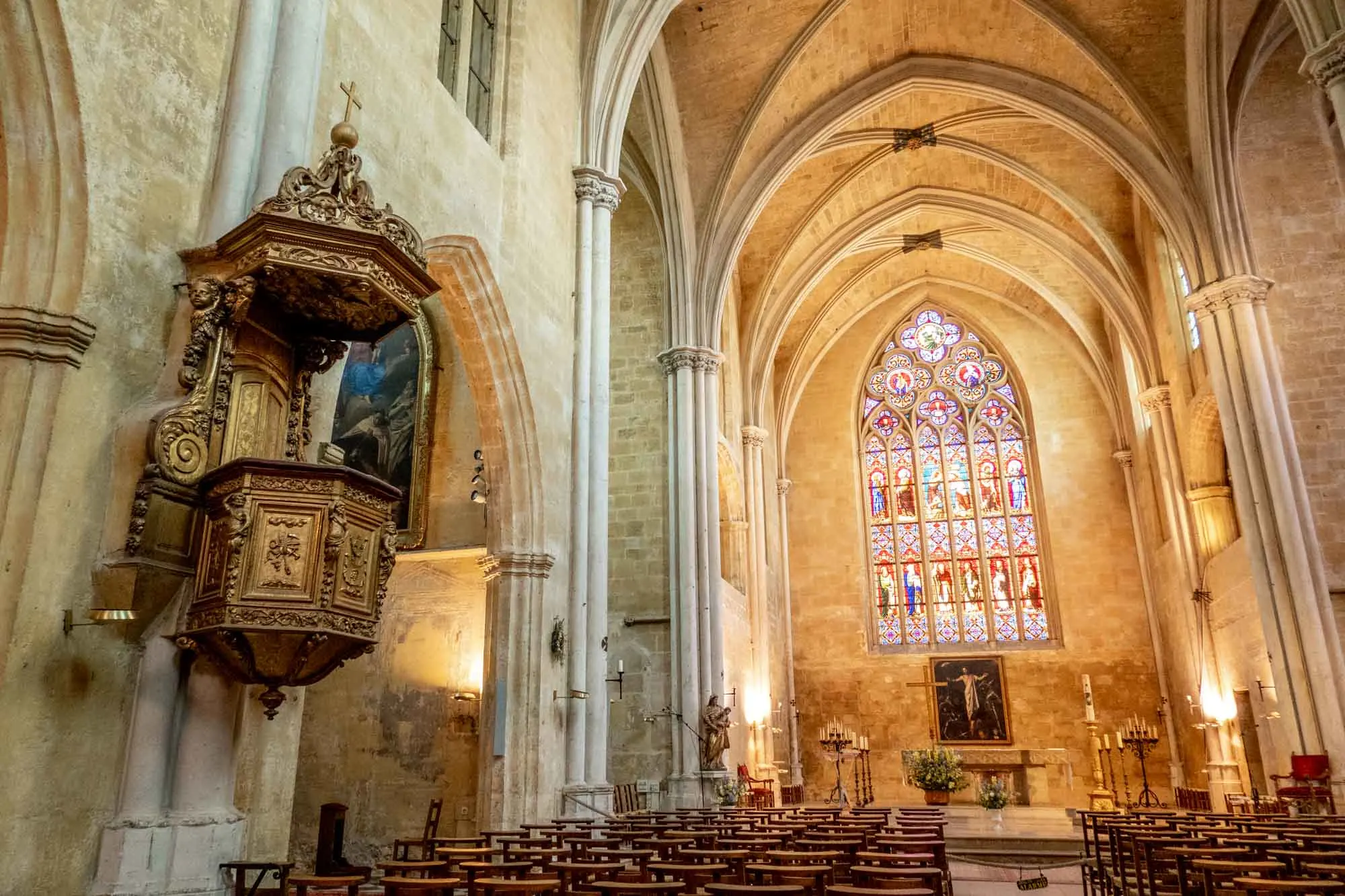 One of the oldest buildings in the city is the Church of St. John of Malta (Saint-Jean-de-Malte). Built in the 1200s, it was the first Gothic Roman Catholic Church in Provence. Its striking 220-foot-tall bell tower was added a century later and makes it an easy landmark to find.
Many of the church's treasures and ornamental items were removed in the wake of the French Revolution, so it has a starker interior than similar churches. Still, it's worth a visit to appreciate the church's history and architecture.
Dine on the terrasse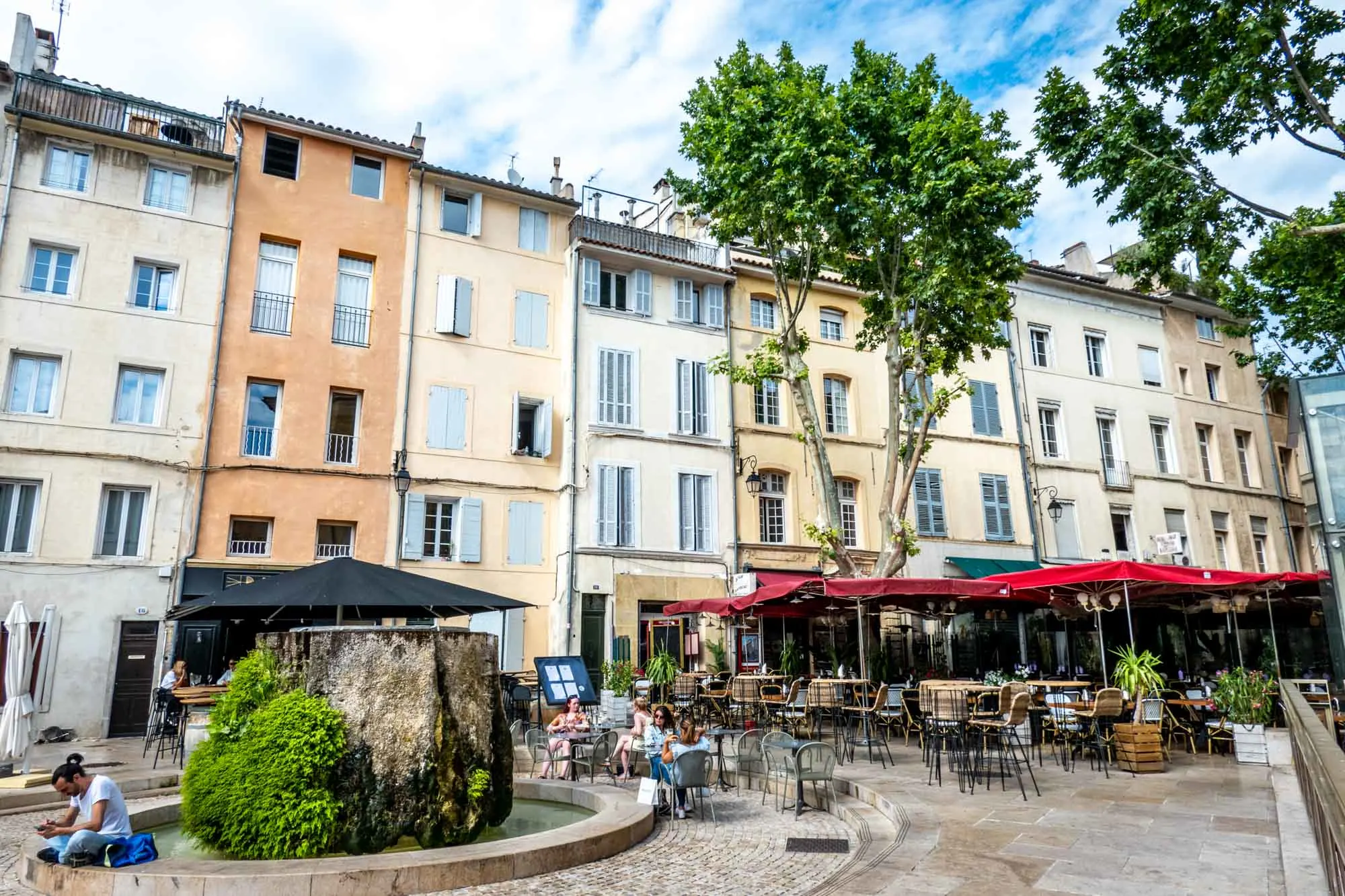 Aix has several lovely squares and pedestrian areas, but La Place des Cardeurs is one of the more unique—it sits on top of a huge underground parking lot (which makes a good option if you are driving yourself). What could be a cold, industrial space is transformed when the square fills with people enjoying the selection of restaurants and cafes. The buildings are splashed in typical Provencal hues, there is an attractive fountain, and there always seems to be lots of people enjoying the beautiful outdoor space. Chez Nous and Restaurant Le Portofino are particularly popular.
See the beauty of Place d'Albertas
One of the prettiest places in Aix is Place d'Albertas. With a fountain at its center and surrounded by yellow Baroque buildings, the square dates from 1745.
It's almost impossible not to stop here on a stroll around the city. The buildings are so lovely that they tend to stop people in their tracks. Take a moment to look at the unusual wrought-iron balconies that grace the windows on the second floor. You just might notice some images that are remnants from the time the buildings were a brothel.