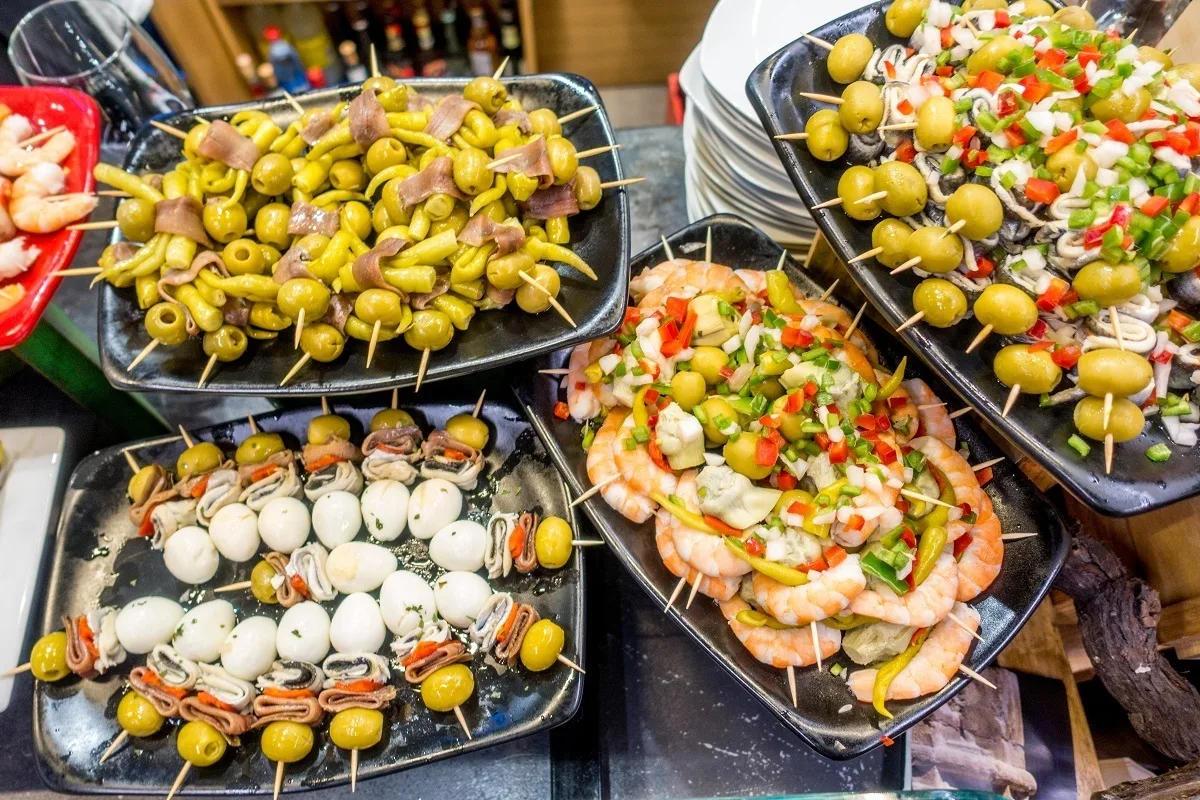 San Sebastian, or Donostia to the Basques, is one of the most well-known foodie cities in one of the top culinary regions in the world. With Michelin-starred restaurants and amazing pintxos bars, it's easy to be spoiled by all the food choices. Stated simply, San Sebastian is full of good eats.
The best pintxos bars in San Sebastian are a smorgasbord of colors and smells. There is fresh seafood, creamy cheeses, and perfectly pickled bites. And that doesn't even count the hot items that come straight from the kitchen. With such a fabulous selection, it's hard to know where to start.
Our goal was to have the most local experience possible and to try all the best pinxtos in San Sebastian. We learned a few things along the way about what to eat in San Sebastian, where to eat it, and how to do pinxtos like a local.
How to Eat Pintxos Like a Local
Going out for pintxos in San Sebastian is something the Basques have perfected to an art form. There are a few important things to know before you go.
Don't call them tapas
In Madrid, Barcelona, or other cities in Spain, small dishes are called "tapas." But in San Sebastian and the Basque Country, they're "pintxos" (PEEN-chos).
Typically, pintxos have several components piled high on a slice of bread, all held together with a toothpick. Many pintxos bars offer a selection of 20 or 30 items, but each bar has a specialty.
Go where the people are
The best pintxos bars should be busy—that means the food is good. If you find yourself in a bar alone or one that's sparkling clean (trash on the floor is a sign of great place in Spain), you should probably go elsewhere.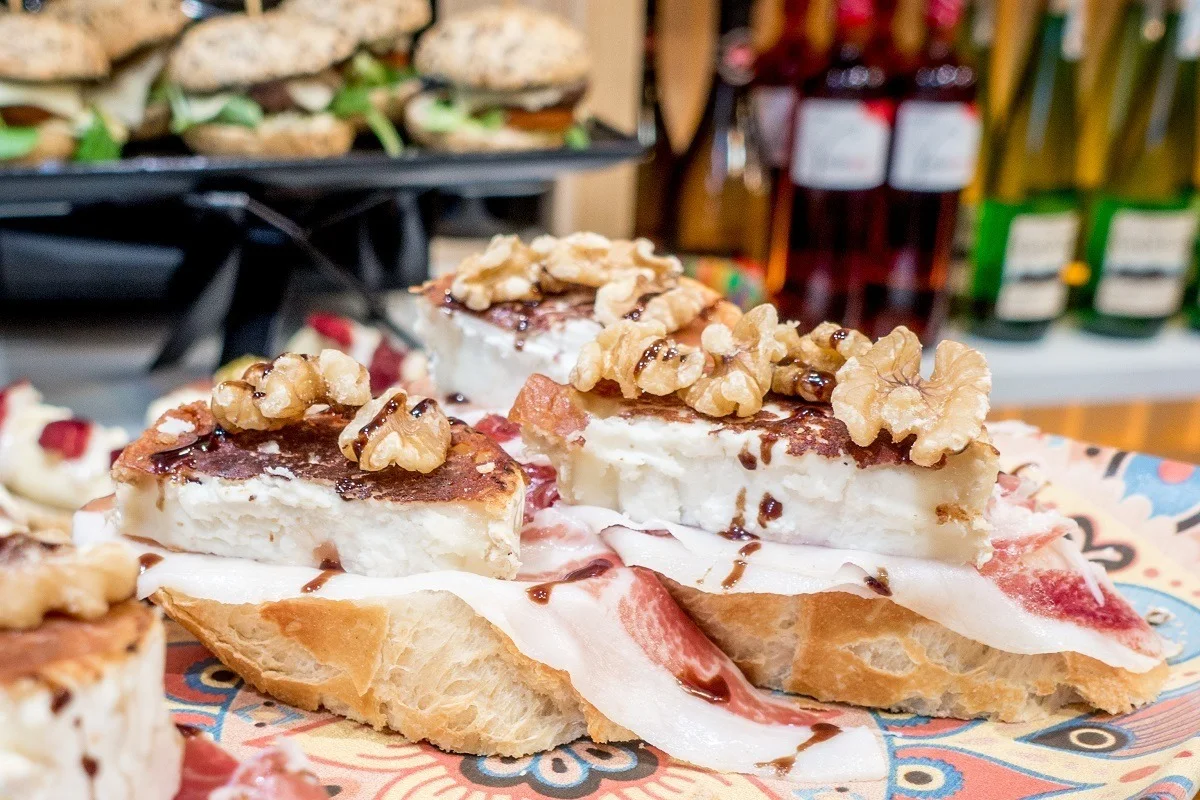 Be bold
You may need to be assertive to succeed. These are busy places with lots of hungry people vying for service. Angle up to the bar, stake out your space, and do whatever you can to catch the bartender's eye.
Order from the blackboard
Typically, there are two ways to order pintxos—from the bar or from the blackboard.
How to order from the (often massive) spread on the bar depends on the restaurant. At some bars, you can pick up the pintxos yourself. At others, you'll point or tell the bartender what you want, and they will put it on a plate for you. Knowing certain food terms in Spanish (or, better yet, Basque) comes in handy here, but restaurant and bar employees often speak English well.
The pintxos on the bar are generally served cold, but there are a few items that may be heated up. While the displays are a festival of fabulous looking food, they're often not the house specialties. For those, you'll want to look at the blackboard.
The pintxos on the blackboard are hot and made to order. The top one or two on the list are what the bar is known for—their pintxo estrella, or star pintxo—so those should be at the top of your list, too. Depending on the bar and how crowded it is, you may pay at the time of ordering or after you've eaten—just watch what everyone else does.
Keep moving
After you've successfully ordered and loved your pintxos at your first stop, you may be inclined to go for round two. But, to truly eat like a local, that's when it's time to move on. Most locals will enjoy one or two pintxos and a drink at one bar before going to the next one.
Best Pintxos in San Sebastian
Mussels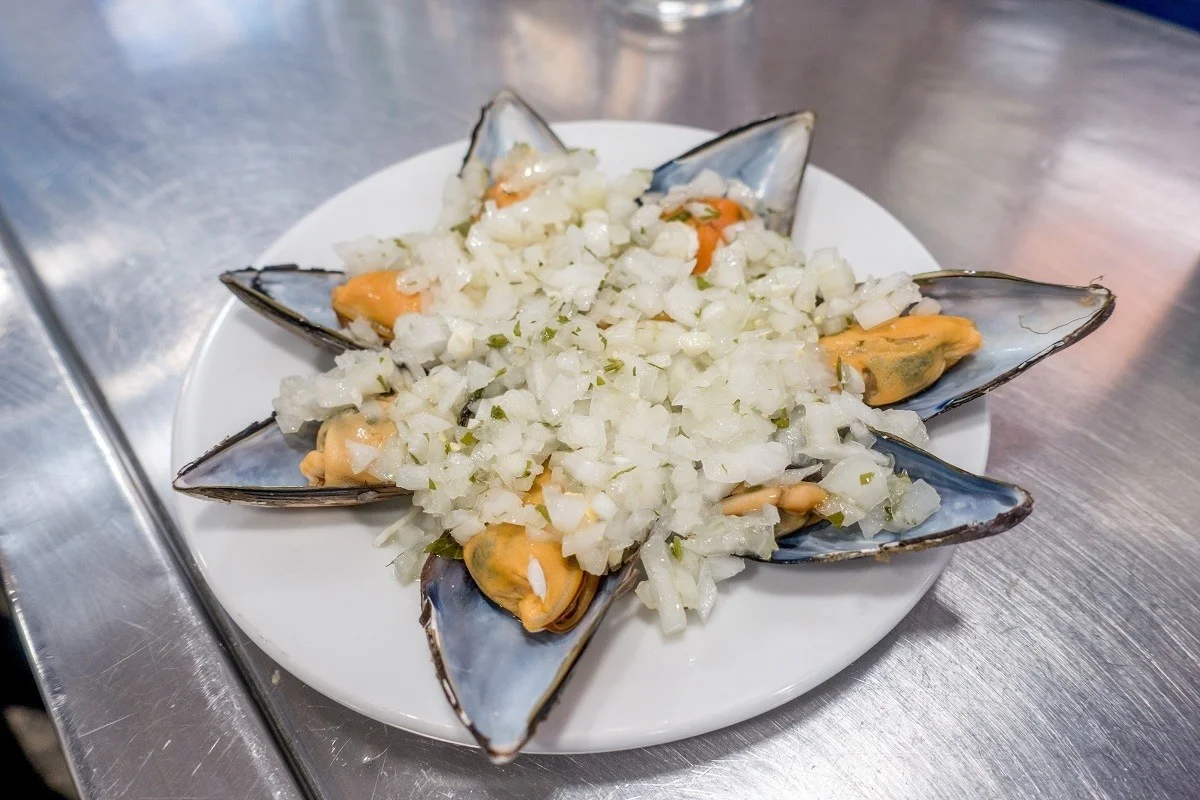 Because of its location on the Bay of Biscay, San Sebastian has outstanding seafood options. Some of our favorite pintxos incorporated the incredible seafood in the form of mejillones tigres (Lance's choice) and mejillones vinagreta (my favorite).
The tigres, or tiger mussels, are coated in a unique, spicy red sauce, and the vinagreta, or mussels vinaigrette, are covered in diced onion and vinaigrette. They're fresh and full of flavor.
Where to try them: La Mejillonera (Calle del Puerto, 15)
Idiazabal cheese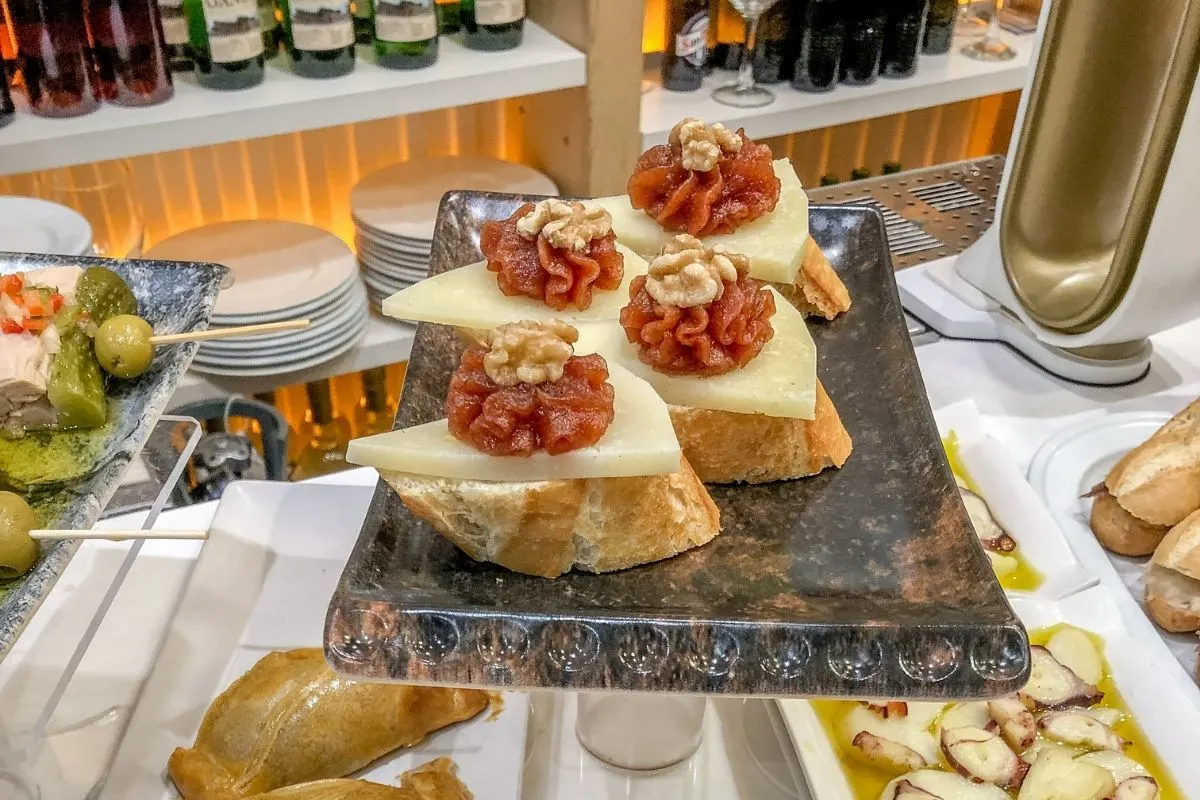 One of the most popular Basque cheeses, Idiazabal is made from unpasteurized sheep's milk. It's been a protected cheese for just over 30 years, but the process of making it has remained much the same for nearly 8000 years.
Made with milk from the latxa and carranzana breeds of sheep in the Basque Country and Navarre, Idiazabal cheese is aged for a minimum of two months. It is nutty, buttery, and has a smoky flavor even though it is not typically smoked. It may be used as an ingredient in other pintxos, but we enjoyed it most often paired with quince and walnuts.
Where to try it: Everywhere—you'll find it on most pintxos spreads
Gilda
La Gilda is the pintxo to have. This flavor bomb is a unique combination of three simple ingredients present throughout Basque cuisine—an anchovy, an olive, and a spicy guindilla pepper.
Eaten in one large bite, the Gilda packs a punch. This traditional snack is said to have gotten its name from Rita Hayworth's character in the movie Gilda in which she is both spicy and salty. It's fair to say that the namesake food is both of those.
The Gilda pintxo is enormously popular. I can't say it was my favorite, but Lance enjoyed it, and it's a must try as part of any pintxos crawl.
Where to try it: Everywhere—it's a San Sebastian signature
Tortilla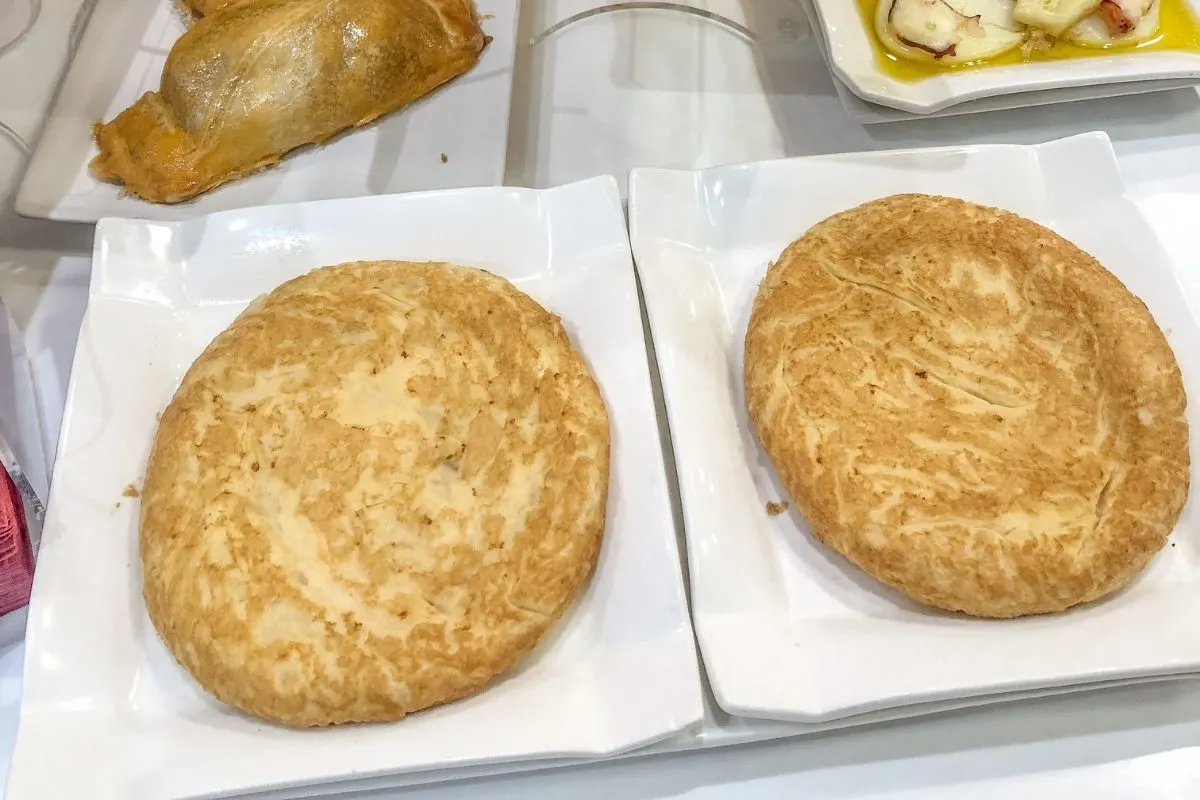 A Spanish tortilla is not the flour or corn component of a taco that we might typically imagine. In Spanish, a tortilla is a Spanish omelette, and it's a staple in many areas of the country. We love it and have eaten is numerous times on every trip to Spain.
This thick egg dish may be served whole or in slices. You'll often find it filled with potatoes (tortilla de patatas) around Spain. In the Basque Country, we frequently saw it with black pudding (tortilla de morcilla) or with salted cod (tortilla de bacalao). We were admittedly dubious about the salted cod but found it much milder than we anticipated.
Where to try it: Bodega Donostiarra (Peña y Goñi Kalea, 13)
Solomillo
San Sebastian is known for its seafood, but that's hardly the only thing on the menu. We had some great grilled meat dishes on our visit, and one of the best was a solomillo, or beef sirloin.
On the surface, it doesn't seem like an overly remarkable pintxo—a slice of tender beef sirloin topped with a green pepper and a sprinkling of sea salt. But the beauty of this dish is in the simplicity. The salty, savory, and smoky combine into one of the best bites ever. Not only did we go back for seconds, but we went back the next night, too.
Where to try it: Gandarias (31 de Agosto Kalea, 23)
Anchovies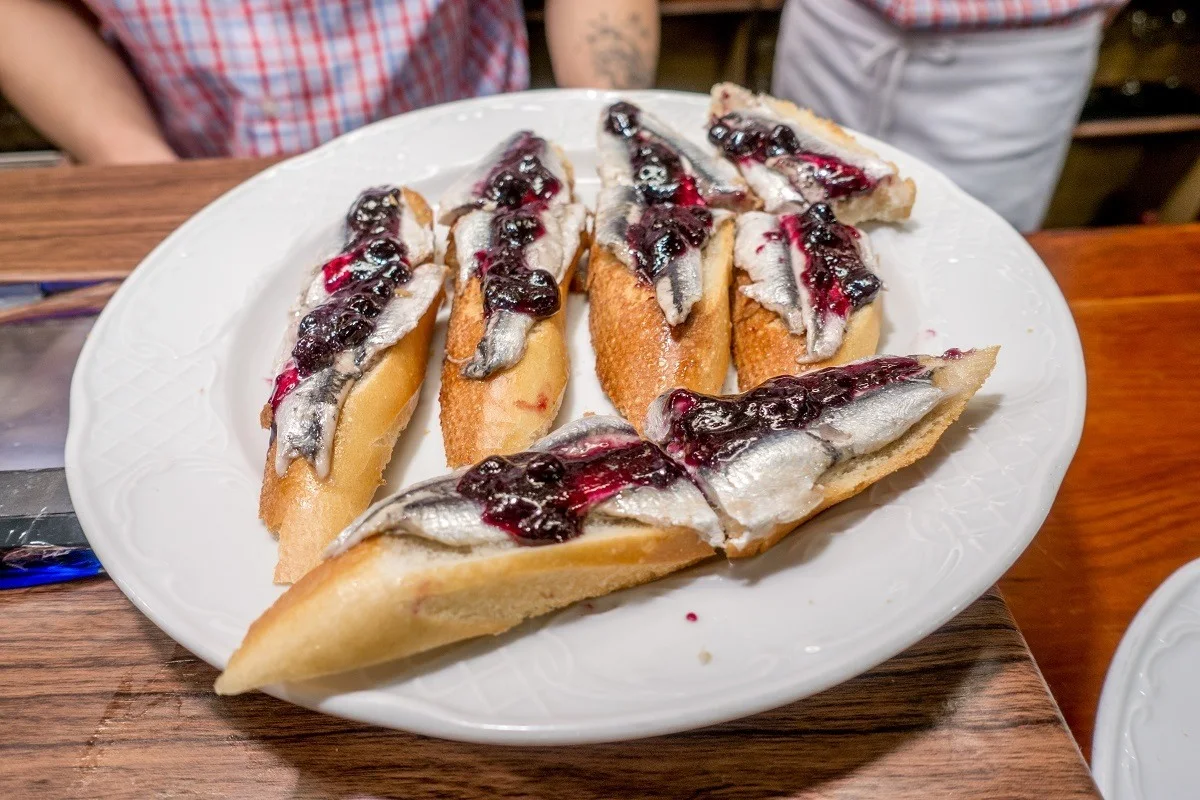 If you're a fan of strong flavors, you will love Basque pintxos that include anchovies. Paired with everything from papaya to fish eggs, anchovies are a regional staple.
Throughout the Basque Country, you'll see anchovy pintxos prepared in a variety of ways. They may be fried, grilled, cured, or pickled, so you're likely to find them in some form on just about every pintxos bar in the city. We tried them with olive spread, creamy spider crab, and even blueberry jam. While I won't claim that we were fans of all of them, trying them was truly an authentic Basque experience.
Where to try them: Bar Txepetxa (Arrandegi Kalea, 5)
Txuleta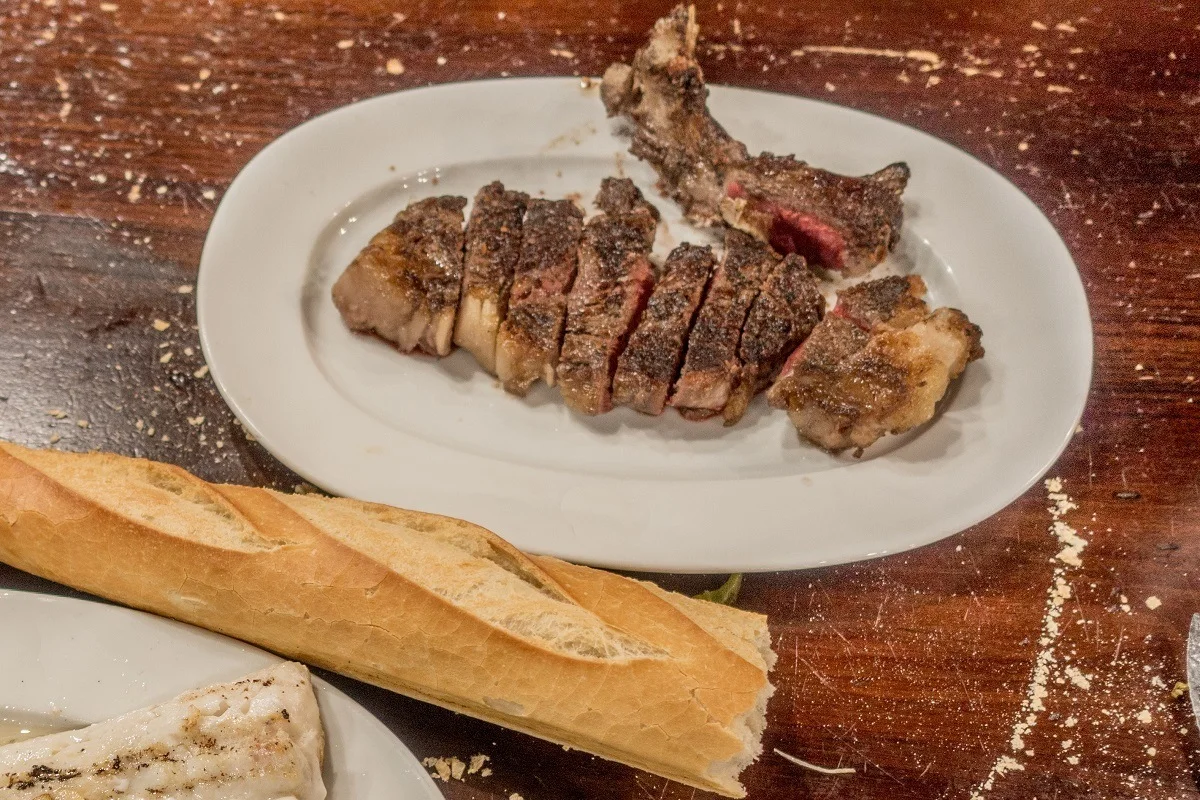 Strictly speaking, txuleta is not a pintxo based on its size, but it is a very popular San Sebastian food. Cooking this simple dish has been perfected around the city and particularly at the local cider houses where it is the main course.
The beef is grass-fed, which allows for more marbling and a unique flavor. The bone-in steak is generally cooked over hardwood charcoal, carbonizing the outside and remaining rare in the center. Finished with sea salt, this Flintstone sized steak can feed at least two.
Where to try it: Bar Nestor (Arrandegi Kalea, 11)
Pantxineta
A typical dessert of the Basque Country, pantxineta is a flaky puff pastry treat filled with thick custard and topped with almonds. This simple, tasty dessert was developed as the local version of a French frangipane tart and has become a cornerstone of Basque gastronomy since it was first made over 100 years ago.
Where to try it: Aramendia Pasteleria (Usandizaga Kalea, 8)
Basque Cheesecake
Lance has a deeply held belief that the only acceptable desserts are chocolate or cheesecake. That means we've eaten rather a lot of cheesecake, but the Basque version was new to us. It turned out to be one of the most delicious cheesecakes we've ever had.
Creamy and fluffy with a caramelized top, this cheesecake is the best way to end a pintxos crawl in San Sebastian. The tarte de queso, gazta tarta, or "cheese cream cake" (depending on the language) is made without anything fancy. It's just cream cheese, sugar, flour, cream, eggs, and a pinch of salt, but the result is truly incredible.
The cheesecake is remarkable on its own but trying it alongside a glass of Pedro Ximenez sherry raises things to another level. The rich raisin and caramel flavors complement the creaminess. We used our sherry as a drizzle on the cake, and it was divine.
Where to try them: La Viña (31 de Agosto Kalea, 3)
La Cuchara de San Telmo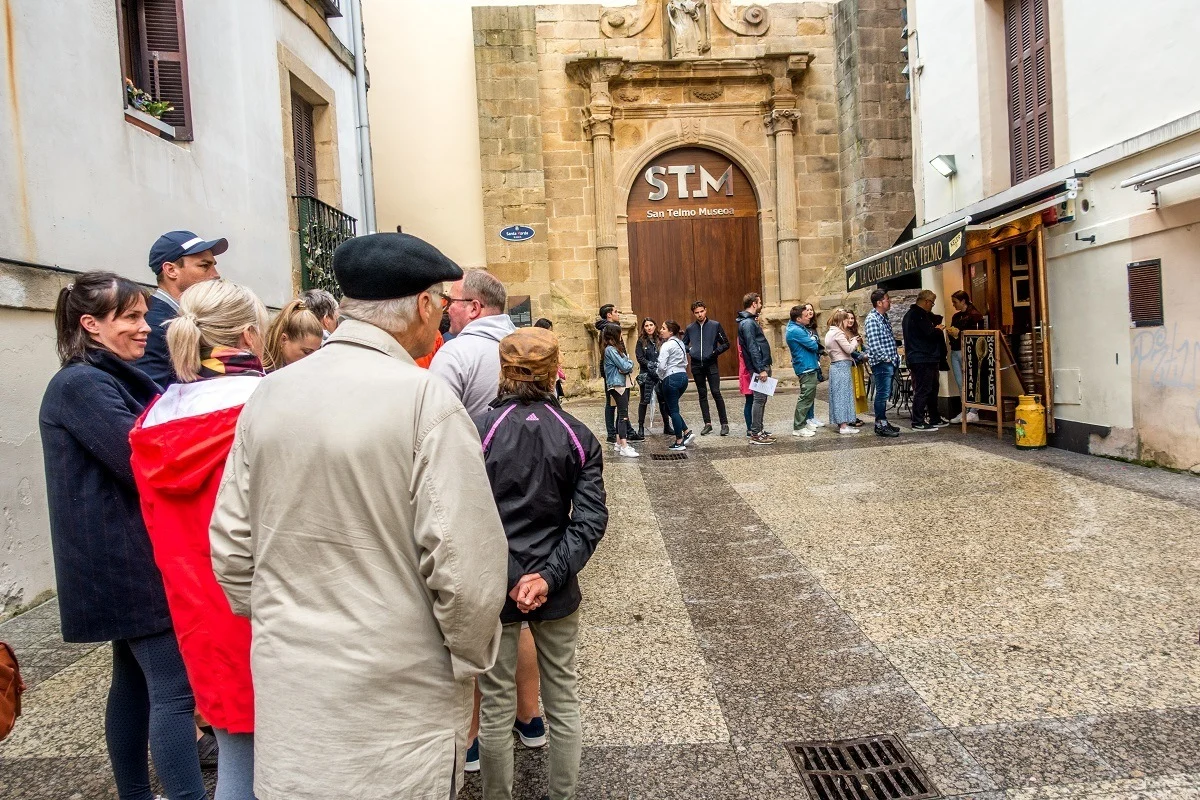 Unlike the other entries on this list, this is a pintxos bar and not a particular pintxo. That's because La Cuchara de San Telmo is known for new Basque cuisine, taking typical ingredients and putting new spins on them, changing things up seasonally. But no article about the best pintxos in San Sebastian would be complete without mentioning this spot.
Right by Museo San Telmo, Chef Alex Montiel, a former disciple of the 3-Michelin-starred Spanish restaurant El Bulli, makes all hot dishes to order. They're written on the blackboard daily. Plates include foie gras with apple compote and cider, beef cheeks in red wine, razor clams, seared tuna, roasted suckling pig, and more, depending on the day.
There is always a crowd, but the wait is worth it.
Address: 31 de Agosto Kalea, 28
Why Take a San Sebastian Food Tour
If you love food and want to experience the pintxos like a local, consider taking a food tour. We learned about many of the dishes above thanks to our tour with Devour San Sebastian. These are just a few of the reasons we recommend it.
It's busy! The pintxos bars can be packed with people, especially as it gets later. With a guide, you don't have to push through the crowds or be concerned with ordering—everything is taken care of.
Try the best bites in the best places. Enough said. You didn't come to one of the best food cities in the world to waste any calories on a mediocre meal.
Learn about culture and history. A San Sebastian pintxos tour guide will give you information it would be hard to find otherwise. You'll hear the stories behind the dishes and learn about Basque customs.
Get personalized recommendations. There are so many pintxos bars and restaurants to choose from that it's hard to know where to go next. A local guide can tell you where to find more great pintxos on your remaining time in San Sebastian after your tour is over.