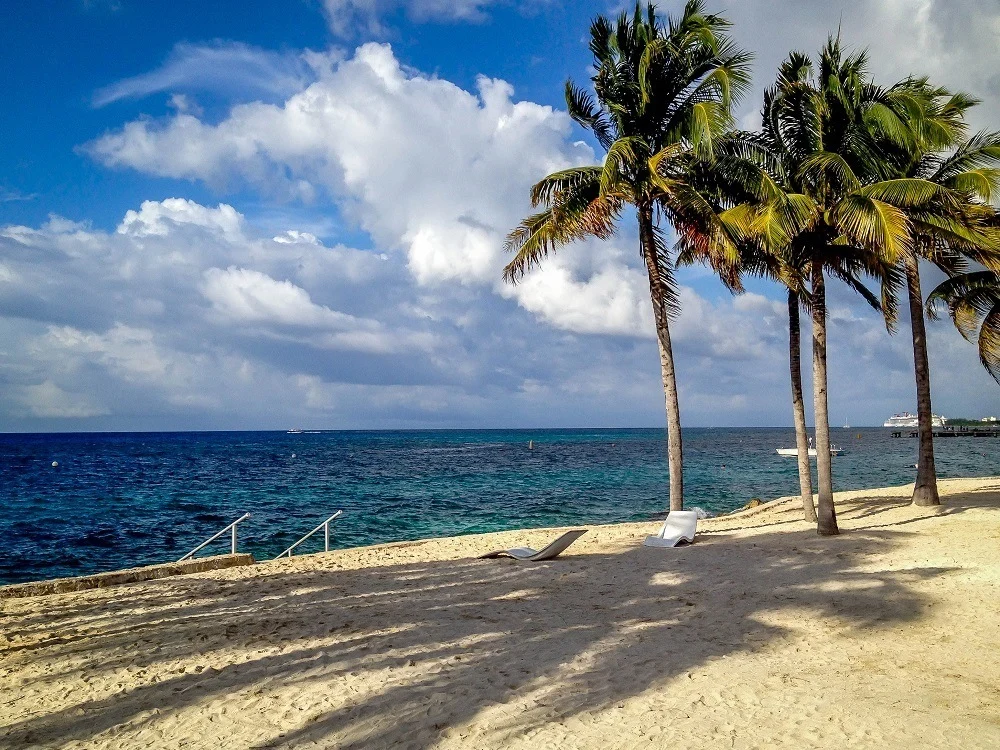 "Otra," I told the nice guy running drinks from the comfort of my beach chair and handing the empty bottle back to him. The waves lightly slapped the rocks below us and I watched the wispy clouds move across the sky. I was struggling with a difficult decision: continue to sit here and do nothing, or go for my third snorkel of the day – some decisions can be really challenging on vacation. We'd read some negative Chankanaab reviews, but we'd also read some positive things too. We really didn't know what to believe. In the end, we were so glad we'd come.
The idea of being in close proximity to thousands of other cruise ship day trippers in Cozumel, Mexico had me worried. Laura had talked to someone who had been here and the review was not favorable. The two chief complaints were that it is cheesy touristy and it is absolutely packed with cruise ship visitors. But I need not have worried. Like most places in the world, you can find the good or bad anywhere. We found greatness at Chankanaab National Park!
To clear one thing up – Chankanaab National Park is not "rustic." In my mind, I expected a roadside stall and a large empty beach. That's not Chankanaab. And frankly, the rustic idea in my head was totally unrealistic. Cozumel has grown tremendously since I was last here to the point of being unrecognizable.
It's also unclear this is a really a "national park" in the sense we know it. As with Xcaret park on the mainland, we've found definitions can be a bit flexible. Officially, the park is called Chankanaab Adventure Beach Park. And is described as The Natural Park Chankanaab. However, it is located within the Marine National Park of Cozumel, so there's some truth to the "national park" description.
However, Chankanaab National Park was perfect for our purposes. We'd come to Cozumel, Mexico on a cruise and the cruise company offered a rather pricey shore excursion to Chankanaab.
The official cruise line shore excursions to Chankanaab all have the same vibe to them:
Carnival Cruises calls theirs "All Inclusive Chankanaab Beach Day & Sea Lion Show"
Royal Caribbean offers the "Chankanaab Shore Snorkel and Sea Lion Show"
Norwegian Cruise Lines sells the "Chankanaab Beach Park & Snorkel"
You get the idea.
Instead, we decided to experience Chankanaab and Cozumel on our own. We got off the boat at the International Pier Cozumel, grabbed a taxi, and were at the beach in 20 minutes.
There are dozens of activities at Chankanaab National Park. Options include:
Swimming pool (yes, a pool at the beach)
The Chankanaab zipline experience
Shopping
Discover scuba diving, as well as sea-trek & snuba are offered
Snorkling
Tequila tasting experience
A free sea lion show
Crocodile exhibition
Mayan ruins walk (Note: All are replicas)
A spa, complete with massage
The Chankanaab dolphin swim (also known as a Dolphinarium). More on this below.
Chankanaab manatee and dolphin exhibitions (again, more on this below).
And the beach
There is no shortage of things to do here. The benefit of the place like Chankanaab is that there is truly something here for everyone!
For us, our goals were simple: the beach, beverages, guacamole, and snorkeling. (We brought our own snorkel equipment and have written a more in-depth guide about snorkel gear options). On arriving at Chankanaab National Park, we were surprised by the vast numbers of people here (there were 5 other cruise ships in port that day). The beach was very crowded, but we just kept walking.
A short way down Chankanaab beach near the snorkel rental place, we found four chairs near a palm tree. The crowds thinned out to the point that there were very few people. And our helpful waiter Jose was happy to keep running drinks for us! So, "Otra!"
The snorkeling was great! The Chankanaab Reef is in pretty rough shape (you can't have a good reef with that many people visiting it), but the fish continued to populate the area. They have also put a number of underwater sculptures creating a kind of underwater museum. I had recently acquired a GoPro underwater camera for scuba diving and took it with me. I was able to get some photos of the underwater sculptures.
Truly, there is something at Chankanaab National Park for everyone. Laura's sister could go to the Chankanaab sea lion show while I went snorkeling and Laura lounged in the sun reading a magazine. It was a perfect day and we saved a ton of money by just grabbing a cab and doing it ourselves instead of the official cruise ship shore excursion.
If you were going to spend the day in Cozumel, what would you do?
Chankanaab National Park Details
Chankanaab Hours
Monday-Saturday from 8:00am to 4:00pm. But, when cruises are in port, closing time is "flexible" (they're not going to turn away your money). The Chankanaab Nature Park (the beach and snorkeling) seems to be open later and most of the attractions seem to close earlier.
Chankanaab National Park Admission
$21.00 US Dollars for adults; children (3-11 years) is $14.00 US dollars. Note: We saw them asking for passports to prove kids ages for the discounted Chankanaab Park Admission.
Taxi Cozumel Prices
A taxi in Cozumel is a really good deal. $10 for four people from the cruise pier to Chankanaab; the return fare was $15.
More Chankanaab Details
Visit the Chankanaab National Park official website
Cozumel Dolphin Excursions
After being asked questions from readers about this, we feel the need to respond. Yes, it is possible to do a dolphin swim at Chankanaab National Park. We would encourage readers not to engage in this activity and to take the time to learn more about this issue.
First and foremost, dolphins are wild animals. No amount of training can remove the risk of a dolphin attack. As this picture illustrates, wild dolphins have been known to attack during "swim with dolphins" encounters at dolphinariums around the world. Children have had hands and arms bitten during feedings and a woman had her face and head bitten during a "kiss a dolphin" moment at a dolphinarium in Europe.
Second, responsible travel companies have stopped selling swimming with dolphin experiences or dolphin excursions. This is not fringe animal rights activism, these are major travel companies like TripAdvisor and Thomas Cook Travel (based in the UK). Even the U.S. Government has warned on the dangers of such activities.
Third, no matter what you're told, the practice is questionable. Since 2004, Mexican law states that no dolphins can be harvested from the wild (as seen in the documentary film "The Cove" about the mass killings in Taiji, Japan), however, actual practice is another matter. Independent audits of each dolphin's legal provenance have indicated that many dolphinariums in the world are ignoring acquisition laws. Dolphinariums are now illegal in the Mexican capital and a nationwide ban is being considered.
Fourth, dolphins are used to swimming hundreds of miles a day. The dolphins that are used in the dolphin excursions in Cozumel are kept in small pens. Like really small pens. The law says that these Mexican dolphinariums need 42 square feet per dolphin. That's a pen 6.5 feet by 6.5 feet. Prisoners in jail get more space. Again, these are animals used to swimming hundreds of miles a day.
Fifth, dolphin swims are big business. Like a multi-million dollar business. Cruise companies get their cut, as do the dolphinariums that sell these activities. You are a big wallet for them to take advantage of.
We realize it is a difficult decision. There's a strong emotional pull of these majestic animals. We get that kids really want to go swimming with dolphins in Cozumel. Please learn more about this before committing.