Splashed in every shade of blue under the sun, Chefchaouen, Morocco, seems tailor-made for photographers. Down each meandering street and hiding in every unsuspecting alley, there are tiles, murals, and details that help make this colorful city a dream for travelers who love to find the unexpected.
Indeed, for us, all of our experience was unexpected. We were initially pulled to visit thanks to seeing Chefchaouen photos in all their azure and royal blue glory online, but we never anticipated that the whole city would be covered in those colors. What we found during our visit was a canvas covered in blue hues and accents designed for peaceful wandering and enjoying this unique-looking city.
Here are 20 photos that will make you want to get on a plane to Morocco ASAP.
Visiting Chefchaouen
Chefchaouen, Morocco's blue city, is in the Rif Mountains in the northern part of the country. About an hour from the coast, it was originally founded in the 15th century as a point of defense against Portuguese invaders.
This city of just 40,000 residents is much calmer than many of the main cities in Morocco. Even its medina and the atmosphere of the market that is held here three times a week have a slower pace that seems to match the tranquil color scheme of the city walls.
While there is lots to see in Chefchaouen, it isn't a place where you go to check off a long list of must-see sights. The city itself is the attraction, and the best way to explore it is by wandering. That's also the ideal way to find interesting spots for photography.
See where to go with two weeks in Morocco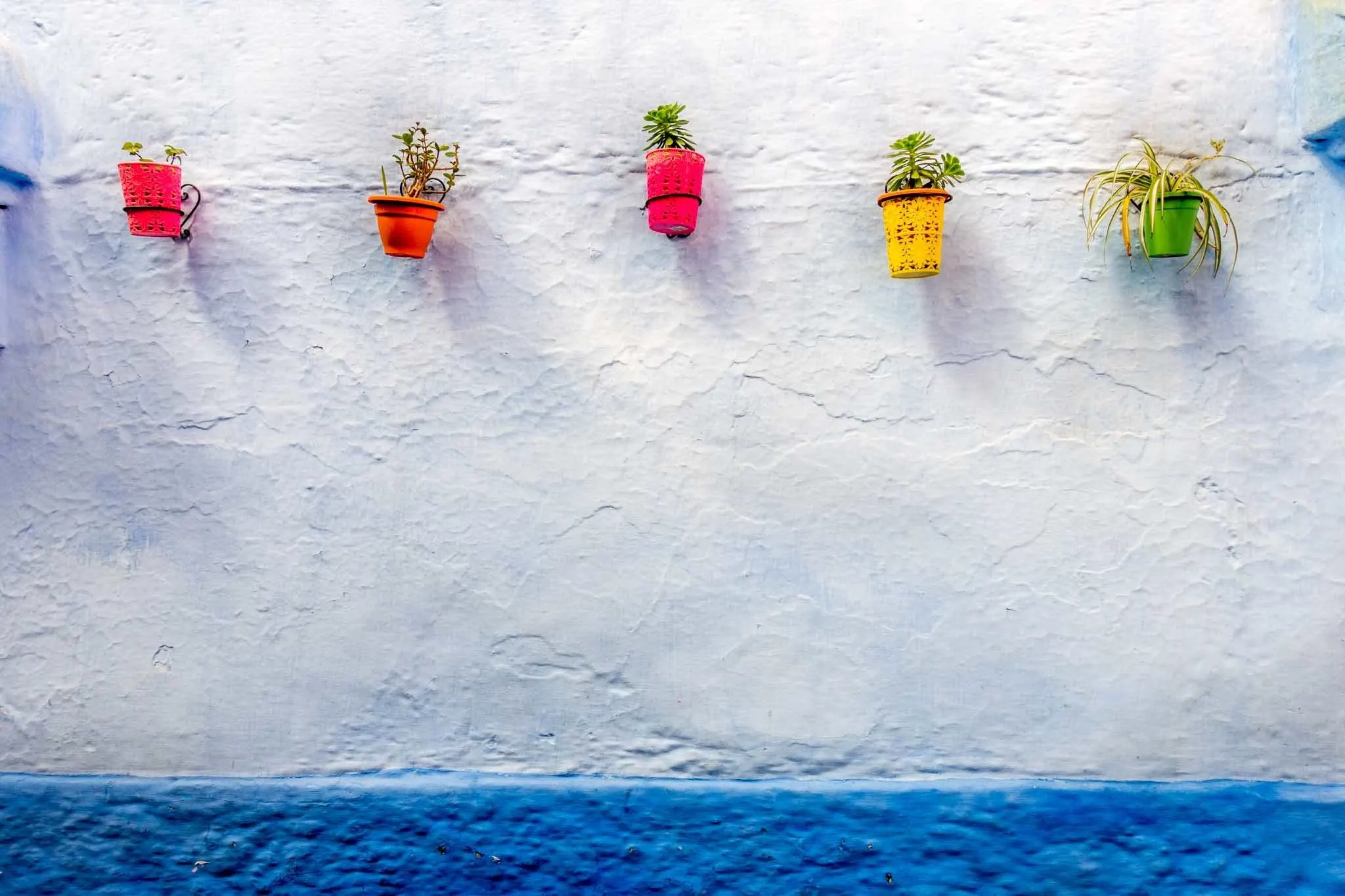 Tips for Taking Photos in Chefchaouen
The truth is, it's hard to take a bad photo in Chefchaouen. Between the blue walls and doors, the contrasting fabric and details throughout the city, and the colorful shops, there is something worth photographing on most streets. Beyond that, there are a few tips with knowing.
Get up early to have the streets to yourself. The city is fairly quiet until about 10am when the day trippers arrive. Before then (and after about 5pm), you'll have the best pick of photo locations.
The famous staircase lined with bright pots is on El Asri street (coordinates 35.1701, -5.2632). A line will likely form of people wanting to get shots here, so be patient.
Ask permission to photograph people, especially children. Many people live behind the beautiful blue doors, so don't walk onto people's steps, stand in their doorways, or infringe on their privacy. If you want a certain shot with people, make sure to ask their permission.