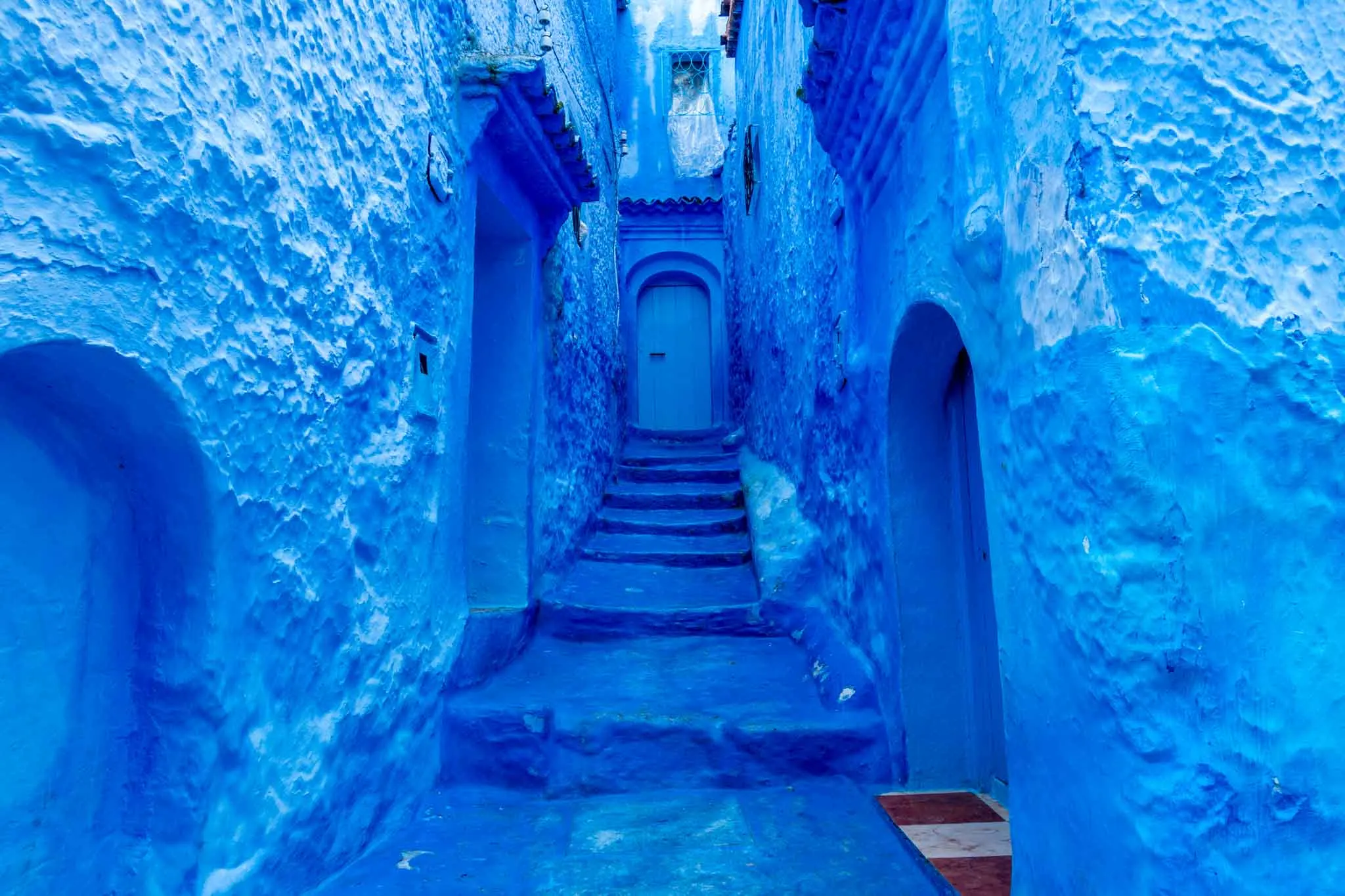 It all began with a photo. See, blue is my very favorite color—our wedding was blue, our bedroom is blue, even my iPhone case is blue. So when I first saw a photo of the gorgeous white and blue city, I wanted to visit immediately, long before I knew anything else about Chefchaouen, Morocco…including its name.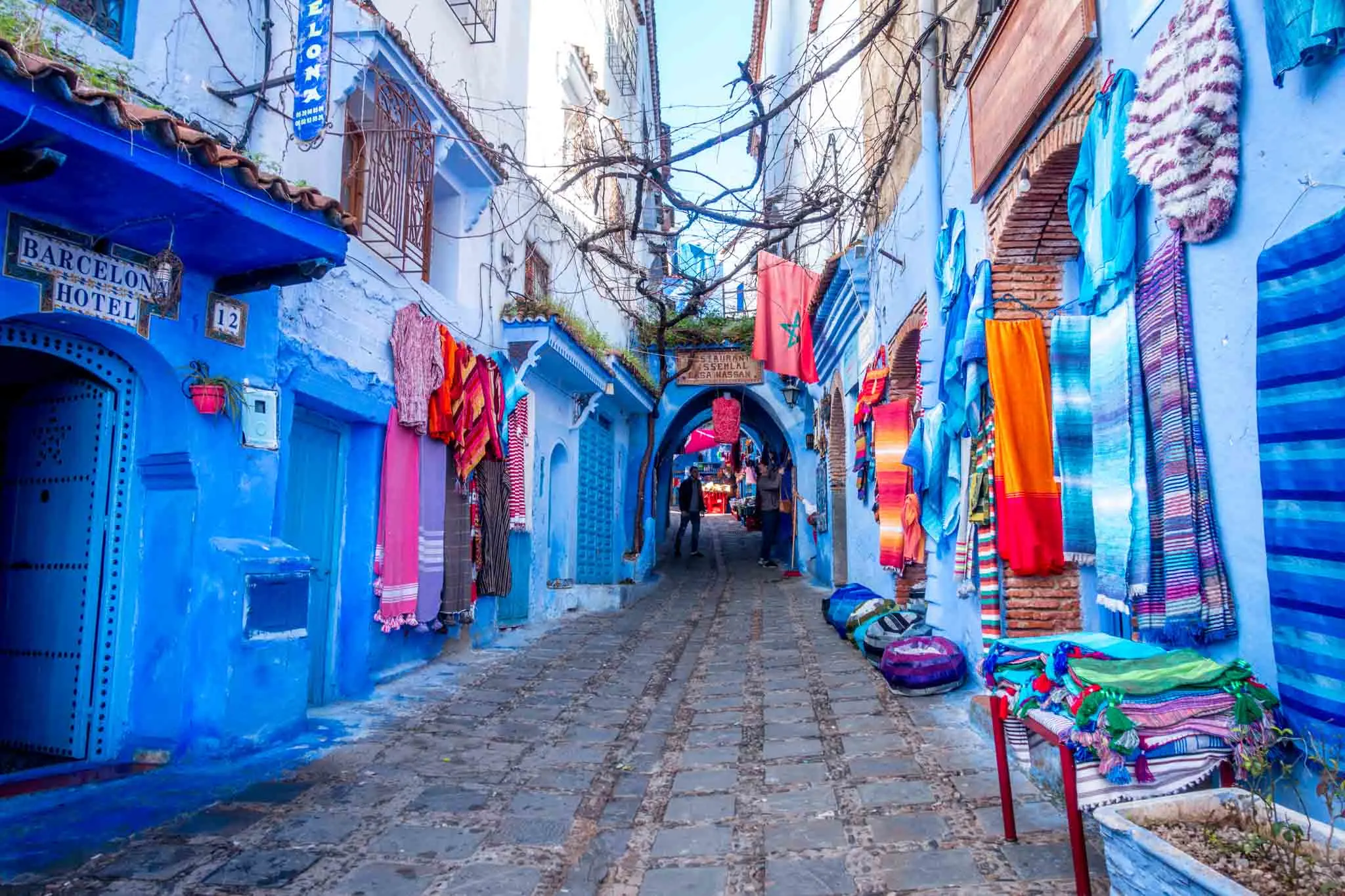 Surely the blue was temporary, I thought. Maybe the walls had been painted that way for a few photos or for a special celebration. Maybe there was a holiday that called for the color, much like the Chicago River turning green every year for St. Patrick's Day.
I couldn't imagine that there was a place where these winding and sloping streets that seemed made with photographers in mind were splashed in every cool shade of aqua and royal and sky every day of the year. But there is—Chefchaouen, the blue pearl of Morocco.
The Blue Pearl
The landscape of Morocco varies greatly from the golden dunes of the Sahara to the verdant coastal plains to the imposing High Atlas Mountains. In a spot in northern Morocco that feels fairly far from anywhere, Chefchaouen (or, simply, Chaouen to the locals) sits in the Rif Mountains—a blip of blue in a country that is largely green and tan.
See: 30 Things to Know Before Traveling to Morocco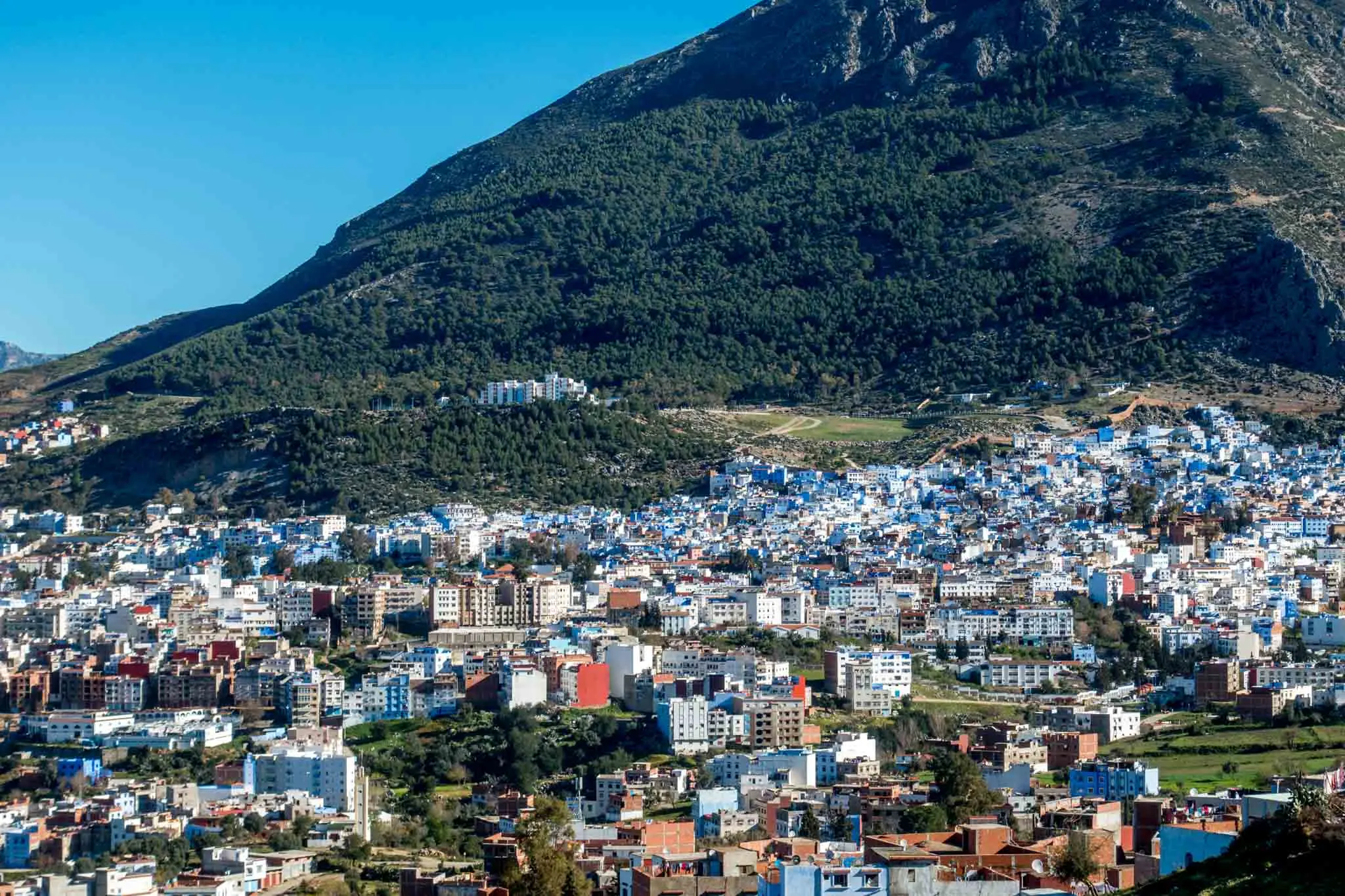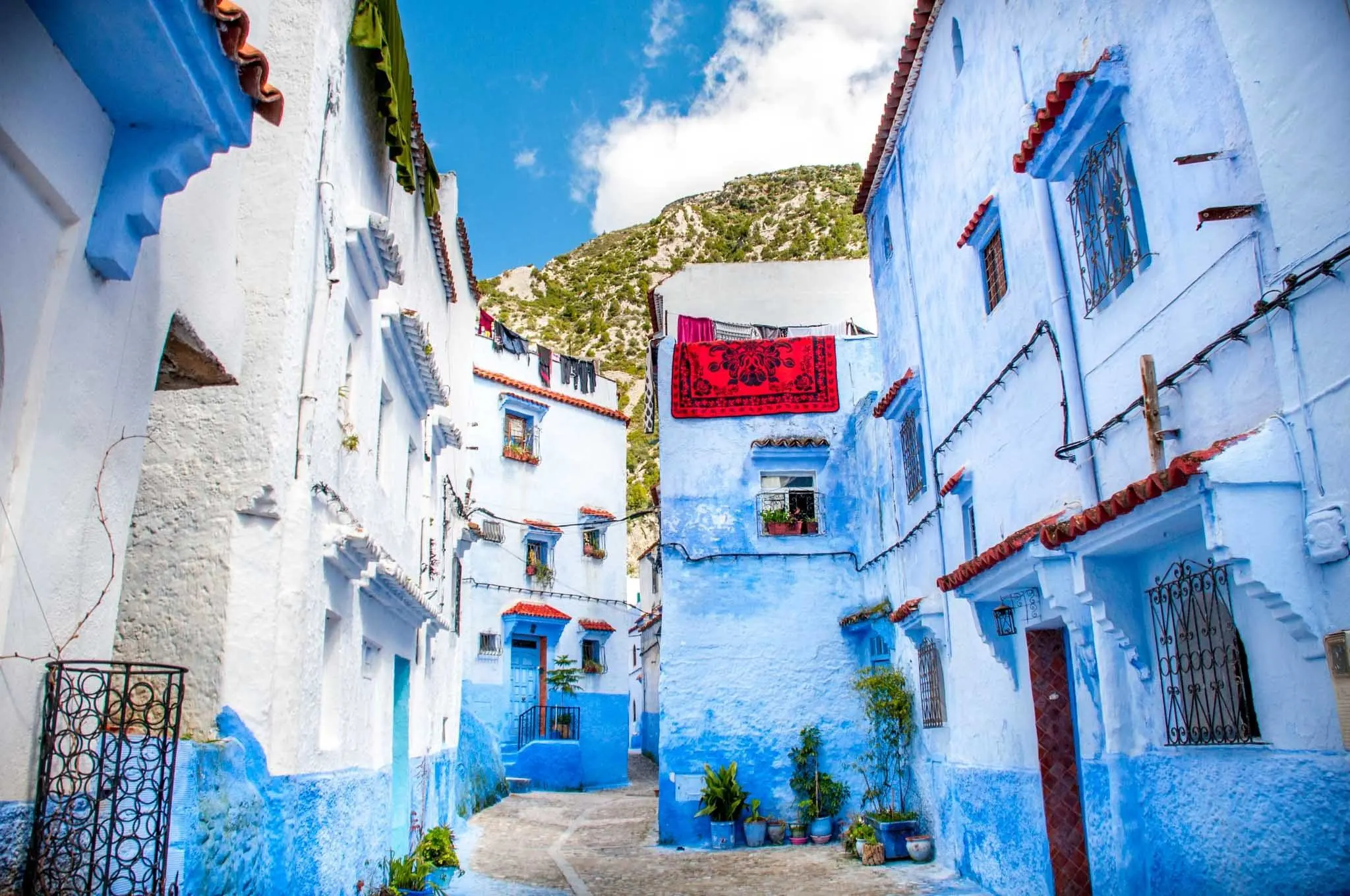 Over two hours from Tangier and over three hours from Fez, Chefchaouen isn't the easiest Moroccan city to get to. It's also not a place where you spend your days checking off a list of "things to do in Chefchaouen."
Instead, the blue city of Morocco is a place to be, to take a break from many of the tourist touts in other cities, to watch the sunset from the roof or your riad, and to lose yourself in the cool hues that grace almost every wall and doorway in town. (See the other cities and attractions we visited on our two-week Morocco trip.)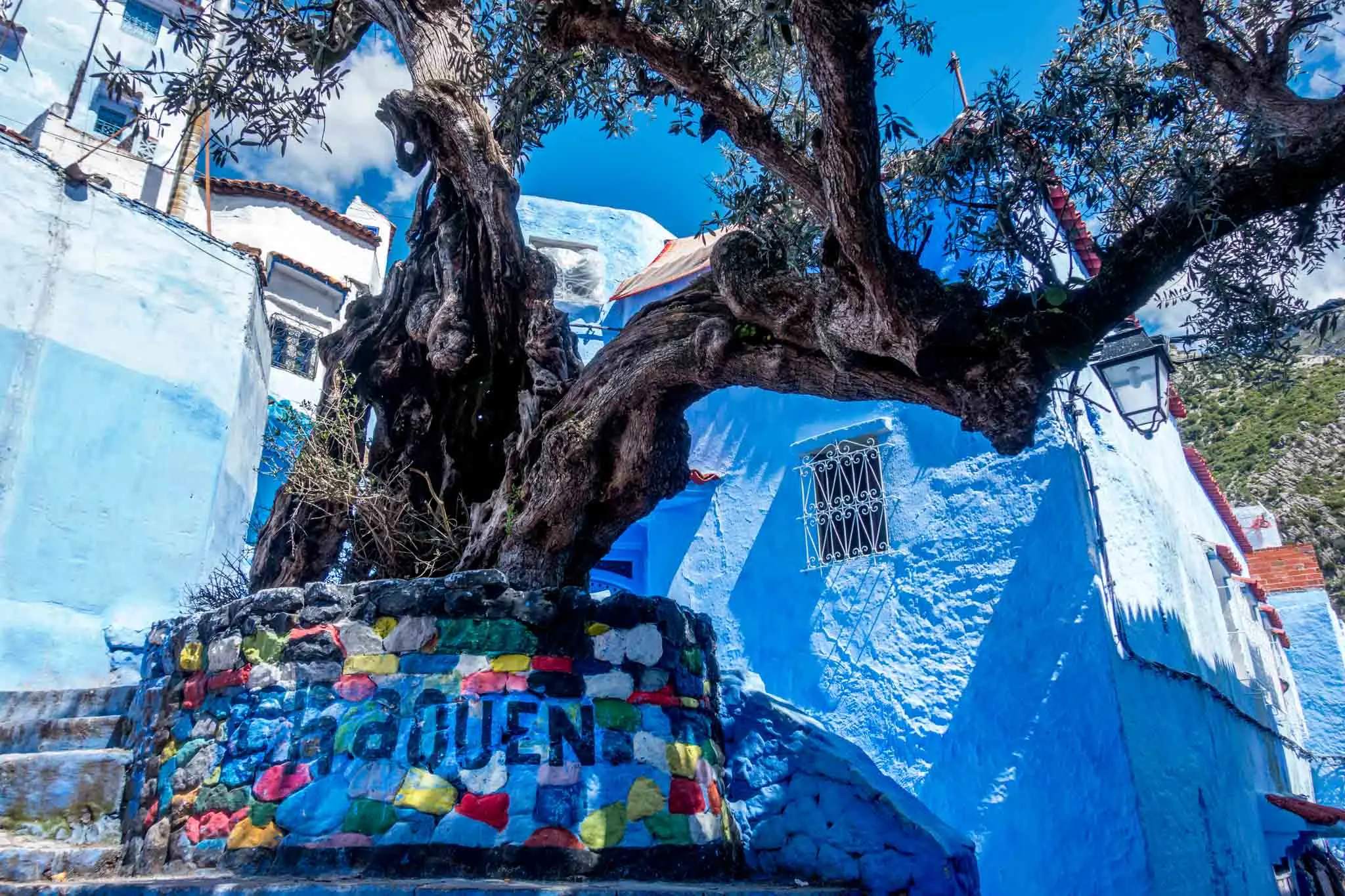 Why is Chefchaouen blue?
There are several different explanations for why Chefchaouen is blue.
Now one of the prettiest towns in Morocco, Chefchaouen was founded in 1471 as a point of defense against the invading Portuguese. Just two decades later, the city expanded with the arrival of Muslim and Jewish refugees fleeing forced conversion to Christianity in Granada, Spain. These new residents built Chefchaouen's signature whitewashed houses and courtyards with citrus trees, giving the city its European flair, which still exists today.
One story says that the immigrant Sephardic Jewish community brought with them a tradition of painting buildings blue because it reminded them of the sky and the presence of God. A different version of the story attributes the blue to the Jewish community, but this time to Jews who arrived in Morocco fleeing Hitler's incursion through Europe. A third—radically different—version says that Chefchaouen became the blue city in Morocco in an effort to repel mosquitoes and prevent malaria.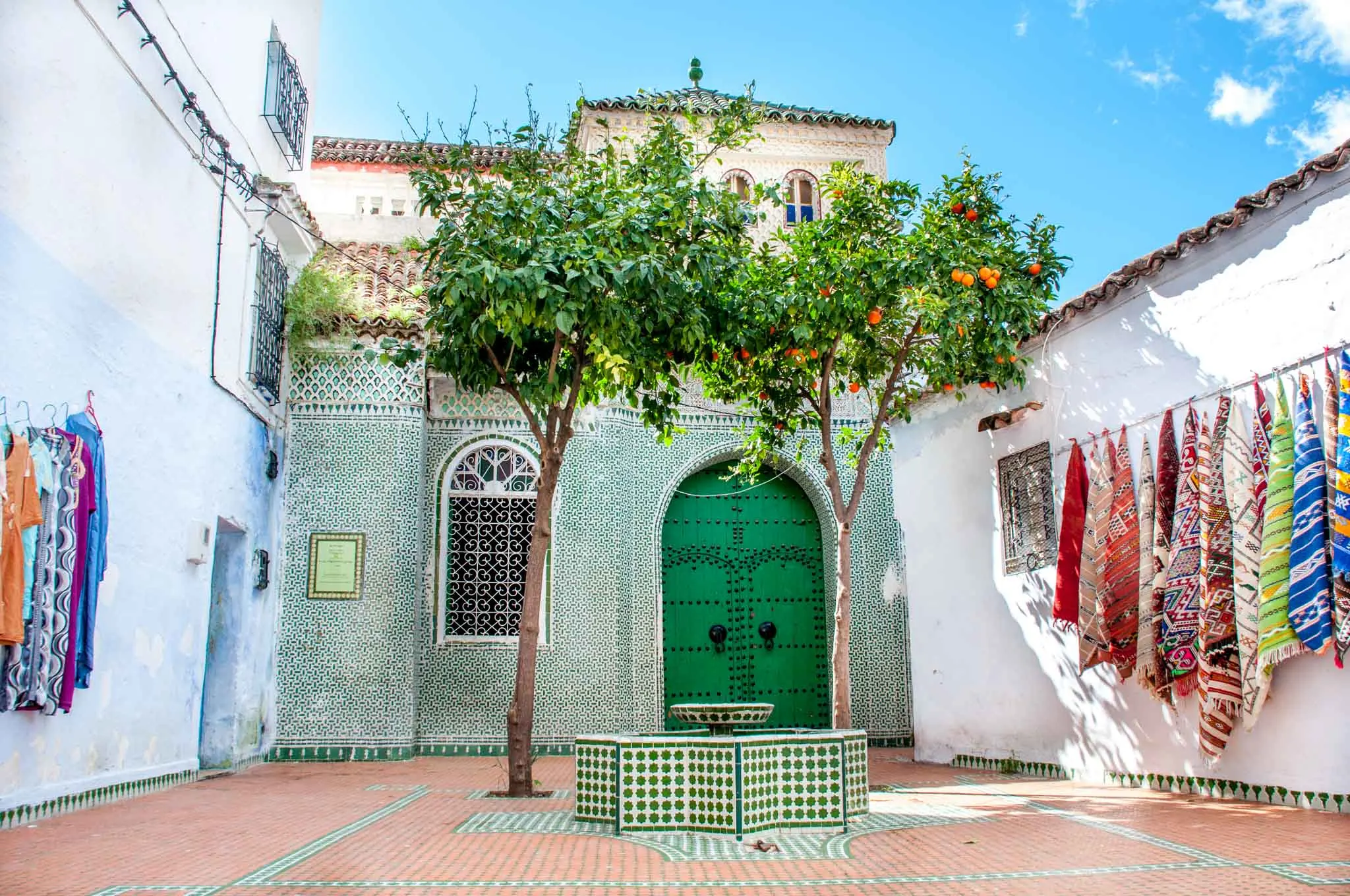 Regardless of where the tradition of painting Chefchaouen blue came from, today's residents continue the practice by regularly refreshing the colors of the gorgeous walls and doors to preserve its unique tint.
What to do in Chefchaouen
Chefchaouen is undoubtedly one of the best places to visit in Morocco. Unlike Marrakesh, Fez, or other places you may spend time on a trip to Morroco, there are really no must-see places in Chefchaouen. The city itself is the sight. Just wandering is the best thing to do.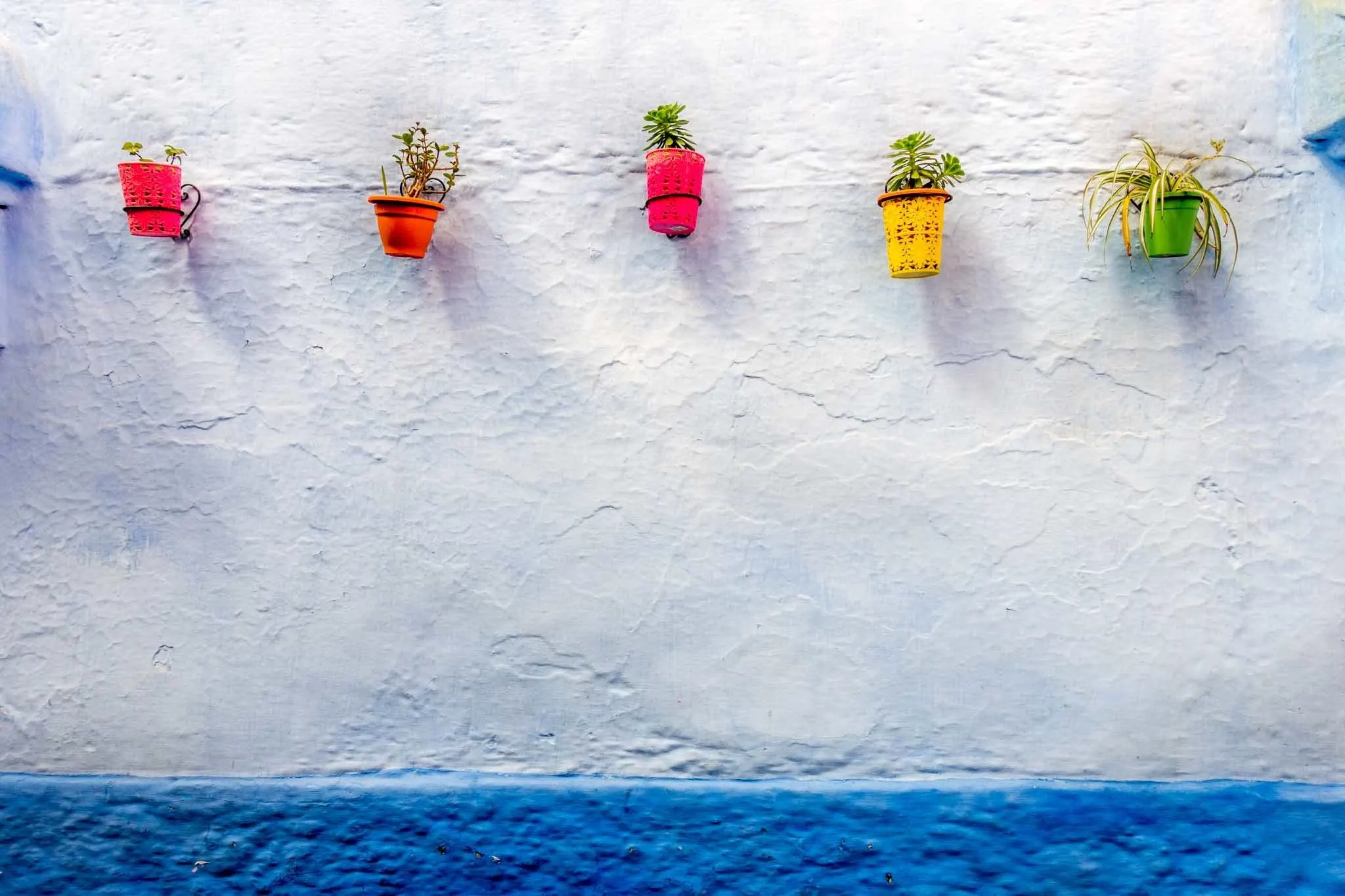 Taking photos of Chefchaouen is a dream come true. Largely shut off from the world for over 400 years beginning in the 15th century, the city feels like it's from another time. The small streets and alleys are quiet, not teeming with shops and the frenetic energy that defines other cities in Morocco. One path intersects another in the pleasantly confusing area that is the Chefchaouen medina.
At every turn, there is a new subtlety to the shades of blue, a new mosaic pattern by which to be entranced. Light and colors shift throughout the day, making it possible to walk the same streets over and over again and see something new each time. Even in the rain, the paint makes the city feel bright.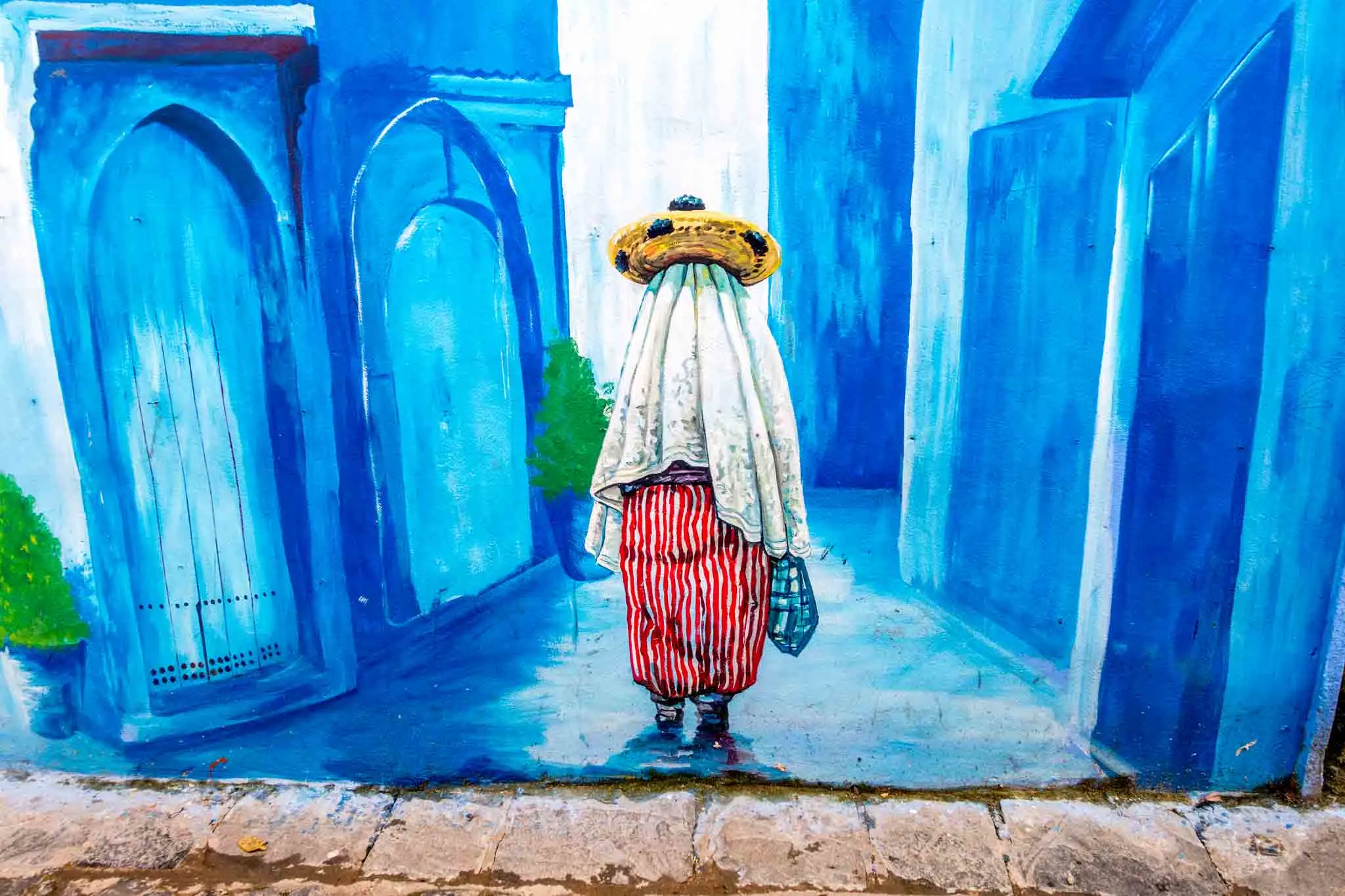 Wander up and down the stairs. Seek out new murals. Pause by the fountains. If it's Monday, Thursday, or Saturday, don't hesitate to head to the morning market to see what the local farmers have brought for sale. Grab a coffee and sit for a minute. Just watch.
Pause for an hour or two to have a leisurely lunch. Our pick is Bab Ssour, a fabulous and absurdly affordable spot just off the main square that's perfect for sampling bissara soup and other local specialties. We liked it so much, we had lunch there both days we were in Chefchaouen. We found ourselves at communal tables with Moroccans and visitors from Portugal, Ireland, and London, all comparing notes about where to go for the best views and how best to enjoy the gem that is Chefchaouen.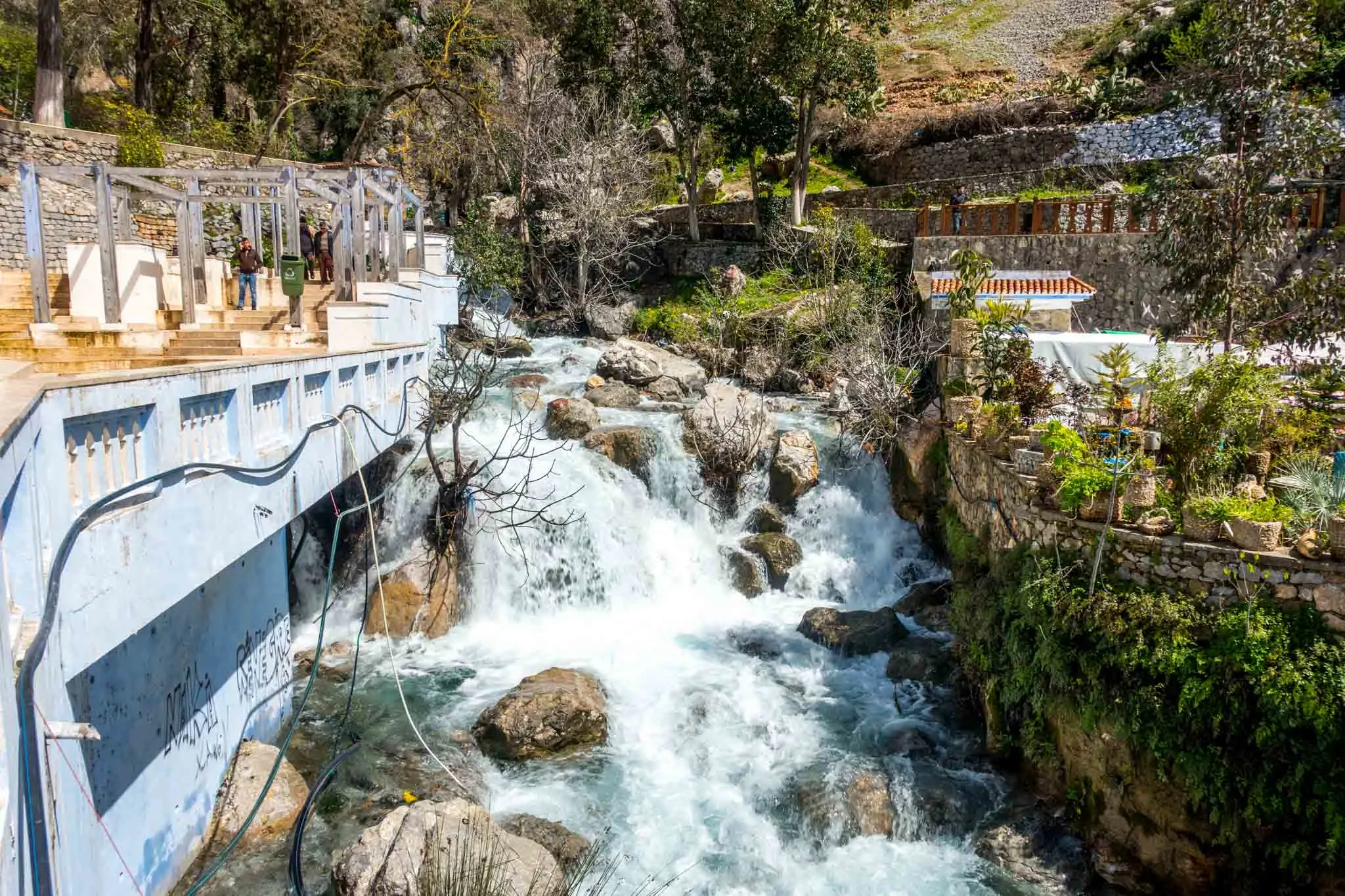 After lunch, take a walk to the edge of town to see the small waterfall. Consider a hike in the mountains rising above you or just pause for mint tea at the café near the rushing water. A good scrubbing at a hammam is always an option, or you can visit the Kasbah Museum if you're feeling anxious about not having seen enough "sites."
Evenings in Chefchaouen are just as relaxed as the rest of the day. They're about finding a spot for sunset, scoping out the best dinner option (ideally with a terrace), and people watching in the square.
The good thing about having no agenda in a city this pretty is that there is no bad choice.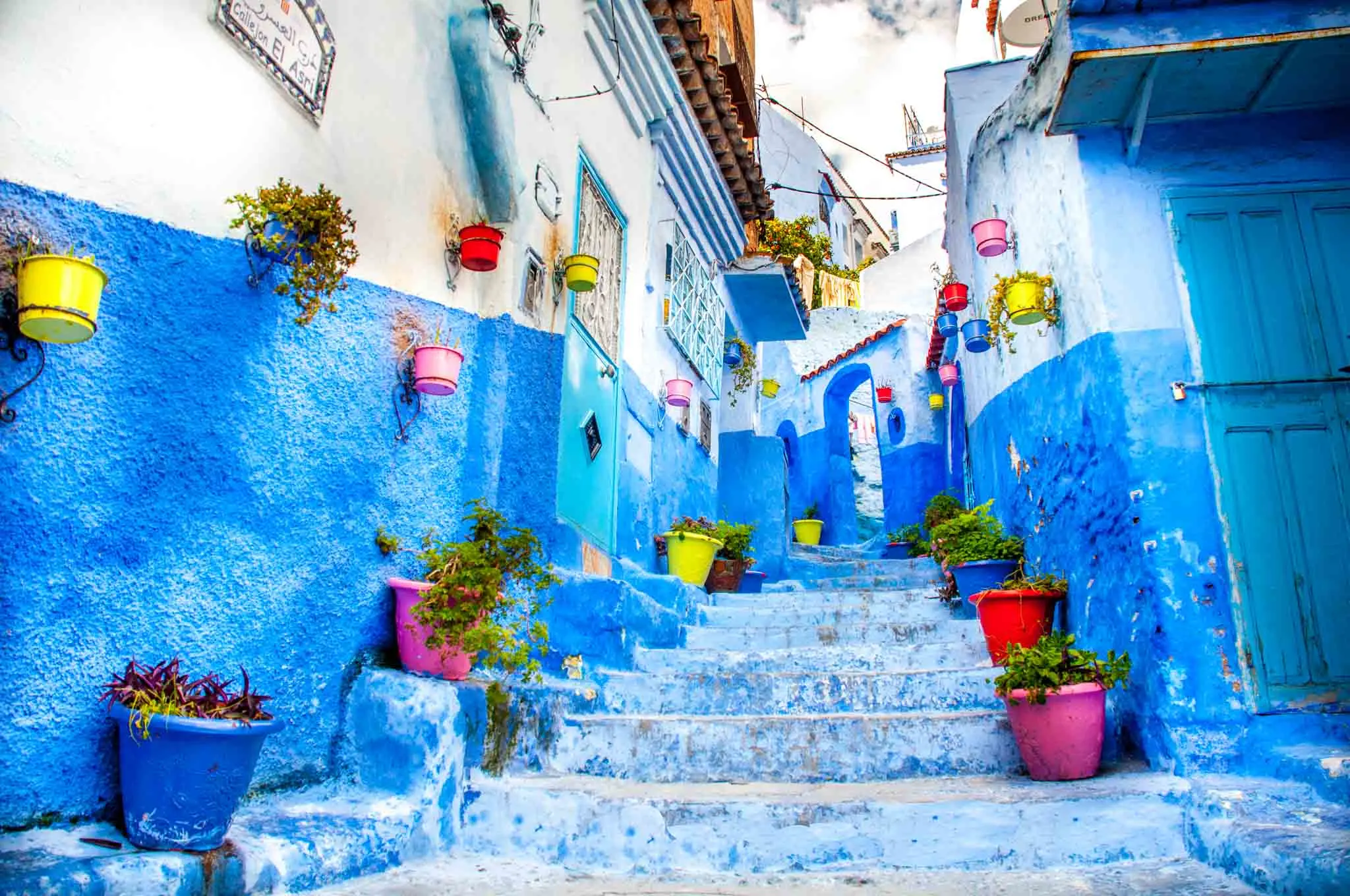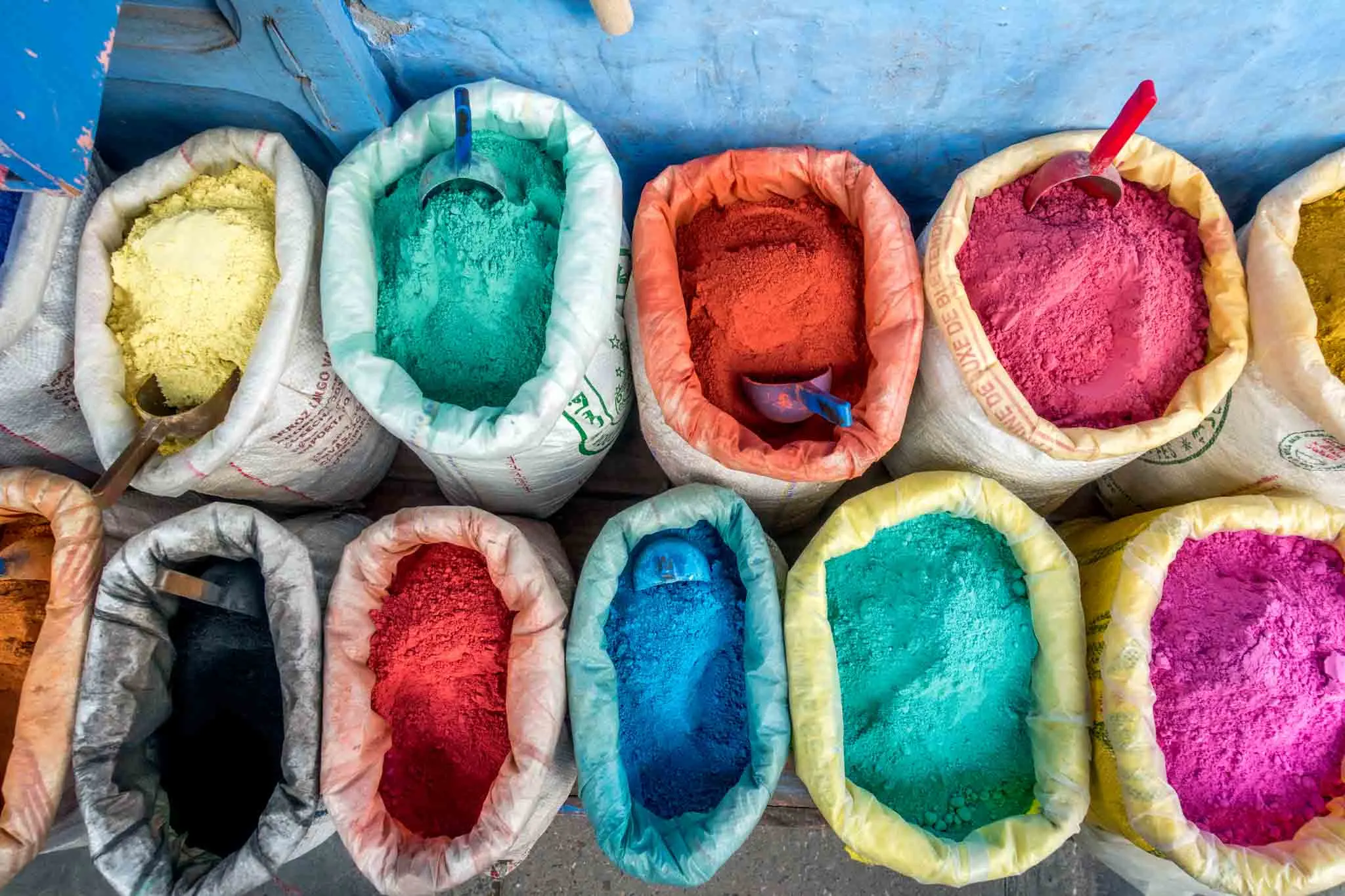 Visiting the City
Chefchaouen is not terribly close to any major city in Morocco, so getting there does take some time if you don't have a car or a driver. We chose the private transportation route for our two weeks in Morocco.
Tangier has the closest airport, and then you can take a 3.5-hour bus ride from the CTM Tangier station to Chefchaouen followed by a taxi to the city.
The bus ride from Fez is 4.5 hours. Many people visit Chefchaouen as a day trip from Fez, though we highly recommend staying a night. There are a number of private or small-group tours that can cut a bit of time off that journey.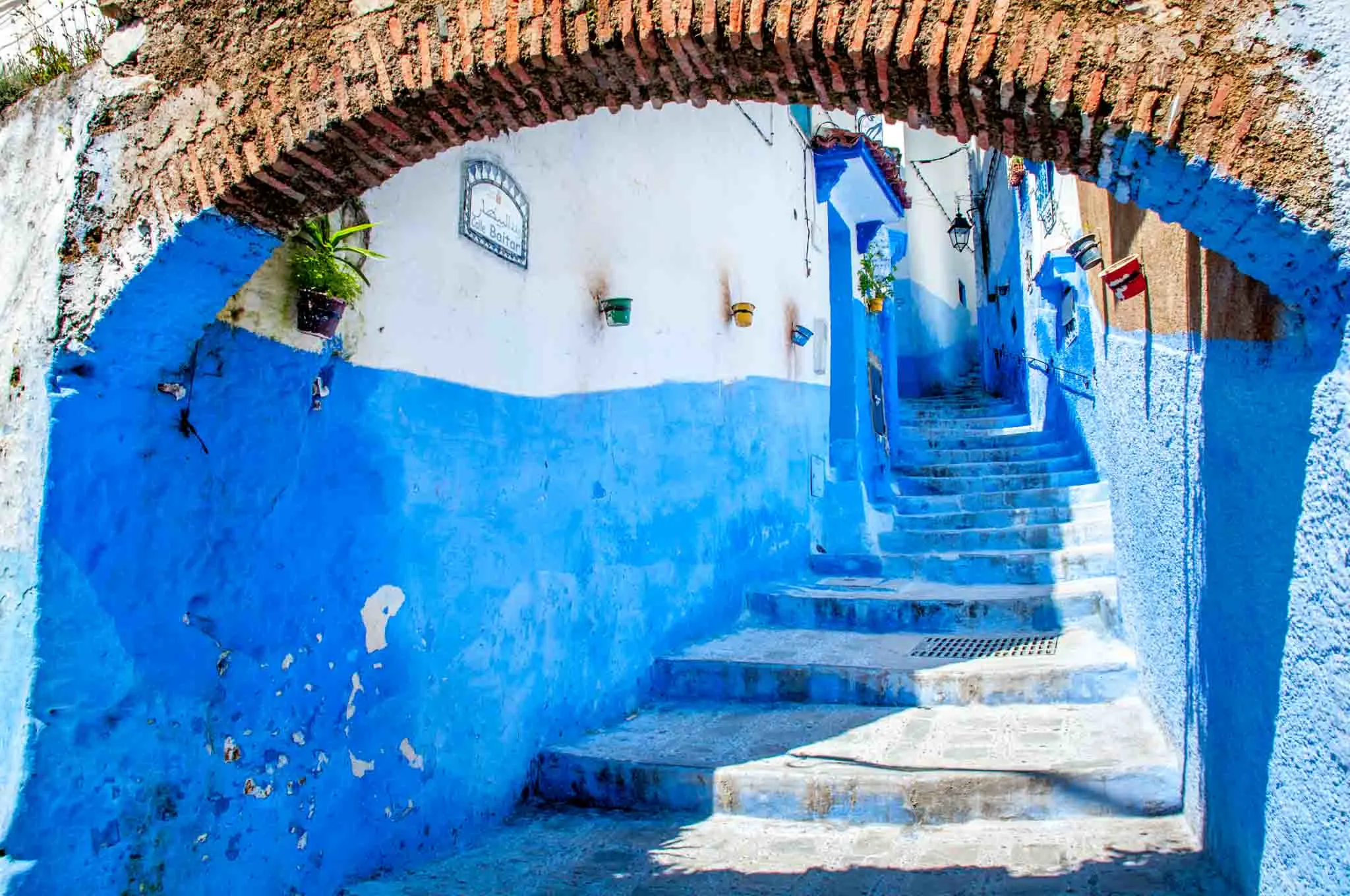 Where to Stay in Chefchaouen
Riad Hicham — Riad Hicham was the best accommodation on our trip to Morocco. Located in the Old Town, this lovely riad is not only comfortable and cozy, but the staff is spectacular. Choose the Royal Suite or the Panoramic Suite for views from a private terrace. (Read reviews and book a room)
Dar Meziana — This charming riad is designed in Andalucian and Moroccan style. Enjoy a traditional breakfast on the terrace, relax in the lounge, or take in the panoramic views of the Rif Mountains. It's one of the highest rated accommodations. (Read reviews and book a room)
Where to Eat on Your Trip
Bab Ssour — Bab Ssour is an ideal choice for lunch or dinner. The options are delicious, fresh, and very affordable.
Chez Hicham — Chez Hicham, the restaurant at our riad, has a great view and serves massive portions of couscous, tagines, and more.
Pizzeria Mandala — For a non-Moroccan option, Pizzeria Mandala is perfect.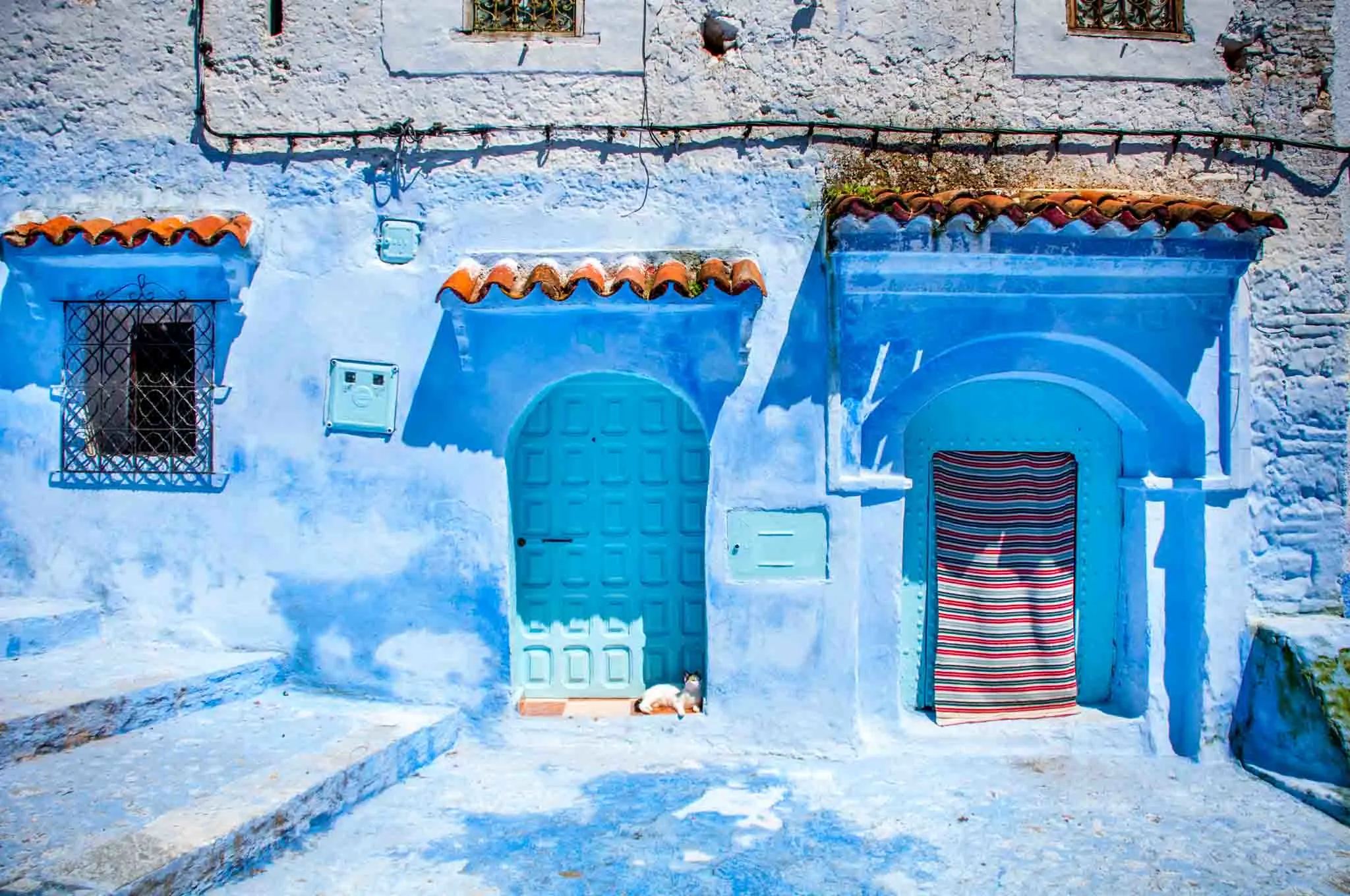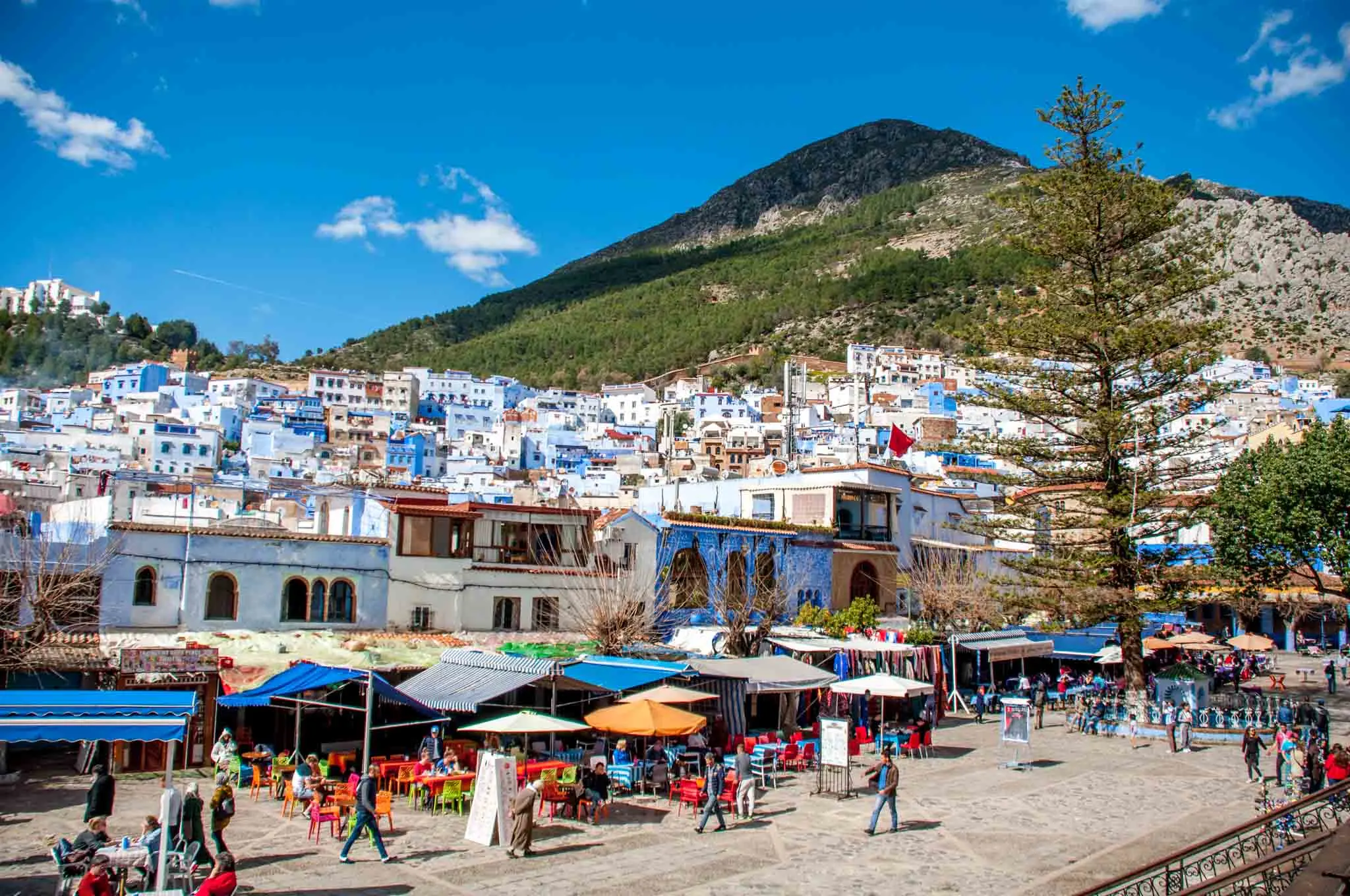 Laura Longwell is an award-winning travel blogger and photographer. Since founding Travel Addicts in 2008, she has written hundreds of articles that help over 3 million people a year get the most out of their travel. In that time, she has visited nearly 60 countries on 5 continents, often returning to favorite destinations over and over again. She has a deep love of history, uncovering unexpected attractions, and trying all the good food a place has to offer.
In addition to Travel Addicts, Laura runs a site about her hometown of Philadelphia—Guide to Philly—which chronicles unique things to do and places to see around southeastern Pennsylvania. Her travel tips and advice appear across the web.