"We're jammin', I wanna jam it wid you, We're jammin', jammin', And I hope you like jammin', too." The music of Bob Marley reached our ears as it drifted from the Reggae Beach Bar just upwind from where we had perched ourselves on recliners.
The sun was hot on our skin, but a cooling breeze rustled the leaves on the palm trees. I don't know if paradise exists, but Cockleshell Beach in St. Kitts is pretty close.
We came to St. Kitts on a holiday cruise to escape the cold of the Northeast. It was perfect actually. The cruise ship arrived in Basseterre, the capital of The Federation of Saint Christopher and Nevis (usually called St. Kitts and Nevis). We wanted to spend the day with sand between our toes, soaking up some sun and drinking fruity drinks.
Initially we looked at using one of the hotels and found that the Marriott St Kitts Day Pass allows use of the hotel's facilities, however, passes are limited and there was no guarantee of admission. We continued researching the Saint Kitts beach options and uncovered a slice of paradise: Cockleshell Beach.
What makes this place such a treasure? In most Caribbean ports, when a cruise ship comes into town, the beaches are packed. You feel like you're on top of other visitors. But this beach is over two miles long. Along its fine sand, you can find the perfect beer shack, reggae beach bar, or just a quiet stretch of sand to lay out a towel. No matter what scene you want, you can find it here.
We had researched how to get to Cockleshell Beach on the Internet and found it was extremely easy to make the trip by taxi. We arrived by cruise ship in Basseterre and found the taxi immediately on the right at the end of the pier (before going under the archway).
For a trip to Cockleshell Beach from Basseterre, the base cost is $26 for four people each way ($52 roundtrip). Each additional person is $6.50 one way ($13 roundtrip). The taxi driver who took us made a point of setting a time to pick us up and payment was exchanged on the return trip.
The drive out to the south end of St. Kitts is beautiful, particularly as we drove over the Timothy Hill. We passed Frigate Bay and the Atlantic Ocean on the left side before passing the Great Salt Pond on the right.
Truth be told, we love this place so much that we've been twice on two different cruises. The first was with Celebrity and the second was with Royal Caribbean. Of all the spots we could have chosen to visit, Cockleshell Beach made our list…twice.
During our first visit, we settled at the Reggae Beach Bar and perched ourselves on some lounge chairs under umbrellas ($10 rental for the chairs and the umbrella). Other establishments on Cockleshell Bay have free chairs, but we paid the premium for the umbrellas to prevent sunburns. Unfortunately, we were not totally successful in that endeavor.
The reasons we came were for sun, sand, and a cooling dip in the ocean. Many visitors enjoy watersport activities (sea kayaking and flyboarding) or land-based recreation (beach volleyball or massages on the beach), but we opted to just swim in the water and bake under the hot sun.
Snorkeling is also popular here, so we brought along our own snorkel equipment to see what we could find. Just a bit of sand and swimming. "Rush Slowly," as they say here. [If you are visiting, be sure to check out our guide to the best snorkel equipment for travel.]
Reggae Beach Bar also had the benefit of having waitress service for all our fruity drink and food needs. We loaded up on an ample amount of tropical fruity drinks like daiquiris and pina coladas. The bar served the local chicken roti – a traditional West Indian curried chicken burrito. It was delicious!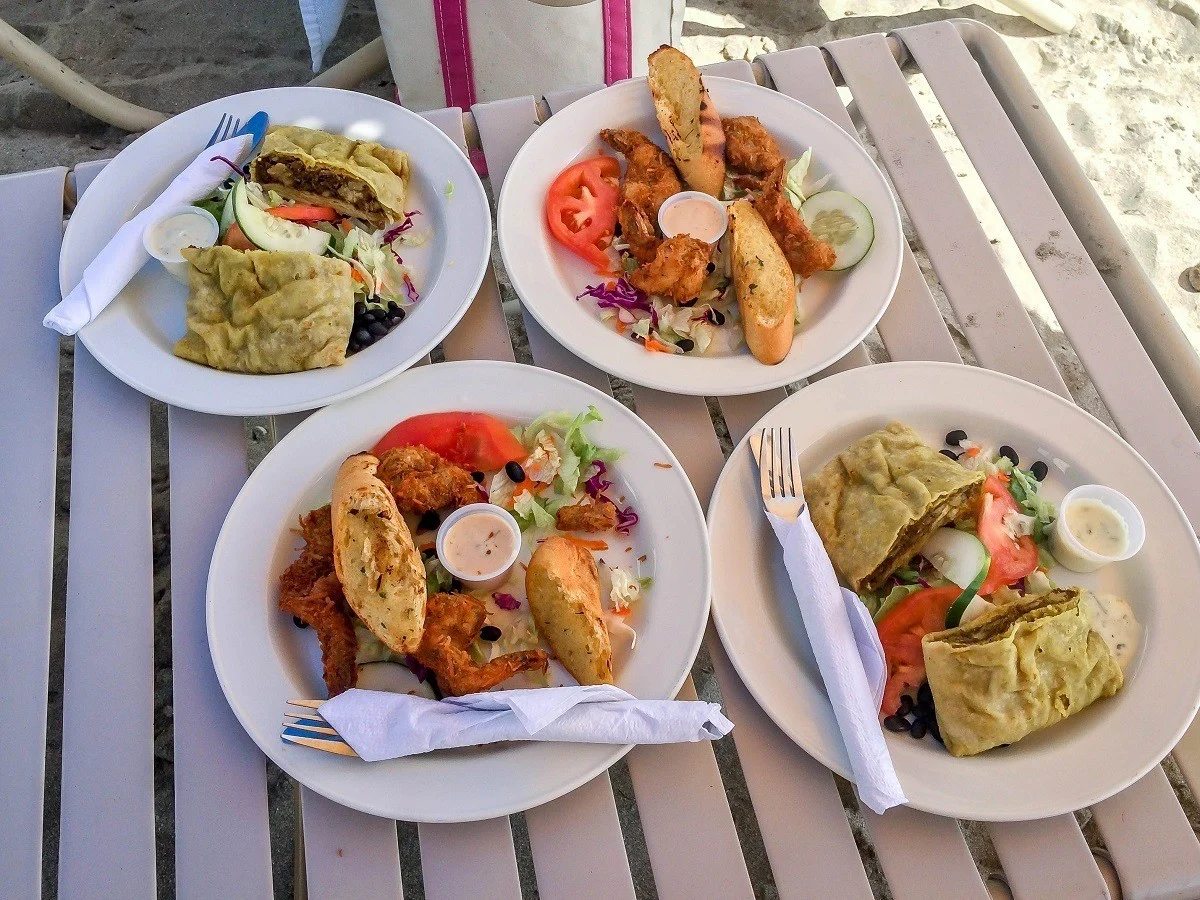 Our second visit took us to Mundo Water Sports Bar & Grill just a little farther up the sand but within sight of Reggae Beach Bar's newly-expanded offering (the bar size has doubled, and they even have a gift shop).
Mundo's was new since our last visit to Cockleshell Beach, and we liked that it was a bit quieter and we could have chairs right by the water. This time, we kept it simple with hamburgers and chicken sandwiches and made regular runs to the bar just a few steps away.
Though our angle on our second visit was slightly different, we enjoyed the sun and surf just as much. With one previous trip under our belt, we knew just what to expect here, and we were excited to return.
As Bob Marley opined, "We're jammin', And I hope this jam is gonna last." We could not agree with him more. Cockleshell Beach is just this side of paradise!
And because you can never have too many pictures of one of the best beaches in the Caribbean: