Most of our trips to San Francisco have been for business, which means we've spent a lot of time in the convention center and in the Union Square area thanks to the plethora of business hotels nearby. But that's such a very small part of what San Francisco has to offer. This time, we were excited to explore a completely different area of the city. San Francisco Mission District has its own unique eateries, a great park, brilliant street art, and more. Wandering our way through its colorful streets made for a great day.
About the Mission District
The Mission District is unique among San Francisco neighborhoods. The oldest neighborhood in the city, it was named for Mission Dolores, which was founded in 1776 and is still open to visitors. It has an unusual microclimate, which means it's often warmer and sunnier here than in other parts of the city, particularly on San Francisco's famously foggy days.
Beyond its history and weather, the Mission also has a special mix of residents and influences—leaders of the area's Latin American community share the neighborhood with artists, students, and an ever-increasing number of restaurateurs and small-business owners. Corner bodegas and taquerias butt up against galleries and pricey boutiques. It is eclectic, artsy, and a great location to discover new, fun places and things to do in San Francisco.
What to do in the Mission District
Chile Lindo
Any good neighborhood tour starts with a snack…and continues with snacks throughout the day. First stop: Chile Lindo.
The Mission District is known for Latin American food, and Chile Lindo is an ideal place to try it. This colorful empanada joint is a hole in the wall, serving customers its goodie-filled pastries right at the door (though we hear there are stools sometimes).
They make six types of traditional Chilean empanadas, including chicken, ham and cheese, and vegetarian and vegan options (which are similar to the ones we tried in Peru's Sacred Valley). We opted for the traditional Niman Ranch beef empanada, which includes raisins, olives, and sliced hard-boiled egg. This was the first time we'd tried that flavor combination, and it was unexpectedly delicious. Location: 2944 16th Street
Clarion Alley
Since 1992, Clarion Alley has been decked out in vibrant, unusual, and symbolic murals painted by the Clarion Alley Mural Project. Every October (and sometimes in between), volunteer street artists create a fresh group of works in this two-block stretch that cover just about every topic of imaginable and fanciful. There are often as many as 50 works to see here, transforming the blocks into a brilliant outdoor gallery.
From Toronto to Ecuador, we've seen a lot of street art on our travels, and Clarion Alley has definitely made it on to the list of our favorites. Location: between 17th and 18th and Mission and Valencia
Mission Dolores Park
Named for nearby Mission Dolores, the 16-acre Mission Dolores Park is one of San Francisco's most popular parks. Its soccer fields, tennis courts, and playground are almost always filled with city dwellers enjoying the open space.
On nice weekends, as many as 10,000 people stop through the park to walk their dogs, attend events, or just lounge on the hillside with the lovely view of the city. Location: two blocks south of Mission Dolores at the western edge of the neighborhood.
Dandelion Chocolate
After a couple of non-food stops, it was time for another snack. This time, the destination was the fabulous Dandelion Chocolate. What attracted us to much to the café was not just the obvious chocolate (because, yum), but the amount of care and preparation that goes into everything Dandelion Chocolate makes.
Using cacao beans from the Dominican Republic, Venezuela, and Madagascar, Dandelion Chocolate does everything else—from roasting to tempering to formulating their outstanding bites—by hand. And lots of the process is visible in the shop. Delicious things are great, but they're even better when made with love and a dose of education on the side. Location: 740 Valencia Street
Mission Minis
In all our research about San Francisco activities, Mission Minis seemed to pop up everywhere. Even though the shop was a few blocks out of the way from the rest of our stops, we were compelled to make a visit. I mean, they're cupcakes. And they're cute. And at only $1.50, they're almost impossible to pass up.
Baked fresh daily, these little gems come in flavors like ruby red velvet, peanut butter kiss, and pumpkin spice. We chose cinnamon horchata, Aztec chocolate, and double chocolate as treats to take back to the hotel, and we loved every bite. Location: 3168 22nd Street
Pirate Supply Store
The tongue-in-cheek Pirate Supply Store bills itself as "San Francisco's Only Independent Pirate Supply Store," perhaps to distinguish it from all those chain pirate supply stores… Its shelves are filled with scurvy medicine, eye-patches, whale feed, and guides to naming your ship. You can also find a pirate's code of conduct poster and all manner of things made from rope.
It's all done in good fun to support the nonprofit services offered in another part of the shop and in classrooms across the city—providing writing resources and tutoring to children ages 6 to 18. Location: 826 Valencia Street
ABV
One of a crop of classic cocktail bars in the Mission District, ABV is subtle in its greatness. It is crafty (in a cocktail kind of way) without being overly pretentious or hipstery. This is to say that they make fabulous three- or four-ingredient drinks and serve lots of tasty small bites. There's a reason they won the Best New American Bar award.
There are enough reclaimed wood and distressed items to make ABV feel approachable but not so many that they seem to be trying too hard. We tried the Land's End cocktail (rum, dry curacao, lemon, and raspberry) along with the tangy fish tacos. If we lived in San Francisco, this would be our go-to place. Location: 3174 16th Street
More Things to Do in the Mission
Our visit was short, but there are hundreds of other places to eat, things to see, and experiences to have. Here are just a handful of others worth checking out.
Foreign Cinema
Despite the name, this popular place is not actually a movie theater…but they do show movies. With a massive wine list and unique architecture, Foreign Cinema has been feeding guests for over 20 years. The "cinema" comes from the movies played on a huge projector screen while you eat. Location: 2534 Mission St
Bookstores
The Mission is one place bookstores are still popular despite the rise of online ordering. Check out the vast selection of new and used books at Dog Eared Books. This charming shop, which features local artworks, has been a San Francisco institution since 1922. Across the street, Borderlands Books is the place for fantasy and science fiction readers. Location: 900 Valencia St.
The Chapel
This unique venue is an old church converted into an awesome restaurant and space for music. You can eat a stellar meal, grab a drink, and listen to live music all at once. Location: 777 Valencia St
Festivals
It seems like there's something fun and unique happening every weekend in the Mission District. Just a few of the highlights…
In April, the Latin American community celebrates the birthday of Cesar Chavez with a large parade and festival. The last weekend in May, it's all about the Carnaval Parade and its magnificent costumes, street performers, food, and crafts. The fall brings SF's only Greek food festival at the Annunciation Cathedral. Every November 2, cultural heritage is again at the center with a memorial procession and altars in Garfield Park that celebrate loved ones on the Day of the Dead.
Getting There
Take BART to the 16th Street or 24th Street Mission stop. The MUNI J train goes to Church and 18th Street. The 12, 14, 22, and 33 buses also make stops throughout the neighborhood.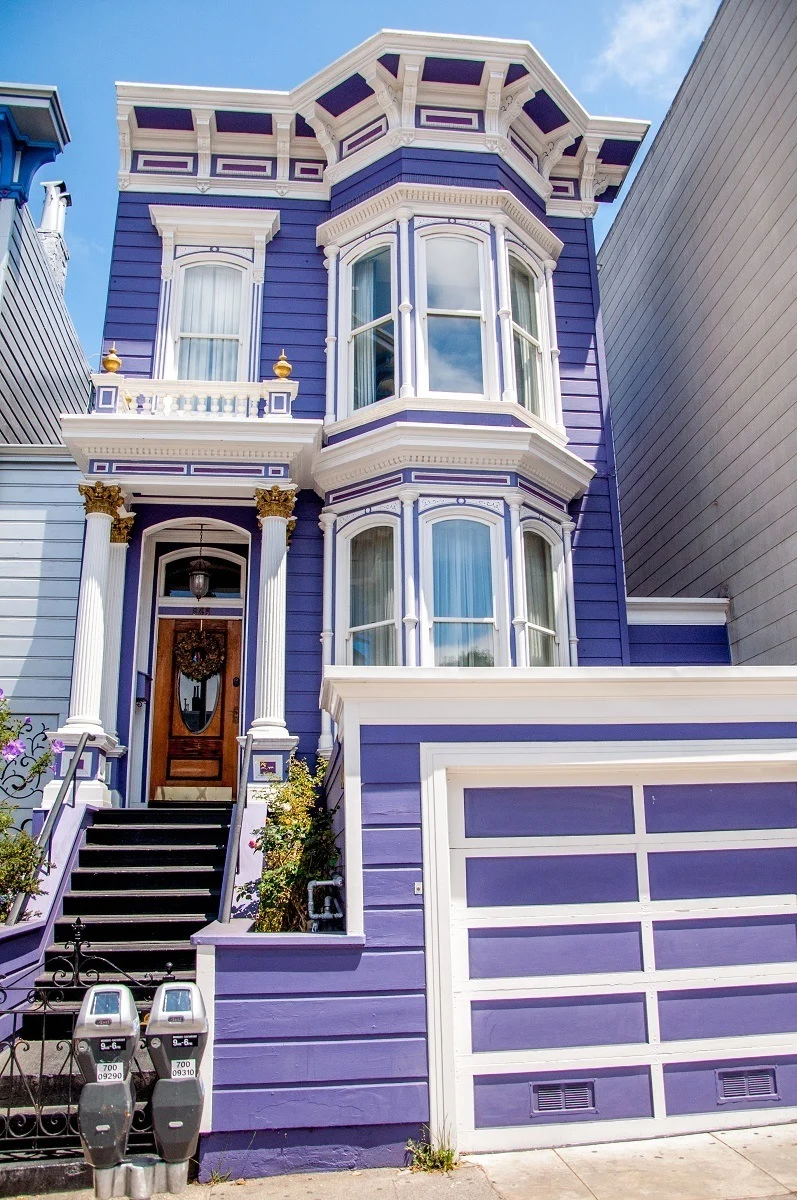 Where to Stay
Noe's Nest Bed & Breakfast — Between Noe Valley and the Mission District, Noe's Nest offers comfortable accommodations in a Victorian home. With large rooms, a garden lounge, and complimentary breakfast, Noe's Nest is a great alternative to a chain hotel. (See reviews and check prices)
Nineteen 06 Mission — This eco-friendly hotel just 2 minutes from the closest BART stop is a convenient place from which to explore the SF Mission, the trendy Soma neighborhood, and beyond. (See reviews and check prices)
Inn San Francisco — In a beautiful Victorian mansion from the 1870s, Inn San Francisco offers sumptuously-decorated rooms and a generous breakfast buffet. Guests love the hot tub and the sun deck. (See reviews and check prices)
Laura Longwell is an award-winning travel blogger and photographer. Since founding Travel Addicts in 2008, she has written hundreds of articles that help over 3 million people a year get the most out of their travel. In that time, she has visited nearly 60 countries on 5 continents, often returning to favorite destinations over and over again. She has a deep love of history, uncovering unexpected attractions, and trying all the good food a place has to offer.
In addition to Travel Addicts, Laura runs a site about her hometown of Philadelphia—Guide to Philly—which chronicles unique things to do and places to see around southeastern Pennsylvania. Her travel tips and advice appear across the web.