While much of a trip to Disney World is targeted at making children's dreams come true, there's plenty for adults to do at all the Disney parks. But Epcot has offerings that are totally different than some other Disney attractions—namely, alcohol. And lots of it. On our most recent trip to Epcot, we decided it was time to drink around the world.
Guide to Eating and Drinking at Epcot
Drinking in all 11 of the countries in Epcot's World Showcase (i.e, the basis for "drinking around the world") takes some planning. And some self-awareness. After all, this is a family-friendly location, and you may still need to drive back to your hotel. That's why this post is actually about both eating and drinking around the world. The food at Epcot is not only good, but noshing along the way helps keep you full…and sober.
In addition to eating as you drink around Epcot, make sure you take your time. If you begin when the World Showcase opens in the morning, you will have ample time to snack, drink, and enjoy all the Epcot attractions before the evening fireworks. Sharing drinks can also be a great strategy to trying more while saving money. And saving your liver.
Mexico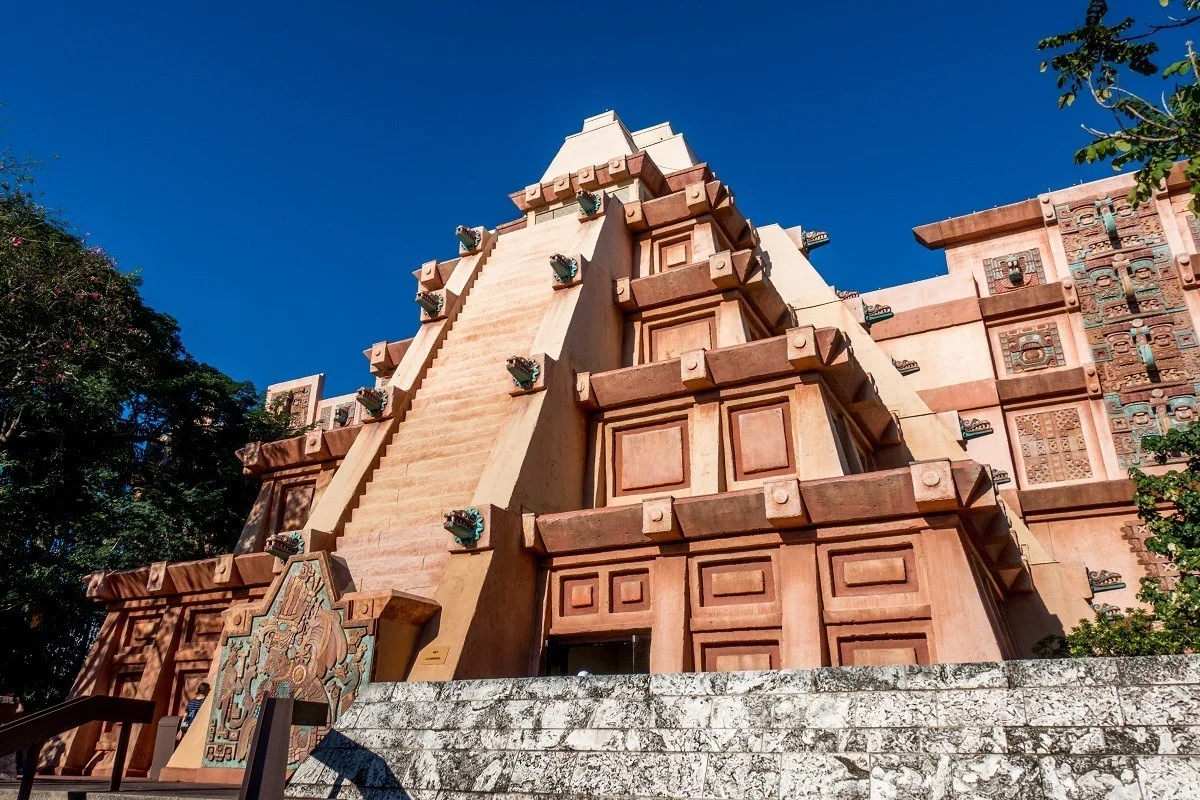 Mexican food is—by far—our favorite type of food. I mean, I'm a Texan, so it's probably genetic. Thank goodness, then, that Mexico is the first stop in the World Showcase.
Skip the plastic cup margarita stands and head inside the temple to La Cava del Tequila. Their tequila list and selection of specialty margaritas is top-notch. We went straight for the blood orange, but the avocado option seemed to be a popular choice, too, judging by our fellow patrons.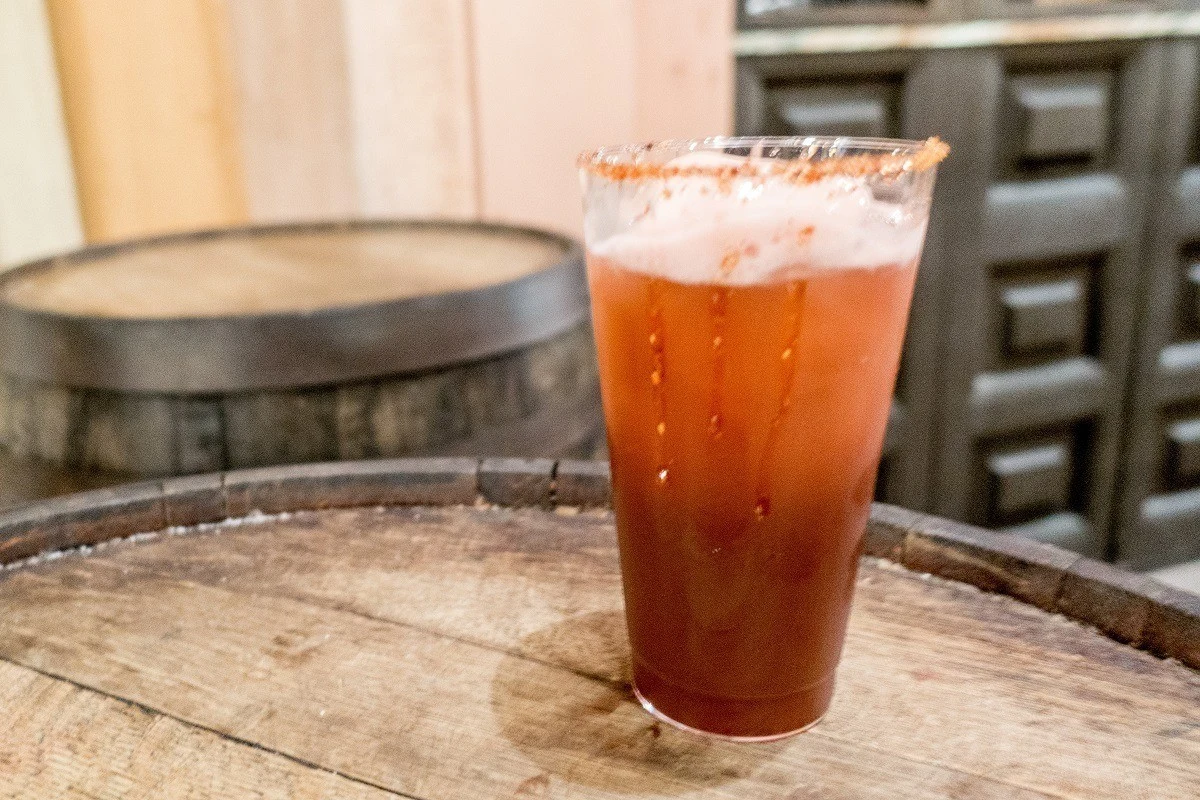 Norway
Norway (aka the land of Frozen) is the tour's next stop. If you need a little pick-me-up, opt for Viking Coffee at the bakery or one of the many rolls, cream puffs, or other treats. If you're up for another adult beverage, Danish Carlsberg beer is refreshing on a hot day. Shots of the Scandanavian spirit Aquavit are also on offer, but there's way too much fire-and-herb taste in that for our liking.
China
It's impossible to miss the beautiful China pavilion as you continue your way around Epcot's lagoon. Not only do they often have performers right out front, but the bright colors and distinctive architecture will surely draw you in. At least they did for us.
By the time we reached China, it was definitely time for a snack. We skipped the meals at Nine Dragons restaurant (although they looked tasty) and headed to the back of the pavilion for some Chinese take-out. Yay for spring rolls!
One huge upside to stopping for food in China was that it wasn't nearly as crowded as some of the other countries, at least on our visit. To continue the "drink around the world" tour, check out the specialty cocktails and teas at the Joy of Tea kiosk. The Peach Snap! (with schnapps) was a favorite.
Germany
The Germany pavilion is one of the more popular stops on a tour around Epcot. It's sort of synonymous with beer and wine. There is no shortage of options from the alcohol carts and kiosks serving beverages and sausages to the quick-service restaurant Sommerfest. You can even do a wine-and-cheese tasting featuring some of Germany's best offerings. Try the Riesling or pretty much any of the available beers. The staff is happy to make recommendations.
If you haven't eaten already, Germany is an ideal place to stop. The bratwurst and pretzels are excellent options here and remind us of our favorites in Bavaria, but we tried out the currywurst and were not at all disappointed.
There's also a shop featuring everything you can imagine covered in Werther's caramel. I've loved the Germany pavilion since my first visit to Epcot (over the age of 21, anyway) when I found they carry the same gluhwein (mulled wine) that's sold in the Christmas markets of Nuremberg. This is a perfect stop for an alcoholic souvenir or any other German memorabilia you're looking for.
A note: Germany is also the first stop on the "Wine Walk." For $32, you get 6 2-oz. wine pours from a selected menu—two each in Germany, Italy, and France. It could be a good value if you're hoping to taste-test around Europe.
Italy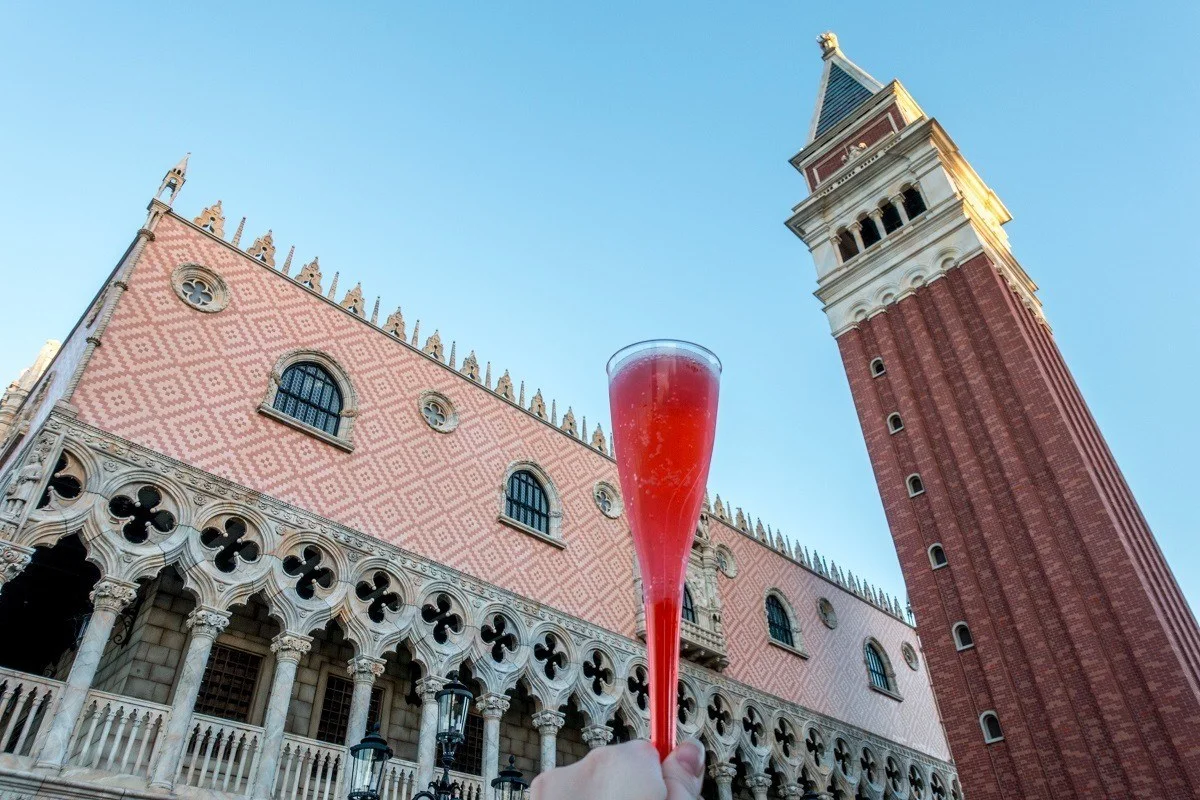 Of course Italy is known for its wine. In fact, the Tutto Gusto wine cellar here has more than 200 bottles of Italian wines available. You can try some of the selections in flights, if you're feeling particularly indecisive or adventurous. We chose a sweeter offering—a bellini with raspberry puree and limoncello, topped with prosecco. Although it was a touch expensive for the portion size at $12, it was delicious.
Food options in Italy are plentiful but not quick, as everything is a sit-down meal unless you want gelato. Pizza is a good choice at Via Napoli, and Tutto Gusto has a fabulous selection of antipasti. In our experience, it's hard to go wrong at either place. The food quality here (and throughout Epcot) is much higher than most people might expect.
America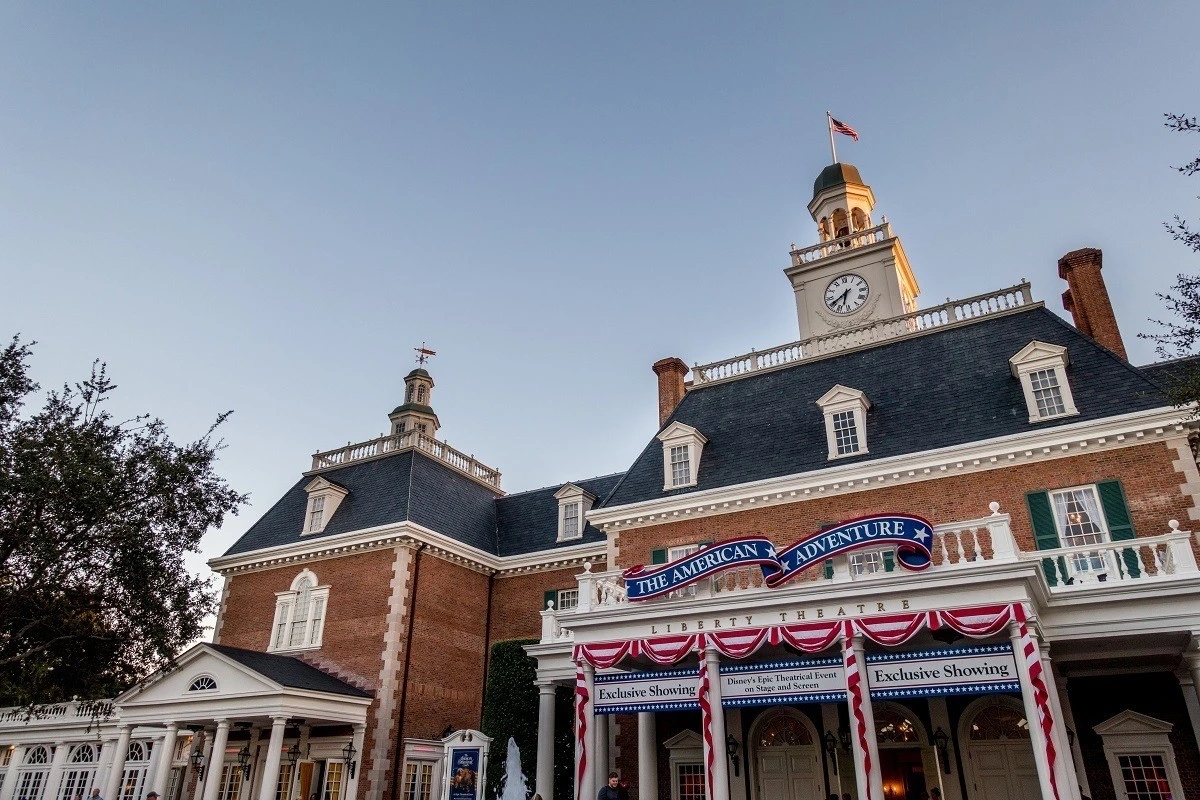 California wines and craft beers abound in the American Adventure pavilion as choices for drinking around Epcot. Of course there are offerings in the restaurants, but the easiest place to grab something quick is the Block & Hans kiosk to the far side of the pavilion.
Block & Hans has a variety of craft beers and my personal favorite—cider. We can endorse the McKenzie's Black Cherry Hard Cider and the Breckenridge Vanilla Porter as strong options. Serve alongside a funnel cake, if you so desire. For those looking for something a little heartier, we heard that the pulled pork sandwich and the lobster roll were good, but we didn't have the room to try them.
Japan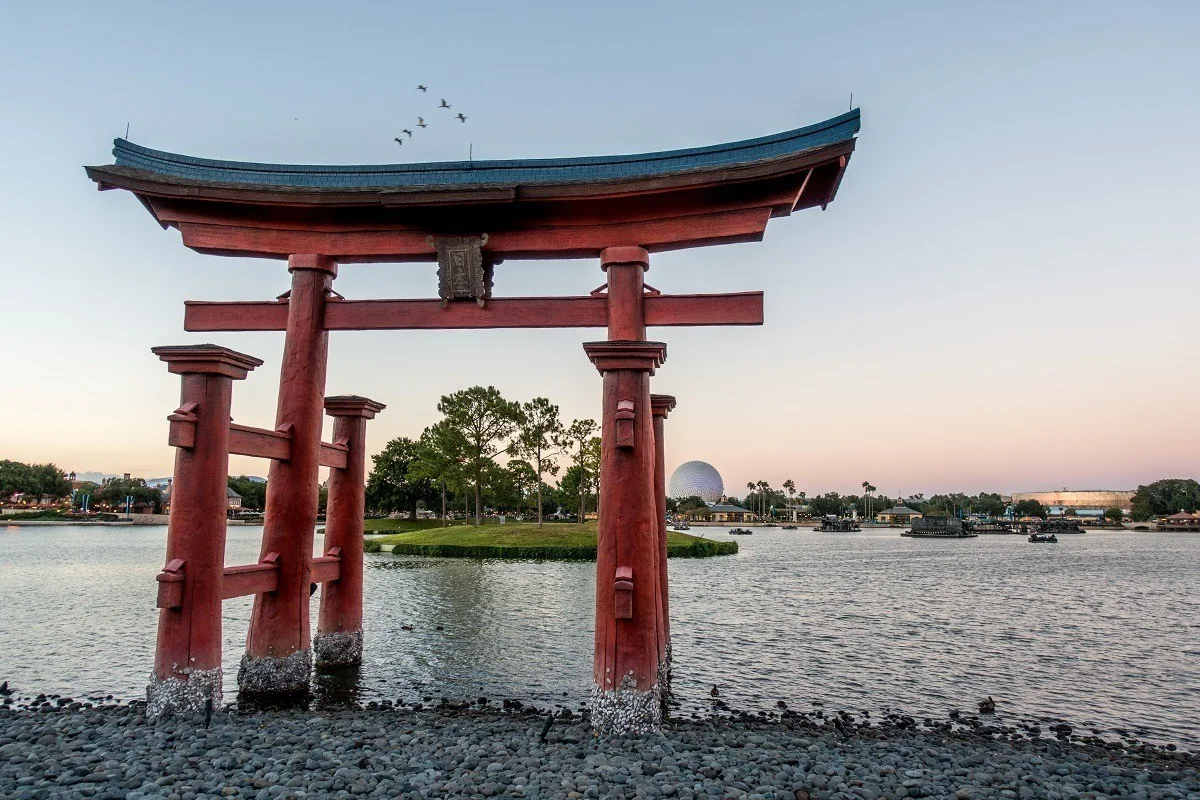 In Japan, the best bets are the traditional beverages—plum wine or sake, an alcohol made from rice. Some of the more adventurous options like frozen Kirin may sound intriguing, but this is a place to stick by the proven winners (i.e., not a beer slushie). The Kabuki Café (actually a kiosk) has a few good choices for snacks. Try the edamame or the sake mist, an alcoholic take on shaved ice.
Morocco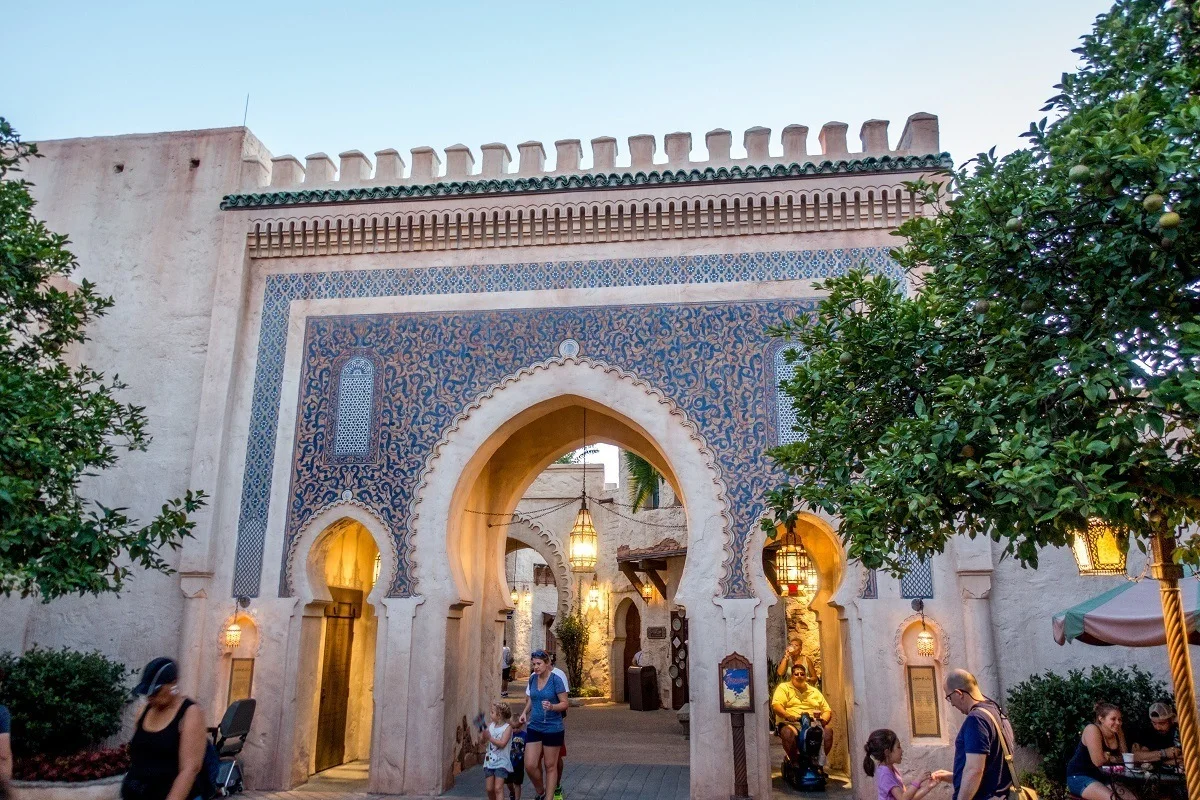 The Morocco pavilion is the only pavilion in the World Showcase for which the country's government contributed to its design. That helps explain the colorful mosaics, the realistic-looking minaret, fountains, and other features highlighting the beautiful aspects of this North African country. Still, the idea of cocktails in Morocco (a country where alcohol is hard-to-come-by) is a little strange to me and a reminder that although Disney has some great offerings, some things are far from authentic.
Putting my doubts aside, the signature sangria—available in white, red, or sparkling—is the best choice, although there's a full array of cocktails and beers to choose from. If you haven't eaten in awhile, stopping here for a bite to eat may be a better option than imbibing. The falafel is fabulous, and the lamb sliders, hummus, and baklava are also filling choices.
France
If you've been saving yourself for a splurge in France, you will not be disappointed. Of course there are wines galore at the Monsieur Paul restaurant and Les Chefs de France brasserie as well as kiosks and carts. But you can try wine anytime.
We bypassed the selection of vin and headed straight for the Champagne Kiosk for the boozy creamsicle known as the Grand Marnier Orange Slush. The name pretty much describes what's in it but doesn't fully convey the orangey-vanillay goodness of this cold treat. A must try. If you're hungry, scout out the crepes, a croque monsieur, or a chocolate macaron ice cream sandwich.
United Kingdon
In the UK, the Rose & Crown pub is the place to go for a drink. They have beers on tap and scotch flights, including a selection of single malts. Some of their most popular offerings are the pub blends like the Snake Bite (Cider and Harp), the Bumblebee (Boddingtons and Guinness), and the Black and Tan (Bass and Guinness).
There wasn't room to eat at the popular Rose & Crown, so we went nearby to the Yorkshire County Fish Shop, which focuses almost exclusively on fish and chips. Piping hot and with a light, crispy batter, it's no exaggeration to say that these fish and chips were better than some we've had a sit-down restaurants in London and Ireland. Give them a try!
Canada
The highlight of the Canada pavilion is Le Cellier Steakhouse. One of Disney World's best restaurants, reservations here are often made up to a year in advance. Needless to say, that one wasn't in our plans for this trip to Florida.
An alternative—at least when it comes to the beer—is the kiosk outside. You can find Labatt Blue, Moosehead, and La Fin Du Monde. There are also a couple of cocktails available, along with straight Crown Royal Maple Whisky, which is really very good.
Our recommendation? If you've made it all the way around the world, you may be a little tipsy by this point, so find a seat and just get ready for the fireworks.
We were the guests of Epcot. All opinions of the boozy and filling are our own. Canada pavilion photo by Sam Howzit under CC 2.0.