Everyone knows that Orlando, Florida, is a top destination for family travelers. From Disney World to Universal Studios, Orlando is a playground for kids. But what is often overlooked is that Orlando isn't only about families—there are a lot of fun things to do in Orlando for adults.
Whether you're indoor skydiving, diving with sea creatures, or keeping your feet firmly planted on the ground for a little shopping and dining, there are plenty of attractions to see and fun to have without kids in tow. Here's what to do for a little adult fun around town.
Check current prices for hotels in Orlando here
Go indoor skydiving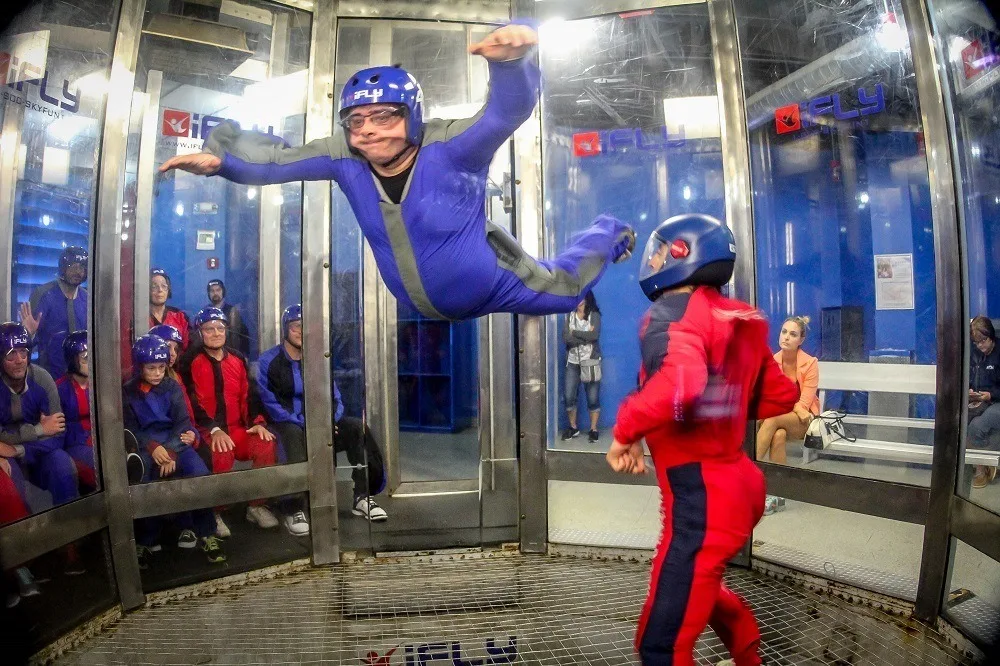 Indoor sky diving at iFLY is the perfect solution for people who are interested in sky diving but are afraid of heights. It's basically a jet engine that is oriented vertically so that it blows air skyward in a wind tunnel. The winds accelerate up to 80 miles per hour, and you body surf on the air.
The whole experience mimics the feeling of free falling, but you're safe and (pretty much) on the ground.
Orlando iFLY is a blast. Literally. Indoor skydiving looks a lot easier than it is. When you visit iFLY, you'll get two 60-second flights. It sounds like a short time, but it feels a lot longer.
You spend most of the first flight getting a handle on the mechanics, but the second flight is much easier than the first. For adventurous travelers, indoor skydiving at iFLY is one of the best activities in Orlando.
Considering an indoor skydiving session? See reviews and prices
Sample craft brews
In recent years, dozens of craft breweries have popped up around Orlando, so there are lot of options to try wherever you are in the city. Whether you're a lover of stouts, a connoisseur of IPAs, or in the market for a good Saison, there is lots to choose from here.
Check out Orlando Brewing, a staple for nearly 20 years and the city's original craft brewery. They make 35+ pilsners, stouts, ales, and more using organic ingredients. At Persimmon Hollow Brewing Co., you'll find IPAs, porters, and Belgian-style ales in their welcoming, dog-friendly environment. Other Orlando favorites include Park Pizza and Brewing Company, Crooked Can Brewing Company in Winter Garden, and Rockpit Brewing.
Visit Gatorland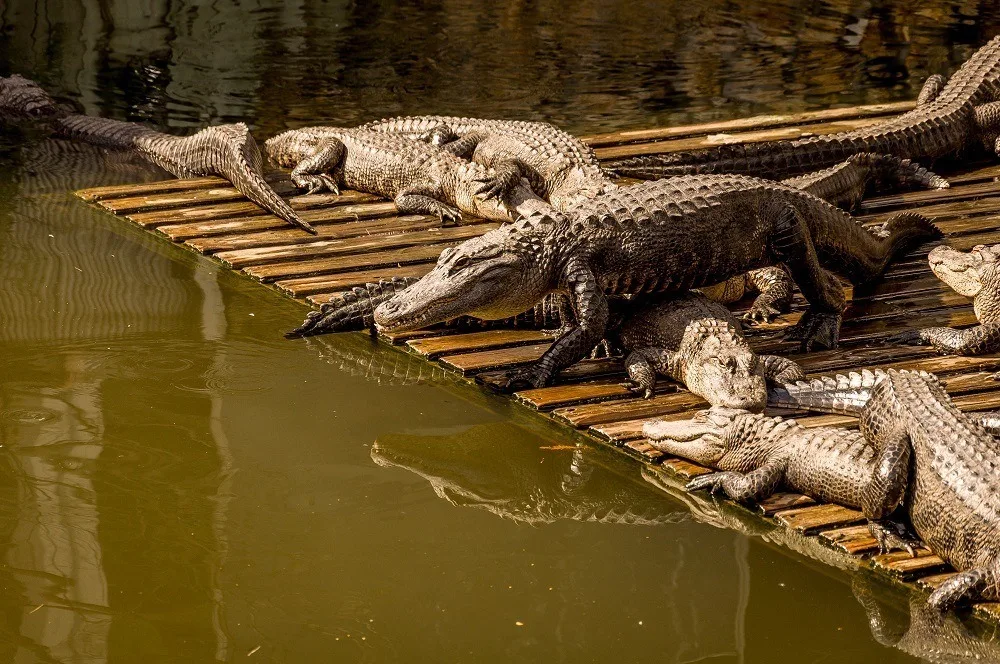 Since 1949, Gatorland has been a top attraction for families, but it is also one of the great places to go in Orlando for adults. Gatorland is the city's original attraction—a private reserve with hundreds of alligators and crocodiles. The highlight is the Screamin' Gator Zip Line. You zip at over 30 miles per hour across five different lines over seven stories above the ground, including flying over chomping Nile and Cuban crocodiles.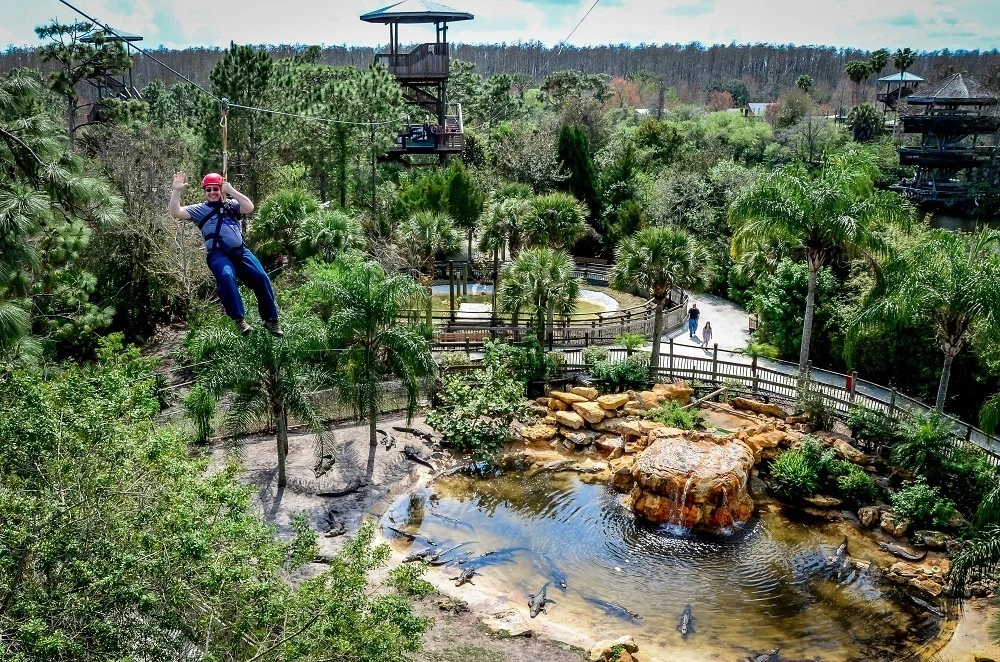 Lance is both scared of heights and a lover of adventure, and this experience was right up his alley. The staff made him feel comfortable on the zip line and, despite his fear, he had a fantastic time.
Explore Lake Eola Park
Right in downtown Orlando, Lake Eola Park offers a pedestrian-only path around the picturesque lake of the same name. Visitors can stroll for nearly a mile watching the swans and ducks in the water and looking for the many pieces of public art along the way. For a fun way to pass the time, check out the swan-shaped pedal boats that are available to rent.
The park, which dates from 1888, also includes an amphitheater for concerts, a playground, and a Chinese style pagoda that provides a pretty lakeside overlook. Every Sunday, the lake's southeast corner fills with vendors for the weekly farmers market featuring produce, prepared foods, arts and crafts vendors, and more.
If you're visiting at night, it's impossible to miss the fountain in the middle of Lake Eola. The structure, which puts on a colorful light show, is one of the official symbols of the city.
Have a drink at a speakeasy
There are lots of bars in Orlando, but few have the unique space and expertly made cocktails of Hanson's Shoe Repair. This speakeasy is named for the original business that occupied the space—a shoe repair shop owned by Andrew Hanson in the mid-1890s.
The bar holds about 20-30 people at a time in its cozy indoor space and rooftop patio, so you may need to wait for the privilege of passing through its door. Once inside, pretty much the only things to know are that Hanson's doesn't serve vodka and the drinks may take a little while to arrive thanks to the incredible attention to detail they receive.
Ring the doorbell on the third floor of 27 E. Pine Street and have the password ready. You can find it daily on Twitter or by calling them.
See Universal Studios Orlando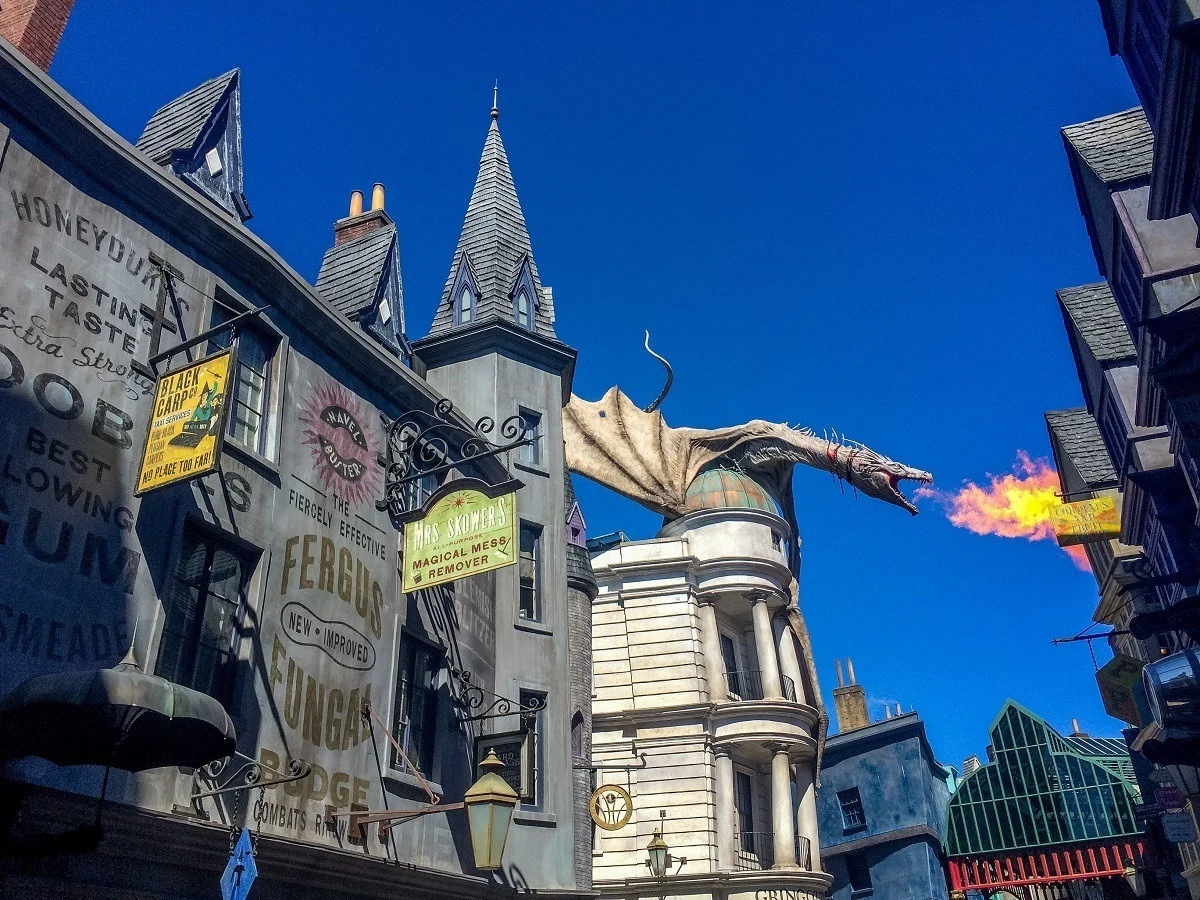 The Universal Studios area is composed of two theme parks — Universal Studios and Universal's Islands of Adventure — plus a "downtown" area full of restaurants and shops. Everything here is appropriate for adults and the young-at-heart.
Though there are many areas with different themes, including Hollywood, Jurassic Park, New York, and Toon Lagoon, our favorite destination is The Wizarding World of Harry Potter.
We bought a ticket that allowed us to visit both Islands of Adventure and Universal Studios so we could see both parts of the Wizarding World. The re-creations of Hogsmeade and Diagon Alley are both expertly done, featuring shops, locations, and characters that any fan of the Harry Potter books or movies would recognize and appreciate.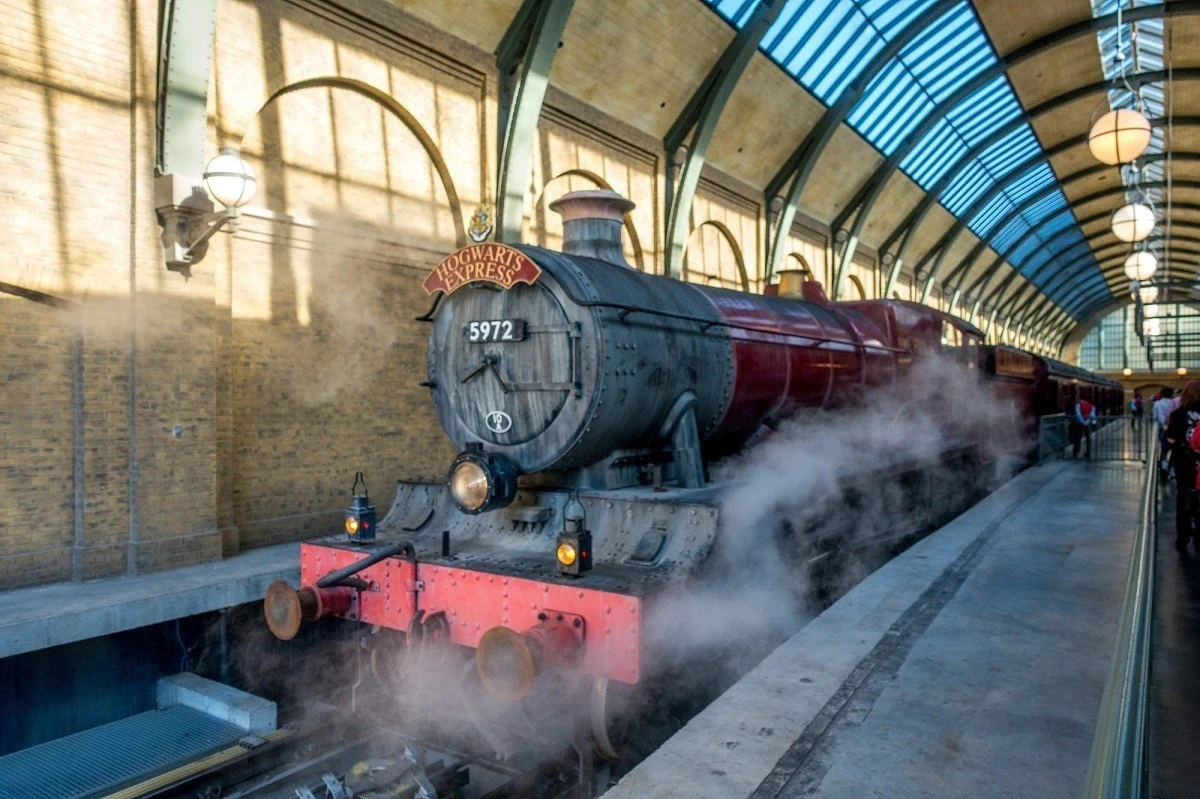 Ollivanders wand shop gives you the feeling of being in the cluttered space of one of the most influential people in the wizarding world, and Honeydukes candy shop is filled with everything from Bertie Bott's Every-Flavour Beans to chocolate peppermint toads. Florean Fortescue's Ice-Cream Parlour serves up some amazing treats, too.
Of course, you can find any type of quidditch supply or robe you're looking for. A butterbeer and fish and chips at Three Broomsticks were also awesome. And yes, the hippogriff, castle, and Gringotts rides are totally worth the wait. One tip: try the single rider's lines for a much shorter wait time. These lines are available throughout the park, not just in the Harry Potter section.
Take a swamp boat tour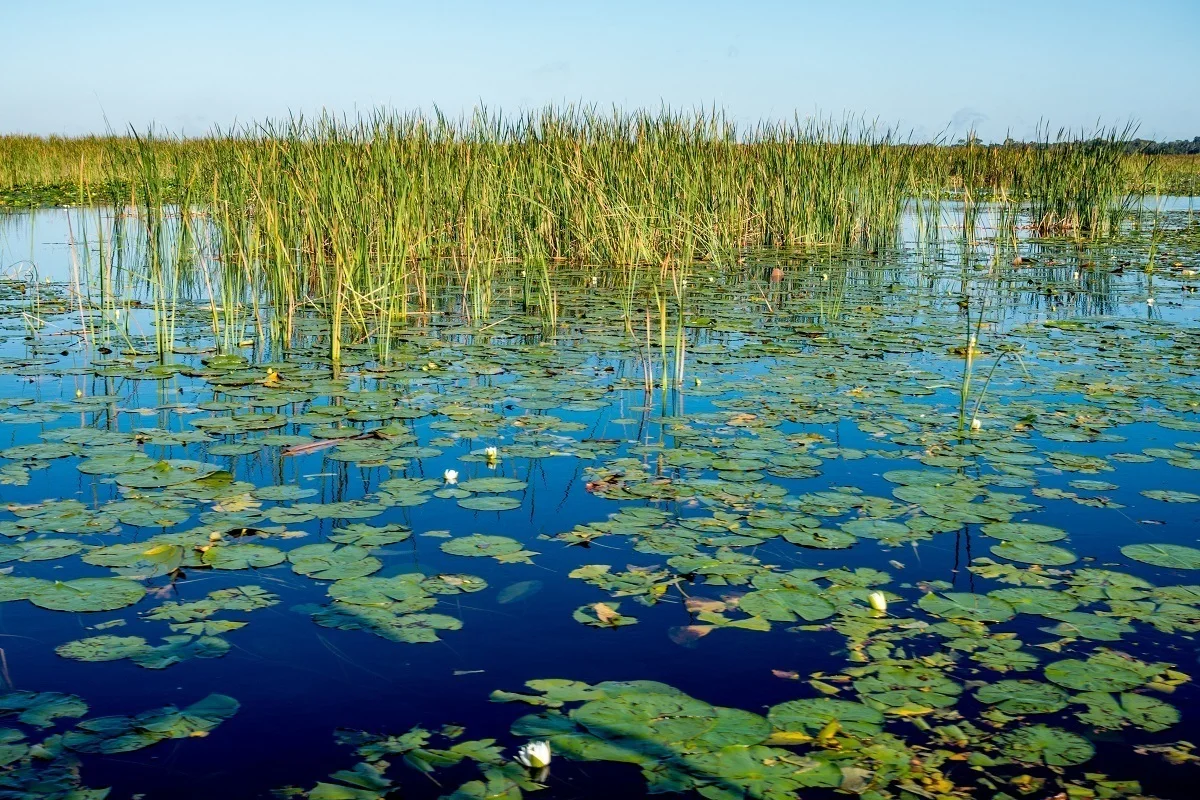 Just a half-hour outside of the city is a whole different world on Lake Tohopekaliga in Kissimmee, Florida. If you're wondering what to do in Orlando for a completely different experience than the theme parks, this is it.
A 90-minute tour took us over lily pads and past floating grass that made islands in the lake. We watched as bald eagles soared above our heads and cranes were on the lookout for their morning meal, all while keeping our eyes peeled for the elusive alligators in the headwaters of the Everglades. A swamp tour is one of the best things to do around Orlando for adults, and you can read more about our experience here.
Check out options for taking your own swamp boat tour here.
See the street art in Mills 50
There is so much to explore in the neighborhoods beyond the tourist areas of Orlando, and Mills 50 is one of our favorites. One of the oldest neighborhoods in the city, it is home to over 40 works of street art. Almost everywhere you go, there's something new to see from music-themed pieces and homages to Asian culture to tributes to the people who were killed at Orlando's Pulse nightclub in 2016.
The neighborhood's sizable Asian-American and Pacific Islander community makes Mills 50 a vibrant area for retailers and restaurants, so don't miss the opportunity to try some food while perusing the murals. We particularly enjoyed Hawkers Asian Street Food, but there are lots of good options.
Explore Ivanhoe Village
Adjacent to Mills 50, Ivanhoe Village is another local area packed with restaurants, bars, and nightlife spots. This neighborhood, which is known for its artist community, has a little something for everyone.
White Wolf Café has been a neighborhood mainstay for over 30 years, serving breakfast, lunch, and dinner daily. Nearby, The Greek Corner has Mediterranean favorites like souvlaki and spanakopita that will transport you to Athens. There is also Santiago's Bodega for Spanish tapas and the provocatively named Better Than Sex, where visitors have their pick of desserts.
When it comes to fun spots for an adult beverage, Ivanhoe Village offers a handful of craft brewing spots like Ivanhoe Park Brewing Co. and Ten10 Brewing Company. The unique Imperial at Washburn Imports sells furniture and fantastic finds by day and transforms into a beer and wine garden at night.
Hit the outlets
Right on International Drive, you'll find one of the most popular places in town–the Orlando International Premium Outlets. With over 160 stores, boutiques, and restaurants, this is a place for people who are serious about shopping.
From Kate Spade and Tumi to Armani and The North Face, the outlets offer a range of high end and everyday merchandise. There's even a Disney store in case you're in the market for more souvenirs.
Drink around the world at Epcot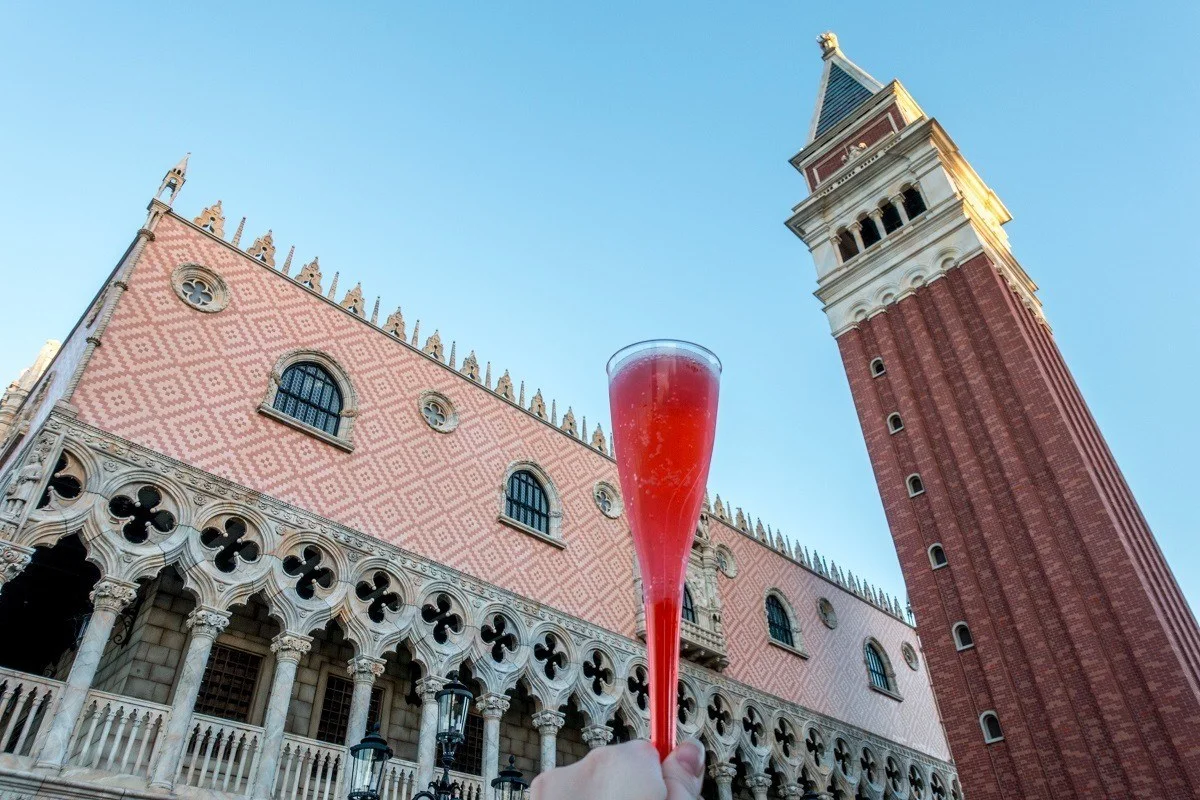 The 11 countries of Epcot's World Showcase are the basis for "drinking around the world," clearly one of the adults-only activities in Orlando. For the sake of our livers and avoiding a massive hangover, we took the approach of eating and drinking around the world, sampling the best of what each country has to offer. And there's lot to choose from.
From the margaritas in Mexico to the eggrolls in China to the fabulous Grand Marnier Orange Slush in France, each one of the countries has amazing options. If drinking around the world is a must do for you, take the time to plan it out and pace yourself.
Explore Leu Gardens
A formal rose garden, a tropical rainforest, a butterfly garden, and an historic home—all these beautiful locations and more are available to visit at Harry P. Leu Gardens. The gardens' 50 acres include dozens of collections of plants from around the world that make up this retreat not far from downtown Orlando.
Year-round, the grounds are filled with flowers and colorful plants from the remarkable collection of camellias that bloom in the fall and winter to the buds that flourish in the spring in Florida's largest formal rose garden. In addition to all the unique garden areas, Leu Gardens also hosts movie nights, jazz concerts, and scavenger hunts, among other special events.
Scuba dive at Epcot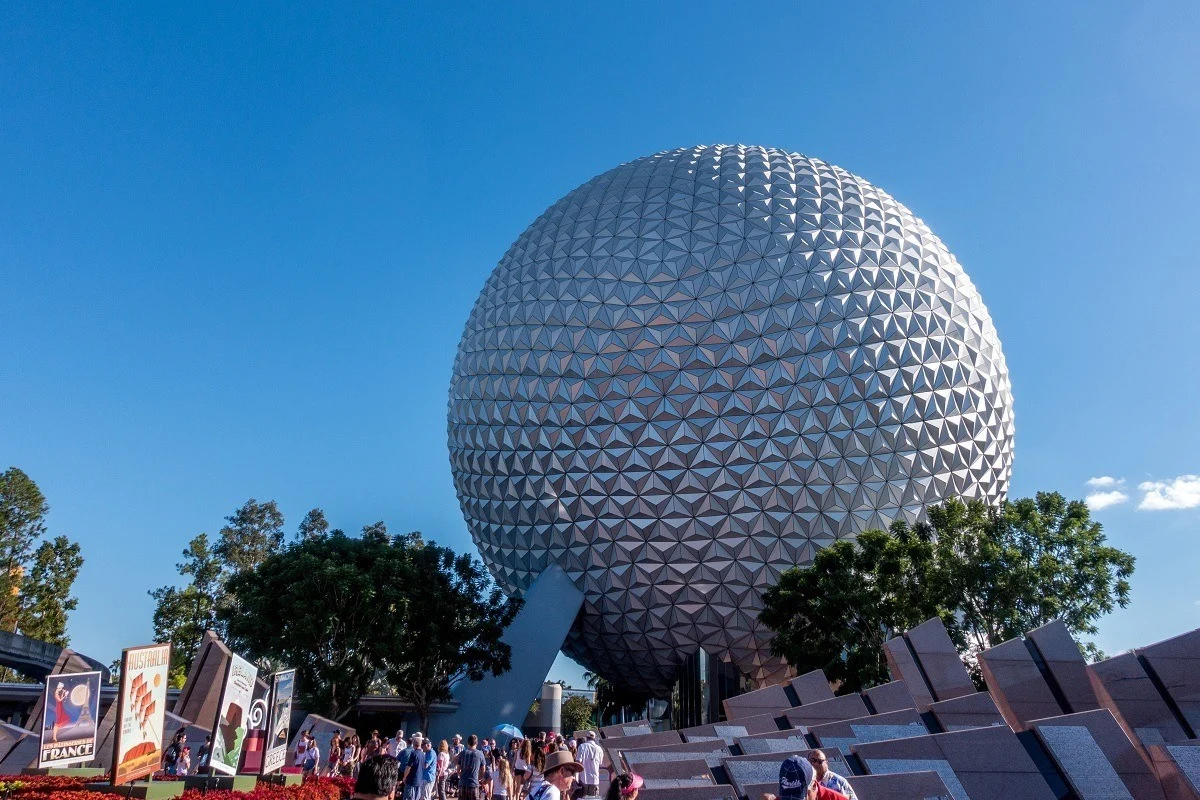 The fun at Epcot extends way beyond what you can eat and drink there to include the most unique thing we've ever done at a theme park—SCUBA dive. Disney uses The Seas with Nemo & Friends Pavilion to showcase its efforts through the Disney Worldwide Conservation Program. The program rehabilitates animals like manatees who can then be returned to the wild.
I had the opportunity to dive in their main attraction—a 5.6 million gallon aquarium. Through Epcot's DiveQuest tour, divers can make friends with the sharks, rays, and an 80-year-old sea turtle named Tolstoy up close and personal.
Any SCUBA certified diver 10 years old and older can participate in DiveQuest. Better yet, Epcot provides all the equipment, so it's convenient for tourists. There are also snorkeling and dolphin adventures for those who aren't SCUBA certified or don't want to dive. It's a fun spin on an afternoon at Epcot.
See the works at the Morse Museum
Lovers of Louis Comfort Tiffany's brilliantly colored stained glass will enjoy a visit to The Charles Hosmer Morse Museum of American Art. This unexpected gem in Winter Park holds the most comprehensive collection of Tiffany's works in the entire world.

From the artist's famous leaded-glass lamps to pottery, jewelry, and wall-sized windows, the Morse Museum is a showcase for Tiffany's creations. Visitors can even step inside the Byzantine-Romanesque chapel that Tiffany designed for the 1893 World's Columbian Exposition in Chicago. With glimmering tiles, richly colored windows, and a glass crucifix, the restored room is a centerpiece of the museum.
In addition to the Tiffany pieces, the Morse Museum houses other Art Nouveau pieces, works from the Arts and Crafts movement, and American paintings from the last 150 years.
Visit the water parks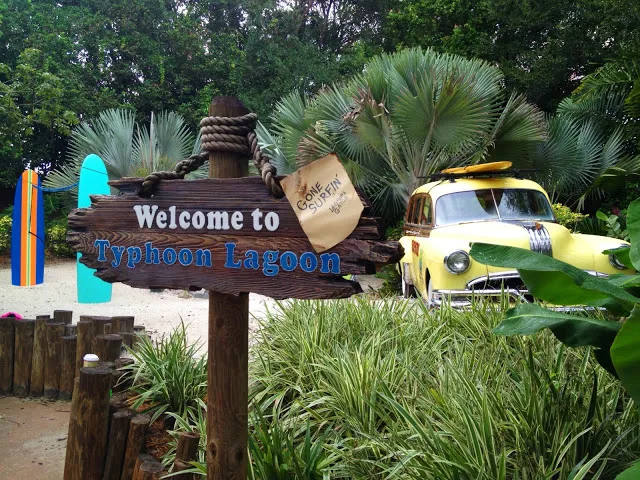 Orlando provides a number of options for beating the stifling heat and doing something other than waiting for a roller coaster. The Disney complex has two water parks (Blizzard Beach and Typhoon Lagoon), Universal has Volcano Bay, and there is another water park at SeaWorld.
Visiting one of the water parks is one of the top ways to have fun in Orlando. Since we had been to Blizzard Beach before, we decided to spend a (phenomenally hot and humid) day at Typhoon Lagoon.
The park is great for adults because there are fountains and slides for different age groups. Our main objective was relaxation, so we spent much of the day in the wave pool and the lazy river, which connects all the areas of the park.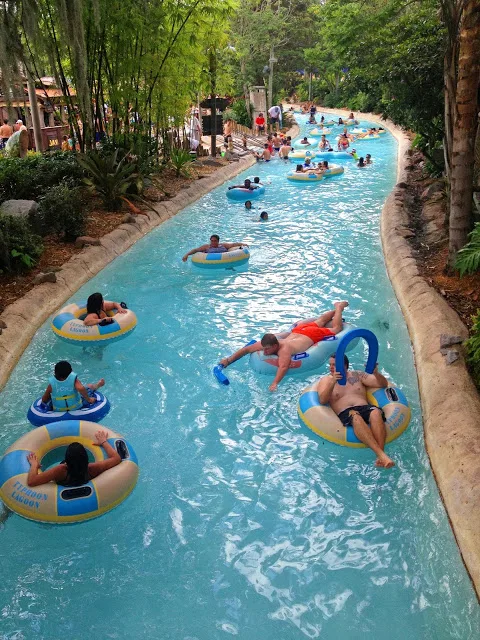 Be forewarned: that is one strong wave pool! In the middle depths, we found ourselves getting thrashed around pretty good when the waves came, so we ultimately swam out to the deepest part to catch the waves as they started—much more fun.
In reading this Orlando travel guide, we learned that many of the hotel resorts have their own water parks, pools, and lazy rivers. Using the resort's pools is a great money saving tip.
Explore Blue Spring State Park
Just 45 minutes from Orlando, Blue Spring State Park is a fun and affordable place (entry is only $6 per vehicle) to get out of the city for a little while. This beautiful area offers lots of activities year-round, but it's most popular in the winter and early spring when its blue waters fill with manatees.
This state park is a designated manatee refuge, so there is no swimming with manatees here, but it's the perfect place to watch them from the boardwalks, kayaks, or stand-up paddle boards. During certain times of the season, as many as 200+ of the gentle creatures make their way into the springs. If you can't visit Crystal River or don't want to swim with the sea cows, this is the place to be.
The 2600-acre park offers swimming, snorkeling, and SCUBA diving outside of manatee season in its 73-degree springs. Fishing, canoeing, and boating opportunities are also available in the St. John's River. Plus, there is a playground, picnic pavilions, and even an historic house to visit that dates from the 1870s.
We were the guests of iFLY, Gatorland, and Spirit of the Swamp. All opinions of the fun and exciting are our own.
Laura Longwell is an award-winning travel blogger and photographer. Since founding Travel Addicts in 2008, she has written hundreds of articles that help over 3 million people a year get the most out of their travel. In that time, she has visited nearly 60 countries on 5 continents, often returning to favorite destinations over and over again. She has a deep love of history, uncovering unexpected attractions, and trying all the good food a place has to offer.
In addition to Travel Addicts, Laura runs a site about her hometown of Philadelphia—Guide to Philly—which chronicles unique things to do and places to see around southeastern Pennsylvania. Her travel tips and advice appear across the web.