As travelers and global citizens, we have many opportunities every day to make small changes that can benefit the environment whether we're on the road or at home. Making more conscious choices—rather than just doing things out of habit—is the first step toward reducing consumption and waste and living green. Earth Day seems like the perfect time to look for more ways to do better more often.
We write this not as people who are doing a spectacular job in going green. We're far from perfect but are always trying to improve. These Earth Day tips are some easy ways to be more eco friendly travelers wherever we are in the world.
Go Green for Earth Day
Earth Day is observed every year on April 22. An initiative originally begun in 1970 to raise awareness about worldwide environmental issues, Earth Day becomes more important every year as we continue to see the effects of climate change.
As New Year's encourages people to think about their goals for the upcoming year, Earth Day is an ideal time to think about ways to save the environment and to increase our efforts to consume fewer resources. There are lots of little changes and go green tips that everyone can incorporate into their lives and travels to make a positive difference beginning now.
Earth Day Tips
Greener living doesn't need to be difficult. It doesn't require substantial changes. Instead, it's a series of small movements in the right direction. Before you know it, you've gone green.
Eco Tips for Hotel and Apartment Stays
Seek out eco-friendly accommodation
Some properties are eco-friendlier than others, using energy-saving measures, green laundry standards, or even solar power. If you're going far off the grid like on a safari to a rainforest, choosing accommodations that have the least impact is even more important.
Look for places to stay that offer locally-sourced products, have recycling programs, and give back to the local community. It's even possible to find places that grow some of their own food, have composting initiatives, and take other measures for how to be environmentally friendly.
Turn it off
When you leave the room, turn off the lights, television, and heating or air conditioning.
Skip housekeeping
Leave the "do not disturb" sign on the hotel room door or simply tell the front desk that you'd like to opt out of housekeeping. The energy used for vacuuming and all the cleaning chemicals adds up. Plus, you wouldn't change your towels and sheets every day at home, so it's not necessary while you're traveling.
Some hotel loyalty programs even provide rewards for eco-friendly choices. For years, Starwood (now Marriott Bonvoy) has offered loyalty points or other incentives such as a welcome cocktail for people who skip housekeeping service. IHG Hotels—properties like Kimpton and Holiday Inn—do the same, and World of Hyatt is rolling out a similar program.
Re-use towels
Sometimes it's easiest to make changes in steps. If completely skipping housekeeping is a bit too far, one of our simple go green tips is to start by simple hanging up your towel after your shower. Most housekeepers will take that as a sign you plan to use it again and will leave it for next time.
Just say no to hotel toiletries
Don't use the hotel toiletries if you can keep from it. Whether you use the whole thing or just a little bit, it's likely to get thrown away when you leave. If it's a fabulous brand and you can't resist (sometimes you just need a good lotion, damnit), then take it with you.
Some hotels are starting to recycle soap, but there are flaws in that system because more water and chemicals need to be used to sanitize and repackage the soap, so it's best to save the resources, if possible.
We do our best to use just one bar of soap for both the sink and the shower and often bring our own shampoo and conditioner, even if we're traveling light. If we do use the hotel toiletries, we bring the leftovers home. We once stayed at a lovely hotel in Saratoga Springs, New York, that even provided a bag to take the leftover soap with you—talk about making it easy to be eco-friendly!
Use electronic map and brochures
Almost all maps and brochures are available online. If possible, download them to your electronic device so you can keep them with you. If the hotel concierge gives you a brochure, return it if you can, or make sure it gets recycled.
Make use of communal libraries
Many hotels, hostels, and Airbnbs offer communal libraries where you can take a book or leave one. If you've used a guidebook or finished other reading material, leave it at the end of your trip for someone else to enjoy.
Seek out recycling bins
We are religious about recycling at home and do our best to do the same when traveling.
Not all hotels have recycling programs, and many cities abroad don't offer curbside recycling. If our hotel doesn't recycle, we've been known to take items with us to dispose of them in bins on the street. In apartment rentals, we take our recyclables to the city bins. Many cities have separate receptacles for plastic, glass, and paper, so be sure to find the correct bin.
Ways to Go Green at Home
There are lots of simple changes we can all make while traveling, but changes at home can be even easier because you have more time and more control over your surroundings and circumstances.
Give your items a new life
Earth Day happens to coincide with the time many people are spring cleaning. If you have items you're eager to get rid of, consider giving them to charity. A local non-profit organization like Goodwill will take most things and will even give you a receipt to take a tax deduction.
If packing up and moving your items is too much of a headache, consider Freecycle. The site allows you to list things, and people will come to take them off your hands with minimal effort on your part.
Interested in making a little money? Facebook community garage sale groups are popular places to resell certain unwanted items, so do a simple search to see if there is one in your town or county.
Dispose responsibly
Learning how to safely and responsibly dispose of household products is one of the environmentally friendly things to do on Earth Day. Batteries, hazardous chemicals, and broken or old electronics require special procedures. Earth911 is a great resource for information and for finding where you can take items.
Use natural cleaners
Using eco friendly products without harsh chemicals is a great choice not only for children and people with chemical sensitivities but for anyone looking to use fewer artificial cleaners. Basic household ingredients like lemon juice, salt, baking soda, and vinegar can be combined to clean, scrub, and disinfect. Consider these cleaner recipes next time you're scouring the kitchen or bathroom.
Compost food waste
About 20 percent of trash in landfills comes from food waste. Much of that material could be put to good use as fertilizer for a backyard tomato plants or even shrubs in your yard.
Everything from eggshells to coffee grounds to potato peels can get mixed with yard clippings and leaves to make nutrient-rich compost. The process is simple and very environmentally friendly.
Pick water-saving fixtures
Saving water becomes much easier when you have the help of household appliances. When your washing machine needs replacing, look for one with the Energy Star seal and consider a top-loading machine that uses less water.
Much less expensive investments that will also help you be more eco-friendly include a new toilet—which uses only 40% of the water used by a model made before 1992—and a low-flow shower head that can cut water consumption by half.
Only run full loads
Whether we're talking about a load of dishes or a load of clothes, only run the machines when they're full. These appliances use lots of energy and water to do their job, so maximizing the available space is the most responsible choice.
Use a rain barrel
Collecting rain water is one of the very easiest ways to save on utility costs and cut back on using municipal water. A good rain barrel will last years and provide an easy way for watering outdoor plants, washing your car, and doing other household tasks without turning on the faucet. Not every area allows rain barrels, though, so check local regulations before you buy one.
Getting around responsibly
Consider carbon offsets
The best way to combat carbon emissions is to reduce them. But since flying is a reality of life and you can love both travel and the planet, carbon offsets may be a good option.
A carbon offset is basically a donation to a project that produces clean energy, removes carbon from the atmosphere, or otherwise helps the environment in a specific way. The result is to offset the carbon a flight produces by balancing it with something beneficial.
Online calculators can tell you how much carbon you produce both by traveling and in your activities at home. Then you select your project and make a donation. Critics say it's like spending money not to feel guilty, but that certainly seems like a better choice than not making the donation at all.
There are many good options, but do some research to ensure that the project is legit. One good choice is Terrapass, a for-profit social enterprise that supports projects in the US that produce renewable energy.
Use electronic boarding passes
Skip the paper. Sometimes it's about the little things.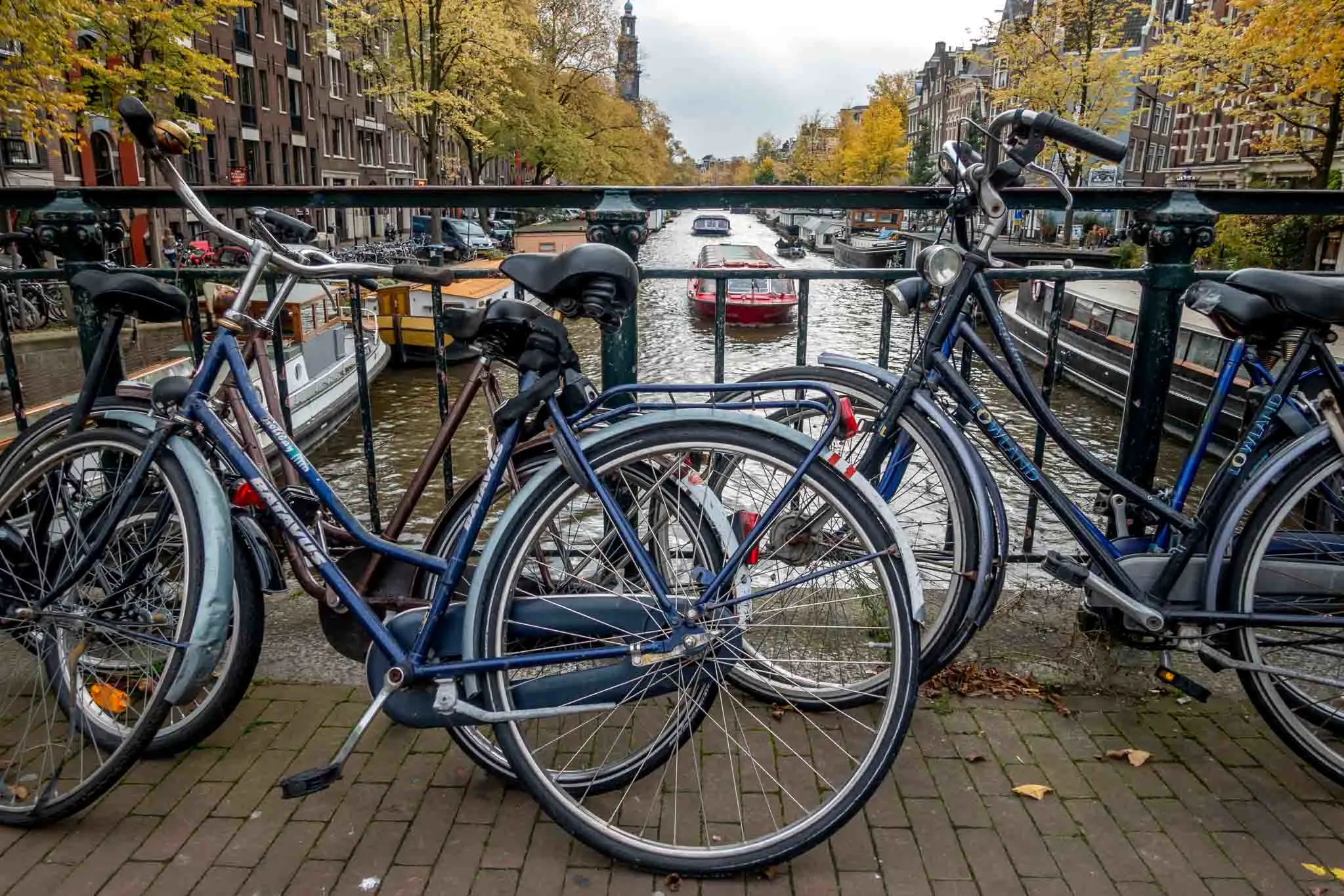 Choose a bike-friendly destination
Biking isn't just for Amsterdam or Copenhagen—many cities in Europe and around the world are all about bicycling (or even scooters) with dedicated lanes, numerous drop-off points around the city, and affordable options to rent for the day or just an hour. And the exercise doesn't hurt either.
Use public transportation
Save money on taxis and Ubers by taking the tram or the bus. In some places, public transportation will get you there a lot faster than a car.
Tips for Green Shopping
Bring your own bag
The easiest way to shop abroad and to be eco-friendly anywhere is to bring your own cloth bag. Because we love shopping at local markets, a reusable bag that takes up minimal space but can carry the essential tasty cheese and fresh veggies home is a must for us.
Aside from the convenience, providing your own bag has practical implications, too. Outside the US, many stores charge for plastic bags, so bringing your own means not only saving money but also reducing your use of plastic.
If you do end up with a plastic bag (sometimes it's just unavoidable), reuse it as a garbage bag, as a place to store wet clothes, or for some other practical purpose.
Consider your souvenirs
Souvenirs are a fun way to remember your travels. The best items to buy are ones that directly benefit locals. Not only does the money go back into the local community, but you'll get something special and unique.
Shop local
Whether you're cooking a full meal at an apartment rental or just looking for a quick snack, try to shop local.
In many parts of the world, you can't go far without seeing a daily food market in a city square or along the road. Shopping there instead of a supermarket supports local producers and often means you're getting a local product that has a lesser carbon footprint than something packaged. Plus, it gives you a chance to try local food and learn a little bit more about the culture.
Reduce Environmental Impact for Earth Day
At home or on the road, it's great to have a few products that cut down on single-use plastics and reduce your environmental impact.
Water bottle
We bought these collapsible water bottles years ago to take to the Galapagos Islands (a place where you can leave absolutely nothing behind) and have loved using them since.
Silverware set and straw
Consider bringing along a small silverware set—in metal or bamboo like this one. They're durable and easily replace plastic silverware you get with takeout or at markets and food trucks. Adding a metal straw to the set is great, too.
Reusable bag
A reusable bag or simple, lightweight day pack is perfect for any kind of shopping. We even give the day pack as gifts.
Coffee mug
We've been known to caffeinate…a lot. Collapsible cups like these make us feel better about it and take up minimal room. For something reusable that will keep your drink hot (or cold), these insulated mugs are winners.
Solid shampoo and conditioner
To stick with carry-on only and still have your own toiletries, consider solid shampoo and conditioner. These smell like citrus and come with a travel container and these have zero-waste packaging.
Biodegradable sunscreen
As people who spend a lot of time in the water, we like to use biodegradable sunscreen that won't harm reefs and wildlife. Some places we've been in Mexico even require it. Reef Safe is organic, biodegradable, and water resistant.
Tips for Respecting Nature
Look but don't touch
Seeing animals in their natural habit is a magical experience. It's one of the things we love most about scuba diving and snorkeling.
Generally, activities that include observing animals are fine. Safaris, whale watching, and similar experiences are great ways to enjoy animals with minimal impact on their environment or activity.
What's important is not to touch them. That means things like not chasing sea turtles or hovering over them while they eat, keeping your distance from birds and other animals (especially babies), not feeding them, and generally respecting the space and habitats of all wildlife.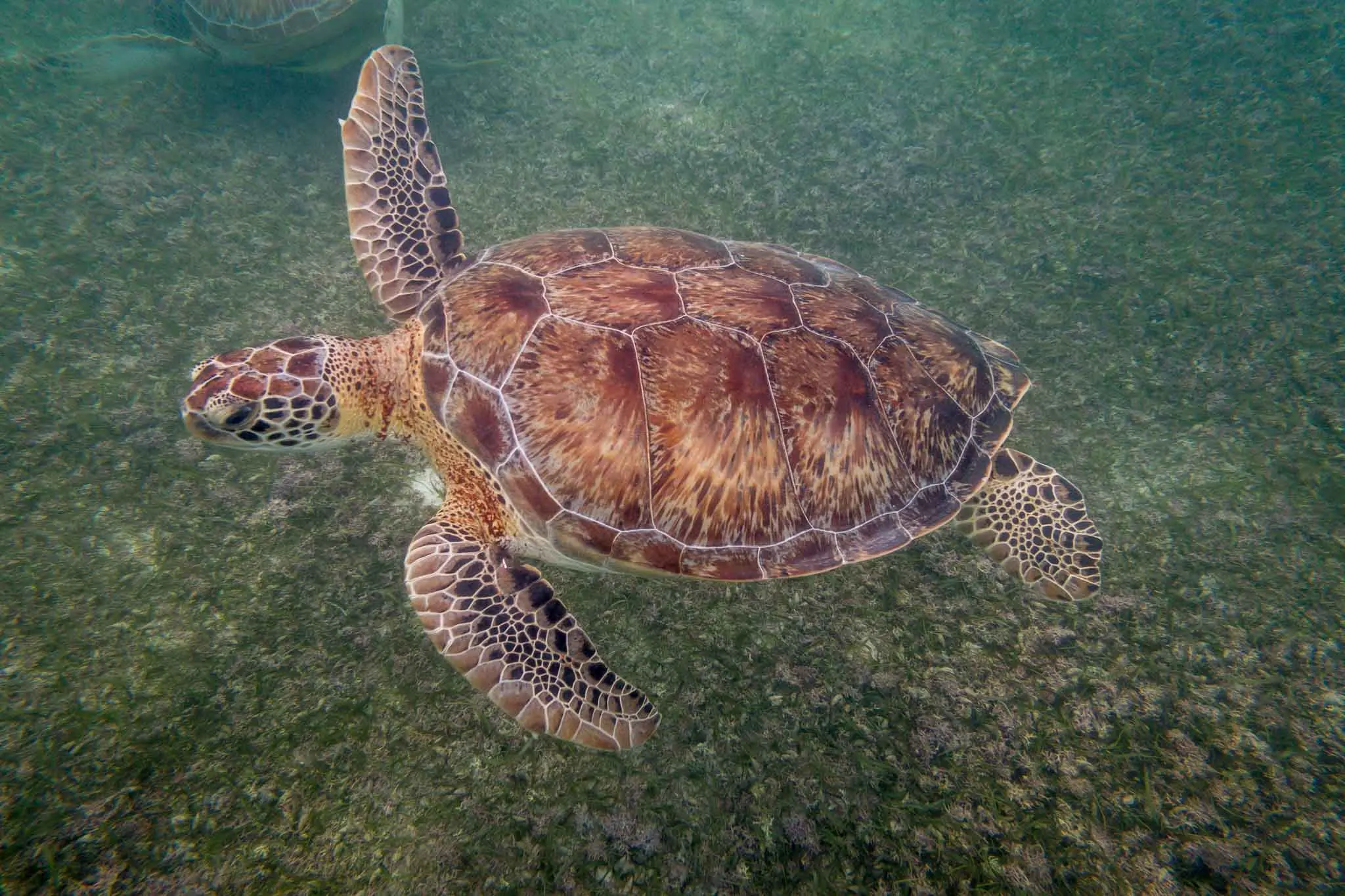 Let animals be animals
On the surface, interacting with wild animals—as in an elephant rides, swimming with dolphins, or petting tigers—seems like a great activity for animal lovers. Until you think about it from the animal's perspective.
Any wild animal that has been trained to interact with humans, to perform, or to do anything else that's not their typical behavior has been put through a brutal process to make that interaction possible. Many tour companies have stopped promoting these types of activities, but they continue to be popular in some parts of the world.
Don't patronize businesses or tours that include interacting with animals in an unnatural way. If you do have an animal-related activity on your itinerary, do research beforehand to know how the animals are treated and what will be involved.
Don't just do it for the 'gram
People take lots of risks in the name of getting a good photo for Instagram. Unfortunately, sometimes that has negative consequences for the environment, animals, or the people themselves.
Don't hurt the landscape, push the boundaries of safety, or put other people or animals at risk to impress people on social media—it's just not worth it.
Laura Longwell is an award-winning travel blogger and photographer. Since founding Travel Addicts in 2008, she has written hundreds of articles that help over 3 million people a year get the most out of their travel. In that time, she has visited nearly 60 countries on 5 continents, often returning to favorite destinations over and over again. She has a deep love of history, uncovering unexpected attractions, and trying all the good food a place has to offer.
In addition to Travel Addicts, Laura runs a site about her hometown of Philadelphia—Guide to Philly—which chronicles unique things to do and places to see around southeastern Pennsylvania. Her travel tips and advice appear across the web.