Christmas in Colmar is a dream. When you take a city that already looks like a gingerbread town and then deck it with wreaths, ornaments, and snow-covered trees, it's hard to think of anything that feels more appropriate for the holiday season. There are lights and decorations everywhere. Plus, the Colmar Christmas market is consistently named one of the best Christmas markets in Europe, and the whole city is awash in the sights and smells of the holidays.
We've been in love with Colmar, France, for over a decade, and this trip marked the third time we've visited this beautiful town in Alsace. Its medieval buildings with their colorful, tiled roofs and their half-timbered facades snared us years ago, and we keep coming back.
This December visit was different from our previous trips because the whole city center feels like one giant festival of lights, laughter, and mulled wine.
Where are the Colmar Christmas Markets?
Aside from the fact that Colmar is picture-perfect, most people visit Colmar in winter for its Christmas markets that run for about 5 weeks, from the last week of November through late December. In 2023, the markets are scheduled for November 23 through December 29.
Technically, there are six different markets, though most of them seem to run together, particularly if you visit after dark. It all becomes a haze of enticing vendors, fantastic smells, and awe-inspiring architecture, propelling you from one center of activity to the next.
Between and among the markets, the whole city is lit up. In some places, there are shockingly bright colors, and in others, the soft, white lights illuminate the streets.
Some buildings—like the House of the Heads and the area around Petite Venise—have lights projected on them, showing advent calendars, twinkling stars, and winter scenes. It's all done in a coordinated effort to make the city feel even more special.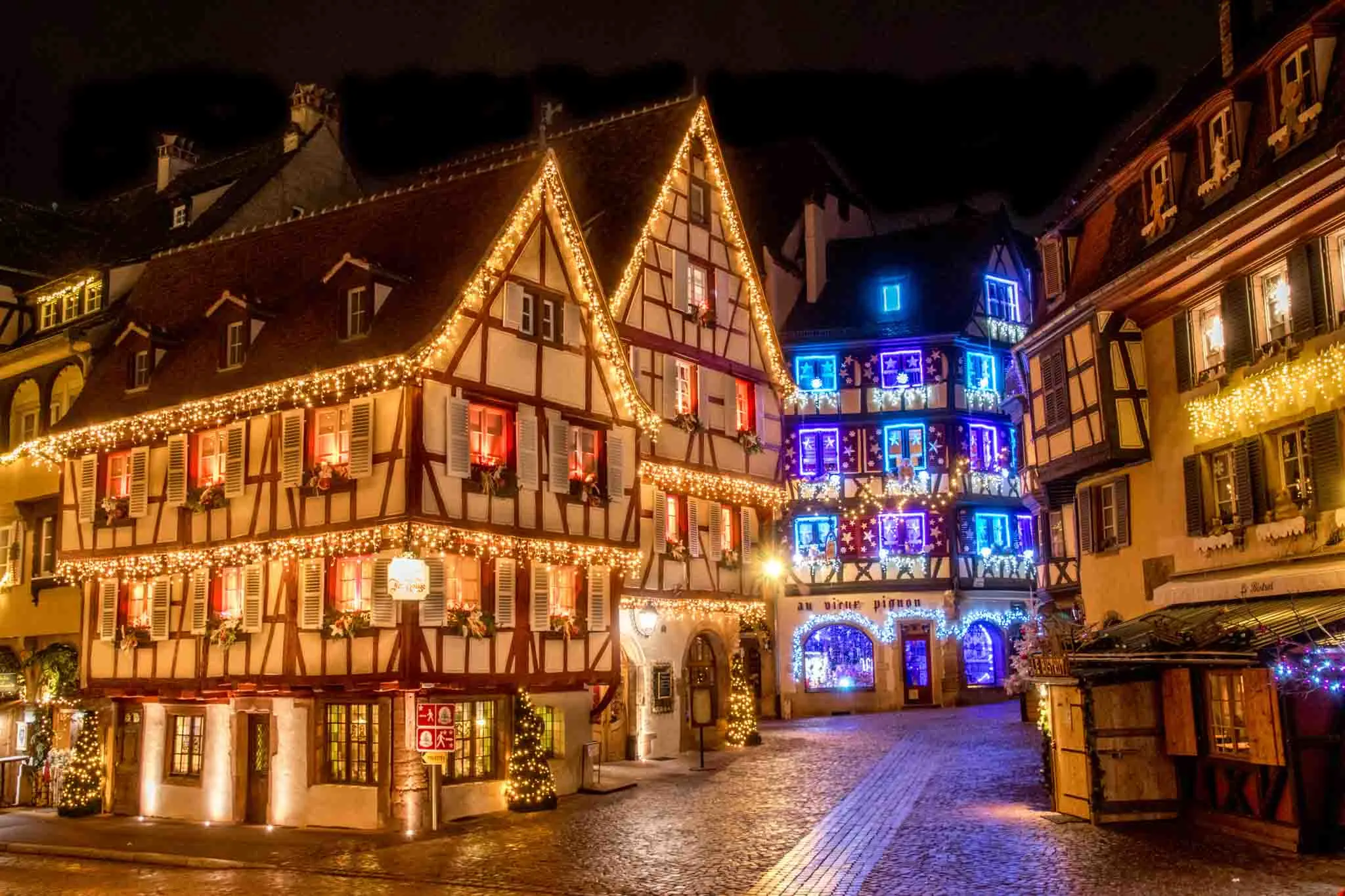 One of the great things about the Colmar Christmas markets is that they are close together—all six are located along a path that's just over a half-mile long (1 km). While several of them have similar types of foods, gifts, souvenirs, and ornaments, there are differences among them. Without a doubt, it is worth visiting them all, if time allows, because all of the surroundings are stunning in their own way.
Place de Dominicains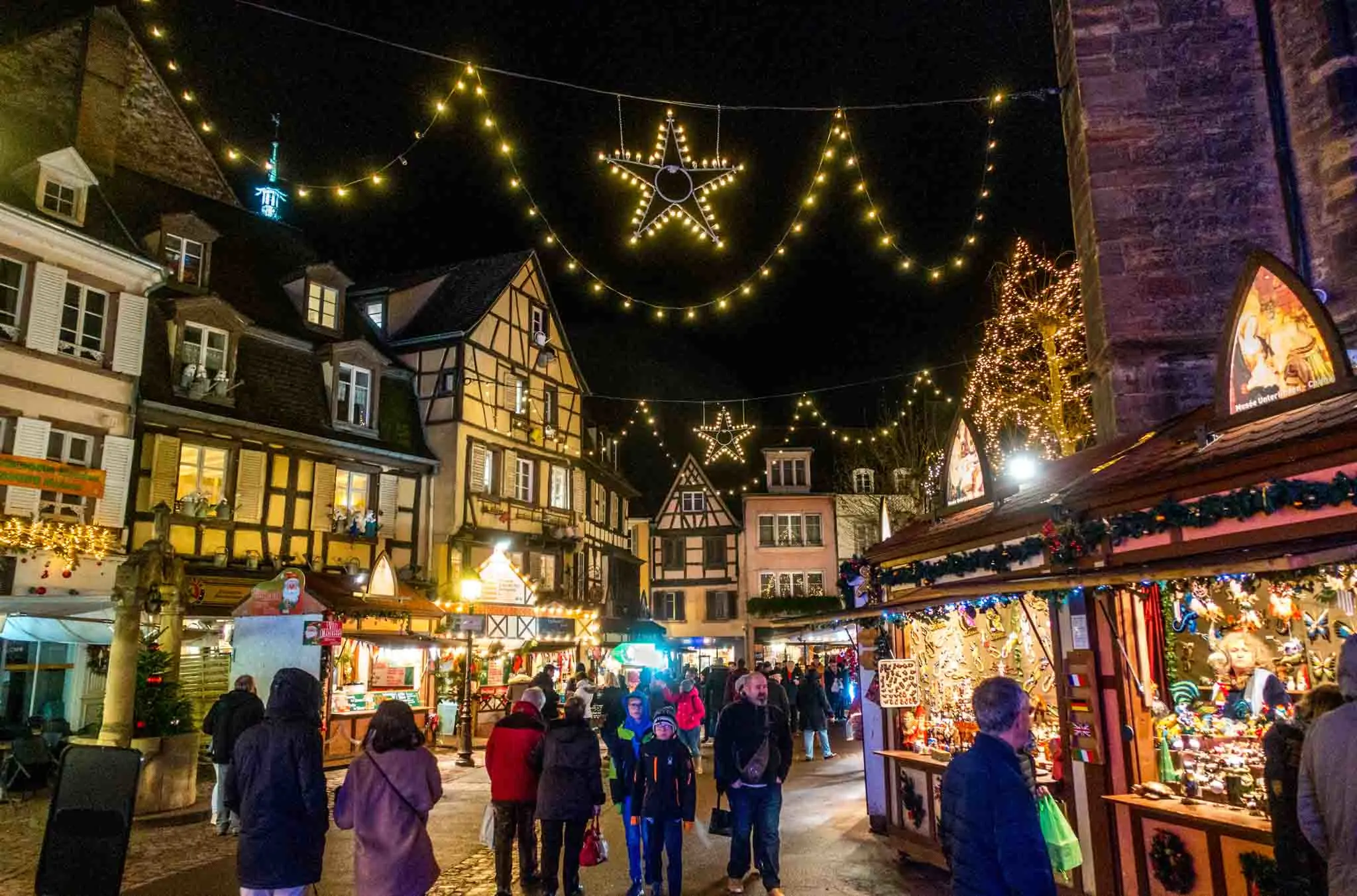 On the north side of the center of town, the first market we visited was at the Place de Dominicains. With the 14th century stained glass in the church illuminated at night and the 60 or so wooden chalets laid out before us, it was a perfect start to our visit.
After passing a couple of children's rides, we were greeted with the cinnamon-scented welcome of vin chaud (hot mulled wine) and all manner of Christmas decorations and foods for sale. It was also our first taste of the amazing half-timbered buildings glowing in the strands of Christmas lights.
Rue de la Montagne Verte
Nearby on Rue de la Montage Verte is the gourmet market (formerly located at the Collegiate Church of Saint Martin). There are plenty of stands to try crepes, warm apple juice, or other treats, but the gourmet market is the best option for a more substantial meal.
Many of the prominent restaurants set up kiosks serving a selection of Alsatian specialties for market goers. We found smoked pork, foie gras, oysters, spaetzle and mushrooms, and a variety of other hearty dishes along with plenty of Alsatian wines from producers in Colmar and nearby. My favorite choice was a curried pumpkin and butternut squash soup, which I had with a glass of sparkling Cremant d'Alsace. Because, France.
On most Thursday and Friday evenings beginning at 5pm, local chefs come to the gourmet market for cooking demonstrations and tastings. It's a great opportunity to try a food that may be new to you. (Be aware that the presentation, like the one we saw, may only be in French.)
Place Jeanne d'Arc
For smaller bites and food items to take home from the Christmas market in Colmar, the market at Place Jeanne d'Arc is the one to visit. This market is meant to recreate the atmosphere of an Alsatian village, and you can find local products such as cheeses and cured meats, traditional Alsatian Christmas cookies, gingerbread, French liqueurs, and lots of other indulgences.
Many of the items at Place Jeanne d'Arc and throughout all the markets are packaged so that they will get through Customs without a problem if you are hoping to bring them back to the US or elsewhere (i.e., cheeses and meats are often vacuum-sealed). If in doubt, ask the vendor.
Place de l'Ancienne Douane
In the heart of the old city surrounding the famous Schwendi fountain, Place de l'Ancienne Douane has 50 stalls on both sides of the River Lauch. You'll find everything from local craft beer and hand-painted ornaments to unique German Christmas pyramids that are reminders of Alsace's history.
In this beautiful market, you can hardly move without coming face-to-face with a brilliant building or unique architectural detail that's at least 400 years old. Don't forget to turn around and look up at the Koifhus (old Customs House)—its brightly tiled roof is a work of art.
Koifhus Indoor Market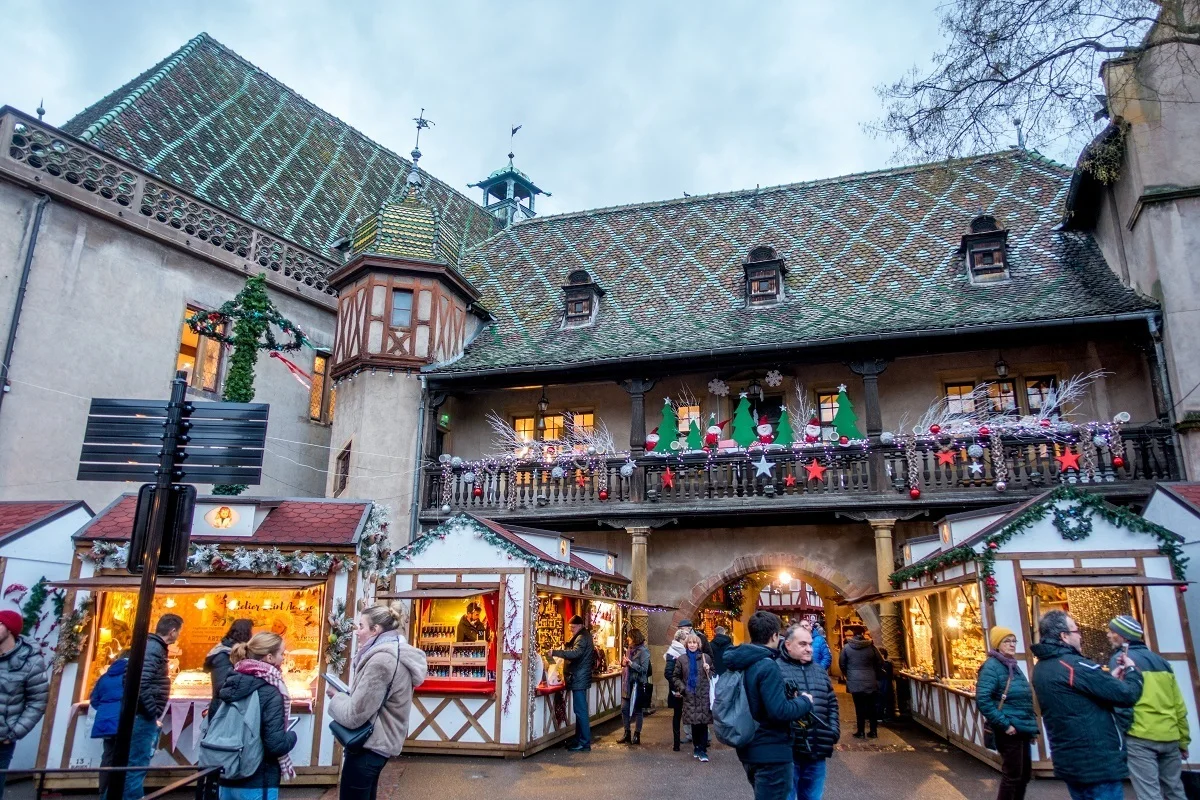 The Koifhus market is the most different from the others because it's inside and features a variety of craft and antiques from local artisans. We found intricate handmade jewelry, paintings, glass creations, and knitted items.
This market was probably the least child-friendly because of the tight space and some delicate items, but the Toy Museum's train exhibit on the first floor attracted a lot of attention from children of all ages.
Petite Venise
Undoubtedly the most famous view in Colmar, Petite Venise at Christmas is filled with people taking photos of its magnificent buildings and watching as projections of colors, snow, and Christmas scenes creep across the facades. Just a few steps away at Place des Six Montagnes Noires is the children's market.
The chalets in the children's Christmas market have similar merchandise and food to that in most of the other markets, but this is the place for mechanical horse rides, the unique nativity, and Santa's mailbox. If you're lucky, you may even spot Santa himself.
What to eat at the market
Alsatian food is unique year-round, with more pork and potatoes than one might normally expect in France, thanks to the German influence. At Christmas, there are lots of sweet treats that make their way into the markets and often some restaurants. You can't leave Alsace without trying at least a few.
These are some of the traditional Alsatian Christmas foods we found most often.
Mannele – Delicious brioche shaped like a little man, these figurines have raisins or chocolate chips for eyes and are often eaten with hot chocolate. Local chocolaterie Jacques Bockel makes their own, non-traditional version from chocolate with different, tasty fillings like hazelnut and salted caramel.
Bredele – These traditional dry cookies come in lots of different shapes and flavors, including cinnamon, vanilla, anise, and more shaped as stars, bells, hearts, and other things of the season.
Vin chaud – A staple of Alsace Christmas markets—and indeed every European market we've visited—is vin chaud. Also known as gluhwein in German-speaking countries or glogg in Nordic countries, this amazing mulled wine is everywhere. In Alsace, white vin chaud seems to be just as popular, if not more so, than red. Both varieties have spices, citrus notes, and sometimes honey to add a bit of sweetness.
Pain d'epices – Similar to gingerbread, pain d'espices literally means "spiced bread." But the ones we sampled in Colmar and Strasbourg were better than any gingerbread we've had anywhere. We had some types that were a little sweeter, some that tasted more of orange, and some with glazed, candied cherries.
Kugelhopf – Alsace's most famous cake has a bell-like shape and is topped with nuts and sugar. It may be spongy or drier, depending on the recipe (dry cake is for dunking in your morning coffee).
What to do at Christmas
If you're looking for other things to do when you visit Colmar or are just looking to get out of the cold, this lovely Alsatian city has lots to offer beyond the Christmas markets.
Go wine tasting
When you're in Colmar, there's no such thing as too much wine, and Alsace has lots to offer beyond the delicious vin chaud. Famous for its white wines like Riesling, Gewürztraminer, and Pinot Gris, Alsace has been growing wine since at least the 2nd century. Stop in to one of the local winemakers like Domaine Karcher to sample their wares. During the Christmas season, they offer specially themed tours and tastings (may need to reserve in advance).
See a concert
During November and December, Christmas concerts are staged throughout the city. From the sanctuary of Saint Matthieu's Church to illuminated boats in Petite Venise, the venues and participants vary, but the spirit is the same.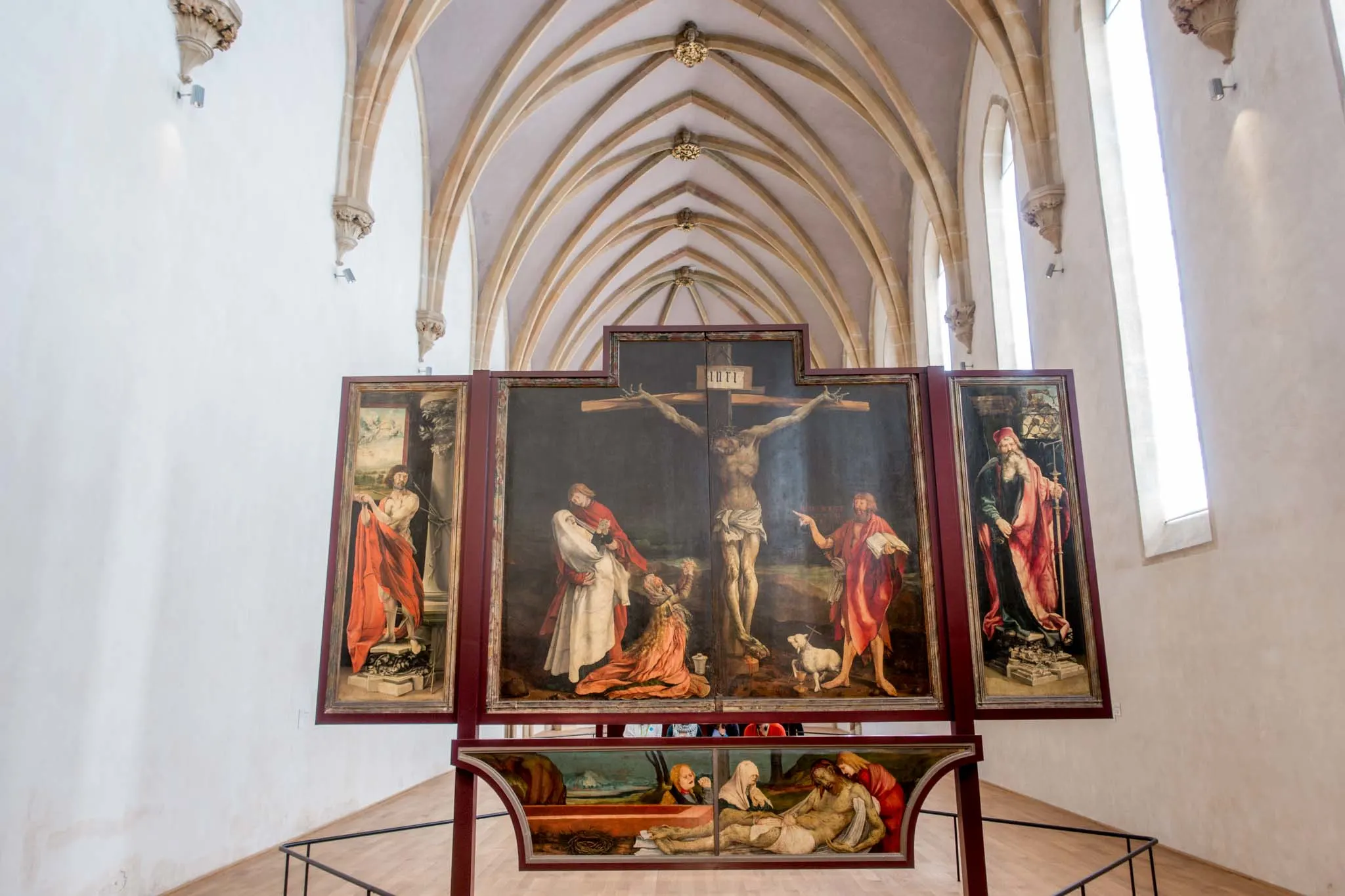 Visit the Unterlinden Museum
One of the top museums in France, the Unterlinden Museum covers nearly 7,000 years of history. From prehistoric times to contemporary works, the museum has a little bit of everything. Its star attraction is the Isenheim Altarpiece, a richly-colored work on multiple panels that dates from 1515.
Stop by the Toy Museum
Kids can occupy themselves with video games, puzzles, and the large train that circles the Toy Museum while adults reminisce about their childhoods with the Barbie dolls, board games, and vintage toys on display.
For a more in-depth look at what to do, where to eat, and where to stay, see our detailed article.
Visit a local Alsace Christmas market
Colmar is part of the 100-mile-long Alsace Wine Route, which laces together picture-perfect villages with castles, churches, and medieval buildings surrounded by the vineyards that make the region famous. The towns of the Alsace Wine Route are easy to reach and feature small Christmas markets and special holiday events that make them a must-visit.
Riquewihr — Riquewihr is said to be the inspiration for the setting of Beauty and the Beast. Its colors are out-of-this world (but, in high season, the crowds can be, too). The daily Christmas market here is a highlight of a visit to Alsace.
Eguisheim — Less than 5 miles from Colmar, the cute town of Eguisheim itself is the attraction. Wander the circular lane left by the ancient town wall and enjoy the authentic architecture along with the small Christmas market.
Turckheim — On the slopes of the Vosges mountains, Turkheim is known for its medieval wall and imposing city gates. Its daily Christmas market is punctuated each evening by the opening of a window in the Advent calendar. You can also join the Night Watchman making his evening rounds through the town at 9pm, a tradition that dates back to the 16th century.
Kaysersberg — A wine-growing powerhouse for over 400 years, the medieval mansions of Kaysersberg are a testament to the city's wealth. Take in its architecture, visit a Michelin-starred restaurant or two, and linger over the river that passes through the center of town. At Christmas, the town goes all-out with decorations, and its market is also worth a visit.
Where to Stay
There are lots of options for places to stay in the heart of Colmar.
La Maison des Tetes–This five-star boutique hotel is located in an historic early 17th-century building. Its brasserie and restaurant are also among the top places to eat (Check reviews and book a room).
Le Colombier–In Petite Venise, this hotel offers 33 rooms and suites. It's hard to find better views in town (Check reviews and book a room).
Hotel Saint Martin–In the center of Colmar, the Hotel Saint Martin offers the convenience of an ideal location and clean, comfortable rooms (Check reviews and book a room).
Laura Longwell is an award-winning travel blogger and photographer. Since founding Travel Addicts in 2008, she has written hundreds of articles that help over 3 million people a year get the most out of their travel. In that time, she has visited nearly 60 countries on 5 continents, often returning to favorite destinations over and over again. She has a deep love of history, uncovering unexpected attractions, and trying all the good food a place has to offer.
In addition to Travel Addicts, Laura runs a site about her hometown of Philadelphia—Guide to Philly—which chronicles unique things to do and places to see around southeastern Pennsylvania. Her travel tips and advice appear across the web.