In recent years, the number of cruise companies offering private island experiences has exploded. Like other cruise companies, Holland America and Carnival Cruises have their own private Caribbean island that they incorporate into as many of their cruises as possible: Half Moon Cay, Bahamas.
This island in the Bahamas is officially known as Little San Salvador Island, however, the cruise company gave it a new name based on its distinctive shape. We've visited this island several times and learned a thing or two.
Initially, we didn't like it, however, our opinions have changed over time. We know really like this stop and enjoy it for what it is: an amazing beach day. This is our ultimate guide to the island and Half Moon Cay excursions, which will allow you to have the best possible time here.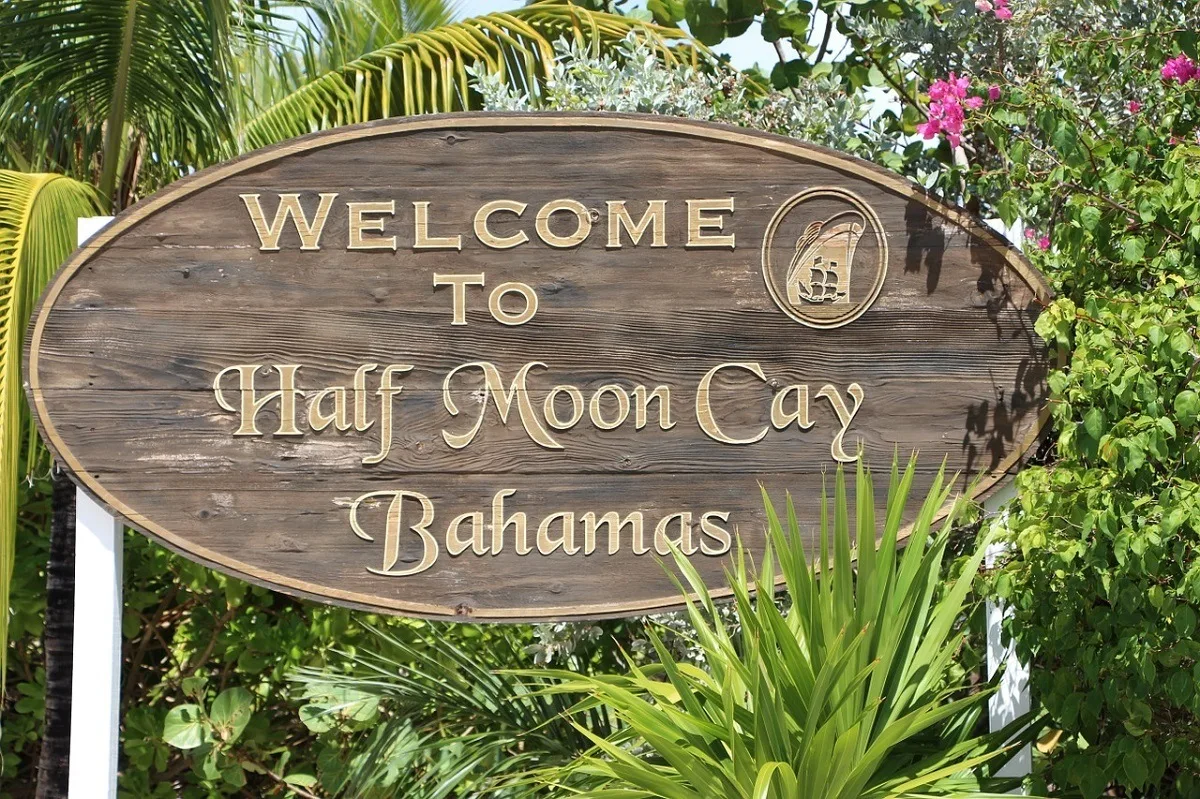 Over the years, we've taken several cruises to the Bahamas, which have brought us to this private island. Initially, we didn't really like it. We viewed it as a throw away experience on most Bahamas cruises.
Instead of going to a real city and having a real experience, you're brought here where you are fully captive to the cruise ship company. Instead of a real port of call, you get the ship on a beach. We once wrote a Half Moon Cay review and described this island like a caged pen to wallow around in – a sanitized travel experience.
Perhaps the reason for our displeasure has to do with the weather. This island is smack in the midst of the Bermuda Triangle. It is located east of Andros and southeast of Nassau in the Bahamas, putting it roughly at the same latitude as Marathon, Florida. The weather is notoriously unpredictable. Afternoon rain showers are common. The winds can shift rapidly. And the weather and water temperatures are not as warm as you might expect for "the Caribbean." It's safe to say we didn't enjoy our first few trips here.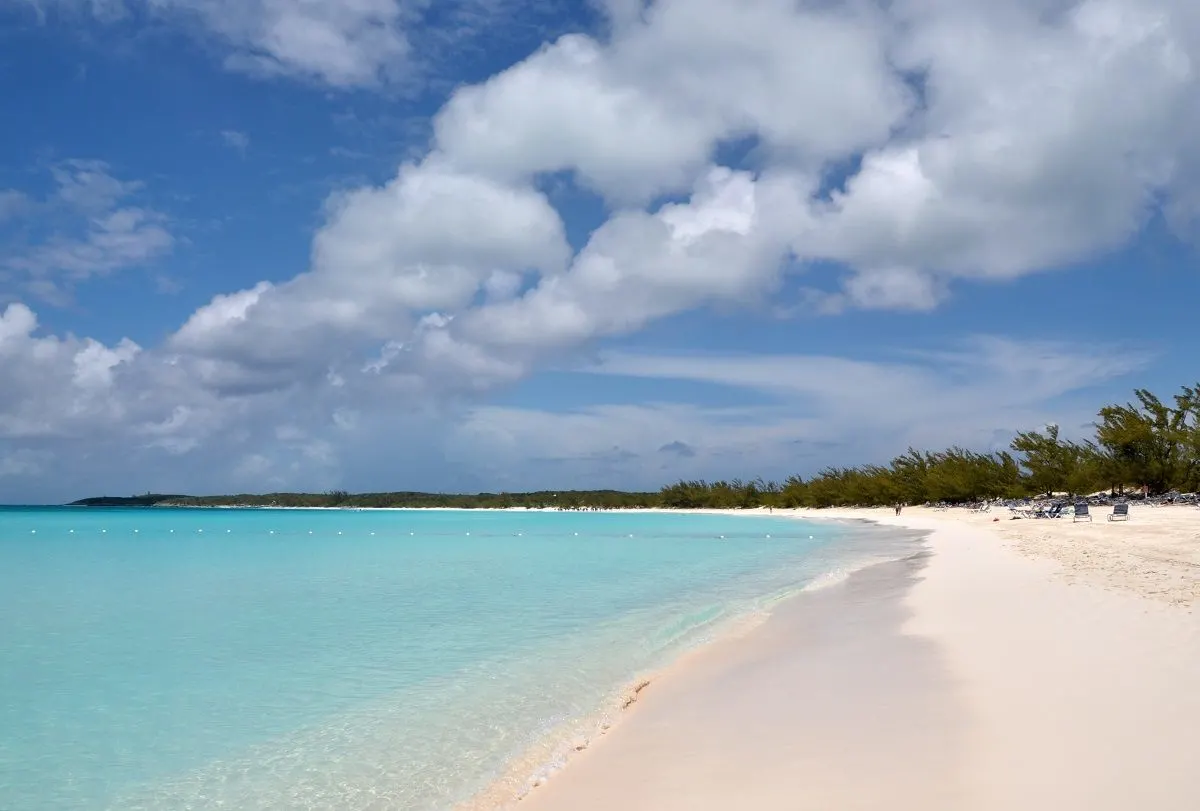 However, the more we've traveled, the more we've cruised, and the more we've visited this private island, the more we've come to embrace this experience for exactly what it is: a great beach day on a magnificent private island. While there are a handful of things to do in Half Moon Cay, the beach reigns supreme.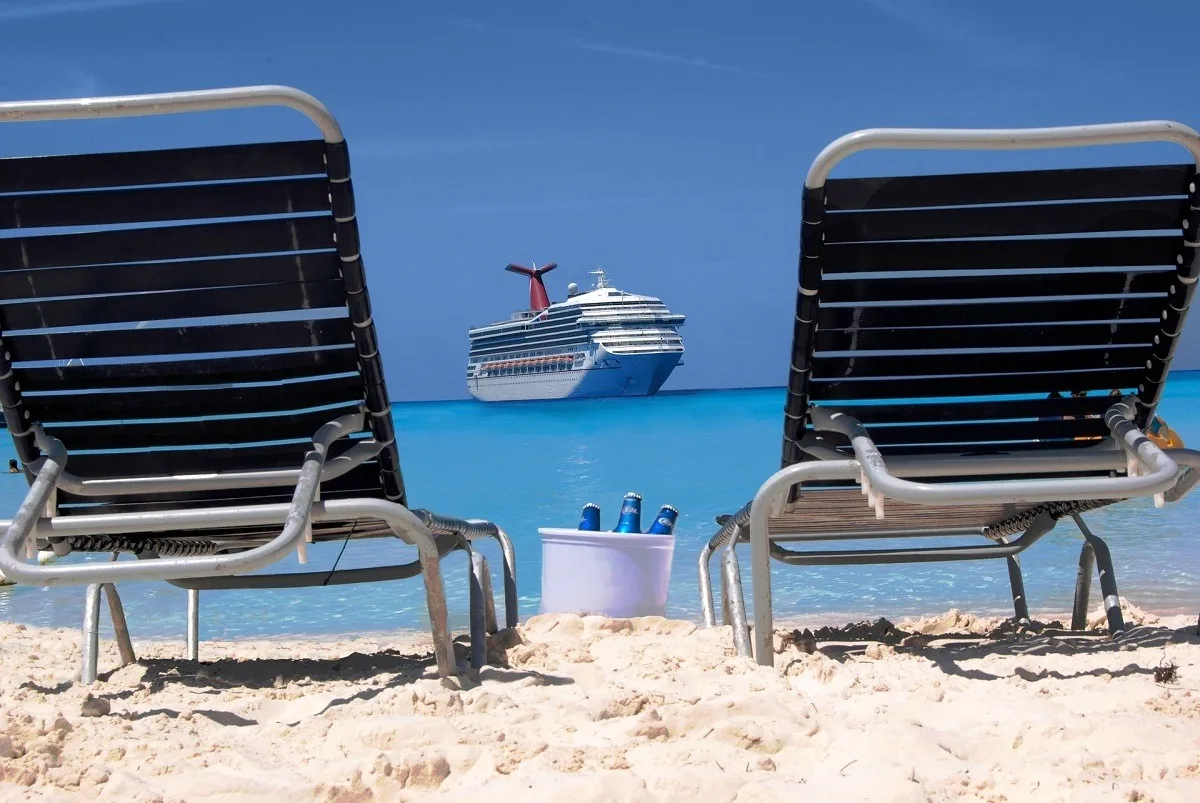 This guide has everything you need to know about this Holland America and Carnival private island. Excursions are divided into renting some sort of cabana or other beach structure, and then activities.
We have not included pricing information because several different cruise companies utilize this island and they charge different prices for the activities listed below. Here is a list of things to do at Half Moon Cay:
Half Moon Cay Shore Excursions
The Calypso Island Tram
The tram essentially connects the Fort San Salvador (i.e., the buildings located at the tender pier) with the Tropics Restaurant (see below for more on the Tropics Restaurant). The driver/guide provides a brief narration and you'll see the lagoon. This tram is entirely unnecessary unless you or a member of your party are mobility challenged.
Aqua Trax Adventure/Jet Ski
Guests can rent an Aqua Trax (aka, a jet ski) to cruise around in the saltwater lagoon. Due to reef and rock formations, there are some places in the lagoon you can't go. Note: A driver's license is required to operate the Aqua Trax, so don't forget to bring it.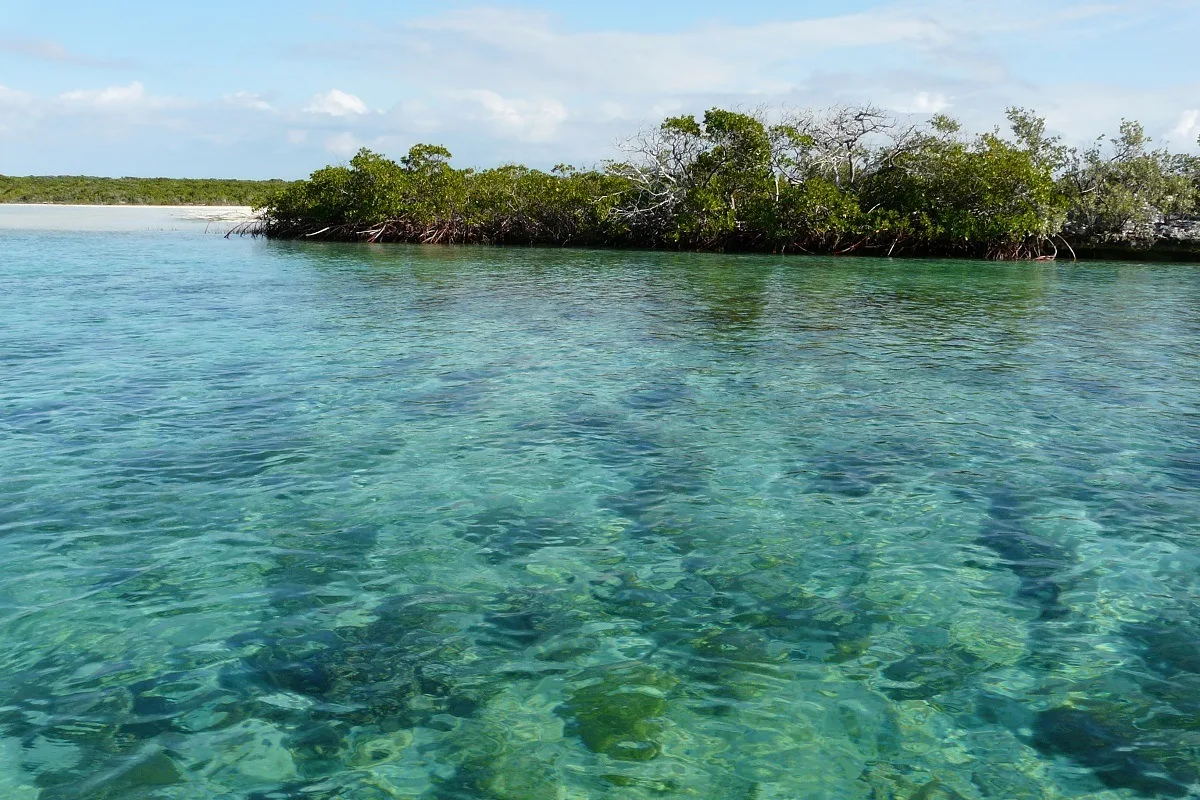 Eco Lagoon Cruise
For those into such things, a glass-bottom boat tour of lagoon is available to see stringrays, sharks, and other marine life.
Eco Lagoon Kayak Adventure
Active guests may enjoy a kayak adventure in the private saltwater lagoon. Although, for us, this seems like a bit too much work for what is essentially supposed to be a relaxing beach day.
Eco Bike Adventure
There's an option to take a guided bike ride to see behind the scenes of the cruise company's operation. You'll see staff housing, offices, the garbage and recycling operation, and other not-so-riveting sights. The bike ride is usually offered in conjunction with a hike to do some bird watching. (Did we mention that we are not birders?)
Glass-Bottom Boat
There is a second glass-bottom boat experience that focuses on the ocean side of the island. Guests will see coral, and some of the island's marine life.
Historic Nature Walk
The 1.5 mile walk on sandy surfaces takes in views of the flora and fauna along with a history lecture (includes both piracy and slavery). Given the often-sandy trail, may not be totally suitable for small children or those with mobility challenges.
Horseback Riding
Arguably the second most popular shore excursion (after spending time on the beach!) is horseback riding. Visitors will get to ride along trails, the beach and visit the highest point on the island. Note: There is a weight limit of 250 pounds and guests must wear long pants and closed toed shoes (no sandals).
This horseback riding shore excursion is wildly popular and often sells out far in advance. If this is an option that you would be interested in, be sure to book as soon as possible.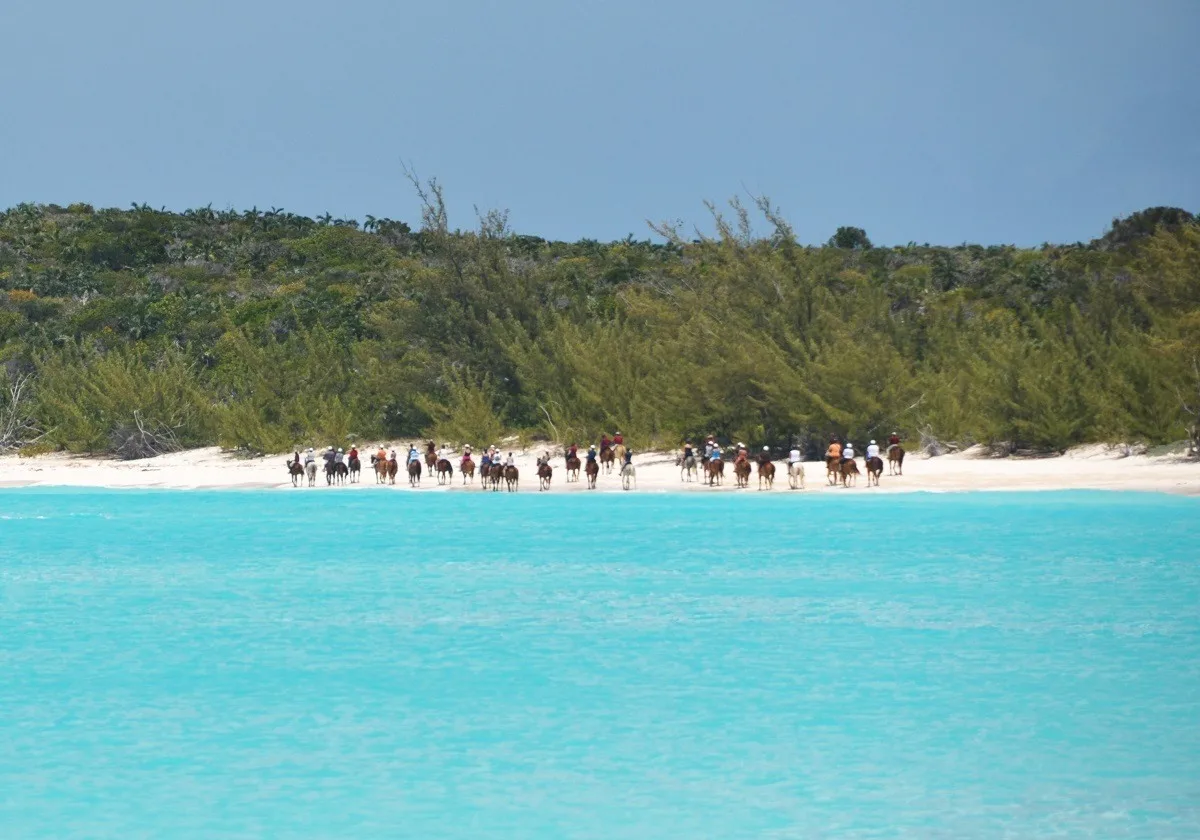 Snorkel by Boat
Snorkelers can rejoice that a snorkel by boat excursion has been added. The boat will take you off-shore to see coral reefs and fish. It is also possible to do snorkeling from shore (see more information below).
It is worth noting that scuba diving used to be offered as a shore excursion for several years, however, it is no longer possible to dive here. As certified divers, this is a tremendous disappointment.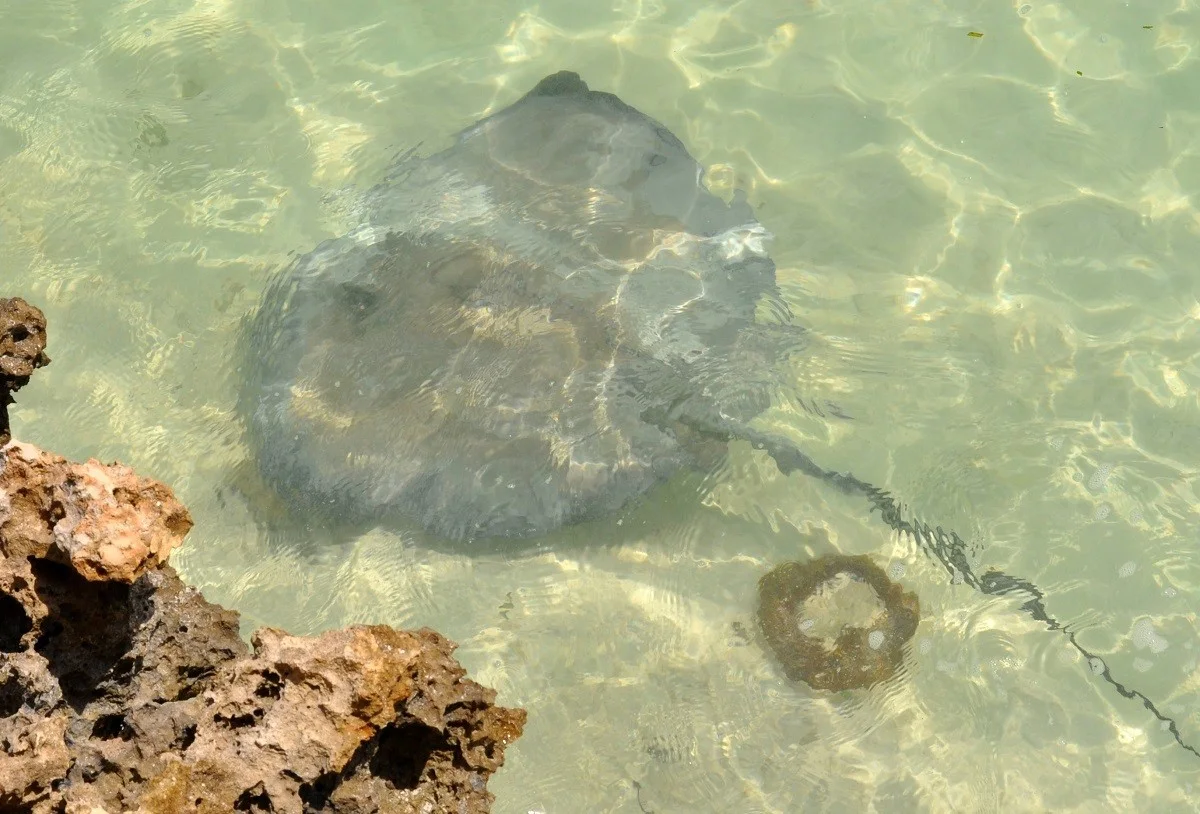 Stingray Adventure
Learn and interact with magnificent southern stingrays in their habitat.
The Bahamian Church
The church on the island is available for weddings and vow renewals if arranged in advance. This can be a really good destination wedding option for cruisers. We were able to see part of a wedding on one of our trips here and it looks like they do a nice job.
The Post Office
Guests craving a passport stamp from the Bahamas can get a souvenir stamp at the post office. This isn't an "official" Bahamian passport stamp, but it is still pretty cool. If you're interested, don't forget to bring your passports ashore.
Cabana Options
While once fairly tranquil, in October 2017, a new sound system was added to the "I Wish I Could Stay Here Forever" bar, which can be extremely loud. When booking clamshells, cabanas, and villas, pay special attention to the warnings if you are looking for a relaxing experience.
The Private Oasis
If you want luxury and private and you have money to burn, the Private Oasis is for you. Featuring over 1,600 square feet of exclusivity for groups of 12 (additional guests possible with an add-on package), you have private water entrance, an eight-person hot tub, a private deck, privacy fencing, tables, loungers, private changing rooms, private showers, butler services, a private chef and a personal lifeguard.
Snacks, alcoholic beverages, and a barbecue lunch are also included. If this isn't exclusive enough, the Private Oasis also features ultra-upgrade packages.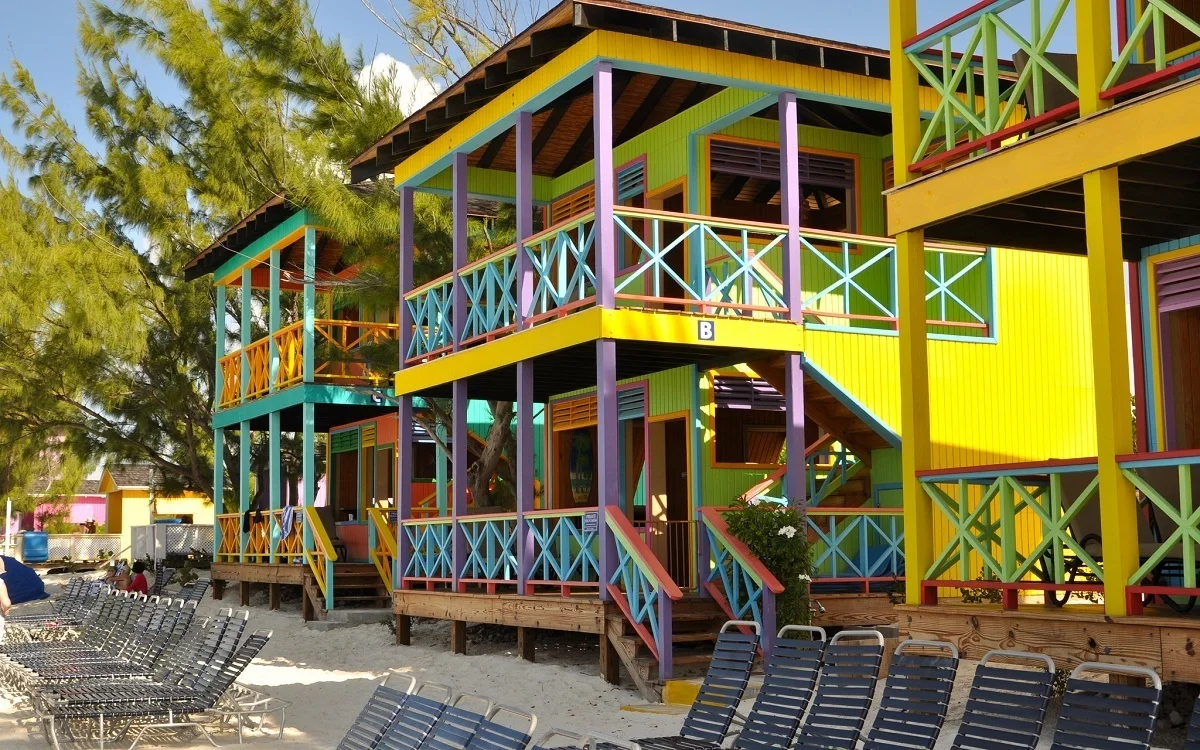 Beach Villa Packages
The beach villas are considered the "ultimate in luxury" by the cruise ship companies. For your rental, you'll get a two-story bungalow located just off the beach which can accommodate up to eight guests (additional guests possible with an add-on package).
The villa has air conditioning, a hot tub, ceiling fan, a refrigerator, sun deck, sun chairs, floating mats and snorkel gear are included. Snacks, soda, and bottled water are included. Butler Upgrade: Guests can add a butler upgrade to their beach villa package, which includes unlimited beverages, a picnic lunch, and a pier-to-door escort by your butler.
Private Cabanas
A step down from the beach villas, the private cabanas can accommodate up to four guests (additional guests possible with an add-on package) and includes air conditioning, a ceiling fan, refrigerator, deck chairs, and terrace, along with floating mats and snorkel gear. Snacks, soda, and bottled water are included.
Butler Upgrade: Guests can add a butler upgrade to their beach villa package, which includes unlimited beverages, a picnic lunch, and a pier-to-door escort by your butler.
Clamshell Sunshade Rental
The most economical and easiest rentals at Half Moon Beach are the clamshells. These crescent-shaped fabric shells can be adjusted to provide sun protection throughout the day. Two lounge chairs come included. We've rented a clamshell on our last few visits to the island.
Shade can be at a real premium. While there are some trees and other places to get out of the sun, they can be difficult to find and usually occupied. If you don't do anything else, strongly consider getting a clamshell cabana for the day.
Lunch on the Island
When the cruise ships visit Half Moon Cay, most of the operations back on the boat shut down. Don't be surprised that all the restaurants close down on the ship. Instead, the operation is moved to the island, where the Tropics Restaurant serves a BBQ lunch from about 11:30am-1:00pm.
Our recommendation is to get there early. On nearly every visit to the island, they've run out of the food. (In one experience, by 12:00 they were out of ketchup, by 12:15 they were out of mustard, and by 12:30 they were out of all food). We tend to eat meals later, particularly on cruises, however, this private island stop is one where you'll want to eat a very early lunch.
The lunch is standard barbecue fare: hamburgers, hot dogs, sides. Given the assembly-line process and the quantities of food they are cooking, it is surprisingly good.
Tips for Visiting
A little planning can help make the most of your day.
Get an early start. When we are on vacation, we tend to sleep in, and this is particularly true on cruise ship sea days and beach days. And this is definitely a beach day. However, resist temptation to sleep late and get up at a reasonable. We recommend being off the ship by 10:15am at the latest. Depending on the number of ships, it can get to be crowded.
It's all about the beach. Yes, there are other activities and official shore excursions at the island, but the only thing on your agenda should be enjoying the beach. And the further up the beach you go (away from the tender pier and Fort San Salvador), the fewer people you'll have to deal with.
Rent a clamshell. Assuming the weather isn't awful (as it was on our first few trips), the sun can be quite intense. There are very few trees on the island. Most of the vegetation is much lower and doesn't provide great shade. You'll be thankful you rented a clamshell.
Go snorkeling. The white, sandy beach is amazing for soaking up the sun's rays and getting into the water, there isn't a lot to see off the beach. However, we do love snorkeling and have seen fish and rays off the beach. We recommend bringing your own snorkel gear on the trip. [Be sure to check out our guide on the best snorkel gear for traveling.]
Lunch. We can't emphasize strongly enough that you should plan on eating lunch early. They will run out of food before lunch officially ends. Consider eating a very early lunch and then going back to the ship for a late afternoon snack.
Last Tender. One of the most common questions asked is: when is the last tender of the day back to the cruise ship? The answer is that it varies. This is based on the itinerary route of the boat, tides, and which cruise line you are on. However, it is usually sometime between 4:00-5:00pm.
Sunscreen and water. The sun can be deceptively strong here. As with any other Caribbean Island, you should be using sunscreen and reapplying often. Also, consider bringing a collapsible water bottle to stay hydrated.
Learn more. If you're new to cruising or want to make the most of your cruise experience, check our article on cruise tips for a better voyage.
Key Fun Facts and Trivia
On cruises, we're big fans of the trivia games. It's not unusual for Holland America and Carnival Cruises to ask questions about their private island in their trivia games. Here's a few fun facts to help you win:
What is a cay?
A cay (pronounced "key") is a sandy island which rests atop a coral reef. The private island of Little San Salvador, Bahamas, is a cay.
Who owns the island? Who lives there?
The island of Little San Salvador was purchased in 1996 by Holland America Cruise Lines for the princely sum of $6 million (they bought it from Norwegian Cruise Lines). Holland America claims to have invested another $15 million in developing and improving the island.
The cruise lines station a small group of seasonal employees on the island, however, Little San Salvador has an official permanent population of zero.
How big is the Island?
The island is approximately 2,400 acres of land, and less than 3% of the island (about 50 acres) has been developed. Additionally, the saltwater lagoon that is almost completely surrounded by the island comprises another 1,700 acres. Cruise ship visitors can only visit a small portion of the island. The island has almost 10 miles of beaches, but the main beach is about 2 miles long.
Half Moon Cay Map
To help plan your time on time on the Carnival island, this map can be extremely helpful: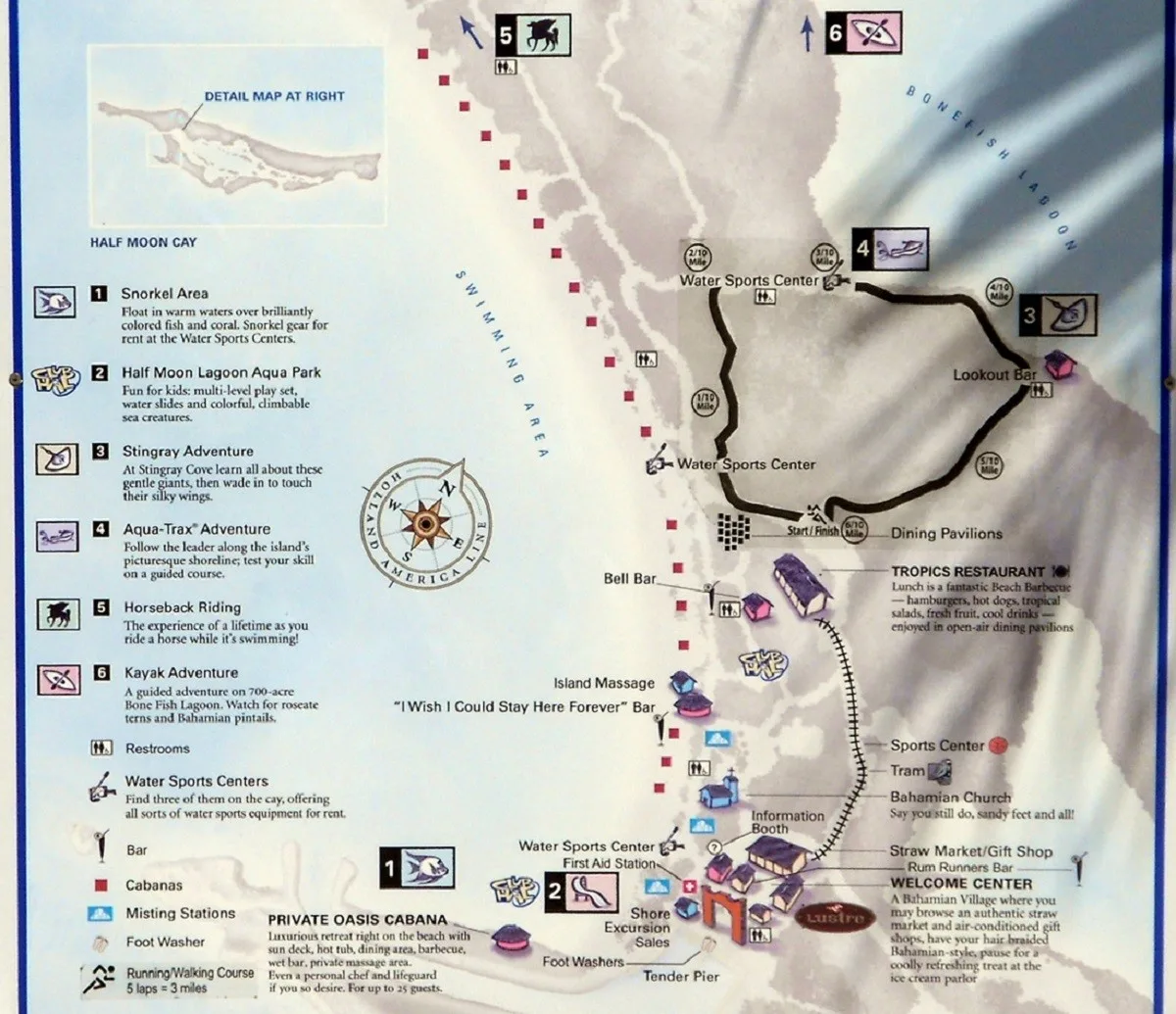 There are several map boards stationed around the island but having this in mind can help you make the most of your time on the island.
Feature image provided by Tyler (license by CC BY-ND 2.0).
Lance Longwell is a travel writer and photographer who has published Travel Addicts since 2008, making it one of the oldest travel blogs. He is a life-long traveler, having visited all 50 of the United States by the time he graduated high school. Lance has continued his adventures by visiting 70 countries on 5 continents – all in search of the world's perfect sausage. He's a passionate foodie and enjoys hot springs and cultural oddities. When he's not traveling (or writing about travel), you'll find him photographing his hometown of Philadelphia.