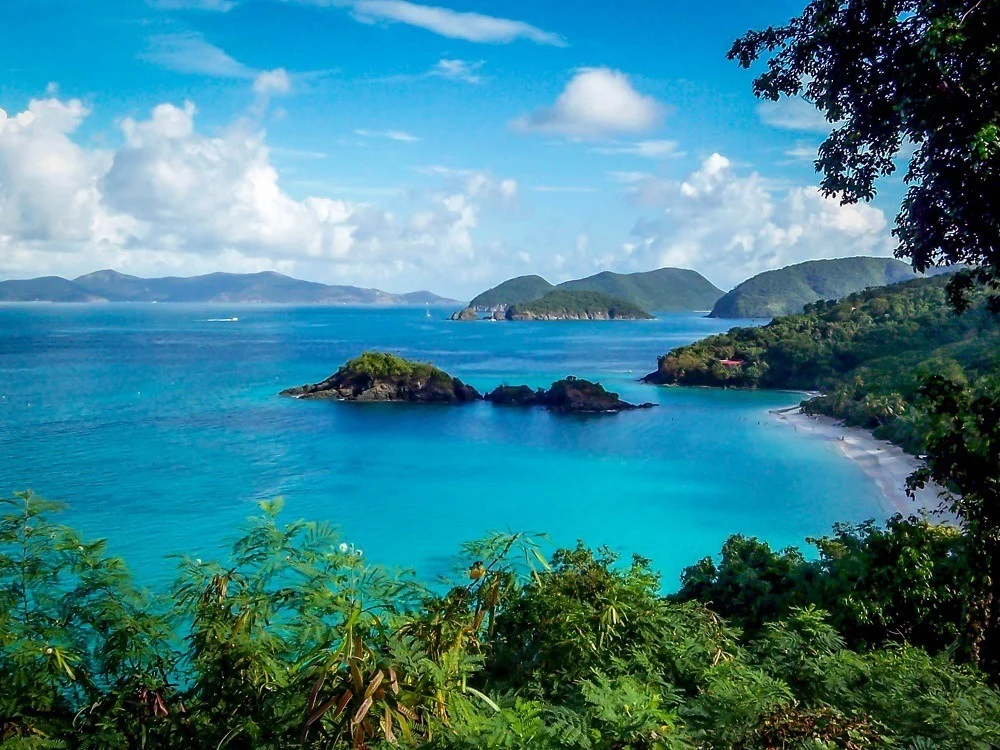 St. John, Virgin Islands is absolutely gorgeous! It is an amazingly beautiful island – white sand, deep blue water, and lush green hills. This is quite possibly the most perfect Caribbean Island we've ever seen. And there's no better way to enjoy the island than a visit to Trunk Bay Beach.
Visiting Trunk Bay
The island of St. John is almost entirely a National Park – beautiful, unspoiled, and quiet. Everyone who visits this island will eventually find their way to here – a crescent of beautiful sand, a small barrier islet just off the beach (called Trunk Cay), and surrounded by the hills of the Virgin Islands.
The crescent-shaped stretch of sand that is the beach at Trunk Bay is the most visited beach on the island. More importantly, it is consistently ranked as one of the top 10 beaches in the world. And we would absolutely agree with that!
But the real reason many people visit is to enjoy the Trunk Bay snorkeling course. Located just off shore, a short underwater snorkel course takes snorkelers around the Trunk Cay islet while giving them the chance to see fish, reefs, and learn a little something about the island. It takes about an hour to go around the island while snorkeling the course, which is maintained by the Virgin Islands National Park Service.
The north end of St. John Island is a stark contrast to the crowds on neighboring St. Thomas (including the popular Magens Bay Beach in St Thomas). For this reason, visiting St. John is one of our favorite cruise ship shore excursions in St Thomas.
Coming to Trunk Bay in St. John for the day is one of the best things to do in the Virgin Islands.
Here's everything you need to know about experiencing one of the best beaches in the world:
The Trunk Bay Shore Excursion
All of the major cruise lines that stop in Charlotte Amalie or Crown Bay, St. Thomas offer a Visit Trunk Bay excursion or a St John shore excursion, and the latter will likely include a stop here. Prices vary by cruise company but run between $69-$109.
During our Caribbean cruise, we were convinced we could get here on our own, for less money, and have more fun if we went without the group – and we were right.
In the process of researching how to get from St Thomas to St John, we learned that all the cruise shore excursions take the same Red Hook Ferry to St John. There's real no reason to do the cruise ship shore excursion at all!
Based on our experience, we were able to visit for about a third of the cost, plus we got almost two more hours at the beach than the people on the official shore excursion.
How to Get to St John
If you want to skip the expensive shore excursion, you can visit on your own! Here's how to get here from St Thomas.
It was so easy to get there on our own from the Crown Bay cruise ship terminal in St. Thomas. We made sure we were one of first off the ship and hailed a cab to Red Hook ferry terminal early in the morning. The taxi to Red Hook ferry terminal cost us $13 per person.
There are two options for the ferry from St. Thomas to St. John. The most common option leaves from the Red Hook Ferry St Thomas terminal. The ferry costs $6 and takes 20 minutes. The ferry leaves Red Hook at: 6:30am, 7:30am, 8:00am, 9:00am, 10:00am, 11:00am, and 12:00pm. The return ferries from Cruz Bay are are at: 1:00pm, 2:00pm, 3:00pm, 4:00pm, 5:00pm, and 6:00pm.
Of particular interest to cruise ship visitors, there is a single ferry directly from Charlotte Amalie to Cruz Bay. The ferry leaves Charlotte Amalie at 10:00am and the return ferry leaves Cruz Bay at 3:45pm. This ferry takes 45 minutes and costs $12. Given the limited amount of time it gives on St. John, we don't recommend this option.
Getting to the Beach
Getting to Trunk Bay is also very easy. When you get off the ferry from St Thomas, you'll be arrive in Cruz Bay. In Cruz Bay, grab a taxi to take you out to the beach, a distance of about 3 miles. Most taxi drivers will stop to let you take pictures from the lookout. Cost of the taxi is $6.
The bay and the beach are located within the Virgin Islands National Park. As such, there is an admission charge of $5.00 per adult to enter. (Note: If you have the America the Beautiful National Park Pass, admission is free.)
Facilities at the Beach
There are limited concession facilities at the beach. The Trunk Bay facilities are open from 8:00am-4:00pm daily. This includes a snack bar that serves lunch and snacks, showers, and restrooms. The snack bar is open from 9:00am-4:00pm.
There is a lifeguard on duty close to Trunk Cay, but if you go down the beach to the west, you'll be relatively alone. Lifeguards are on duty from 9:00am-4:00pm.
You can rent masks, snorkels, and flippers from the Beach Bum Snorkel Rental (a.k.a., snack bar). Cost is $10, plus a $25 cash deposit. Please note that snorkel gear must be returned by 3:00pm (and needs to be rinsed off), which effectively cuts your visit a little short.
One thing to consider. We always bring our own snorkel gear on cruises because it makes every beach day a snorkel day! If you enjoy the water, consider investing your own gear and bring it with you. Please check out our snorkel gear guide.
Have you been to this amazing beach in the U.S. Virgin Islands? Did you think it was as beautiful and relaxing as we did?