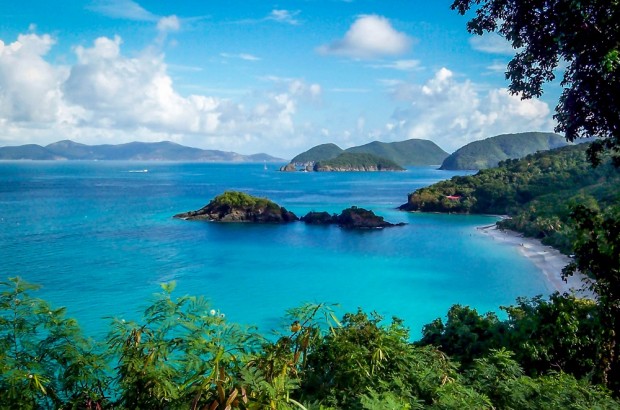 Our cruise made port in Crown Bay, St. Thomas (near Charlotte Amalie) early in the morning.  We were one of the first off the ship and hailed a cab to Red Hook early in the morning. Our goal was the 9am ferry to St. John – and we made it (just barely). Thankfully only one other cruise ship would be in port that day and they were about a half hour behind us.
Holland America offered a shore excursion to St. John and snorkeling for $79. We were convinced we could get to Trunk Bay on our own cheaper and have more fun if we went without the group – and we were right.
Going to St. John for the day was absolutely the right call.
St. John is mostly a National Park – beautiful, unspoiled and quiet. It was so easy to get there on our own from the cruise terminal.  It was a $12 cab from Crown Bay to Red Hook (all prices per person). Then a $6 ferry from Red Hook to Cruz Bay in St. John. Then another $6 taxi from Cruz Bay to Trunk Beach, where it costs only $4 to get in (we have our own snorkel gear – check out our snorkel gear guide). That's compared to the $79 (cost) for the shore excursion. Plus, they didn't get to Trunk Bay until nearly 40 minutes after we did and they had to leave almost an hour before we did.
Trunk Bay is a gorgeous beach, with beautiful sand and a small barrier island. There is a short underwater snorkel course that took us about an hour to complete (including the time going all the way out to the end of the barrier island). We grabbed a quick lunch at Trunk Bay before heading back to Cruz Bay and St. Thomas.
St. John, Virgin Islands is absolutely gorgeous. It is an amazingly beautiful island – white sand, deep blue water and lush green hills. This is quite possibly the most perfect Caribbean island I've ever seen. We want to come back here for a week and stay at one of the local hotels.
We got back to downtown Charlotte Amalie around 2pm and walked Main Street, popping into a few of the stores. My sister-in-law and wife bought two t-shirts, which sister-in-law left in the taxi on the way back to the Crown Bay cruise ship terminal.
Have you been to Trunk Bay? Did you think it was as beautiful as we did?