The first person I saw when I entered the bar in Luckenbach, Texas, was a man in his late 50s dressed in a green camouflage do-rag and long, khaki duster…with fringe. I was dressed in a very standard black sweater and black coat to protect against the unseasonably cold temperature. The only thing visibly Texan about me was my cowboy boots, the embroidery hiding under my jeans. We were not exactly two peas in a pod, this biker and me.
We approached the bar at the same time and placed our orders. As I pulled out my wad of cash, the bartender returned with our drinks from the other side of the bar.
Before I could hand over the dollar bills, the stranger pulled out a $10. "This should cover both," he said to the bartender. Then, turning toward me, he smiled, "welcome to Luckenbach."
Visiting Luckenbach, Texas, is like coming home to a place you've never been before. Walking through the door of this two-building town–it only has a dance hall and combination bar and general store–there is a feeling that everyone is a regular, maybe even friends and family.
Then one of the performers starts to ask where people are from–Alberta, Kansas City, San Antonio, Cincinnati. Despite the geographic distance of the origins of the patrons on this Tuesday night, everyone settles into the easy country groove.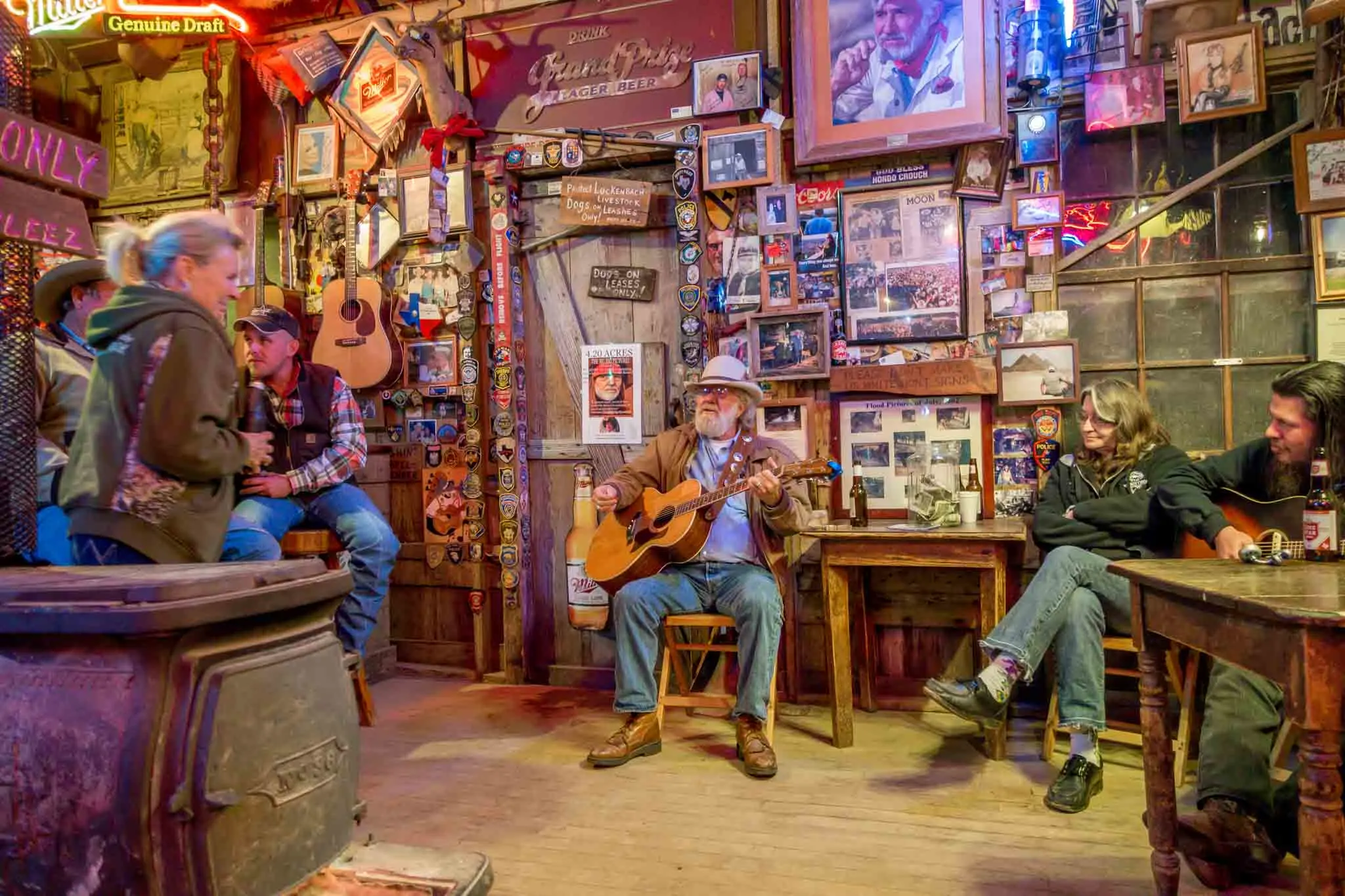 Fourteen miles from Fredericksburg, this is not much more than a wide place in the road. Its oft-stolen road signs famously show, "Luckenbach, Texas, population: 3."
This tiny hamlet in the Hill Country was settled in the late 1840s and 1850s by German farmers, including Jacob and August Luckenbach. The general store and post office–the heart of what remains of the town–were established in 1886. A cotton gin was operated nearby with varying levels of success until 1929.
In 1970, the local legend John "Hondo" Crouch and a few partners responded to an ad that offered the town for sale. Envisioning a town where music and magic get made, Crouch and his friends established a place where the rest of the world gets left behind.
They took make believe titles (Hondo was the self-proclaimed mayor) and invited everyone who visited to join in in the laid back, unique atmosphere. Within a few years, they established "hug-ins," the Luckenbach World's Fair, and the Mud Dauber festival. The events drew hundreds and then thousands to the tiny place, and they continue to draw big crowds today.
Luckenbach quickly became a place not just to escape but a venue for some of the best (or at least the most passionate) in country music with daily performances in the bar. In the 1970s, Jerry Jeff Walker first put the town on the national radar, followed a few years later by Waylon Jennings and Willie Nelson with their song "Luckenbach, Texas (Back to the Basics of Love)."
Today, the historic, welcoming town draws people from across the world to drink beer underneath 500-year-old oak trees and listen to music in the memorabilia-studded bar. The daily performances continue and larger ones with country music greats garner crowds on many weekends while the festivals started by Hondo and his crew dot the busy calendar.
This is a special place with a vibe unlike any I've experienced before where the motto sung by Waylon and Willie continues to ring true–"everybody's somebody in Luckenbach."
Where is Luckenbach, Texas?
Luckenbach is a 75-mile road trip from Austin, Texas. The closest large town in the Hill Country is Fredericksburg, which is 14 miles northwest. From US Highway 290, take RR 1376 to 412 Luckenbach Town Loop.
---
Have you been to here? What did you think?
Laura Longwell is an award-winning travel blogger and photographer. Since founding Travel Addicts in 2008, she has written hundreds of articles that help over 3 million people a year get the most out of their travel. In that time, she has visited nearly 60 countries on 5 continents, often returning to favorite destinations over and over again. She has a deep love of history, uncovering unexpected attractions, and trying all the good food a place has to offer.
In addition to Travel Addicts, Laura runs a site about her hometown of Philadelphia—Guide to Philly—which chronicles unique things to do and places to see around southeastern Pennsylvania. Her travel tips and advice appear across the web.