In the heart of the Texas Hill Country, the town of Fredericksburg is a stone's throw away from Austin and San Antonio. Despite its proximity to the big cities, it is popular because it maintains a small town feel while being packed with activities. There is never a shortage of fun things to do in Fredericksburg, Texas.
With its unique German heritage, thriving wineries, shopping, and museums, it's the perfect weekend getaway from just about anywhere. We have visited Fredericksburg at least a dozen times and return several times a year. Here are our recommendations for top things to see and do whether you're visiting for a weekend or longer.
Visit Fredericksburg wineries
Over the last decade, wineries in Fredericksburg have gained national media attention and won more awards than ever. The live music, food, and fun atmosphere don't hurt either.
A 30-mile stretch of road from Fredericksburg to Johnson City, Texas, is home to more than 50 wineries and tasting rooms. Many of the wineries focus on grapes that grow well in the Mediterranean, so look for wines like Viognier, Albarino, Sangiovese, and Tempranillo.
A trip to the Texas wineries is a great way to spend a day trip or weekend–with a designated driver or one of the many chauffeured tours. There are new wineries all the time, so you can go back multiple times and always see (and try) something different. Our favorites include Augusta Vin, Slate Theory, Pedernales Cellars, and Heath Sparkling Wines.
Enjoy flowers at Wildseed Farms
Wildseed Farms is like a playground for people who love the outdoors. In the spring, summer, and fall, its fields teem with flowers of every hue from the famous Texas bluebonnets to brilliant red standing cyprus.
The wildflower farm has walking trails, butterfly gardens, and an endless number of photo opportunities. There is also a wide variety of plants, seeds, and food items for sale in the shops. There's so much to do here, and it's one of the prettiest places to visit in Fredericksburg.
Visit National Museum of the Pacific War
From the moment we walked into the National Museum of the Pacific War, it was clear that this was no small-town museum. The in-depth exhibits bring to life the conflict in the Pacific Theater in painstaking detail with thousands of artifacts and heavy machinery of the type you would normally only expect in facilities like the Smithsonian.
The three buildings of the Pacific War Museum include two traditional museums that focus on Admiral Nimitz and the World War II battles in the Pacific plus an outdoor Pacific Combat Zone where reenactments bring the battles to life in front of your eyes. If you have even a passing interest in history and are wondering what to do in Fredericksburg, Texas, make sure the National Museum of the Pacific War is on your list.
Stroll through the Japanese Garden of Peace
Part of the National Museum of the Pacific War, the Japanese Garden of Peace provides a moment of quiet in downtown and a counterpoint to the tragedy of war discussed in the buildings that surround it. The garden includes lots of items with symbolic meaning, including the stones, raked gravel, and water feature. In fact, the garden itself is symbolic—a gift in honor of the friendship between Admiral Nimitz and Japan's Admiral Togo Heihachiro.
While the garden is integrated into the Pacific War Museum complex, you can also enter it separately. It's one of the exceptional free things to see in Fredericksburg.
Shop along Main Street
Shopping is undoubtedly one of the most popular things to do in Fredericksburg. The historic buildings along Main Street are home to over 100 shops selling pretty much anything you could be in the market for.
From antiques and art to clothes, musical instruments, candy, and home décor, the shops here have you covered. There are almost no chains, so the merchandise is unique and varied. When you've had your fill of shopping, there are lots of restaurants and wine tasting rooms where you can indulge while giving your feet a break. Hondo's, Burger Burger, and Vaudeville are some of our favorites.
Explore Lyndon B. Johnson National Historical Park
A short road trip away, two points of interest in Stonewall and Johnson City, Texas, allow visitors to take a step back into presidential history with a look at the life of Lyndon B. Johnson, the 36th president of the United States. Together, they are the Lyndon B. Johnson National Historical Park.
Stonewall–just 14 miles from Fredericksburg–is home to the LBJ Ranch, which includes important places from the president's life. You can visit the one-room schoolhouse where he learned to read, see his grandparents' house, and view the Johnson family cemetery. A tour through the Texas White House where Johnson spent about one-quarter of his presidency transports you back to the 1960s with a fascinating look at the man behind the office. (Note: as of October 2023, the Texas White House remains temporarily closed for repairs, but it is viewable from the outside.)
Nearby Johnson City is the location of LBJ's boyhood home and other landmarks significant in his early life.
Experience life at the Sauer-Beckmann Living History Farm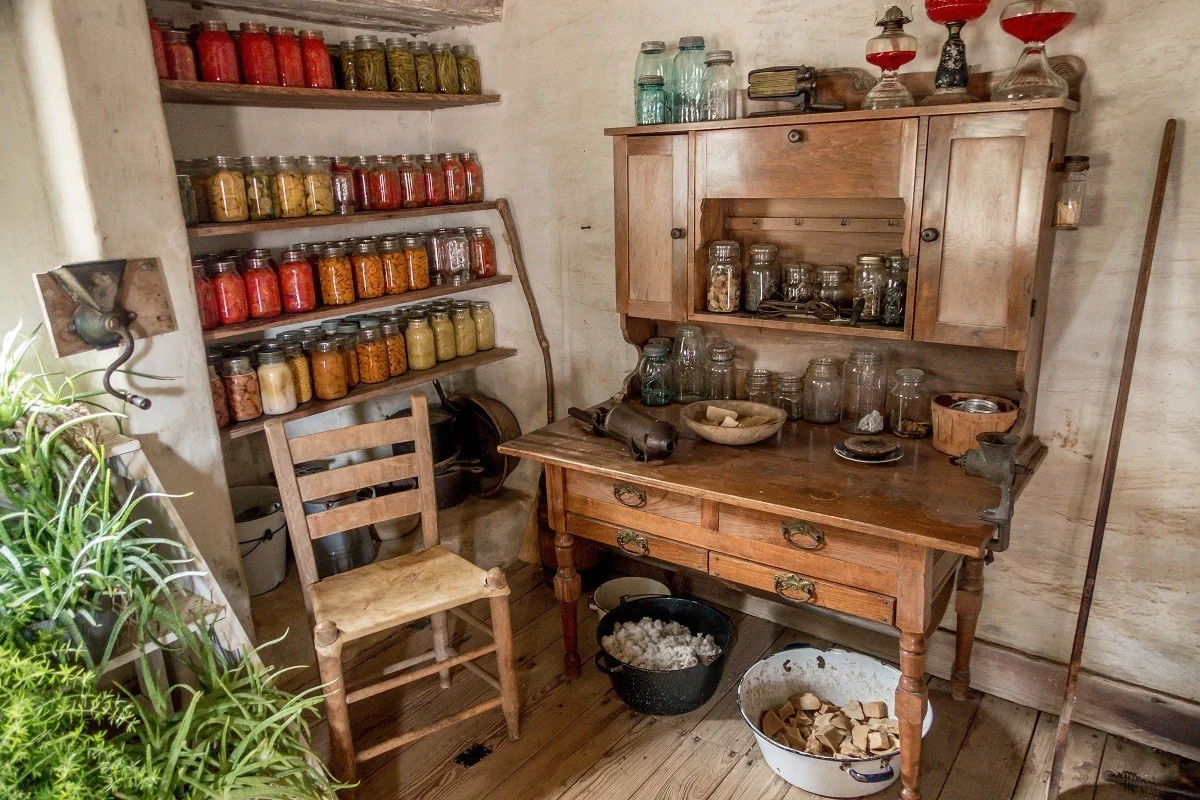 The Sauer-Beckmann Living History Farm is located at the Lyndon B. Johnson State Park and Historic Site. Here, interpreters work at this Texas-German farm that is just as it would have been in 1918 when LBJ was growing up.
Interpreters can vegetables, shear sheep, and even butcher animals they raise. The realism and attention to detail on the farm is striking, and the interpreters are passionate about their work and eager to educate visitors. It is worth visiting if you're nearby.
Pick peaches at an orchard
The area around Fredericksburg produces 40 percent of the peaches in Texas. In the spring and summer, the orange gems hang heavy on the trees outside of town beckoning visitors to pick their own at the local orchards. There are also lots of roadside stands where you can buy peaches and delicious peach ice cream, too. Grabbing a scoop is one of the most delicious ways to welcome summer in the Texas Hill Country. Jenschke Orchards is our pick, but there are several good options.
It's important to note that, like anything that's weather dependent, the peach crop and availability can vary. Make sure to check what's available at the orchard or farm stand before you go.
Visit local breweries
Fredericksburg has several breweries to visit that are perfect for beer drinkers. Just on the edge of town is Altstadt Brewery which specializes in authentic German-style craft beers like pils and dunkel. Altstadt offers regular tours and tastings, and they have an on-site restaurant.
On Main Street, Fredericksburg Brewing Company is worth a stop. The oldest brewpub in Texas, they make German-style brews with creative names like Not So Dumb Blonde. The restaurant features German specialties, burgers, and pizza.
See the beauty of a painted church
The German immigrants who settled Fredericksburg and other Texas towns in the 19th century tried to make their new places of worship feel like those they'd left behind in their homelands. They painted altars and arches with vibrant colors and designs reminiscent of the Gothic style they were used to, creating the Painted Churches of Texas.
While other towns like Schulenburg have a cluster of churches, Fredericksburg has a beautiful example of the artwork in St. Mary's Catholic Church. The work from the early 1900s features intricate stained glass, paintings of the Twelve Apostles, arch decorations, and a depiction of Jesus above the altar, making St. Mary's sanctuary one of the more unique things to see in Fredericksburg.
Strike a deal at Trade Days
Seven miles east of downtown is a shopper's paradise. Once a month, Sunday Farms turns into the bonanza that is Trade Days for the weekend. Antiques, gifts, jewelry, oddities, and kitsch—Trade Days has it all. With over 400 vendors, there is a tremendous amount to choose from. We love searching among the stalls for unique items–it feels like a treasure hunt!
Indulge at a bed and breakfast
The area is home to hundreds of B&Bs and guest houses. By staying in a bed and breakfast you can enjoy delicious breakfasts, personalized service, and a welcoming atmosphere a bit different from a hotel. Options in this B&B mecca range from upscale elegance to down home country comfort in line with what you'd expect in the heart of Texas. You can stay on the grounds of some of the wineries or even in a remodeled 19th century cabin. The options here are nearly endless.
Fall in love with Luckenbach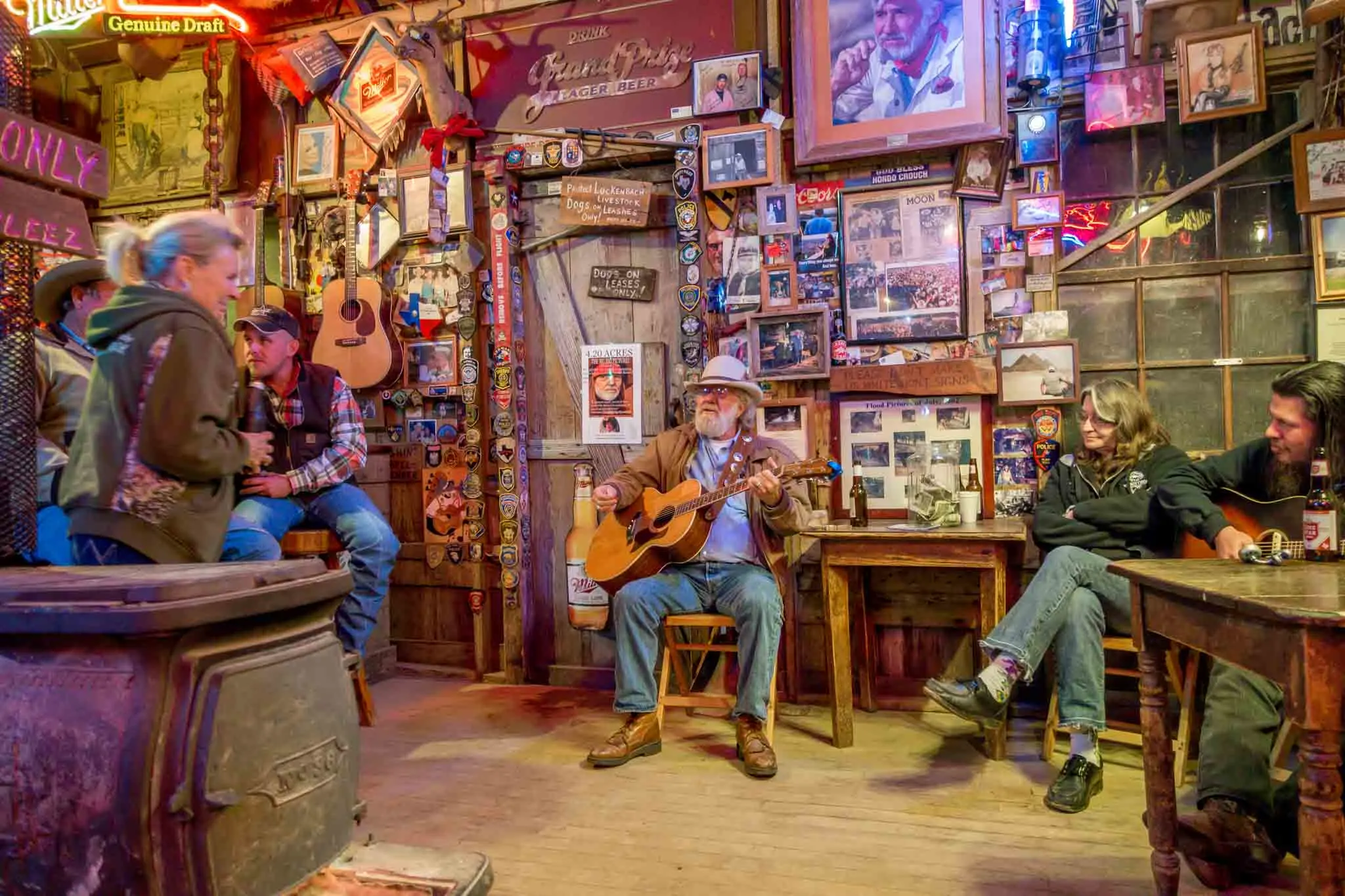 The town of Luckenbach, Texas, is a must-visit for us every time we're in Fredericksburg. Just 14 miles away, Luckenbach is essentially a wide place in the road. This tiny ghost town draws people from across the country and around the world to drink beer underneath the oak trees and listen to country music in the memorabilia-studded bar and on the stages out back.
There are daily informal performances at Luckenbach as well as concerts from country greats and festivals on the weekends. Here, there is a feeling that everyone is a regular–maybe even friends and family. Without a doubt, Luckenbach is one of the best places to visit nearby.
Try local spirits at Elk Store Winery and Distillery
Right on Main Street, the Elk Store Winery and Distillery is one of the coolest places to visit in Fredericksburg. With dark wood, exposed stone, and comfy couches you can sink into all night, this bar is full of locals and people who know what's good to drink.
The Elk Store Winery and Distillery has two bars—one with wine from around the world and one with spirits distilled on-site. Whether you're choosing a French Cotes du Rhône, something made with their gin, or a popular cocktail with the house-made pecan pie moonshine, it's hard to go wrong. I love the vibe here—comfort, familiarity, fun, and good drinks.
Want to visit Fredericksburg without driving? Check out these tours and top sites from Austin or San Antonio.
Explore Old Tunnel State Park
Old Tunnel State Park is a railroad tunnel that ceased operations in the 1940s. It's now popular as the home of a colony of over 3 million Mexican free-tailed bats. In the evenings, you can gather to watch the bats take flight from their tunnel home, spiraling and swirling through the sky at dusk much like they famously do not far away in downtown Austin.
Grab a bite at Twisted Sisters Bake Shop
Twisted Sisters Bake Shop is a top-notch bakery with a sense of humor. They offer a full-service espresso bar and a huge selection of homemade items for breakfast and lunch. Locals and visitors come in for bagel sandwiches, cupcakes, salads, and more. The plate-sized cinnamon buns are to-die-for, and we can't pass through town without getting the breakfast tacos.
The café has a quirky sense of humor with attitude-filled merchandise like coffee mugs that proclaim "better late than ugly" and dish towels that say, "I'm afraid if I give up wine, I'll have to replace it with murder." This place is brimming with wit and good food. Even better: there's ample parking and plenty of comfortable seating.
Browse around Hill Country Herb Garden
Just a few blocks off Main Street, Hill Country Herb Garden is a chic, rustic complex transformed out of an 1800s homestead.
The farm has a 5000-square foot day spa and a fabulous bistro set among winding gardens and walking paths. You can stay on the property in the cottages or just stop in as we did for a quick bite and to check out the beds of rosemary, roses, and other beautifully-scented things.
Check out the bar scene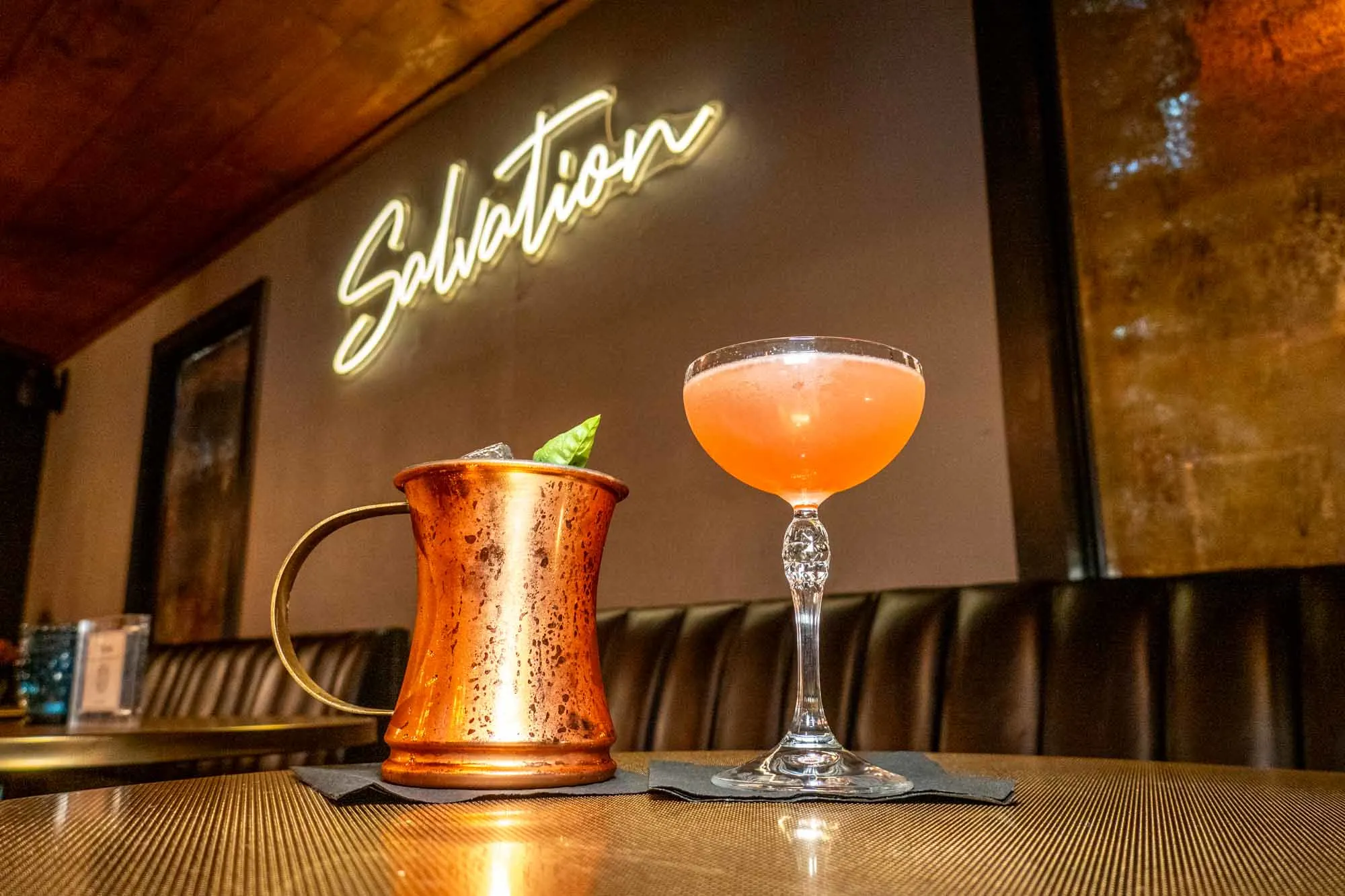 Fredericksburg doesn't lack for good places to eat and drink, but there are a few places we love for their expertly made cocktails and the ambiance.
Salvation Speakeasy is a cool bar with lush furnishings and the best bartenders in town. The location is unexpected to keep you on your toes (it is a speakeasy, after all). At 78624 The Bar, you'll find classic cocktails, wine, and beer in a unique, antique-filled setting. The live piano music and courtyard make it among our top choices.
If you're a karaoke lover, the Velvet Lounge is the place to go for fun and good drinks. They're known for their happy hour.
Visit Fort Martin Scott
In December 1848, the US Army established Fort Martin Scott as the first military post on the western frontier of Texas. On the outskirts of the newly-settled town of Fredericksburg, the Fort was designed to protect travelers and settlers in the area.
As the frontier moved further west, the Fort's purpose changed, but it continued to serve military and security aims through the Civil War. Visitors can see original and reconstructed buildings and learn about life and conflict along the frontier.
Try German food
Fredericksburg is full of restaurants and brew pubs serving food not typically found on this side of the Atlantic, and especially not in Texas. Influenced by the town's heritage, German and German-inspired food options abound.
Cuisine ranges from traditional sausage, pretzels, and apple strudel to more Texan interpretations like schnitzel with Monterey Jack cheese and guacamole. Whatever your preference, there are lots of options for food and even more for beer.
Our top choice for restaurants if Otto's–we've eaten here numerous times and have always been impressed. Plus, they're open every day, which isn't common in Fredericksburg. Other winners are Auslander, Old German Barkery & Restaurant, and Altstadt.
See the exhibits at Vereins Kirche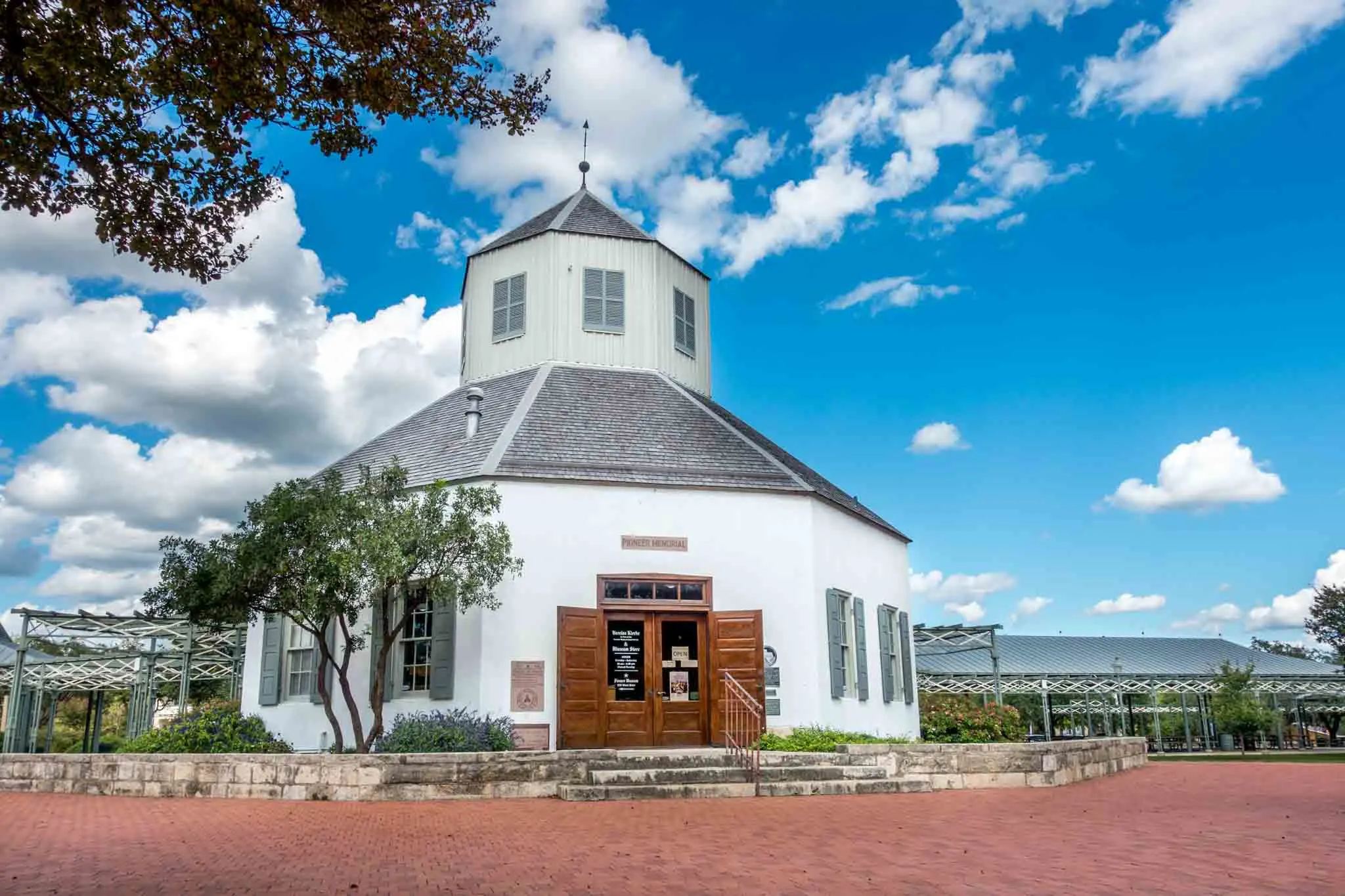 Founded by German immigrants in 1846, Fredericksburg (named after Prince Friedrich of Prussia) has a rich and distinctive history. Part of that history is on display at the the Vereins Kirche, a reconstruction of the original building that served as a town hall, school, and church. Visitors can learn about everything from the original settlers' historic treaty with the Comanche Indians to religion and community on the frontier.
Learn about history at the Pioneer Museum
Run by the Gillespie County Historical Society, the Pioneer Museum is one of the history museums in Fredericksburg. It is designed to inform visitors about the lives of the early pioneers in the Hill Country by showing them places where the settlers lived and worked. The 3-acre complex has 11 buildings showcasing exhibits and more than 40,000 artifacts from the mid-19th century.
The museum hosts regular walking tours that give an in-depth look at the history of the area.
Grab a drink at Hye Cider
Hye Cider is a unique offering in the area. Recently relocated to a new tasting room at the Texas Wine Collective, they have a core offering of five ciders made from apples, honey, and other organic ingredients from the Hill Country. We loved them all but were partial to the slightly sweet Hye Note and Hye Heaven, which is made with Turkish figs and toasted peppercorns.
Climb Enchanted Rock
Seventeen miles north of downtown, Enchanted Rock State Natural Area is one of the most popular hiking and camping sites in Texas and one of the best attractions in the Hill Country. Native American tribes ascribed magical powers to the rock, hence its otherworldly name.
The massive pink granite batholith and surrounding park attract 250,000 visitors a year for good reason—it boasts 2.5 square miles of land for rock climbing, backpacking, picnicking, and other outdoor activities. Whatever your plans, Enchanted Rock State Park is a great place for active pursuits or just relaxing in nature. Make reservations well ahead of time if this is on your must-do list, and take plenty of water if it's warm.
See live music at Bankersmith
Bankersmith is a ghost town turned saloon and dance hall. With four full bars, live music, and food, there is always something going on here. Bankersmith hosts frequent markets, food festivals, and special events, so check the calendar, especially if you're planning to visit on the weekend.
Sample the wares at Munch Food Park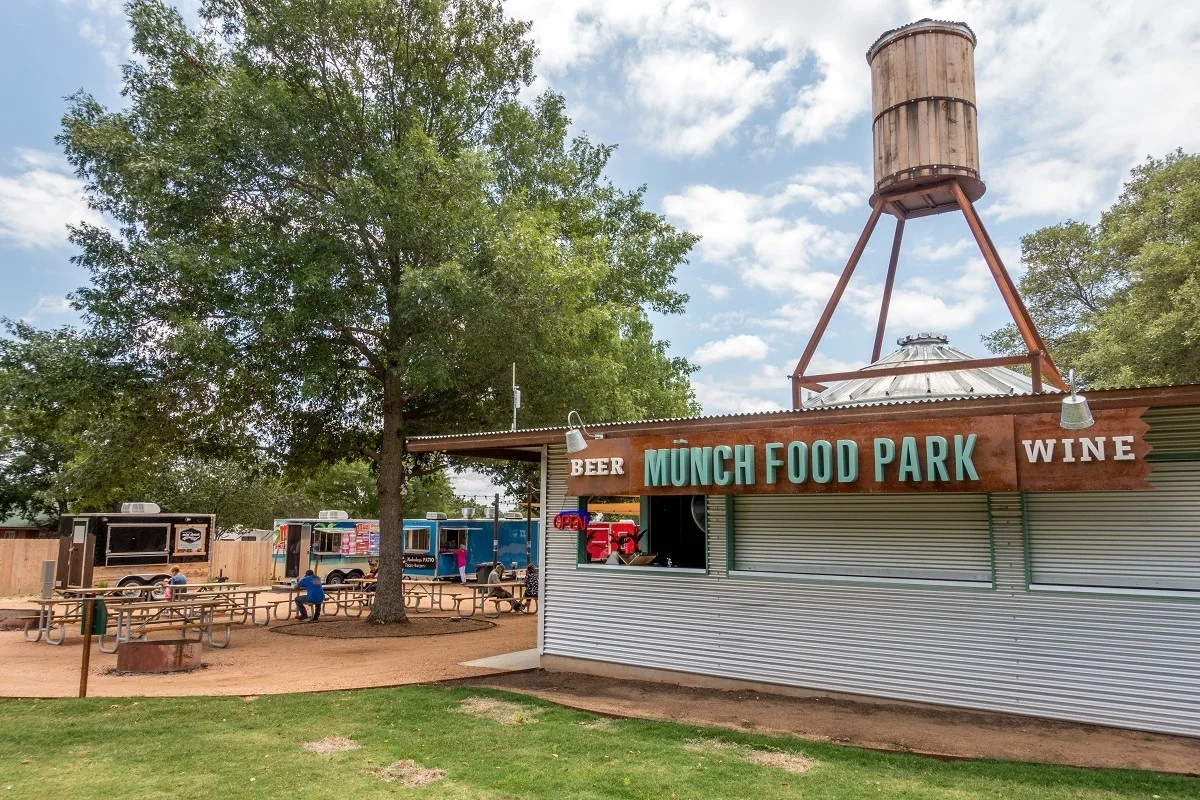 For a fun outdoor dining experience, check out the Munch Food Park. On any given day, there's a variety of trucks serving everything from donuts to barbecue in a family-friendly atmosphere. On weekends, you'll find the beverage barn open, and there is often live music and special events.
See a show at Fredericksburg Theatre Company
The Fredericksburg Theatre Company has entertained audiences in the region for 25 seasons. They stage seven productions every season ranging from musicals like Annie to dramas like 12 Angry Men to comedies like the Texas classic A Tuna Christmas. If you're looking for something a little unexpected to do, check out their current schedule.
Browse the Warehouse District
The Warehouse District has a group of unique antique stores with one-of-a-kind finds. There are artworks, home furnishings, and lots of furniture. We even came across 19th-century French books and a skeleton, so you never know what you may find here.
To fuel your shopping adventures, stop in to one of the restaurants. August E's is an upscale choice known for their sushi and steak. Granite House Lounge has a great patio for outdoor dining and one of the best burgers in town.
Taste whiskey at Garrison Brothers Distillery
A few miles outside of town in Hye, Texas, is one of the most popular distilleries in Texas. Garrison Brothers Distillery makes premium grain-to-glass bourbon on the ranch here, and they welcome visitors to sample their wares.
Sign up for one of Garrison Brothers' regular tours to learn about all the details of how they make their handcrafted spirits. After you're finished with the tour and tasting, enjoy lounging for awhile.
Get cultured on a First Friday Art Walk
Scattered among the tasting rooms and cute shops, you'll find about a dozen art galleries along Main Street and the surrounding areas. On the first Friday of every month, they keep their doors open late to welcome visitors with art showcases, live music, and wine from the nearby vineyards.
Each gallery has different options ranging from painting and photography to sculpture and ceramics. The self-guided gallery crawl becomes one big festive event. First Friday is a great time to be in town, but if you can't make it then, check out the galleries on your own schedule.
Drive the Willow City Loop
A 13-mile loop northeast of Fredericksburg, the Willow City Loop is one of the best places in the area to see bluebonnets and other Texas wildflowers. The drive is lovely year-round but it's particularly special from March to May when the landscape is painted with blue, red, and yellow flowers.
Eat, drink, and relax at Das Peach Haus
Das Peach Haus combines two of the best things about the Fredericksburg area in one place—food and the outdoors. Inside the store whose buildings date from the late 1800s and early 1900s, you'll find just about every food product you never knew you needed from peach cider to their famous roasted raspberry chipotle sauce. And you can sample all of it on-site.
There is also a wine tasting room that features pairings with Hill Country wines and a cooking school that offers regular classes in regional US specialties and international cuisines. If that weren't enough, just outside Das Peach Haus is what we loved most—views of the peach orchards, a handsome deck to relax on, and a gorgeous pond that's open for fishing.
Raise a glass at Oktoberfest
Oktoberfest is a big deal in this small German town. The largest festival of the year, it stretches for three days in early October. It includes dozens of musical acts, yodeling contests, a tuba fest, and lots of people wearing their best German dirndls and lederhosen. And, of course, lots of beer.
We love seeing all the concerts, watching the dancing, and eating as much currywurst and Bavarian pretzels as we can manage.
Make sure to plan far ahead if this is on your list of things to do because accommodations book up and restaurant reservations can be hard to come by.
Join in the Christmas festivities
Christmas in Fredericksburg is a festive time. Marktplatz lights up every evening with a giant tree and larger-than-life German Christmas pyramid. Nearby, kids ice skate on Marktplatz at Eisbahn. Many of the wineries feature seasonal offerings and special tastings, and the whole city is decorated for the holidays. It's an ideal (and very popular) time to visit.
Where to Stay
Vineyard Trail Cottages: Comfortable cabins
A Barn at the Quarry: A rural retreat
Hoffman Haus B&B: In the heart of town

See more options for where to stay in Fredericksburg.

Where to Eat
Otto's German Bistro: German and European-inspired cuisine
Cabernet Grill: Upscale focusing on steak, seafood, and Texas wine
Hondo's on Main: Casual spot with live music

Check out other choices for restaurants to try in town.

How to Get Here
Fredericksburg is 80 miles due west of Austin on Highway 290 and 80 miles north of San Antonio on Highway 87, making it an easy trip from both major cities (and their airports, if you're flying in). Houston and Dallas are both roughly four hours away.

Driving here is easy, parking is plentiful, and downtown is easily walkable. If you'd rather leave your car at your accommodations, Uber is available in town.
Laura Longwell is an award-winning travel blogger and photographer. Since founding Travel Addicts in 2008, she has written hundreds of articles that help over 3 million people a year get the most out of their travel. In that time, she has visited nearly 60 countries on 5 continents, often returning to favorite destinations over and over again. She has a deep love of history, uncovering unexpected attractions, and trying all the good food a place has to offer.
In addition to Travel Addicts, Laura runs a site about her hometown of Philadelphia—Guide to Philly—which chronicles unique things to do and places to see around southeastern Pennsylvania. Her travel tips and advice appear across the web.