This fabulous Texas road trip itinerary is packed with sites we love. They're some of the best places to visit in Texas—ones that don't make it on most tourists' radars. From the antiques of Round Top to the painted churches of Schulenberg and the wineries and attractions of Fredericksburg, these are the small towns mostly known about and loved only by Texans.
Day 1: Visit Brenham and Round Top
In Texas, Blue Bell ice cream is life. Like BBQ, Whataburger, and Dr. Pepper up the road in Waco, Blue Bell is a Texas staple. Going to see where it's made in the small town of Brenham just 90 miles from Austin was the fulfillment of a childhood fantasy and the first of our road trip destinations.
The Blue Bell ice cream factory experience is designed to evoke a particular kind of nostalgia and small-town feel. In front of the charming red brick building, we were greeted by a shiny antique 1930s delivery truck and the US and Texas flags flying high against the blue sky. Inside, we donned our old-time soda jerk paper hats with the Blue Bell logo on the side and took a walk through company history.
From Blue Bell's beginnings as a creamery in 1907 to its development as a major ice cream brand, the exhibit shows the company's evolution and its importance to Brenham. Upstairs is where the magic is, though.
One floor up, a huge window observation deck peers down onto the production area where you can see employees moving across the floor in every state of making the cold treat. In one corner, the bright half-gallon tubs and pints moved across the conveyor belt being filled with what anyone in Texas will tell you is the best ice cream in the country, if not the world.
Around the corner from the observation deck is what people come to the factory for—the scoop shop. For just $1, you can get a scoop of any of the Blue Bell flavors. From homemade vanilla to mint chocolate chip and pecan pralines 'n cream, they have it all. Choosing was the toughest part.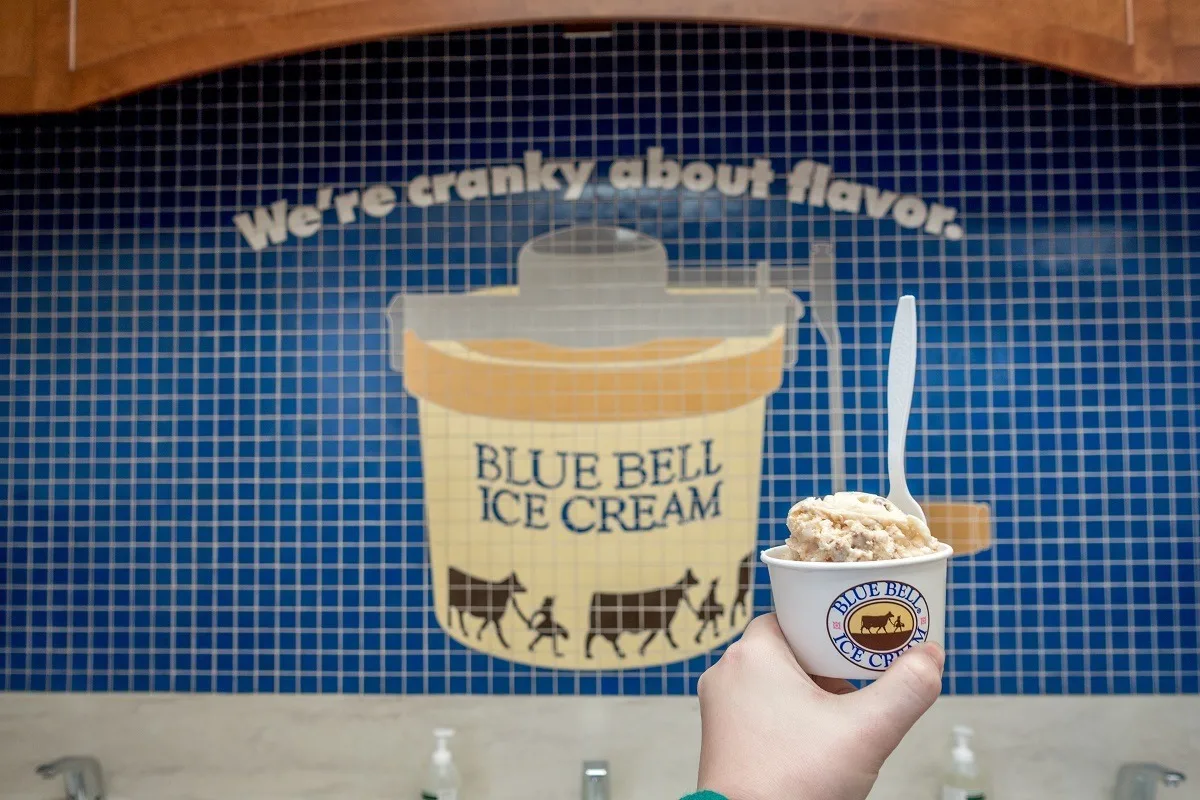 Full from our time at the scoop shop, we headed a few miles away into downtown Brenham.
When I was growing up, Blue Bell commercials showed an idyllic version of a Texas summer—swinging on the front porch, swimming, running outside. Sometimes the running was through a field of iconic bluebells—no coincidence on how the name of the ice cream was chosen. Much of that atmosphere remains in the Brenham area, but there's definitely a cooler edge to it these days, too.
Downtown Brenham is decked out with some of the coolest murals. With pink bears, giant owls, and plenty of tributes to the state, we immediately had the feeling of being in a hip small town, not just a wide spot in the road between Austin and Houston.
Brenham has two beer gardens and a brewery, and you'll find tapas alongside the fabulous BBQ and Southern food offerings in town. There's a cozy used book store—the Book Nook—and even a handful of art galleries. Several nights a week, things come alive with live music at Home Sweet Farm, and a professional theater company has regular performances at the 125-seat Unity Theatre. For a town of only 16,000 residents, Brenham offers lots of things to do.
There's more than enough to occupy your time in Brenham, especially on a weekend. So, if you want to explore more, stay for the night at the Ant Street Inn and enjoy its antique furnishings and stained glass.
After a few photos and snacks in Brenham, we headed on to nearby Round Top. There was pie in our future, and we would not be stopped!
We arrived in Round Top for a late lunch at Royers Round Top Café, a quirky and super popular destination in this super tiny (population: 90) town. On the outside, we were greeted with an eclectic, folksy mix of personality-filled signs and places to rest our feet while we waited for a table. Plus, there was an "honor cooler" of beer on the front porch to help pass the time.
Inside, the hospitality continued as we dug into the fish tacos and the Bud's café salad. But pie is the thing here, so go light on the lunch and make sure you save room. Our choice was the sweet 'n salty—a mix of fudge, caramel, and sea salt.
Having eaten our way through much of the day, it was time to do a bit of walking in the square a few steps away. We browsed the collection of art galleries and studios, which feature everything from fine art to antique dishes to saddles and spurs. We looked through some of the clothing shops and stopped for a minute under the oak trees at Royers Pie Haven, an offshoot of the café and the place to go if you're only looking for their famous pies.
Round Top is the place to go for antiques, so if you're visiting during one of the antique fairs, don't miss the array of vendors in the big red barn. Otherwise, your best bet is to hit up some of the other shops and warehouses (mostly open on the weekends) along Highway 237.
The pink station wagon—complete with Longhorns on the front—drew us into Junk Gypsy, the decorators and collectors of HGTV fame. Curiously, there's no junk, but there is plenty of unique merchandise to choose from to add a lot of shabby chic and personality to your home and wardrobe. There's lots of furniture, jewelry, and country-themed decorations. I even found a crown to wear while I shopped around, which is always a sign of a good time.
For a fun place to stay, check out Junk Gypsy's Wander Inn or the nearby Coyote Station Lodging.
Day 2: See Painted Churches and Jacobs Well
Make a pit stop in the town of La Grange on your Texas roadtrip. The 90-year-old Weikel's Bakery is a great place for a mid-morning snack of their famous kolaches. These award-winning fruit pastries reflect the area's Czech heritage (more on that to come), and they're delicious. I like the cherry and apple the most, but you can't go wrong.
If you have time, take a walk by the gorgeous Fayette County Courthouse, which dates from 1891, or head to Monument Hill for more historic sites, including a stately stone home and the remains of one of the first breweries in Texas. Otherwise, get back on the road for a quick trip to the area's painted churches.
The painted churches of Texas are not the kind of sites one might expect to see here. Across the landscape of the Hill Country, these 20 unassuming churches look like any small-town place of worship on the outside, but, inside, the craftsmanship is outstanding.
The churches are the work of German and Czech immigrants who settled the area beginning in the 1840s. They had left behind everything they knew in Europe but brought the love of their homeland with them. They christened their new towns with names from Europe—Moravia, Praha ("Prague" in Czech), and Weimar, among others—and they built churches that reminded them of where they came from.
We visited four of these lovely buildings that are located near each other and are easily accessible to the public. Although they're all in different tiny towns (like Dubina: population 44), they are informally known as the painted churches of Schulenburg, which is the largest town nearby.
What makes these churches worth exploring are their eye-popping interiors. With brilliant colors, swirling ivy, life-sized statues, and ceilings and pillars painted to fool the eye, there are a lot of unique things to see.
Our first stop was in Ammansville to see the dusty rose interior of St. John the Baptist. With the unexpected color scheme and floor-to-ceiling decorative elements, it stands out even among this unique group of buildings. Just outside the church, the cemetery is clearly European-influenced and reminded me of our day at the famous Bone Church in Kutna Hora near Prague. Many of the tombstones have inscriptions in Czech and include birthplaces a continent away.
Our second road trip stop—and my favorite—was Saints Cyril and Methodius Church in Dubina. Although access to the small interior is limited by a gate, a stop here gave us a look at the bluest indoor sky we'd ever seen. Admittedly, it was something I had never known I was missing, but the colors were spectacular. Even without lights on, the sanctuary felt like it glowed from within.
To reach the next stop, we crossed over the locally-famous Piano Bridge, which is one of only a few remaining iron bridges in the US. Supposedly, the bridge got its name from the noise it made when cars drove over it. A renovation has quieted the "music," but it's still a pretty sight.
After a 6-mile drive, we arrived at the "Queen of the Painted Churches," St. Mary's Catholic Church in High Hill. With stained glass from Germany, outstanding statues, and remarkable paintings, this heavily-adorned church lived up to its name. Nearby, another St. Mary's — St. Mary's Church of the Assumption in Praha — has stars that grace the ceiling and walls and a beautiful white altar gilded in 24 karat gold. It's clear that each one of these buildings was a source of pride for its congregations who spared no expense in making them as lovely as possible.
Lockhart is the perfect place for a late lunch on the second day of your Texas road trip. The town is famous as one of the best places to go for barbecue. Try Lockhart Chisholm Trail BBQ for pit-smoked barbecue sandwiches or head to Kreuz Market for their jalapeno cheddar sausage. If barbecue isn't your preferred (don't say that too loudly—Lockhart is the "barbecue capital of Texas"), check out delicious Market Street Café for their Monte Christo French toast sandwich or shrimp penne.
After a bit of history and a lot of barbecue, we made our way to Jacob's Well Natural Area, a park near Wimberley. The 81-acre site is a great place for birding (not our thing), geocaching, and hanging out with wildlife, but the real appeal is its swimming spot.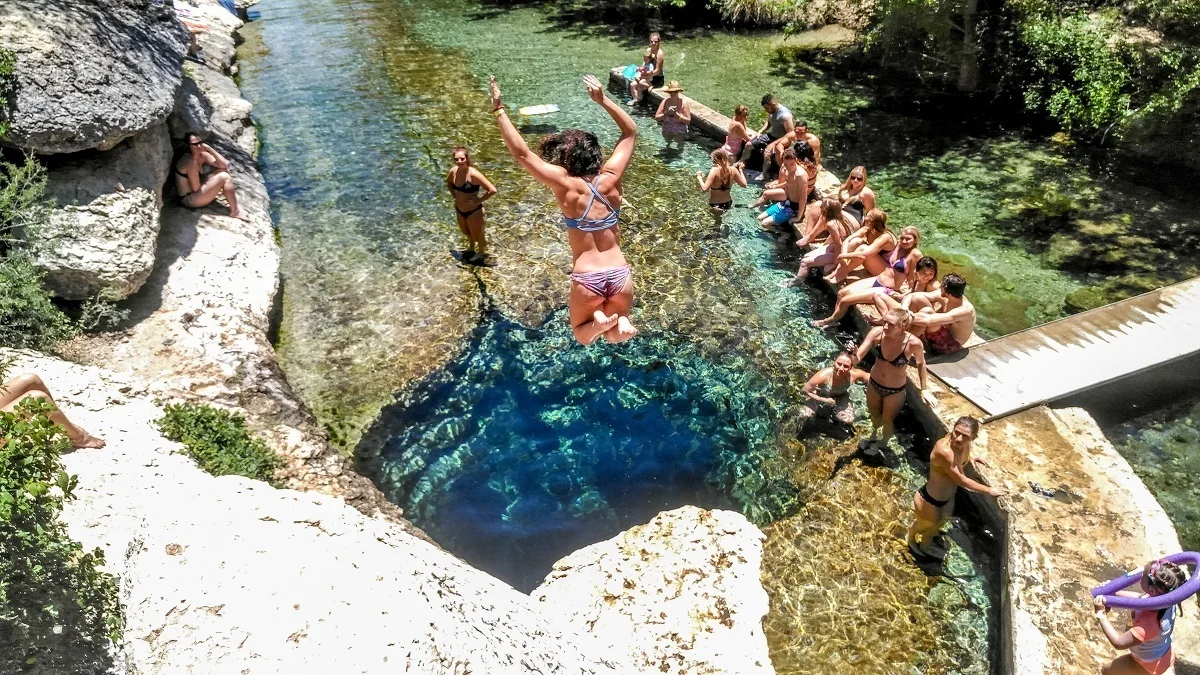 One of the prettiest and most popular places to cool off on your central Texas trip, Jacob's Well is deceptively deep, bubbling up from a cave system that stretches over 100 feet underground. Make a reservation to swim and jump from the cliffs above if you're brave enough. It's one of our top Texas destinations and a fun place to spend a late afternoon.
For dinner, we headed on to Jester King Brewery in Dripping Springs. Along with the wild fermented ales, Jester King has a wide selection of pizzas and a few other bites. Enjoying the warm evening while listening to the live music under the stars was the perfect way to cap off our day.
There are some fun places to stay in the area including the beautiful Camp Lucy.
Day 3: Visit Dripping Springs and Hamilton Pool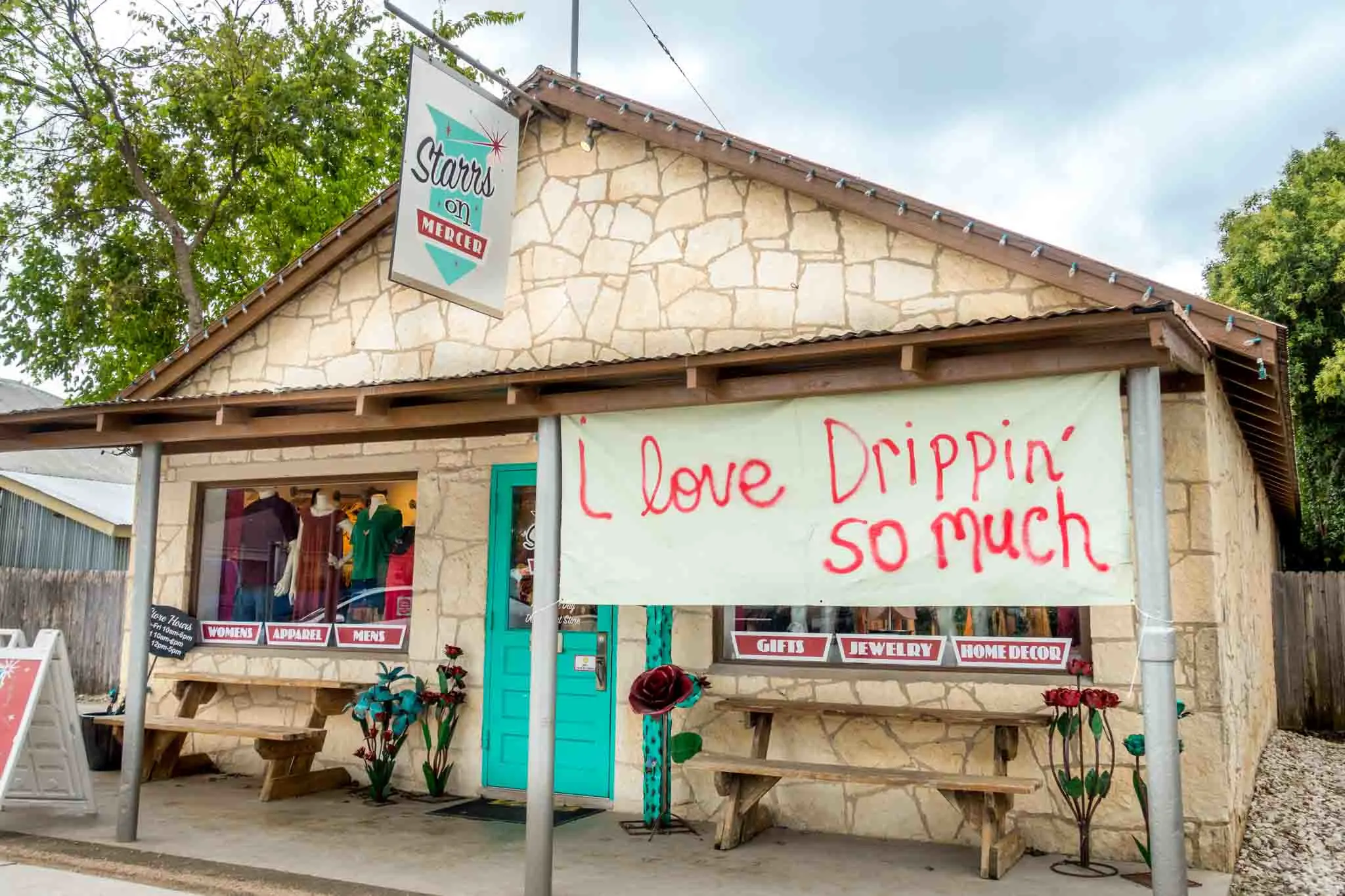 We started out day three of our Texas getaway in the cute Historic District with breakfast at Rolling in Thyme and Dough. It's one of our favorite spots in Dripping Springs. Their breakfast croissant was the ideal fuel for our day, and the weather was nice enough for us to sit out on the patio and soak up a few morning rays.
After breakfast, we wandered the collection of boutiques along Mercer Street and Old Fitzhugh Road. Between Vintage Soul TX and Starrs on Mercer, you can find just about any kind of vintage-inspired decor or unique clothing item you're in the market for.
By early afternoon, it was time to head about 10 minutes out of the center of town to Treaty Oak Distillery. We've visited a number of local distilleries in Texas, and Treaty Oak is one always love visiting.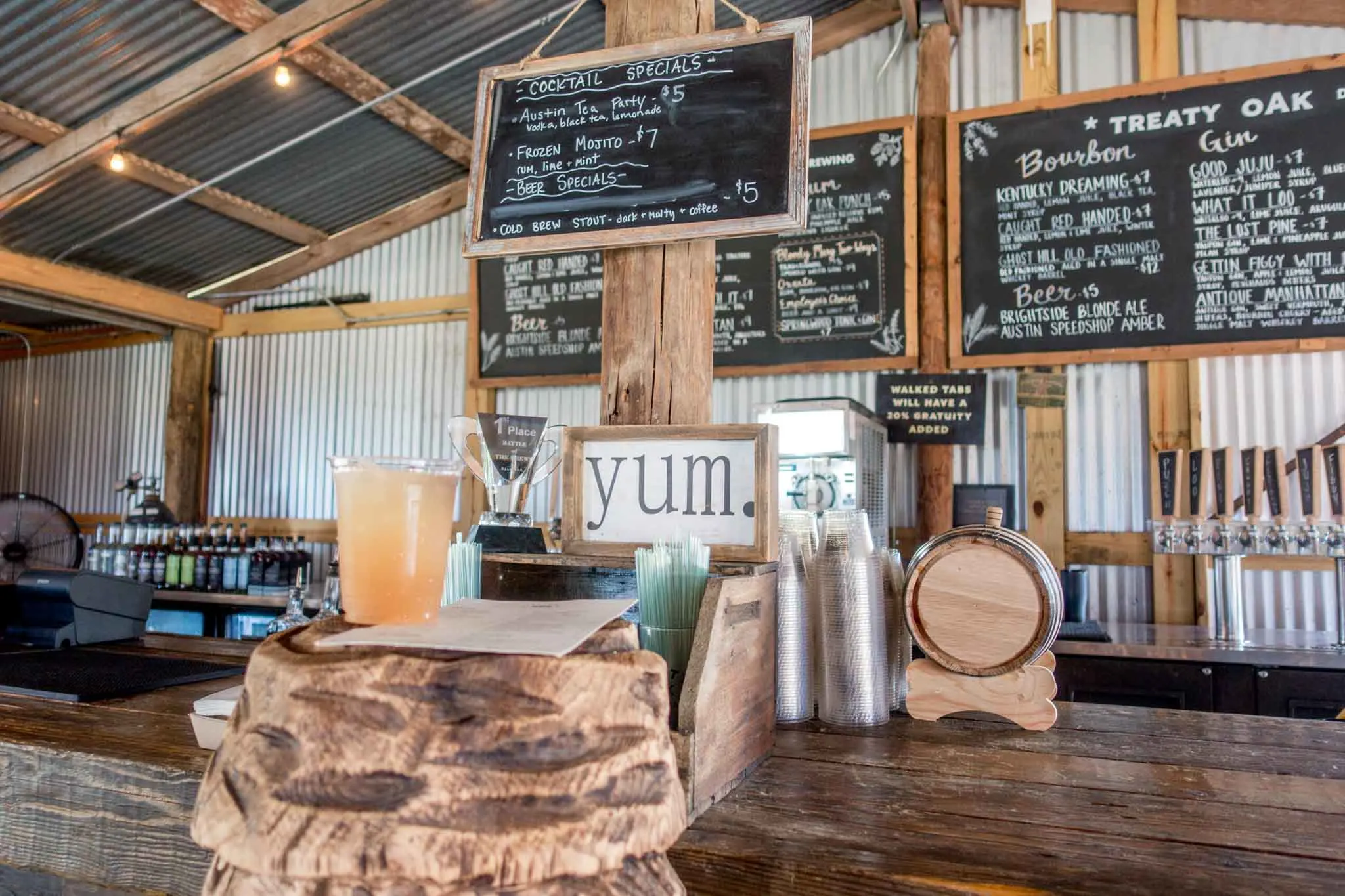 The idea that Treaty Oak is just a distillery is a little bit misleading. Yes, they make some wonderful whiskeys and gins, and their craft cocktails are killer, but Treaty Oak is not just a place for spirits—the area they lovingly call "the ranch" is a great place to hang out and it's completely family-friendly, too.
In addition to the drinks, there are picnic tables and lawn games, and there's frequently live music. You can tour the distillery and chat with the bartenders. When you need something to sop up the drinks, there's an on-site restaurant offering everything from poached pear salad to shrimp and grits. And like any good Texas joint, there is also a food truck serving BBQ. Treaty Oak is a great place to enjoy life for a few hours.
One of the realities of a trip to Texas is that it's warm more often than not. Sometimes, it's actually blazing hot. So as much as we loved lazing around at Treaty Oak, we needed to cool off. It was time to head to another one of the most famous swimming holes around, Hamilton Pool.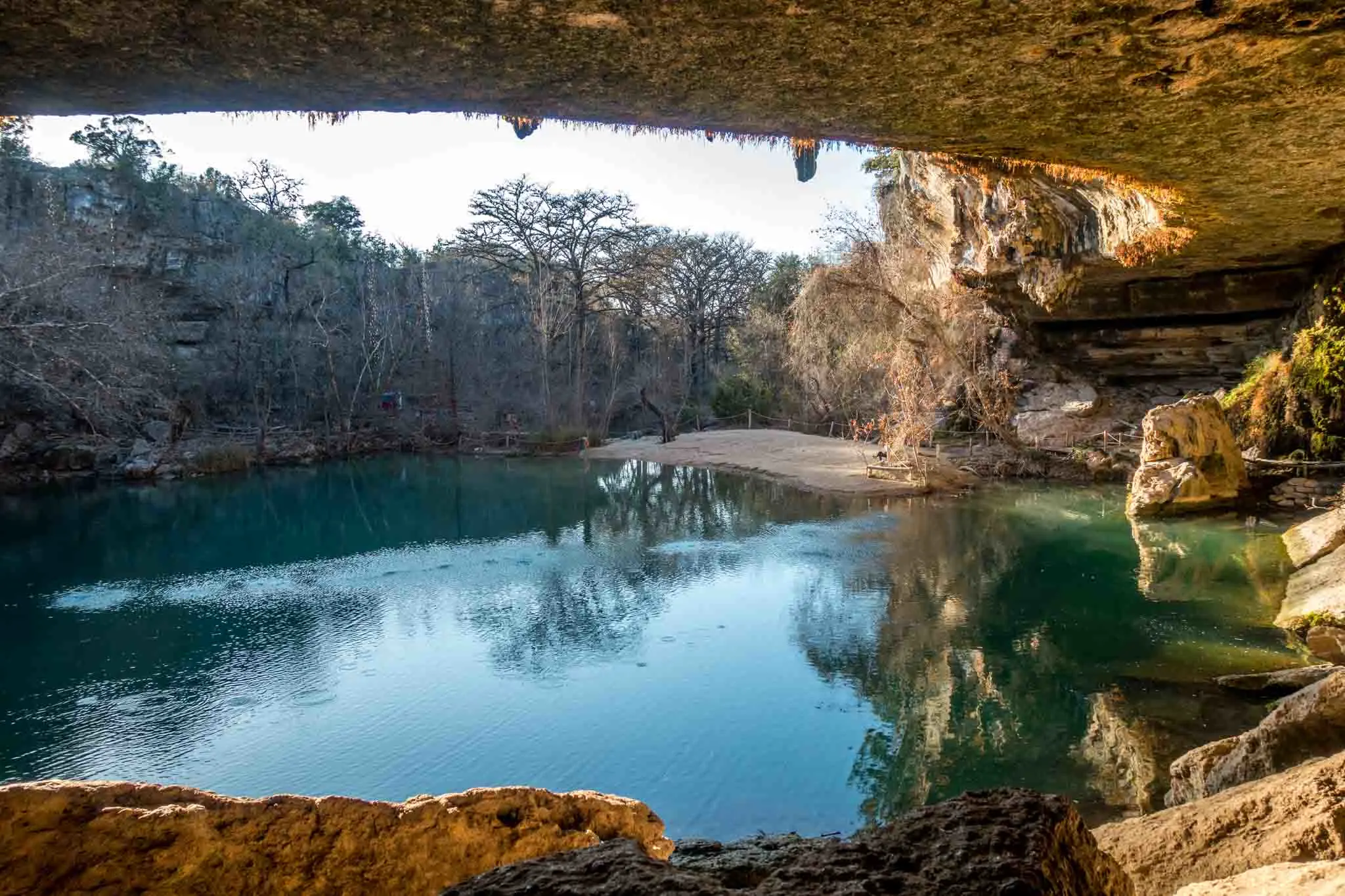 The pretty landscape and cool waters of Hamilton Pool draw people from all over central Texas and beyond because it's a fabulous place to swim, but it's one of the most beautiful places to visit in Texas. The pool itself is the result of the collapse of an underground river, so it has a unique formation with a waterfall and a natural cave-like structure, so you can get away from the sun, if you choose. There's even a tiny beach.
We wandered down the trail (it's about a quarter-mile uneven hike) to the swimming hole and plunged in. The water, which comes from a natural spring, is what some would call refreshing and other might deem a bit on the cold side. Either way, it's a welcome break from the heat. Because the parks system limits the number of people at any one time, the pool never feels overrun or crowded. It's a little corner of heaven.
We hadn't had enough BBQ yet, so we headed to the famous Salt Lick in nearby Driftwood for dinner. We first visited several years ago after seeing the restaurant featured on Top Chef, and we return whenever we can. It helps that there are now few locations, including in the Dallas and Austin airports, in case you can't make it to Driftwood.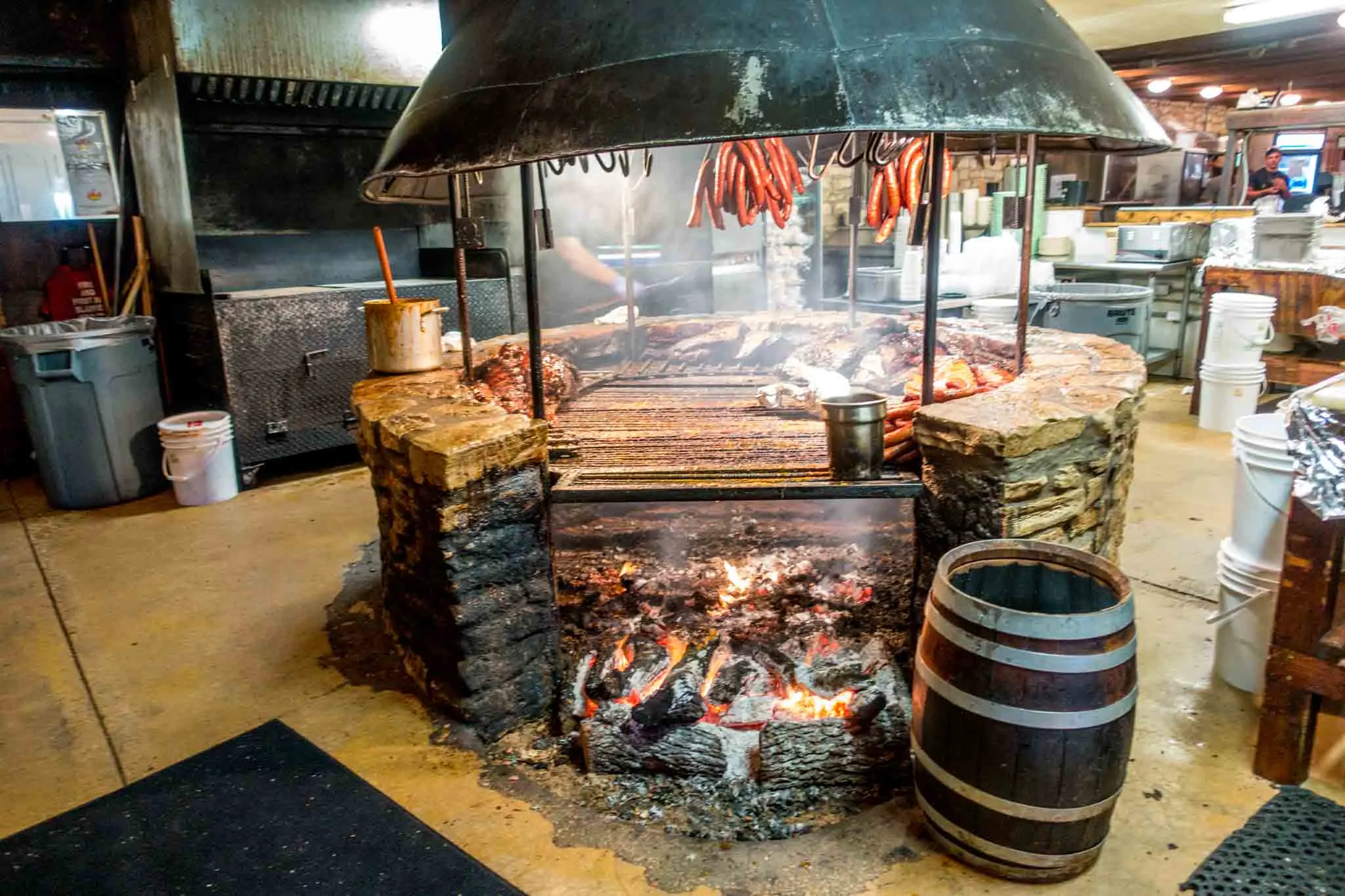 The Salt Lick is one of the older barbecue joints in Texas and a very popular road trip stop. For more than 50 years, they have been slow cooking brisket, pulled pork, and other meats, and winning just about every award there is.
We always go for the pulled pork and a bit of sausage—with pickles and onions, of course. Since it's the South, there's always sweet tea and soda, or you can get wine from Salt Lick Cellars next door. We passed on the booze this time because we had one more destination on our list for the day.
Back in Dripping Springs, we decided to end the night at the Sidecar Tasting Room. The cozy house serves wines from Bell Springs Winery along with a limited menu, and we loved trying all their Mediterranean varietals. A glass of Tempranillo and a little guitar finished out our day in Dripping Springs.
Day 4: Explore Pedernales Falls State Park, Hye, and Stonewall
Less than a half-hour away is Pedernales Falls State Park. This picturesque park is based around the Pedernales River whose rushing waters have carved out the bumps and crags of its ancient limestone bed over millions of years.
At over 5200 acres, the park offers an opportunity for a wide variety of outdoor activities. There are waterfalls, hiking trails, places for mountain biking, and lots of chances for tubing, kayaking, and swimming. It's one of the best places to go on a road trip in Texas if you love nature.
It was a warm day, and we had a lot of fun ahead of us, so we decided to do a short hiking trail. Luckily, there's a lot of flexibility at the park, and many of the sites are within easy walking distance of a parking lot. We headed straight for the Pedernales Falls Overlook. Water levels can change pretty quickly here, so the area looks different at different times of the year. It was low during our visit, so it was fun to walk out in the riverbed and see the mini-falls as the elevation changed.
Back in the car, we were off to Hye.
Hye is a blink-and-you'll-miss-it sort of place on Highway 290 that cuts through Central Texas. Hye Market is the best place to stop for lunch. Next to the town's historic post office that dates from 1886, you can have all kind of delicious sandwiches, salads, and cheese plates featuring Texas products. Our choice was the BLT with tomato marinated in salt, rosemary, and cracked black pepper.
A few miles off the road from the Hye Market is one of the best distilleries in Texas, Garrison Brothers Distillery. The first legal whiskey distillery in Texas, Garrison Brothers makes only grain-to-glass bourbon. We booked in advance to get a spot on one of the 20 tours they offer each week.
The Garrison Brothers tour walked us through the whole process of making their Texas whiskey from the grain they grow themselves to aging the spirits in the barns out back. Sampling the bourbons is the best part, and you can hang out in their rocking chairs and relax as long as you want.
Just 15 minutes west in Stonewall, our next stop was the LBJ State Park and Historical Site. The park is home to several different sites that were significant in the life of Lyndon B. Johnson, the 36th president of the United States. LBJ was born a few minutes away in Johnson City (you can backtrack from Hye to tour his childhood home) but spent his later years on the ranch in Stonewall.
At the park, we visited the one-room schoolhouse where LBJ learned to read and viewed the Johnson family cemetery where the President and Lady Bird are buried. You can see a replica of his birthplace, view his plane known as Air Force One-Half, and visit the descendants of the longhorn herd he started here (beware, these guys can be fierce).
The biggest attraction at the park is the Texas White House where Johnson spent about one-quarter of his presidency—he was, apparently, much more comfortable in this white farm house than on Pennsylvania Avenue. The house looks much as it did when the President lived there, so we were immediately transported back to the 1960s, complete with wood paneling and loud floral upholstery. Walking through the house and seeing how the Johnsons lived offered a fascinating window into their lives. (Note: as of October 2022, the Texas White House remains temporarily closed for repairs, but there are many other things to see.)
For dinner, we were off to Fredericksburg, our favorite place in the Hill Country. There are lots of restaurants to choose from ranging from fine dining to self-serve. We opted for Otto's German Bistro, which puts a modern spin on the traditional food of Fredericksburg's German settlers. Their flammkuchen and spaetzle are fabulous, and they have an extensive selection of German and Austrian wines.
Fredericksburg, one of the best getaways in Texas, is known for its B&Bs, and we've tried a fabulous selection of them over the years. Consider Hoffman Haus, a luxury B&B just of Main Street in town, comfortable cabins at the Vintage Trail Cottages, or one of the other cute places to stay in town.
Day 5: Visit Fredericksburg and Luckenbach
After breakfast at our B&B, we were off for a bit of browsing on Main Street, mostly because it seemed a little too early to start drinking.
Main Street in Fredericksburg has a little bit of everything. There is every kind of leather good under the sun, lots of clothes, and plenty of housewares and decorations emblazoned with their love of Texas, wine, and general sass. There are also lots of food items, so if you've ever wanted candy, a dip, or anything spicy, you'll find it here. Check out Texas original James Avery for jewelry or the Fredericksburg General Store for literally anything.
There are also plenty of wine tasting rooms on Main Street, so if you want to get started trying the famous Hill Country wines, stop in for a sip. Grape Creek's wines are great, and Texas Wine Cellars has a little bit of everything from different wineries.
After shopping for a little while and checking out some of the town's historic buildings (the Vereins Kirche Museum tells the story of Fredericksburg's German settlers), we stopped for lunch at Burger Burger. The burgers are fabulous and bigger than your head, and if you don't care for beef, they and can be substituted for vegetarian or chicken options. Adding one of their milkshakes to your order may well leave you in a food comma.
Full from lunch, we decided to do a bit of walking. Texas is known for its gorgeous wildflowers, and Wildseed Farms collects many of them in one lovely place, so it's a great location for enjoying the outdoors close to Fredericksburg.
In the spring, summer, and fall, the fields at Wildseed Farms teem with flowers of every shade from bright bluebonnets to brilliant red standing cyprus. Laced among the fields are walking trails, butterfly gardens, and an endless number of opportunities for taking photos. We're a bit obsessed with colors, so we loved walking around the beautiful grounds.
Having burned off a bit of lunch, we were ready for one of the best indulgences in the Fredericksburg area—sampling local wines. Texas may not seem like the most obvious place for wine, but the climate lets the same grapes thrive here that do well in the Mediterranean, so there are lots of Cabernet Sauvignons, Albarinos, Merlots, Viogniers, and more to choose from.
There are dozens of wineries in the Fredericksburg area, many with sprawling grounds, beautiful cellars, and on-site restaurants (or weekend food trucks). On this trip, we opted to revisit two popular ones—Pedernales Cellars and Hilmy Cellars.
With gorgeous views of the Hill Country, Pedernales Cellars is known for its Spanish and Rhone-style wines and its commitment to using Texas grapes. Their GSM—a blend of Grenache, Syrah, and Mourvedre—is a wonderful choice.
Hilmy Cellars is unique among the Fredericksburg wineries because it's biodynamic. We found sheep, guinea fowl, goats, and others doing their part to keep the award-winning winery functioning. Their Viognier and Sangiovese were among our favorites.
After a quick dinner at Fredericksburg Brewing Company, we headed out to Luckenbach. This one-name bar and performance venue in a three-person town was made famous by Willie Nelson and Waylon Jennings in the 1970s. Today, Luckenbach, Texas, welcomes musicians just about every day of the year for formal concerts and informal picking circles.
Luckenbach has a vibe all its own, is one of the most unique places to visit in the Hill Country and one of the top Texas roadside attractions. Decked out with a million stickers, flyers, and unusual memorabilia, it is informal homey. Everyone is there to have fun, and you don't have to be a country fan to enjoy the music. We just grabbed a beer and a seat and joined in with the toe tapping.
After a couple of hours of music at Luckenbach, it was time to head back to our B&B to pack up and get ready to fly out of Austin the next afternoon. In truth, Fredericksburg is worth a full weekend if your schedule allows. There's never enough time to explore Texas.
Laura Longwell is an award-winning travel blogger and photographer. Since founding Travel Addicts in 2008, she has written hundreds of articles that help over 3 million people a year get the most out of their travel. In that time, she has visited nearly 60 countries on 5 continents, often returning to favorite destinations over and over again. She has a deep love of history, uncovering unexpected attractions, and trying all the good food a place has to offer.
In addition to Travel Addicts, Laura runs a site about her hometown of Philadelphia—Guide to Philly—which chronicles unique things to do and places to see around southeastern Pennsylvania. Her travel tips and advice appear across the web.