Luxembourg City is full of Christmas spirit. This small capital of one of Europe's smallest countries is filled to the brim with lights, festivities, and the music of the season. In the winter, it feels like the entire old town becomes the Luxembourg Christmas market.
Although Luxembourg may not be high on the radar for many North Americans, that's just because they haven't discovered it yet. We've had the good fortune to visit in both spring and winter, and we uncover something new to love every time.
The core of Luxembourg City is compact and easily walkable. Its size makes covering a lot of ground easy—both for seeing the main attractions and for visiting markets. With over 100 chalets selling crafts and decorations, numerous food offerings, concerts, and other special events, there are so many reasons to love Luxembourg at Christmas.
Where are the Luxembourg Christmas Markets?
For a month every winter, the city center transforms into a festive playground. There are six different market areas, each with a different design and focus.
Place de la Constitution
The most elaborate market is at Place de la Constitution. When we arrived, the colors and music of the market called to us as we waited to cross the street. The Ferris wheel was already spinning. The Christmas tree ride whirled as its giant ornaments cycled through the spectrum of lights. Crowds waited patiently for their first taste of mulled wine.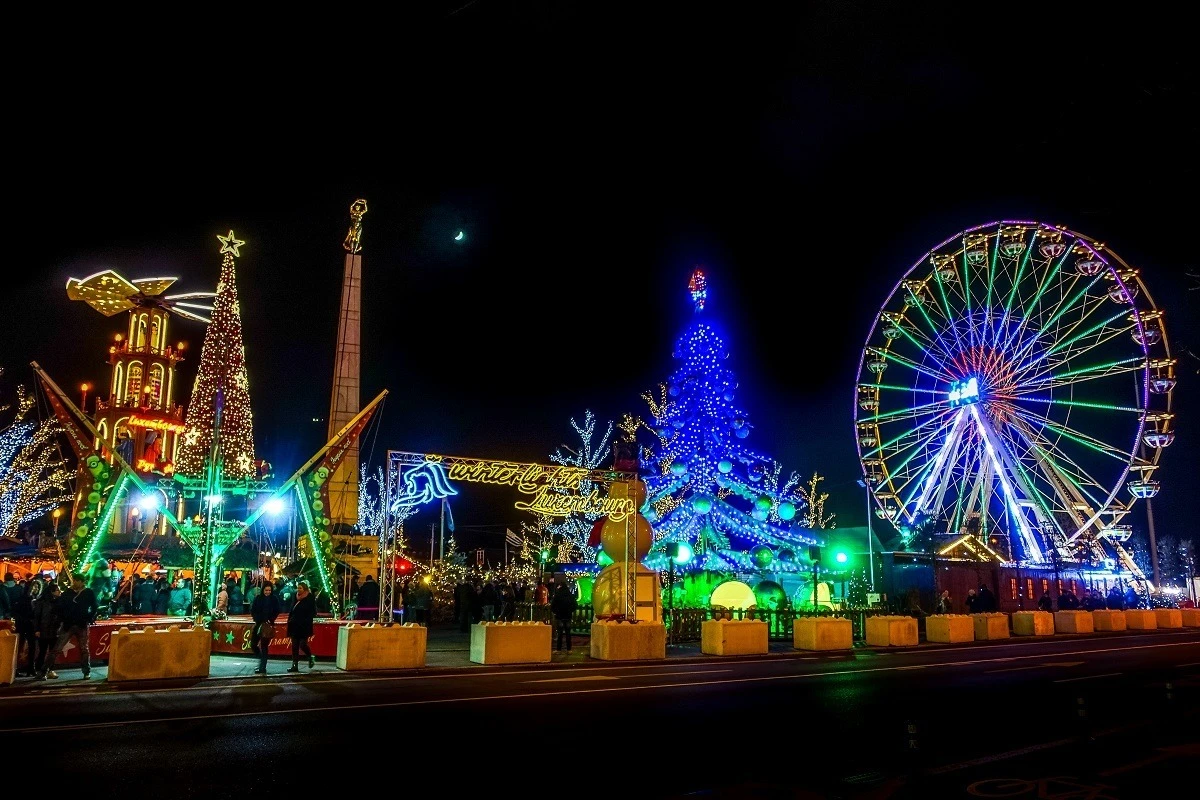 As we approached, we were excited to see the Christmas pyramid—one of our favorite fixtures of German Christmas markets. The tall, platformed structure with its propeller top decked out in lights instantly transported us back to the joy of the first Christmas market we ever visited in Nuremberg. The bar was set high before we even stepped into the market, but it did not disappoint.
As we walked through the rows of vendors, we were surprised and thrilled to see just how much of the Luxembourg market featured some of the things we loved most in German markets—sizzling sausages, pretzels, nutcrackers, and more. Considering we were only 20 miles from the German border, we probably shouldn't have been shocked, but it was still a pleasant surprise.
This part of the market has more than 60 wooden chalets set up around the famous Golden Lady (Gëlle Fra) monument, one of the city's top attractions. Weaving our way through the stands, we found a wide variety of gifts, souvenirs, and seasonal items. There were handmade glass ornaments, snow globes, winter clothes, slippers, and all kind of cookies and candies to take home.
We even bought a few light-up Santa hats for ourselves. Because nothing says "festive" like a light-up Santa hat.
There are lots of food and drink options, too, and we sampled as many as we could while we walked. There was gluhwein (fabulous, hot mulled wine), which is a staple of every Christmas market we've been to across Europe. But you could also opt for hot cider, hot chocolate, and plenty of other things designed to keep you warm. Apple fritters, German snowball pastries, flammkuchen (thin crust pizza), and other national and international treats fueled our steps.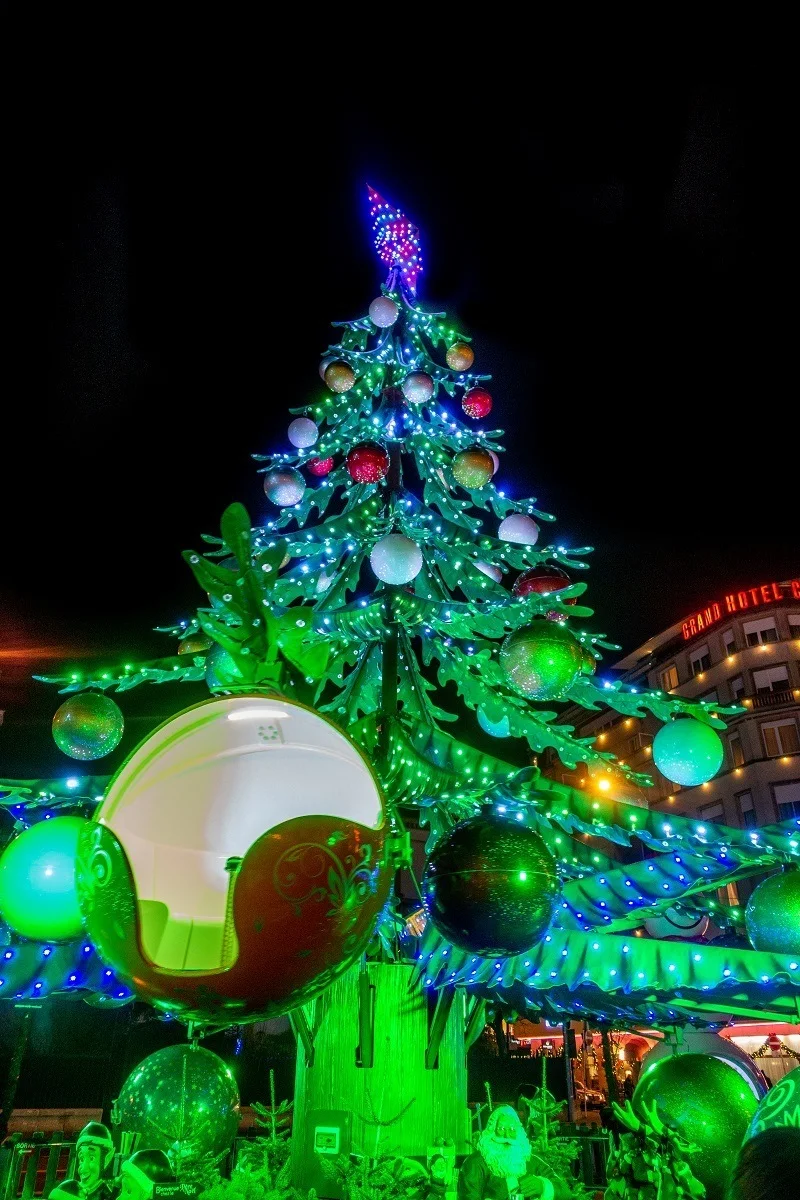 One of the things we loved the most was how welcoming the Luxembourgers were. Most tourists visit in the spring and summer, so finding a couple of Americans staying for several days in mid-December seemed to surprise people.
They couldn't wait to make recommendations. Whether it was about what to eat, where to go, or to tell us we must try the flaming sugar paired with mulled wine called feuerzangenbowle, people were eager to help us have the best possible experience for Christmas in Luxembourg.
Place d'Armes
Place d'Armes, another of the old town squares, hosts the traditional Christmas market. While Place de la Constitution has carnival rides and more international offerings, the focus in Place d'Armes is Christmas music, local cuisine, and a typically Luxembourgish Christmas atmosphere.
Stepping into the square, we were greeted by row after row of chalets selling clothes, decorations, and local crafts. There were scarves to keep out the wind, Christmas villages and manger scenes, and all manner of jewelry, soaps, toys, and trinkets for kids and adults.
Among the gift chalets was an assortment of food items. We tried gromperekichelcher, delicious potato pancakes with shallots and garlic, and couldn't bypass the Nutella crepes. We were tempted by the melty goodness of raclette and the hearty local green bean soup called bouneschlupp. Come hungry—there's lots to choose from.
This part of the market showcased local music performances. Every time we passed through, another musical act was playing. Whether it was a big brass band or a choir singing a capella, there was always a crowd gathered to watch.
Parc Kinnekswiss
Just outside the city center, Parc Kinnekswiss is home to a festive area that's all about ice skating and eating–Winterlights on Ice.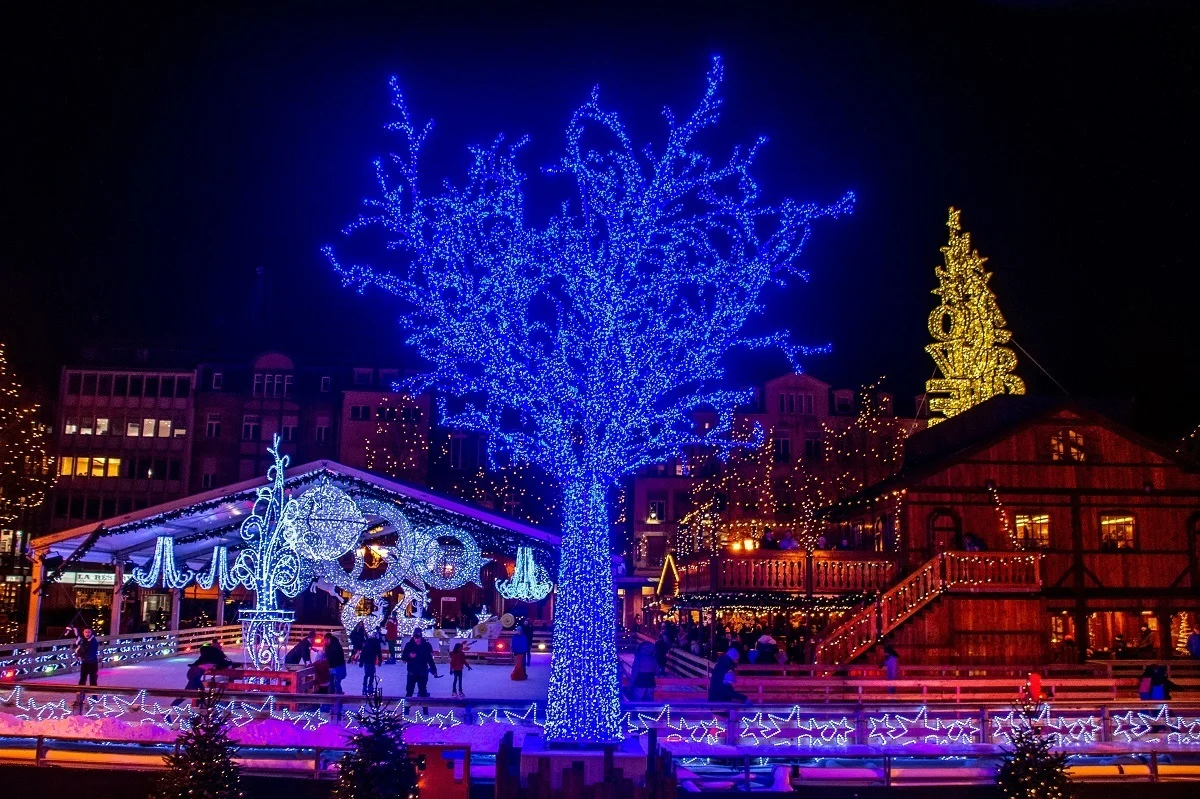 Formerly located at Place Guillaume II, the lights of the ice-skating rink shone against the dark sky and reflected off the ice, making the whole thing look like a brilliant winter palace. Kids and adults made their way around the rink, some assisted by giant plastic seals meant to help those who were just learning to maintain their balance on the slick surface.
The opposite side—in contrast—radiated like a warm fire. The amber Christmas lights towered into the night, making the whole wooden chalet glow. At spots between the food vendors, visitors huddled around small open fires.
We wandered our way past the food and drink vendors, debating whether to have a hot chocolate or head straight for one of the sausages cooking on the giant grills. We became enthralled by the giant pans of tartiflette—a concoction of potatoes, cheese, lardons, and onion—as the cooks poured in bottle after bottle of white wine to make the mixture creamy.
Ultimately, we headed upstairs to the enclosed bar to escape the cold for a few minutes. Decked in flannels, plaid, and charming mountain décor, we felt like we were snuggled somewhere warm in the Alps rather than a chilly city square. With mulled wine in hand, it was the ideal spot to give our feet a break before seeing what else the Christmas markets in Luxembourg had to offer.
Place de Paris
For handicrafts, the Nikolsmaart on Place de Paris near the Central Station is the place to go. A dozen vendors and chalets greeted us with a selection of candles, soaps, leather goods, and more. As with the other market areas, we were spoiled for choice when it comes to drink and food options.
Visitors will find a 65-foot Christmas tree and a chair swing ride to keep them busy. Saint Nicholas is one of the main attractions here, though his hours are limited to 3:00-5:00pm four days a week, so make sure to doublecheck the times if you want a photo with him.
Other markets in Luxembourg City
There are two smaller markets around the city that are also worth visiting.
The Roude Pëtz market on Grand-Rue has an altruistic purpose—local charities can sell their products to benefit their cause. Patronizing the six chalets in this market is a great way to do good and help others during the holiday season.
If a unique selection of food is high on your list, visit the Grund for the food lovers' market. The handful of stands here features the bounty of local and regional produce. You'll find stand-outs like blood sausage, foie gras, and traditional vegetable soup. There's no shortage of things to keep you warm.
Market opening times
The markets this year are scheduled for November 24, 2023 through January 7, 2024.
Hours for the markets are 11am-9pm Sunday-Thursday and 11am-10pm on Friday and Saturday. They close at 6pm on Christmas Eve.
Luxembourg at Christmas
Luxembourg City is easy to get around, so if you're visiting for the Christmas markets, see what else the city has to offer. Exploring beyond the city is equally simple–there are lots of great places to visit less than an hour from the capital.
Visit a museum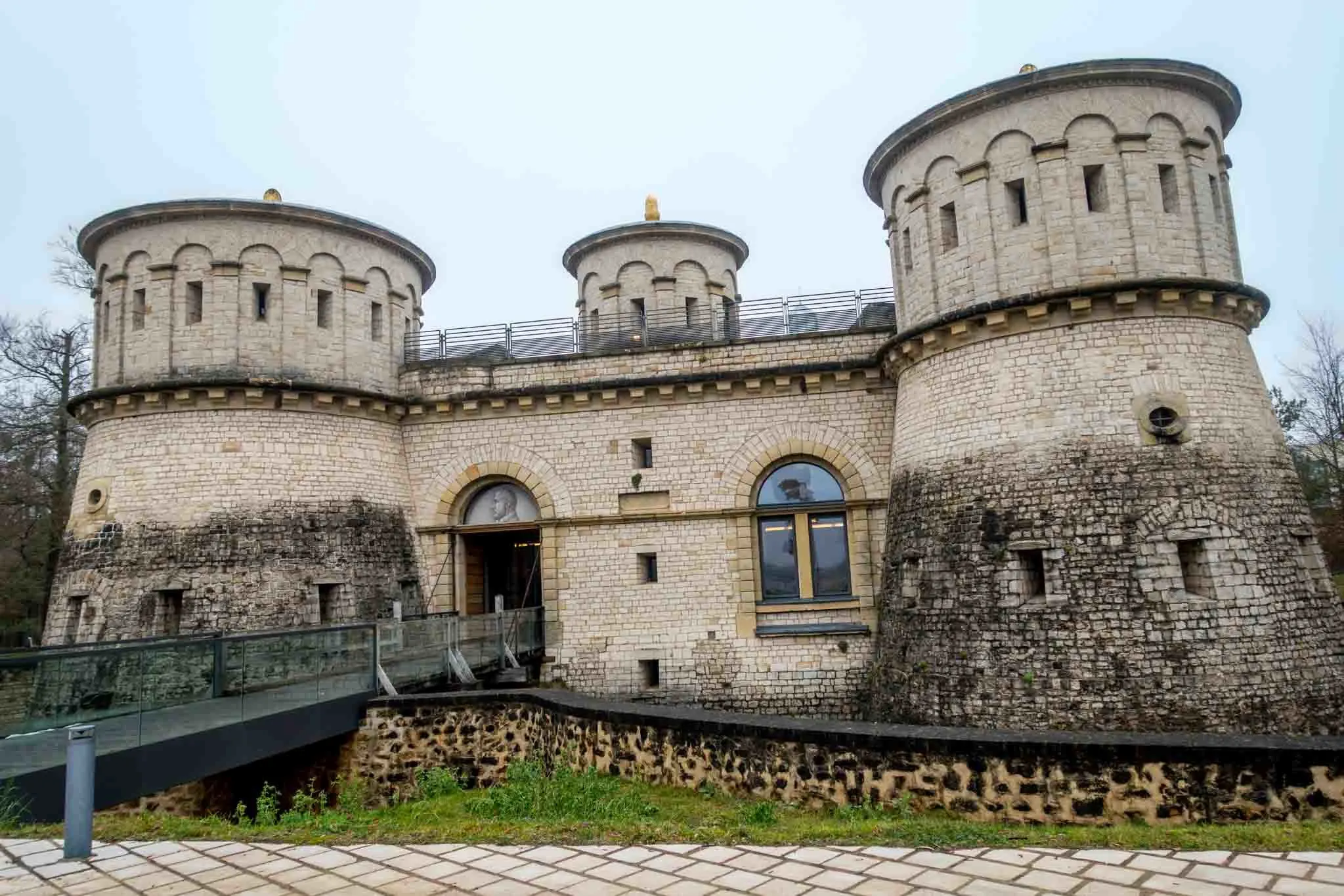 Luxembourg can be quite cold in December. Luckily, there are lots of fascinating museums to keep you entertained and warm. Visit the Museum of Modern Art (MUDAM) to see works by artists like Cy Twombly and Andy Warhol (my personal favorite) or head to Casino Luxembourg, a contemporary art institute, to see their thought-provoking current exhibits.
If history is more your speed, visit the National Museum of Art and History to see both subjects chronicled from Neolithic to modern times. Just outside the old city, Musée Draï Eechelen—housed in an 18th-century fort— traces 460 years of the country's history.
Step inside Notre-Dame Cathedral
Just a few steps from the Christmas markets, you'll find the country's only cathedral. The 400-year-old Notre-Dame Cathedral is renowned for its stained glass and sculpted alabaster choir. Its crypt is the resting place of some members of the royal family.
See the best view in the city
The city is divided on two different levels of a rocky outcropping called the Bock. Its unusual landscape means that there are some amazing views of the area below, known as the Grund.
Head to the Chemin de la Corniche, a viewpoint that's been called the most beautiful balcony in Europe. You'll see the neighborhood below and its beautiful church as well as the ancient city fortifications, the Casemates du Bock, which have helped Luxembourg City be recognized as a UNESCO World Heritage Site.
For a more in-depth look at what to do and where to eat, see our detailed city guide.
Try Luxembourg's wines
The nearby Moselle River valley is home to some of the best wines in the world. On Luxembourg's side of the river, you'll find great Rieslings and Chardonnays as well as the popular sparkling Cremant de Luxembourg.
Even in the winter, some of the larger wineries are open for tours and tastings, though you may need to make an appointment on certain days of the week. Check out Bernard-Massard and Caves St Martin for beautiful river views and even better wines.
Get acquainted with Clervaux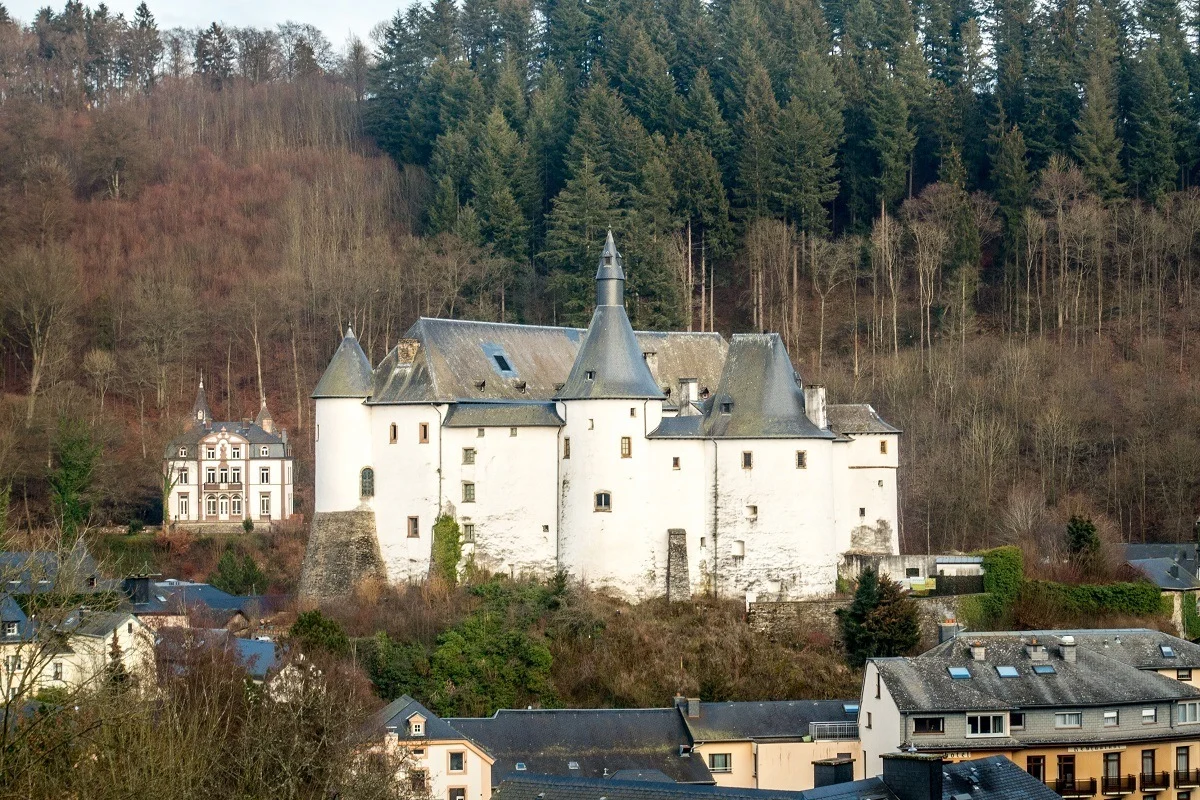 North of Luxembourg City, the cute town of Clervaux is the site of a unique castle-turned-museum. Originally built in the 12th century, Clervaux Castle is one of the interesting places to visit in Luxembourg. It was nearly destroyed during the opening engagement of the Battle of the Bulge in December 1944 and now stands as an engaging World War II museum and features an American Sherman tank that participated in the battle.
A separate part of the castle is home to a photo exhibit called The Family of Man. Its over 500 images show the common experiences in countries around the world from birth and death to school and voting. During the late 1950s and 1960, the exhibit toured the globe before finding a permanent home in Clervaux and being added to UNESCO's Memory of the World Register.
In addition to visiting the castle, don't miss a walk around town. There are regular markets, pastry shops, and pretty hiking trails.
Visit the Trier Christmas Market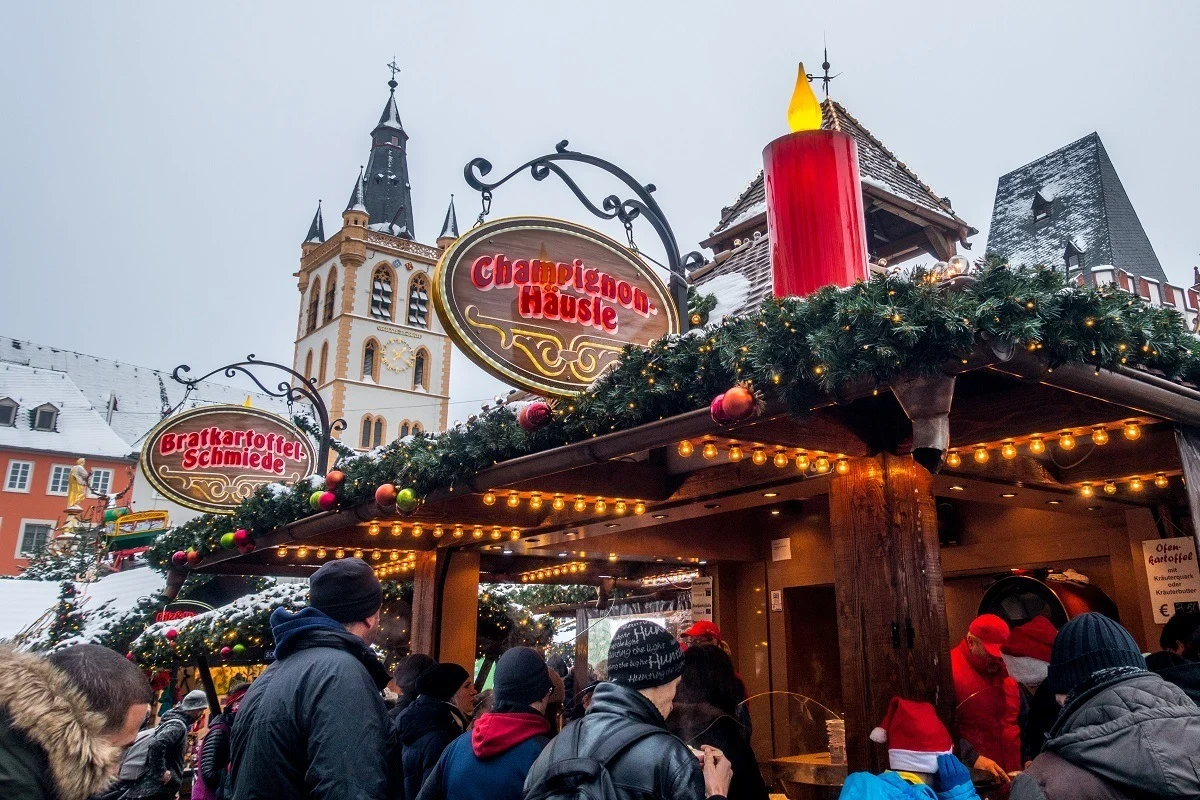 Just 40 minutes northeast of Luxembourg City is Trier, the oldest city in Germany. With imposing UNESCO-listed Roman ruins, the city has a romantic feeling that's only enhanced at Christmas.
In the area in front of the 13th-century Trier Cathedral, the Trier Christmas market has over 90 wooden market stalls selling traditional German crafts, decorations, and gifts. We loved the chance to have our favorite authentic bratwurst and indulge in eierpunsch, German warm eggnog decadently topped with whipped cream.
Where to Stay
Hotel Simoncini – Between Place de la Constitution and Place Guillaume II, Hotel Simoncini is a great base for visiting the Christmas markets and exploring the old town. It is comfortable, has a great breakfast, and is close to the main attractions. (See reviews and check prices)
Park Inn – The Park Inn by Radisson offers modern accommodations at a budget-friendly price, and it's right by the train station, which makes exploring easy. Visitors appreciate the comfortable beds and friendly service. (See reviews and check prices)
Hotel Le Royal – One of the top hotels in the city, Hotel Le Royal offers 5-star accommodations. With multiple restaurants, a spa, and a salon, it's hard to ask for more. (See reviews and check prices)
Laura Longwell is an award-winning travel blogger and photographer. Since founding Travel Addicts in 2008, she has written hundreds of articles that help over 3 million people a year get the most out of their travel. In that time, she has visited nearly 60 countries on 5 continents, often returning to favorite destinations over and over again. She has a deep love of history, uncovering unexpected attractions, and trying all the good food a place has to offer.
In addition to Travel Addicts, Laura runs a site about her hometown of Philadelphia—Guide to Philly—which chronicles unique things to do and places to see around southeastern Pennsylvania. Her travel tips and advice appear across the web.